So I did the whole Hugo A Go Go thing on the weekend. We were studying Les Misérables in philosophy class as part of our examination of what is a 'good man' and I heard about the exhibition, so, ticking the 'educational' box, off I went.

I think it's really cool, these cities that tie together exhibitions, in this case, Les Misérables, the musical, was playing down in Melbs, so the library down there is hosting an exhibition on the man, the manuscript and the musical.

Yes, the actual manuscript of Les Misérables (gosh and golly!) with scribbles, and the inky quills used to write it, and photos of the man bent over his desk. Wow (though my favourite photo was of M. Hugo straddling a chair ala Christine Keeler, it bemused).

There were also old maps of Paris, photos taken by the Hugo family, books of like minded contemporaries (Dickens, Dumas, etc.), posters of film and theatre versions (the drawing of the 1920s Japanese actor as Jean Valjean will be haunting my nightmares for days to come), copies of international editions, a really cute mashup of all the various film versions to make a ten minute movie in the theatrette, costumes from the film and stage productions, videos, music, props, more posters. Yep, everything you ever wanted to know about Les Mis and then some.

I thought I'd have to elbow people out of the way to get a glimpse of the cabinets, but no. How sad. People, they have the frickin manuscript there. The Actual Book.

Anyways, there was that. By the time I came out it had stopped lashing down with rain and was sunny (so Melbourne), went past some folks lining up with blue hair, silver canes, Firefly t-shirts, my people in other words, but alas, no time to find out whatever was going on there.

Never mind, on to one of the Ian Potter galleries (there are two, at either end of the city, just to confuse a tourist). So I went to the one with the mid-century design exhibition, which was basically groovy Oz furniture aping Danish designs from the mid 20thC. Pretty cool, though I found it sad, as chairs my mother let rot to pieces under the house are now exalted in museums and worth $$$ (grumble, especially as I loved the basket chair big time, and it is so $$$ now), and now I know the kitchen and bathroom were painted with Dulux multi-coloured paint (paint with flecks in it, I don't know why).

So, while I'm normally, 'oh to die for' over this stuff, it was sad in a 'wish I still had that' way, mainly because it was the cheap Oz knockoffs they were examining (because only the very few could afford to import from Europe or the US). Honestly, it'd be illegal now, to make such obvious copies, local flourishes notwithstanding, but the punched tin light stands, the cheap and uneven tacking and stapling of chairs covered in cheap Indian printed fabrics, the jigsaw cut ex WWII surplus plywood chairs, they made me nostalgic. It was all a bit sweetly 'can do', making copies of stuff seen only in magazines with surplus tin, rubber and plywood, but this was the stuff I remembered as a tiny child, the uneven line of furniture tacks on the backs of dining chairs, the splinters from plywood chairs. Yup. Kinda sad, in a very Proustian way (the smell of old vinyl).

So I wandered across to the Fashion Detective exhibition. Oh my giddy gothic aunt. This was my exhibition. First off there's a projection of Jeremy Brett (my Holmes, still, if I'm really, really honest) stupefying poor old Watson with all that can be known about a man from the hat he left behind.

So, onto the mysteries of the exhibition, the obvious and not so obvious fakes, the items with no history (but clearly with some story to tell, like hastily made mourning outfits), the invention of chemical dyes (some dangerous), arsenic loaded William Morris designed wallpaper, arsenic in green dyed clothes (no wonder Victorian ladies were always keeling over), a stand of women in white (various white dresses from the collection) in tribute to Wilkie Collins, and an optical illusion (via magic lantern, I presume). I went round three times. Squee!

Shamefully, the gallery had not produced any books on that exhibition, just the wanky art and photography ones which were so dull and deserted. Tsk.

So then there was Les Mis, the musical. I had a pretty good seat, an amiable seat companion to chat to, and yeah, it was okay. It was pretty damn good, actually (I was just being a bit all purist they way they played fast and loose with the book, as they must, but you know, we all do it). I do like a bit of theatre with my theatre, and this was very, very theatrical.

What can I say? I love a good magic lantern trick.

Also, I wonder just how many of the well heeled conservative voting audience took the novel's message home, you know, of being excellent to each other? No, they'll hum the songs but disconnect. Le sigh. (No wonder it was first staged in 1985, ahem).

So, I've finally seen Les Mis on stage. Never thought that would ever happen.




And that was my weekend in Melbs. Getting down there was a trial. I was held up at work (dreadful day) and the check-in line was crazy con autograph line long, and I made it to the gate with five minutes to spare, only to find the flight delayed 2 hours due to bad weather (actual blizzards).

Finally arrived in Melbs, made the mistake of getting a taxi instead of the bus (see blizzards) and was taken round the world for a sixpence (saw the Queen Victoria Markets, RMIT, the baths and Exhibition building on the way, none of which I should have seen on the way) but my hotel was waiting there for me, at last, dearest Ovolo, and, mercifully, there was a Chinese place lit up and advertising itself as open till 1.30 AM. It was called the Shark Fin Inn, and it was quite the greasy spoon, but at that hour who can complain. My menu was very anglo-suburban, but the secret menu looked suitably exotic, if the dishes being served to other tables were any indication.

One day I will learn to properly read Chinese so I can order those dishes that arrive in piles of silver trays and lion dancers and fireworks and the whole shebang. One of these days. Until then, chicken and cashews it is. Sigh.

Hotel was lovely, lovely, lovely (this time I did have a soft bed and fluffy towels). I also did a tiny bit of shopping, including picking up That Shirt.

The spotty shirt. The saga of. It's a really, really spotty shirt, and it hasn't failed to elicit comment: I look like a jockey/bike rider/art catalogue from 1968/creepy kid show presenter/I'd been paintballed. Sigh, I was going for indie band, but never mind. I would have never have worn it to work but I was huffed and tutted and tsked and sighed at more than I could bear the other day so I thought if my continued existence was that troubling, I'd up the ante and wear the loudest, most offensively lurid shirt I own, in other words, the spotty shirt I'd just bought in Melbourne.

Alas, the intended recipient wasn't in (no doubt sensing a disturbance in the force, for the passive aggressive is strong in this one). I'd even bought some nuclear strength kimchi noodles to unleash at lunchtime, sigh, but everyone else enjoyed my slip into childish wickedness (if deliberately trying to offend someone who finds offence in everything can be called wicked, I suppose it can).

As for the noodles, well, I didn't eat them then, but I will, because I like kimchi noodles (which is how I know how bad they can be in enclosed spaces).

The Babe Rainbow - Secret Enchanted Broccoli Forest


Yes, I know, I'm such a child. I should be weeding the garden and fixing the gutters, being quiet and not speaking until spoken to. I should. I will.

What else? Oh yes, I went to yet another Ibsen production, this time it was the Doll's House by Sport For Jove at the Seymour Centre. And it was damn good. The audience lauged and groaned along with the characters, brilliantly realised with lively touches. Just watching Nora's ecstatic transportation over illicit chocolates caused deep chuckles of recognition from the audience, and that's an audience won, right there. There were three curtain calls, and whoops, unlike the stunned silence and no curtain calls over at the Belvior (who are also doing their version, I think I have a ticket, shudder).

I could, should something about the locks patriarchal society inflicts on women, and I'm with you there, Ibsen, up to a point. Having suffered a mother who also abandoned her duty to family, not by walking out the door, but just by deliberate withdrawal (which is worse, I wonder, I found it rough, having to take up all the responsibility of washing, cooking, shopping, ironing, cleaning, etc when I was six. I had a stool I had to stand on to use the oven, wash the dishes or hang out the clothes, all by myself, in that cold, cold house). So I find her choice a coward's one. Probably the only one, as her husband was a dick, but still, selfish. What can I say, the child in me (picture that well known image of Cosette) is still suffering, and though I'm grown old if not grown up, and I get the whole stuck in a rut of artifice, I say so is everyone and either suck it up or try and fix it or find ways to deal but don't abandon. That is the way of the coward.

That said, I loved the actress playing Nora, I felt for her plight, I did, but, you know, too much on the other side of that door to cheer her exit, you know? The guys were great, too, being awful with gusto to make the walls of Nora's prison.

So yeah, Ibsen isn't a write-off. That's why I went, to see it done properly. (Really, if you want to do something new and different, local theatre companies, do something new and different, don't piss all over the classics, harumph).

Maybe I enjoyed it so much because instead of running down straight from the office I left early and decided to trust myself to dumb luck and go looking for somewhere to eat. Now, I wasn't expecting anything to exist, be open, serving food or food I'd buy and eat. It's a problem with the theatres being old factories in old industrial areas, but, if you're lucky, the old pubs that served the factories still exist, and here was one, the only one I've found. I walked in, expecting carpets that the 70s forgot, decor like an old train station urinal (and smelling like one too), but clearly the neighbourhood has gone upmarket since I last dared to wander there. Old pub, inside, a cheery welcome, the best Brooklyn boho clutter decor, and duck in chocolate jus on the menu. Hola!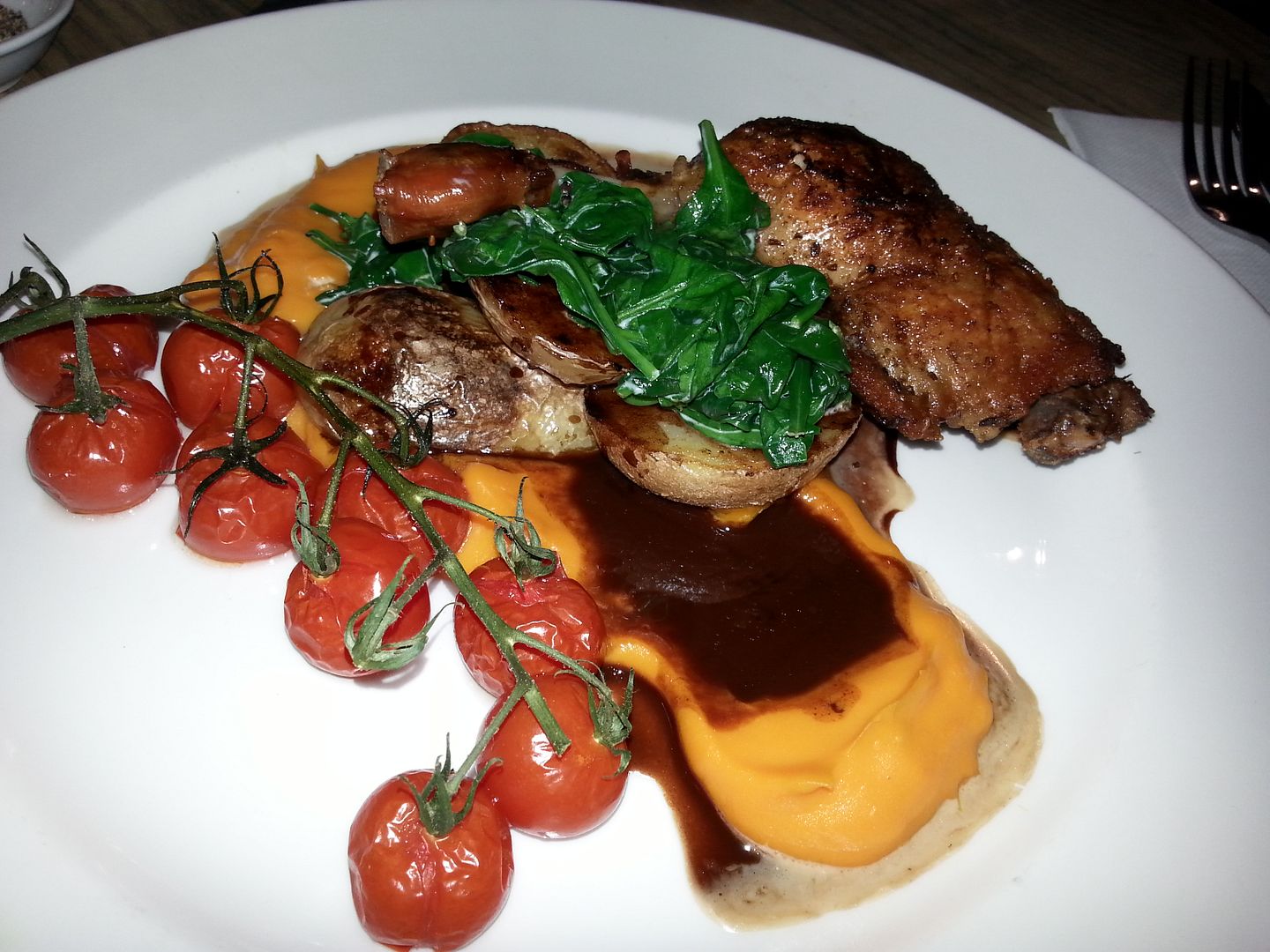 I was enjoying myself, and celebrating a (temporary) drop of two dress sizes, so I went the chocolate bread and butter pudding as well. What can I say, I'd been living on green tea all week.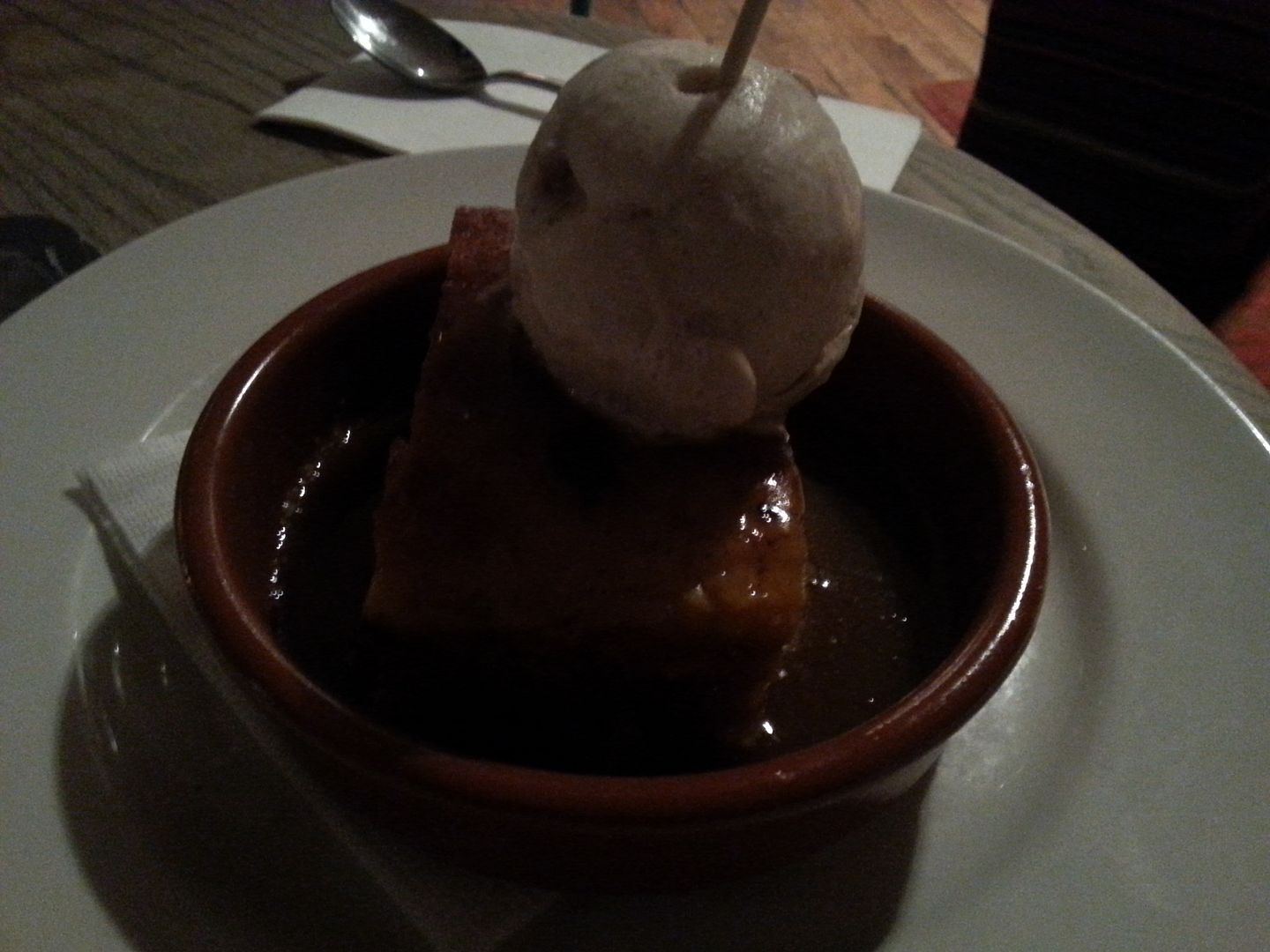 So nice, so friendly. It was the Duck Inn, and I swear I'm not making these names up. That's why I had the duck. I had duck on my mind and there was duck on the menu. I always go with the meta, it always knows best.

That's pretty much it, although I think I undid all my feminist points by watching It Happened One Night. Yes, it's funny, but when the 'hero' is accepted as the romatically suitable choice because he was willing to beat a woman every day, whether she needed it or not, umm.

I'd like to be able to say the past is a different country, but when they still kill women for learning how to read or having opinions, I'm thinking not. (And they wonder why Ibsen is still relevant).

Other than that there's not been a lot of telly watching except for workmanlike British series which are good to watch but not terribly remarkable. The tv equivalent of a railway novel, they pass the time, fill in that last hour, that one hour before bed when I don't want to do anything else any more but try and wind down with a cup of tea. (British shows are good for this because they rarely ever shout, even when it's all gone to shit).

Victor Hugo: Les Misérables – From Page to Stage exhibition
http://www.slv.vic.gov.au/victor-hugo-les-miserables

Fashion Detective
http://www.ngv.vic.gov.au/whats-on/exhibitions/exhibitions/fashion-detective

Mid-Century Modern: Australian Furniture Design
http://www.ngv.vic.gov.au/whats-on/exhibitions/exhibitions/mid-century-modern-australian-furniture-design

Melbourne rugs up for coldest day of the year, bitter blast in the afternoon
http://www.theage.com.au/victoria/melbourne-rugs-up-for-coldest-day-of-the-year-bitter-blast-in-the-afternoon-20140801-zz8ag.html

Duran Duran collaborating with music heavyweight Nile Rodgers and Mark Ronson
http://www.independent.co.uk/arts-entertainment/music/news/duran-duran-collaborating-with-music-heavyweight-nile-rodgers-and-mark-ronson-9661650.html

Doctor Who Sherlock crossover: I would do 'Wholock', says Steven Moffat
http://www.independent.co.uk/arts-entertainment/tv/news/doctor-who-sherlock-crossover--i-would-do-it-says-steven-moffat-9660793.html

What It's Like to Be on the Set of "Hell on Wheels"
http://www.whosay.com/articles/3333-what-its-like-to-be-on-the-set-of-hell-on-wheels

Boys strike gold with ornament dig
https://www.pressandjournal.co.uk/pipe/306315/boys-strike-gold-with-ornament-dig/

V-Sign: Why East Asians Make Peace Signs in Photos
http://time.com/2980357/asia-photos-peace-sign-v-janet-lynn-konica-jun-inoue/

The Crooked Ladder
http://www.newyorker.com/magazine/2014/08/11/crooked-ladder

This Puny French Vehicle Was the First Great Tank
http://www.wired.com/2014/08/this-puny-french-vehicle-was-the-first-great-tank/?mbid=social_gplus#slide-id-1356641

John Venn Google doodle: the right way to do a Venn diagram
http://www.theguardian.com/news/datablog/2014/aug/04/john-venns-180th-birthday-how-to-do-a-venn-wrong-and-how-to-do-one-right

How Indifferent Corporations Help Sexist Internet Trolls Thrive
http://www.wired.com/2014/08/jezebel-gawker-rape-gifs/

Man Faces Attempted Murder Charge After Fight With Roommate Over Cookies
http://www.huffingtonpost.com/2014/08/03/attempted-murder-cookies-chips-ahoy_n_5645823.html

Buffy the Vampire Slayer
http://www.wired.com/2014/08/binge-guide-buffy-the-vampire-slayer/

In 'Sherlock Holmes' Rights Dispute, Conan Doyle Estate Slammed Again
http://www.hollywoodreporter.com/thr-esq/sherlock-holmes-rights-dispute-conan-723114

These 'Once Upon A Time' Meets 'Frozen' Pics Are Worth Melting For
http://www.huffingtonpost.com/2014/08/01/once-upon-a-time-frozen_n_5642790.html

Boarding School Girls Trip to Coney Island 1905
http://youtu.be/08WkSmBMBD4

Does Game of Thrones have a problem with women?
http://www.theage.com.au/entertainment/tv-and-radio/does-game-of-thrones-have-a-problem-with-women-20140729-zy1wp.html

Twin Peaks: the coolest characters, the sharpest looks
http://www.theguardian.com/fashion/2014/jul/28/-sp-twin-peaks-coolest-characters-david-lynch?CMP=EMCNEWEML6619I2

No flirting on the Tardis? Good – Doctor Who was never about romance
http://www.theguardian.com/tv-and-radio/tvandradioblog/2014/jul/28/flirting-tardis-peter-capaldi-doctor-who-interview?CMP=EMCNEWEML6619I2

Clint Eastwood ( at age 26 )
https://twitter.com/historyepics/status/493584167930953728

Killjoys' cast includes Ashmore, Macfarlane
http://www.yorkregion.com/whatson-story/4644498--killjoys-cast-includes-ashmore-macfarlane/

25 Wild Photos From the Set of "Hell on Wheels"
http://www.whosay.com/articles/2923-25-wild-photos-from-the-set-of-hell-on-wheels

Mr Darcy emerges from the depths of Docklands
http://www.theage.com.au/entertainment/art-and-design/mr-darcy-emerges-from-the-depths-of-docklands-20140729-zy79t.html

Southland Slapped With $5 Million Lawsuit Over Autopsy Photo in Opening Montage
http://www.thewrap.com/southland-slapped-with-5-million-lawsuit-over-autopsy-photo-in-opening-montage/

Plastic surgeon's anti-muffin top billboard vandalised to offer more positive message
http://www.independent.co.uk/life-style/health-and-families/health-news/plastic-surgeons-antimuffin-top-billboard-vandalised-to-offer-more-positive-message-9634696.html

DVD/Blu-ray ripping software: AnyDVD v Handbrake
http://www.smh.com.au/digital-life/digital-life-news/dvdbluray-ripping-software-anydvd-v-handbrake-20140809-100jws.html.html

Tests prove that a bulletproof silk vest could have stopped the first world war
http://www.theguardian.com/artanddesign/2014/jul/29/bulletproof-silk-vest-prevent-first-world-war-royal-armouries?CMP=EMCNEWEML6619I2

Famous city scenes from TV and film comedies: share your pictures
http://www.theguardian.com/cities/2014/jul/29/famous-city-scenes-tv-film-comedies-share-your-pictures?CMP=EMCNEWEML6619I2

Supernatural Season 10: Who's the Mystery Returning Guest Star?
http://tvline.com/2014/07/30/supernatural-season-10-spoilers-returning-characters-chuck/

Supernatural season 10: Jensen Ackles describes 'sad, scary' demon Dean
http://www.digitalspy.com.au/ustv/s6/supernatural/news/a587518/supernatural-season-10-jensen-ackles-describes-sad-scary-demon-dean.html#~oLDpvgwE0uxuRD

Kristen Bell gets back to her 'Hair' roots
http://www.nzherald.co.nz/entertainment/news/article.cfm?c_id=1501119&objectid=11301710&ref=rss

Chris Pratt Mimics Zoe Saldana's Pregnancy Pose
http://au.eonline.com/news/564256/lol-chris-pratt-mimics-zoe-saldana-s-pregnancy-pose-see-the-funny-baby-bump-pic

Dancing teacakes are a recipe for soaring sales
http://www.scotsman.com/news/dancing-teacakes-are-a-recipe-for-soaring-sales-1-3489446

George Bernard Shaw discards his birthday
http://britishlibrary.typepad.co.uk/untoldlives/2014/07/george-bernard-shaw-discards-his-birthday.html

Faces of medieval skeletons found during tram dig
http://www.scotsman.com/lifestyle/heritage/faces-of-medieval-skeletons-found-during-tram-dig-1-3488134

Here's The Fast Way To Clean A Bathroom Using Little More Than Vinegar
http://www.huffingtonpost.com/2014/08/11/bathroom-cleaning-tips-vinegar_n_5668964.html

Kristen Bell Sings for a Raise in Hilarious Mary Poppins Parody
http://www.whosay.com/articles/2994-kristen-bell-sings-for-a-raise-in-hilarious-mary-poppins-parody

Kristen Bell Sounds Great As Mary Poppins in This Mary Poppins Parody
http://www.vulture.com/2014/07/kristen-bell-sounds-great-as-mary-poppins-parody.html

'Veronica Mars' Takes Top Prize At The MTVu Fandom Awards!
http://www.etonline.com/awards/148856_veronica_mars_and_game_of_thrones_win_big_at_mtvu_fandom_awards/index.html

Once Upon a Time Stars Preview 'Passion,' a 'Complicated' Triangle, Hook's New Look, Cool Frozen Twists
http://tvline.com/2014/07/26/once-upon-a-time-season-4-emma-hook-passion-regina-robin-hood-frozen-elsa/

Once Upon a Time's Jennifer Morrison & Josh Dallas Hit Up EW's Annual Comic-Con Party
http://www.justjared.com/2014/07/27/once-upon-a-times-jennifer-morrison-josh-dallas-hit-up-ews-annual-comic-con-party/

'Game Of Thrones' Star Pedro Pascal Reveals How The Show 'Broke His Heart'
http://www.huffingtonpost.com/2014/07/25/game-of-thrones-pedro-pascal_n_5621329.html

Game of Thrones: season 4 bloopers unveiled at Comic-Con 2014
http://www.independent.co.uk/arts-entertainment/tv/news/game-of-thrones-season-4-bloopers-unveiled-at-comiccon-2014-9631131.html

Pedro Pascal Really Wishes He Were Still On 'Game Of Thrones,' Even In Small Part
http://www.huffingtonpost.com/2014/07/25/pedro-pascal-game-of-thrones_n_5619749.html

Steven Moffat: "There is no Such Character as the Twelfth Doctor"
http://www.bbcamerica.com/anglophenia/2014/07/steven-moffat-character-twelfth-doctor/

Supernatural's Jensen Ackles: Dean embraces the evil inside him
http://www.digitalspy.com.au/ustv/news/a586162/supernaturals-jensen-ackles-dean-embraces-the-evil-inside-him.html#~oLd2wgRtrEumqV

Do Supernatural Shows Need a Human Element?
http://www.seattlepi.com/entertainment/tv/tvguide/article/Do-Supernatural-Shows-Need-a-Human-Element-5643827.php

Supernatural: Demon Dean Gets Tied Up, Sings Karaoke
http://www.tvguide.com/News/Supernatural-Demon-Dean-Karaoke-1084980.aspx?rss=breakingnews

The Best Gotham Surprise Ever: Ben McKenzie in Your Taxi
http://au.eonline.com/news/563581/the-best-gotham-surprise-ever-ben-mckenzie-in-your-taxi

Hawkeye is deaf in Matt Fraction and David Aja's sign-language issue
http://www.digitalspy.com.au/comics/news/a586891/hawkeye-is-deaf-in-matt-fraction-and-david-ajas-sign-language-issue.html#~oLlTONWHaMlLCV

Did Joss Whedon Just Kill All the Avengers?
http://www.vulture.com/2014/07/did-joss-whedon-just-kill-all-the-avengers.html

Macbeth review – Hugo Weaving finds the role of his career
http://www.theguardian.com/stage/australia-culture-blog/2014/jul/28/macbeth-review-hugo-weaving-finds-the-role-of-his-career

The Most Ridiculous Laws in America
http://www.wired.com/2014/07/olivia-locher-i-fought-the-law/

Why Are Opera Singers Hard to Understand?
http://www.slate.com/blogs/lexicon_valley/2014/07/28/phonetics_and_physics_at_high_pitches_why_is_it_hard_to_understand_opera.html

Have I got your attention?
http://www.artgallery.nsw.gov.au/blog/posts/have-i-got-your-attention/

Archaeologist happens upon Roman bone fragments – at the end of his road
http://www.theguardian.com/science/2014/jul/27/archaeologist-roman-bone-fragments-york

What's Up With That: Why Does Your Dog Seem to Know What Time It Is?
http://www.wired.com/2014/07/whats-up-with-that-dogs-tell-time/

Arguments against gay marriage are very silly now. Why?
http://www.slate.com/blogs/outward/2014/07/29/arguments_against_gay_marriage_are_very_silly_now_why.html

Comic-Con 2014: Recapping the best and worst upcoming films teased at this year's convention.
http://www.slate.com/blogs/browbeat/2014/07/29/comic_con_2014_recapping_the_best_and_worst_upcoming_films_teased_at_this.html

12 Eerie Photos Of World War I Blended With The Present, 100 Years On
http://www.buzzfeed.com/matthewtucker/ghostly-then-and-now-photos-to-mark-100-years-since-the-o?bftw=main

Scary Shark Attack Video Shows Just How Violent Great Whites Can Be
http://www.huffingtonpost.com/2014/08/06/shark-attack-video-great-whites_n_5655069.html

Oxford scientist warns of 'drastic action' if neighbours allow cats to roam and kill birds
http://www.telegraph.co.uk/news/uknews/law-and-order/11021590/Oxford-scientist-warns-of-drastic-action-if-neighbours-allow-cats-to-roam-and-kill-birds.html

Australian commuters help free man trapped against platform
http://www.bbc.com/news/world-asia-28674322

Inside the Secrets of Hollywood's Calendar
http://time.com/3084046/movie-themes/

Swearing makes pain go away
http://www.abc.net.au/science/articles/2014/08/05/4060601.htm

The history of gin: from mothers' ruin to craft delight
http://www.abc.net.au/radionational/programs/rnfirstbite/gin-mothers-ruin-to-craft-delight/5621730

How the Web Became Our 'External Brain,' and What It Means for Our Kids
http://www.wired.com/2014/08/end-of-absence-how-technology-changes-our-brains-society-children/

Fierce comics at the end of the world
http://blog.sfgate.com/morford/2014/08/05/fierce-comics-at-the-end-of-the-world/

'We don't want to be a museum piece,' Jim Kerr on Simple Minds' stadium revival
http://www.express.co.uk/entertainment/music/494550/Simple-Minds-Jim-Kerr

Daleks invade Sesame Street
http://www.radiotimes.com/news/2014-08-04/daleks-invade-sesame-street

How Misha Collins Got Supernatural Fans to Completely Take Over the Internet
http://au.eonline.com/news/566586/how-misha-collins-got-supernatural-fans-to-completely-take-over-the-internet

Finding Carter Interview: Alexis Denisof Discusses the Challenges of the Show
http://collider.com/finding-carter-alexis-denisof/

The five worst book covers ever
http://www.theguardian.com/books/booksblog/2014/aug/07/five-worst-book-covers-ever?CMP=EMCNEWEML6619I2

New jellyfish discovered: giant venomous species found off Australia
http://www.theguardian.com/world/2014/aug/08/new-jellyfish-discovered-giant-venomous-species-found-off-australia?CMP=EMCNEWEML6619I2

Runner uses Nike+ app to draw penises
http://www.theguardian.com/technology/2014/aug/06/runner-nike-san-francisco-penis?CMP=EMCNEWEML6619I2

New Order: 10 of the best
http://www.theguardian.com/music/musicblog/2014/aug/06/new-order-10-of-the-best?CMP=EMCNEWEML6619I2

5 Guardians of the Galaxy stars you didn't know were in Doctor Who
http://metro.co.uk/2014/08/05/5-guardians-of-the-galaxy-stars-you-didnt-know-were-in-doctor-who-4820469/

At Bletchley Park, a Reminder About the History of Cracking Codes
http://bits.blogs.nytimes.com/2014/08/09/at-bletchley-park-a-reminder-about-the-history-of-cracking-codes/

Tea Cakes
http://en.wikipedia.org/wiki/Tunnock%27s#Tea_Cakes

Agatha Christie's diamond jewellery up for sale
http://www.telegraph.co.uk/news/uknews/11026597/Agatha-Christies-diamond-jewellery-up-for-sale.html

Matt Bomer & The Cast Of 'White Collar' Finish Filming Last Season, The Nation Collectively Weeps
http://www.socialitelife.com/matt-bomer-the-cast-of-white-collar-finish-filming-last-season-the-nation-collectively-weeps-08-2014

Matt Bomer Says Goodbye to White Collar
http://www.out.com/entertainment/popnography/2014/08/06/matt-bomer-says-goodbye-white-collar

Matt Bomer & 'White Collar' Cast Post Pics from Last Day on Set
http://www.justjared.com/2014/08/04/matt-bomer-white-collar-cast-post-pics-from-last-day-on-set/

The Adorable Photo Proof That Matt Bomer And Lee Pace Have Been Best Friends Since High School
http://www.buzzfeed.com/jarettwieselman/the-adorable-photo-proof-that-matt-bomer-and-lee-p#2xfbp5g

Matt Bomer & 'White Collar' Cast Post Pics from Last Day on Set
http://www.justjared.com/2014/08/04/matt-bomer-white-collar-cast-post-pics-from-last-day-on-set/

WHITE COLLAR's Tim DeKay Visits DROP DEAD PERFECT Off-Broadway
http://www.broadwayworld.com/off-broadway/article/Photo-Flash-WHITE-COLLARs-Tim-DeKay-Visits-DROP-DEAD-PERFECT-Off-Broadway-20140731

Matt Bomer, Willie Garson And The Cast Of 'White Collar' Are Saying Goodbye With The Best Twit Pics
http://www.socialitelife.com/matt-bomer-willie-garson-and-the-cast-of-white-collar-are-saying-goodbye-with-the-best-twit-pics-07-2014



Total Film

#217

April 2014

UK
InStyle

May 2014

Australia
GQ

June 2014

US
Foxtel Magazine

April 2014

Australia
Foxtel Magazine

June 2014

Australia
Details

May 2014

US
FilmInk

#9.21

August 2013

Australia
Nylon Guys

May 2014

US