This morning I woke to the news that both Homer Simpson and William Shakespeare were now following me on Twitter. The very idea of it just made me smile. Clearly I preach to a broad church - smirk.
I think it was just cause I posted an article on Simpsons quotes as memes (thus telling the age of writer and reader, and a tweet on going to see the STC briefing for the Scottish play. Alas, I was really tired and kind of fed up so I don't think I got as much out of it as I usually do, but Hugo Weaving was there, right in front of me, and that has to count for something.

What can I say, the moment I realised I was in for another extreme re-imagining of Shakespeare, my heart just sank and everything else was just mechanical listening, though the ghost story was cool (well, somebody had to ask about the 'curse' and at least it wasn't me).

So, aside from long days spent in the pursuit of other people's deadlines, um, well, I missed all the theatre I had tickets to see on the weekend because I was just way too knackered. I was quite upset...until I was told there was a White Collar marathon on the telly. I haven't seen it for ages, but this time I actually did sit down and watch it, especially as I've never been able to make to the end of S4 without interruption. This time interruptions were upon pain of severe hurting, so I watched in peace, well, almost, mostly, a bit, some, as a make up for a complete lack of doona days when I really needed them (courses, meetings, deadlines and I was so unwell I ruined every chair I sat in, hence the knackered).

I also saw the Belvoir's production of Ibsen's Hedda Gabler. Oh man, that was painful. Style over substance all the way, stunt casting over acting ability, just badness all round (and I wasn't the only one begging for it to stop, just, please, stop). Lots of posing to loud electronica, and not much else. Not that I'm against gender blind casting, I mean, Hedda could and should be played by a drag queen, bitch on wheels that she is. Just one capable of more than pouting and delivering lines so flatly you could hear every one of them slap onto the stage like a dead fish.

I was really quite fed up with it, and every production I've seen so far this year. Maybe I was just overtired and hormonal (something your average trannie will never understand because it's bone deep, that kind of tired). But really, all stunts, no substance, all surface, no emotion.

So that was disappointing.

Less disappointing was the mad trip to Melbourne. Yeppers, I went to Melbs for a Veronica Mars panel at a con, but they also had Arthur Darvill (late of Doctor Who and Broadchurch), Tom Skerrit (heaps) and Jennifer Morrison (late of House and Once Upon a Time).

But It wasn't just the con. I went down on Friday and bounced around the shops in screamingly awful weather but I found a very, very cool black dress to wear, and just as well I did because I also went to the Friday night art bar at the NGV with a ticket to the so called Italian Masters from the Prado exhibition. What can I say? I was a touched underwhelmed, or maybe I was just hoping for a few more portraits rather than endless, endless pastorals. Even the talk on costume and fashion only had two paintings to point to, and the talk on Italian masters featured biographical information on the greats, none of whom were featured in the exhibition, so no checking out Leonardo, Michaelangelo or the rest of the gang.

Kinda telling, ya know? I know, these exhibitions are $$$ to mount and we'll not see it's like again, but it really wasn't top notch stuff. Once again, the NGV brings us the best of a basement somewhere. They do try, bless, but if I see another fekking painting of another fekking rustic watching over his sheep....

What the evening was about though was what was happening on the gallery floor. Friday nights at the gallery is where Melbournians come to pose, preen, promanade and parade, and, oh man, they did it in spades, from desperate divas in barely there sequins so serious beatniks to whatever the Melbs equivalent of a Double Bay trophy wife is to a couple in full Vivienne Westwood kabuki style gear that would not have been out of place at the height of the Blitz club.

So yeah, the paintings, eh, meh, but the crowd watching was where it was at. Thank goodness for cool dress.

Cool dress also got another go on Saturday night. Turns out my hotel was right behind a theatre and I could only walk past it twice before asking if they had a single for Saturday (since I had no tickets for con events). Yes, they did, and the best seat ever, ever, ever, too. Oh, man. I love old theatres (Sydney has none, they knocked them all down in the 70s, 80s and 90s so now my theatre is in horrid little ex-industrial sites outside the city).

I was there to see The King and I, and yes, terrible example of west is best imperialism, but I was just there for the tunes and so what if I had a much better time watching (Australia's sweetheart) Lisa McCune in an old musical than the Belvoir's painful posing. I did, so there. The stage was exquisite, making perfect use of the arch with pefectly pretty Thai like screens that wouldn't be out of place in a 60s department store display. So kitsch I was delighted. The costumes were bright and sparkly and Lisa was just perfect, better even than Kerr. And the tunes, well, I've been humming them ever since (only just starting to fade now).

I blame Bill Collins, too many musicals on telly in my formative years. It's comfort food.

Speaking of which, my hotel fronted onto Little Bourke Street, which is Chinatown, basically, so there was no shortage of comfort food on hand. Had all my faves. (I think Chinese is comfort food from my years studying nights at UTS which is Chinatown adjacent. Those $5 plates made me the woman I am - grin).

Loved my hotel. A boutique hotel, and you knew that because the door was bright yellow and there was a bean bag chair in the room, but smaller hotels are better at accommodating my no air freshner requirements (lest I have an asthma attack) and the locale was everything I hoped, within actual tired me walking distance of convention, shops, theatres and resturants. They also had muffins and water you could take with, which was such a life saver at the food queues at the con were longer than the autograph queues. It was just the best hotel ever.




I mean, I've had hotel rooms with grander bathrooms, softer beds, fluffier towels, but this ticked all the boxes I needed that weekend, so, happy.

The con itself was held in the Royal Exhibition Building, which unlike Sydney which has demolished the exhibition buildings built in the 1980s, dates from the 1880s and what a gorgeous old birthday cake of a late Victorian pile it is, and all hand painted wood panels inside, which I did not know about. I must admit I worried about it all weekend, heaving with heavily costumed con-goers (though Melbs doesn't quite do cosplay like Sydney), when, if you've read your Phryne Fisher, you'll know it's mainly for the Mayor's wife's flower pageants.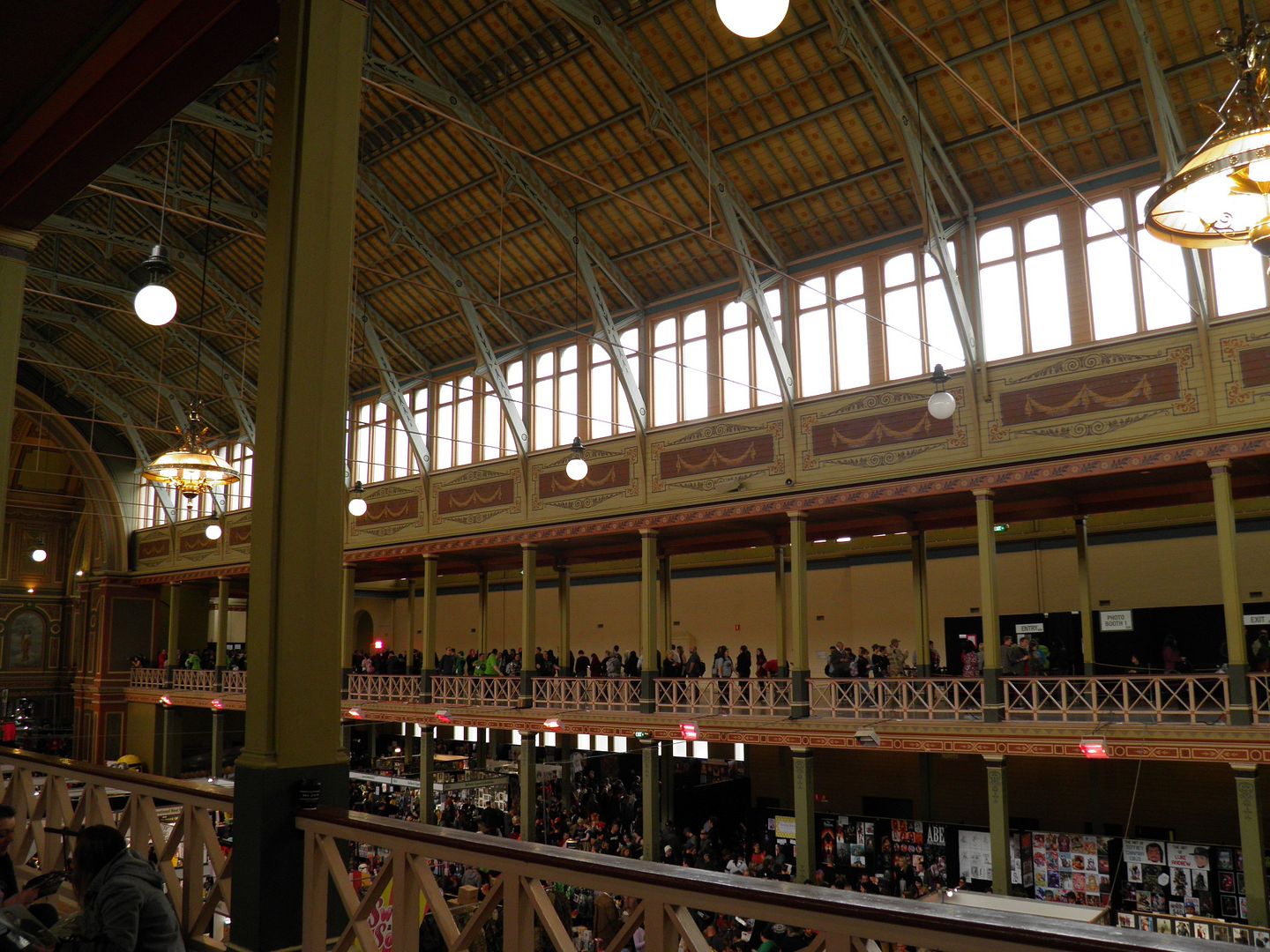 It also meant the main stage was in a tent outside, one of those white plastic marquee things and in Melbourne in winter it was effing freezing. Even the boys from the UK, Canada and NZ were complaining, that's how cold it was. That aside, at least they had us line up in another tent to get in, unlike Sydney where I'd stood out in lashing rain so many times I just don't bother to turn up before the doors open any more.

The only other grumble was getting from this place to that, with staircases blocked off and the main doors blocked by food stalls and gamer areas. Darn dangerous, never mind trying, if you ask me.

The rest of the con was fun, fun, fun. Cool guests, nice folks (Victorians, South Australians and Western Australians are laid back dudes), and I found the perfect goggles for my hat, the ones Jennfer Morrison just loved to bits (nothing quite like a tv hero fawning over your best hat, imo).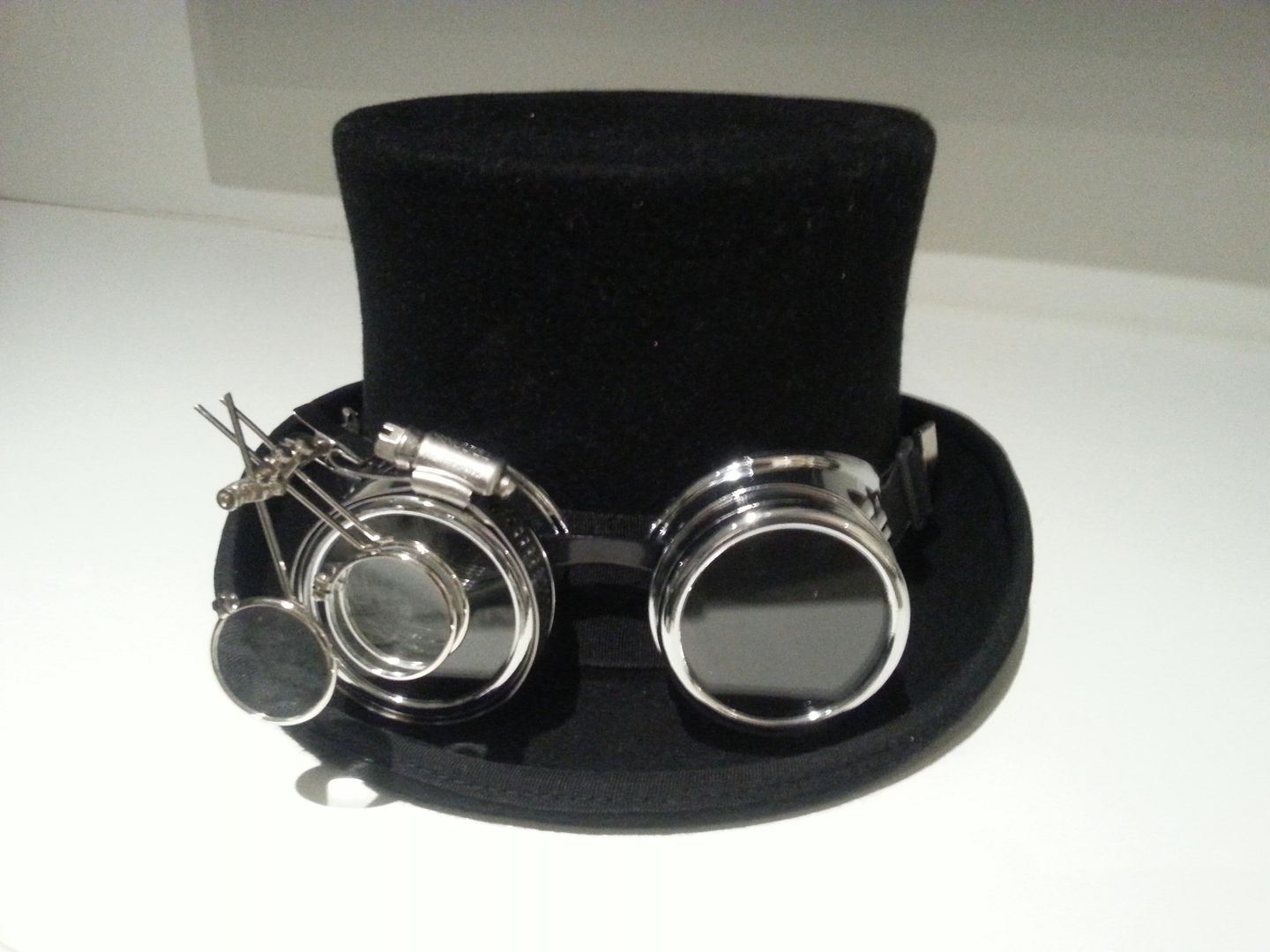 I managed to get my Veronica Mars dvd signed by Jason Dohring, Aaron Ashmore and Sam Huntington. The panel itself was a bit of a shambles, with Jason taking it seriously, Sam so very not, and Aaron stuck in the middle, but hey, I justed wanted to be there.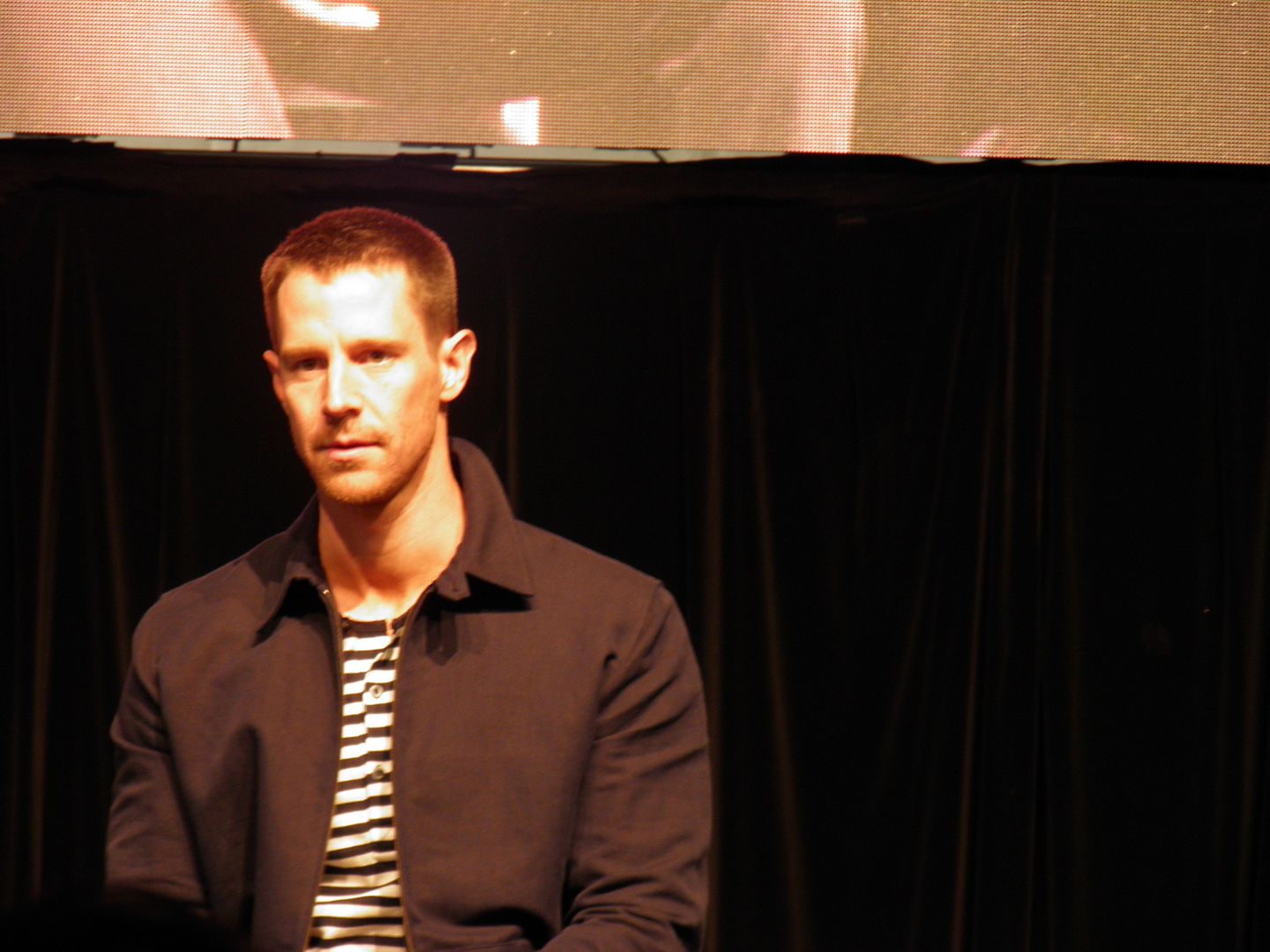 Arthur Darvill was also pretty serious, and he played a tune on Sunday, bless. I like Arthur so I won't comment (though he was halfway through before anyone recognised it, oh dear), and he said the Roman costume was his favourite but it was so noisy he was like a walking on man band.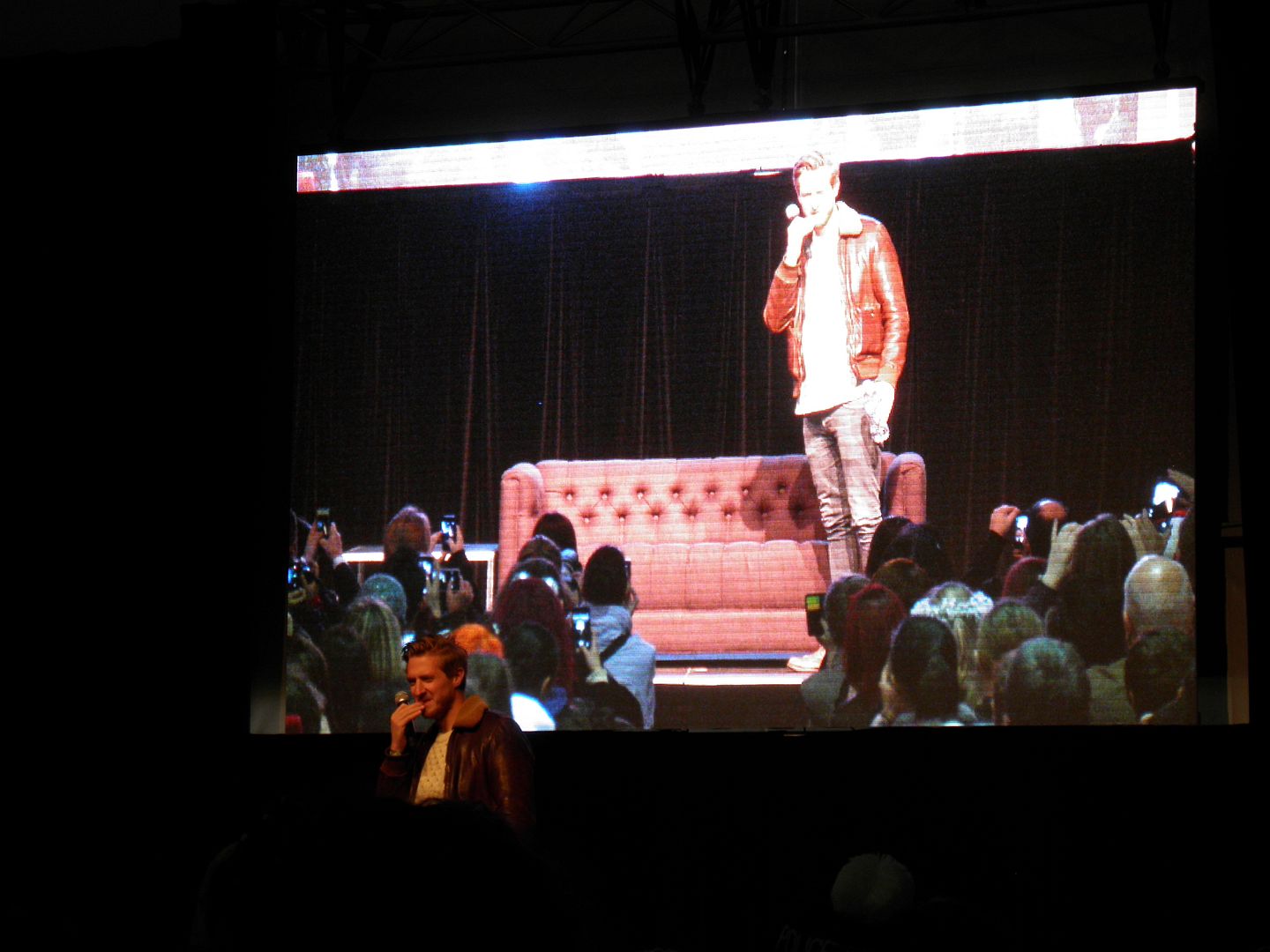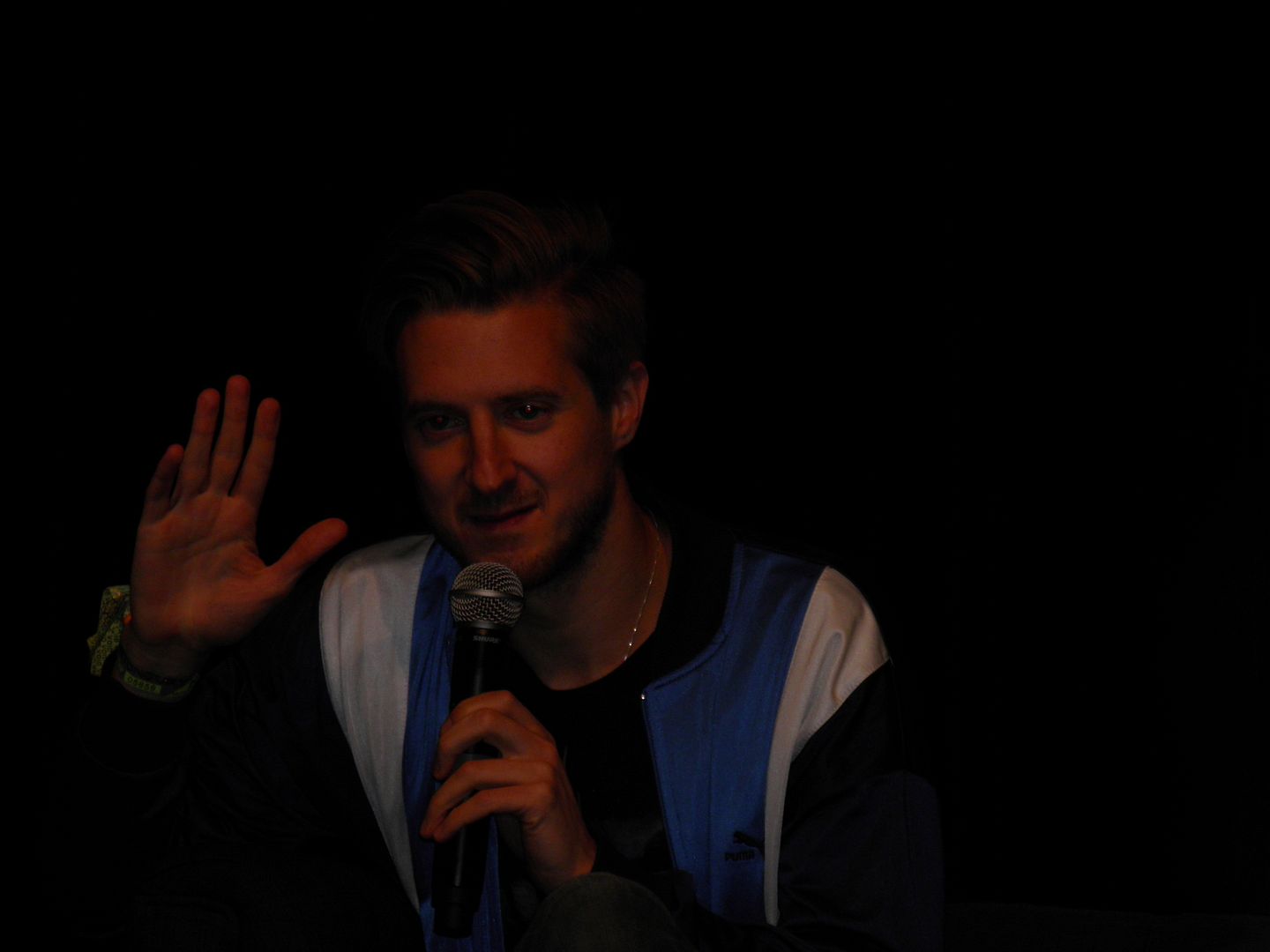 Jennifer Morrison was pretty serios the first day but was more relaxed the second. She's a huge Princess Bride fan (yay) and when Hook said 'As you wish' that was her Buttercup moment. Bless.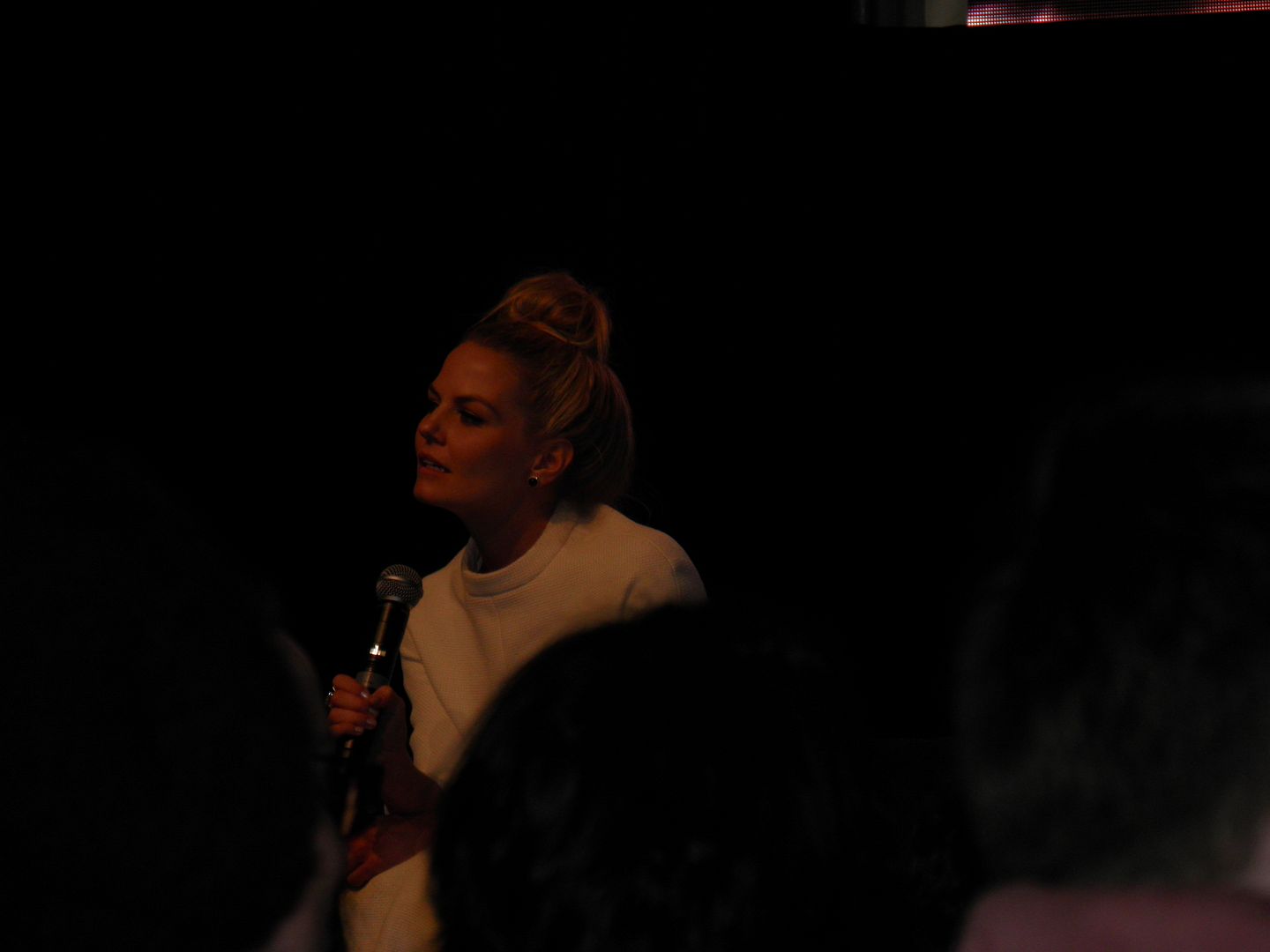 Aaron Ashmore had a sad tale about walking past the Toronto studios after Warehouse 13 was axed and seeing all the shelves from the warehouse in the skip. [Pout].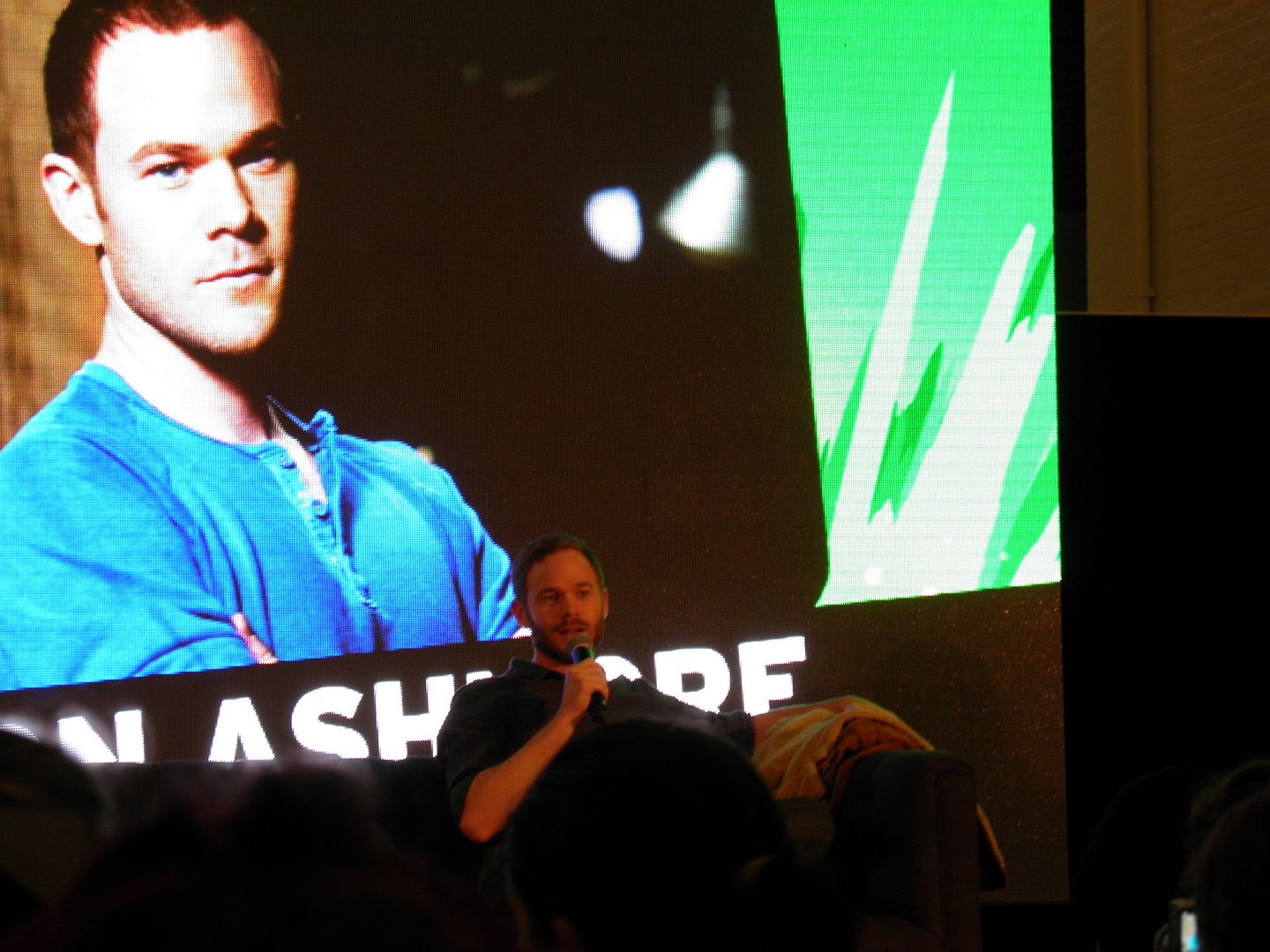 Tom Skerrit was wonderfully trippy like any actor who's lived through LA in the 70s but he had wonderful affirming things to say about writing your own story, whatever it might be. Sweet guy.

Dean O'Gorman had a lot of dwarf gossip, possibly none of which can be repeated, including some glorious drinking stories that involved Aidan turner and Jimmy Nesbitt. You get the idea.

Missed most of Shawn's panel (see getting from A to B), ditto the Thrones one, but hey, at least the queues were do-able, as opposed to Sydney (see also Game of Thrones).

So yeah, it was cold, but I came and saw and did everything I wanted to, or most of it, so I was pleased. Call that mission accomplished. I dunno, I usually find cons fraught because I have a certain number of goals I need to achieve, and a very limited time in which to do it. This was a much better con, but I think I enjoyed Supanova more because I wasn't quite so invested in the guests. Does that make sense?

Never mind, it was a most excellent excursion. After a rocky start (the taxi I caught reeked of sick, and thus my most favourite coat, now and forever), it started kicking off in fine style. My favourite cafe was pleased to see me and had clam chowder on the specials board. My first chowder since San Francisco like three or four years ago, so, score. My other favourite cafe was not overcrowded with students this time, so, score.

I went to my favourite record store and there was a band setting up on their tiny stage in the corner. I stayed and they rocked, they really did. I bought the CD and the band all signed it for me. That was outstanding and fun. So Melbs.




I also did a turn around the NGV. Alas, poor NGV, so much stuff is now disputed and dodgy there's only one floor of permanent displays, rather than the three there used to be.

I did wonder if it would ever become a problem, all that maginificent stuff they bought for cheap in the 30s (I could tell you why dodgy cheap 30s purchases aren't a problem here but it would involve outing the extreme views of the persons involved and we can't have that. No, sod 'em, let the world know they were armband wearing blackshirts who refused to buy anything that had been created by a Jew or owned by a Jew so unlike other galleries with problematic assets acquired in forced sales and worse, none of that in the local gallery thanks to their frightful and rampant antisemitism).

Alas, poor NGV. So no more Modernists, except for a bequest from the 1970s, which is a let down (not the bequest, which is brilliant, but the missing works I'd loved so much, hey, at least they were saved, unlike the owners, ooops).

I was just getting into the Modernists, now I understand the context in which they messed with convention (I had no idea what the convention was, it just seemed like chaos to me, but now I know the rules). But the 19thC British stuff has its own rooms now. That's no bad thing if you're into bonnet dramas, as I am. At least the British stuff is 'safe'. Unless you want to start considering colonialism, imperialism, industrialisation...oh dear.

It's like the human misery involved in a simple cup of tea (slavery, opium wars...). Sometimes it's all too hard and I just want to look at the pretty things.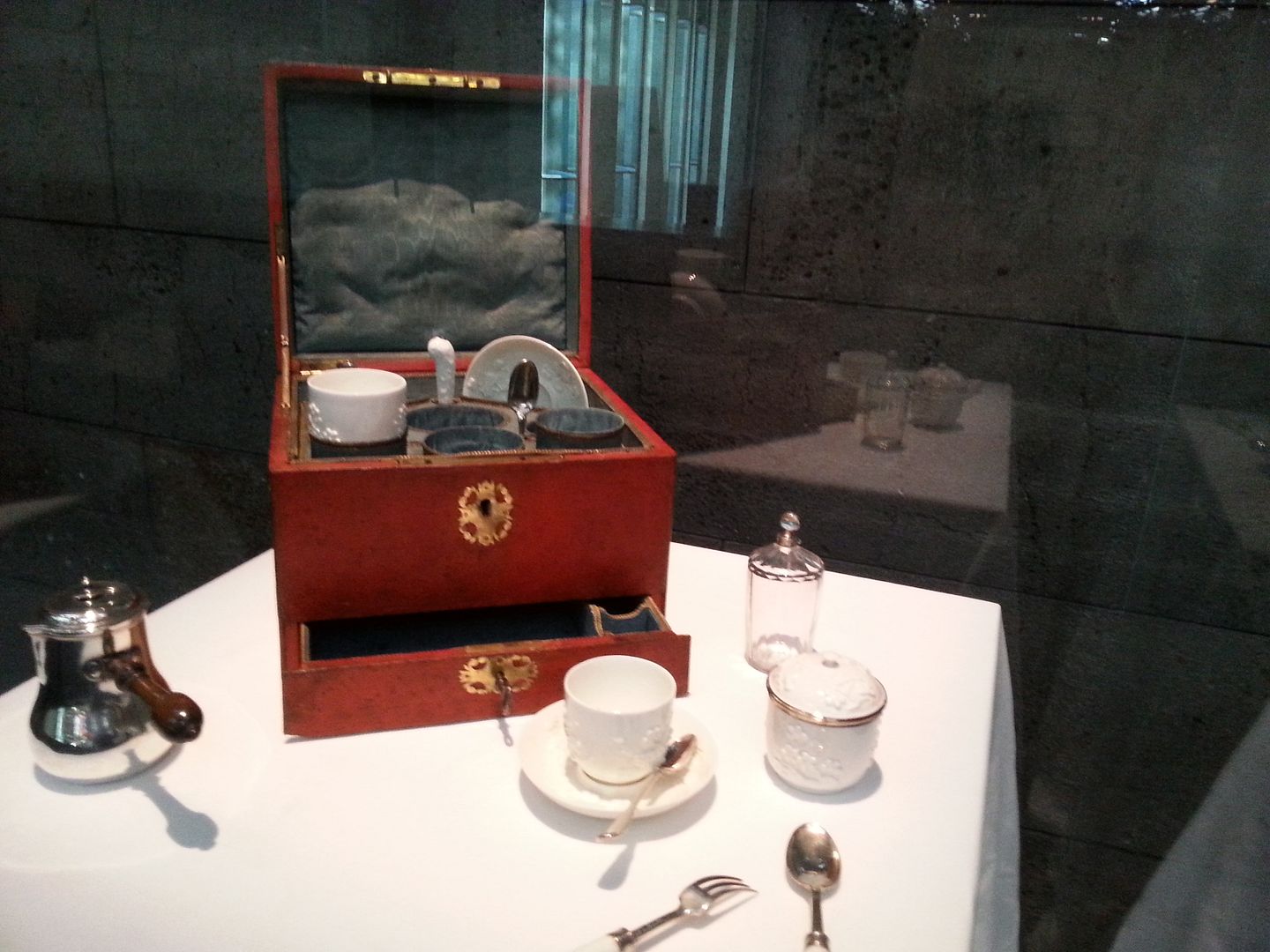 But yeah, aside from the dark subtext (and the disturbing amount of putti), the gallery was fun and educational as always. Reading the Iliad? Check out a couple of Greek pots (something I cannot do here). Check of the still extant faves, saw a few new hangs, found the Pamelas.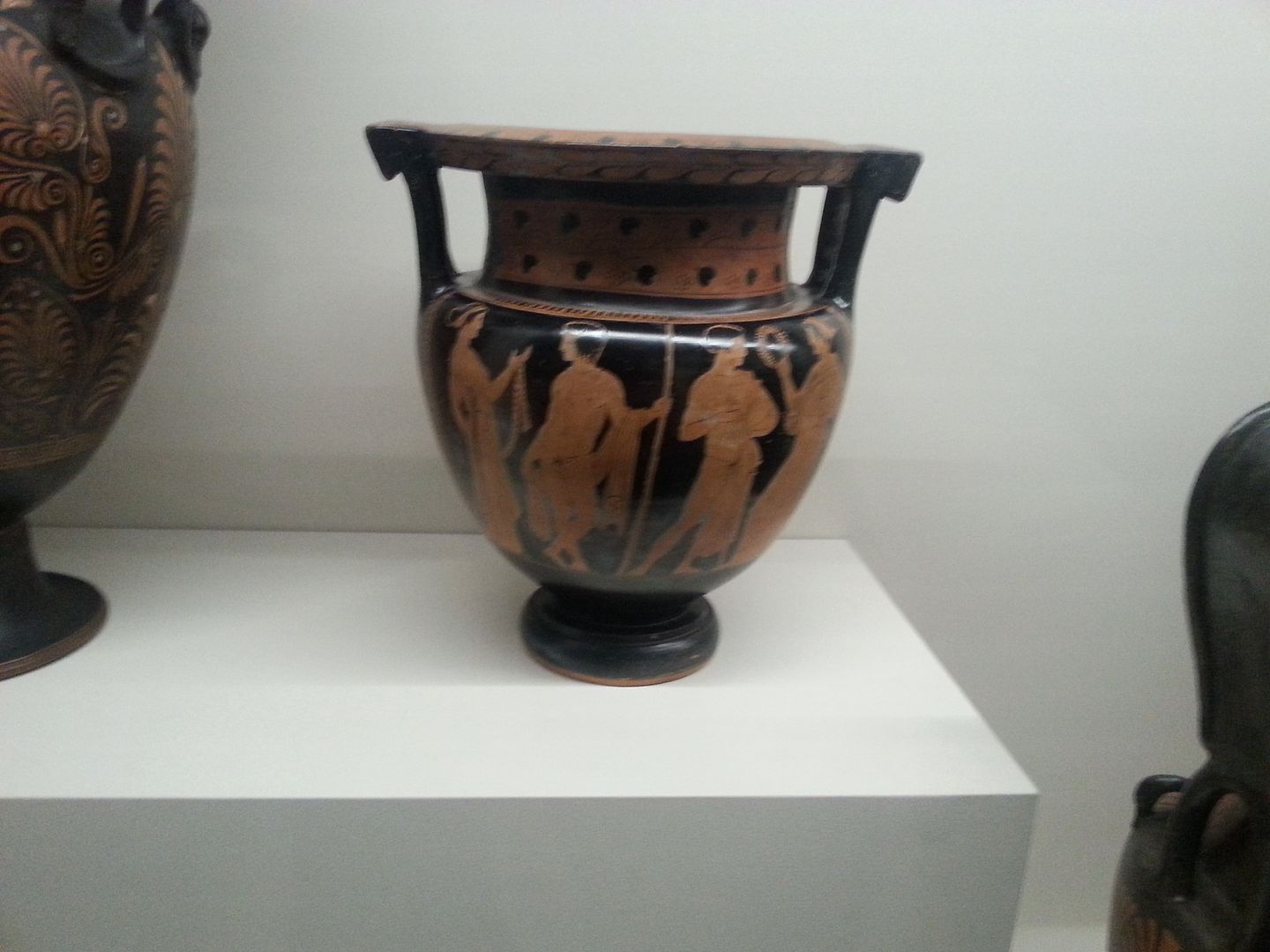 It was a good morning. The whole trip was just one happy event after another.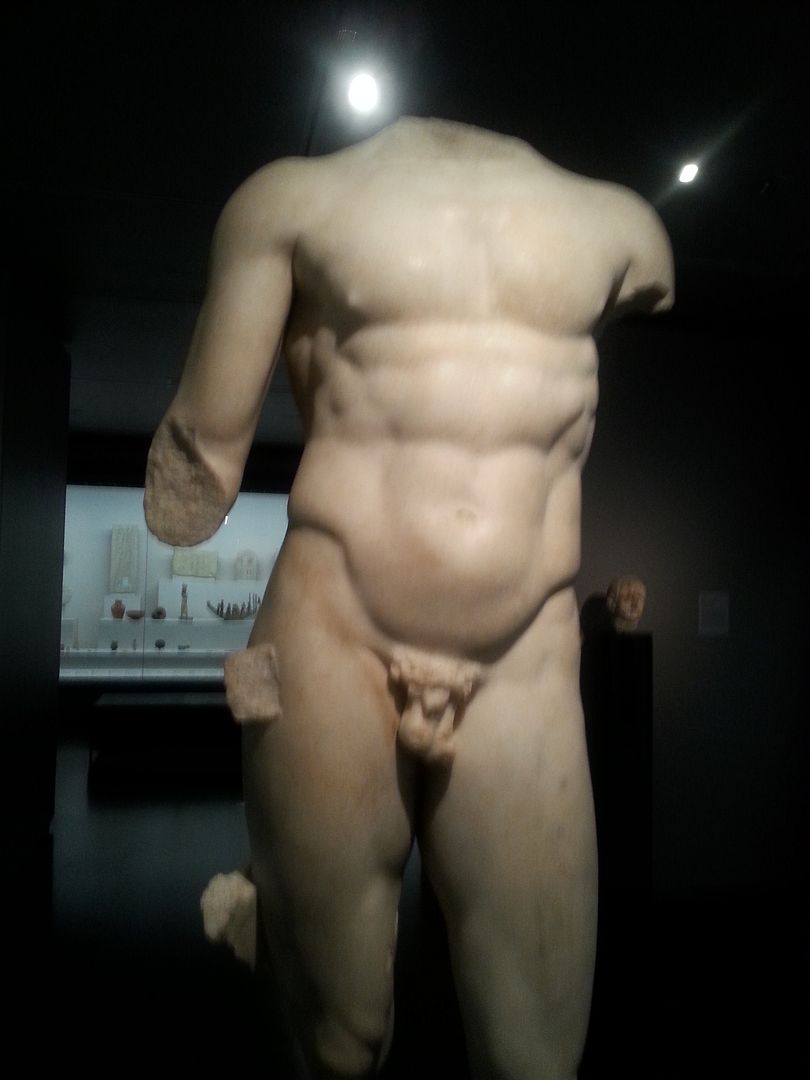 Yup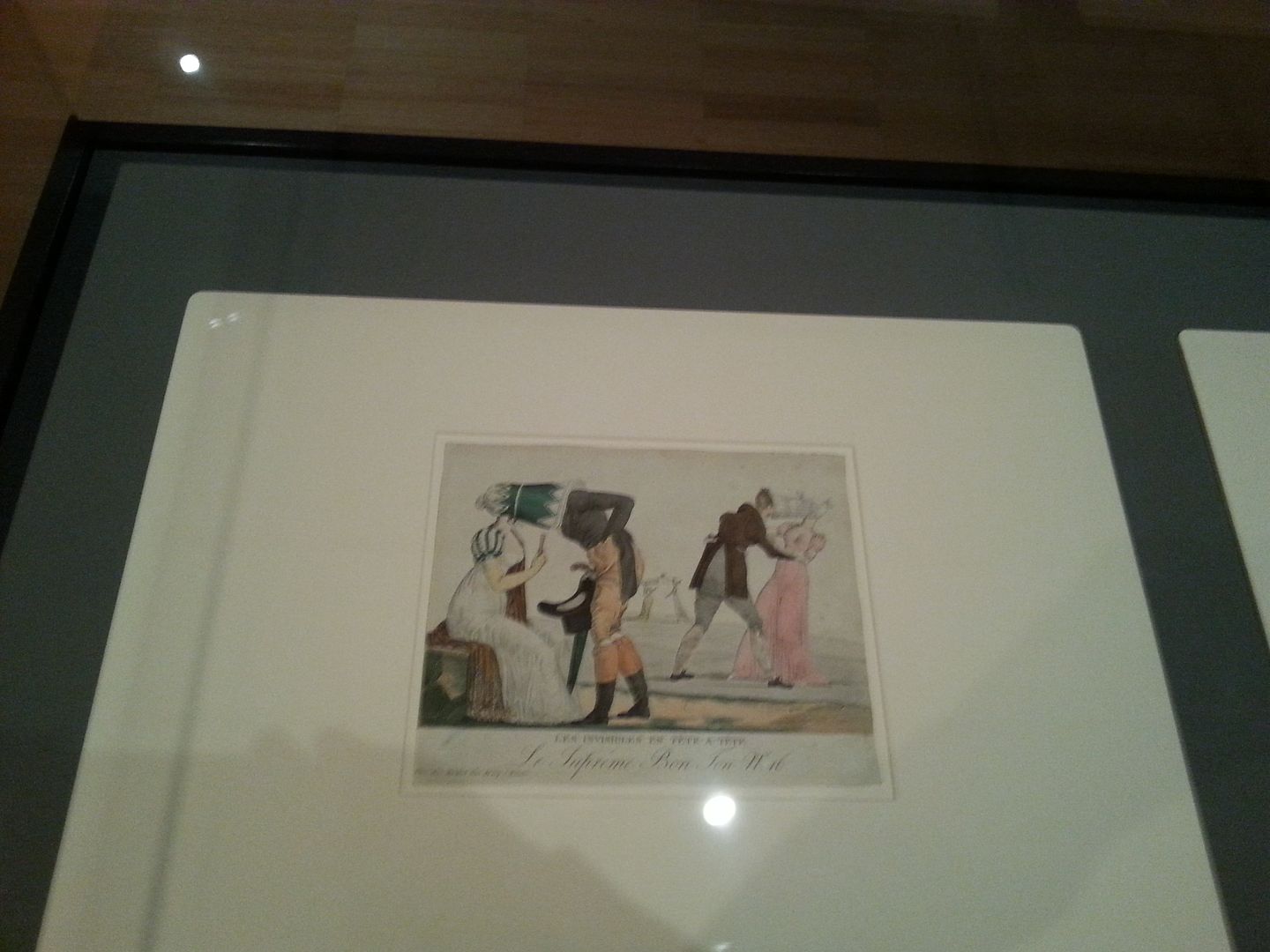 Mocking French cartoons of British fashions. Mind you, they had a point...



Frank Lloyd Wright from New York. Looks comfy.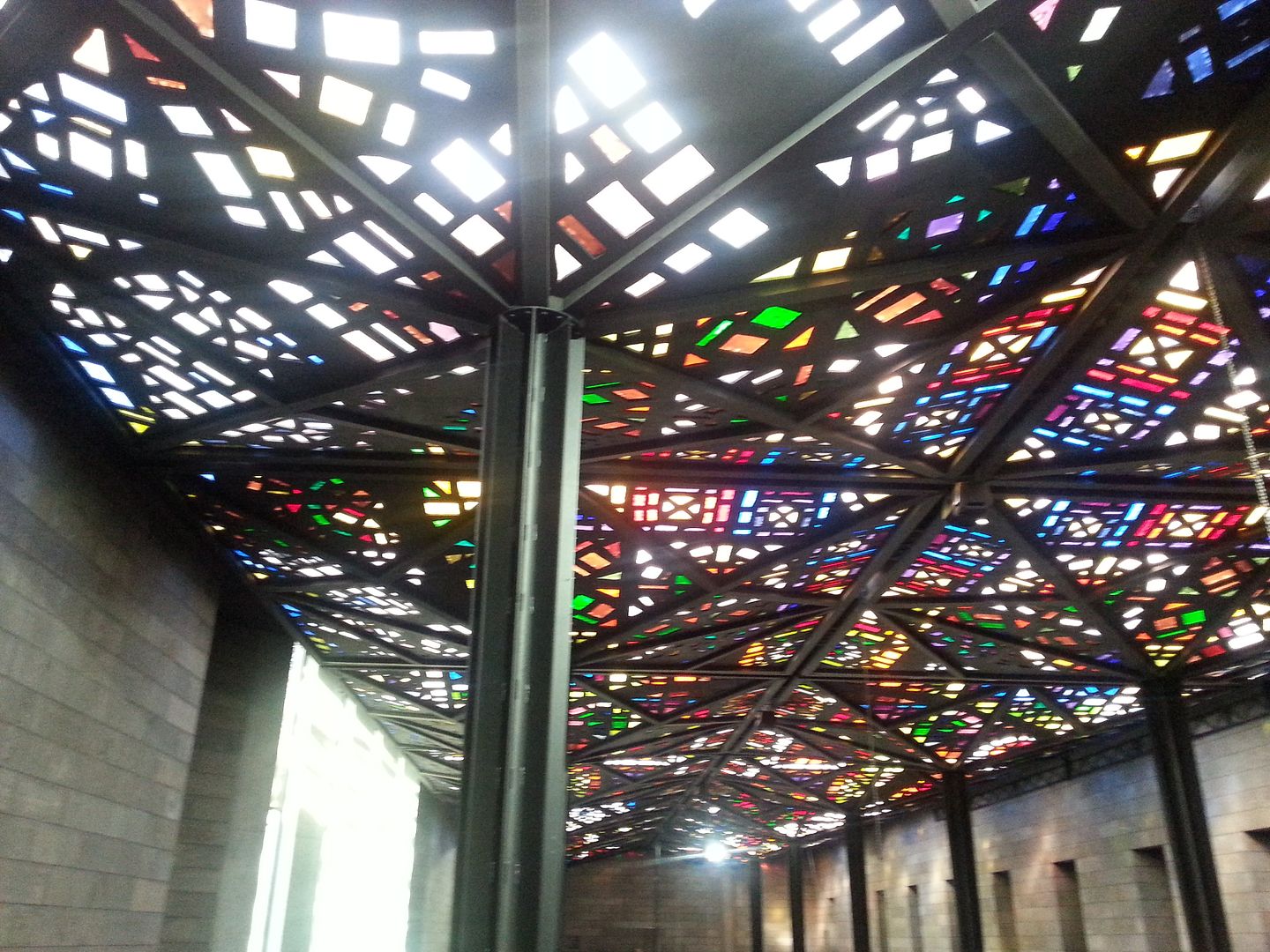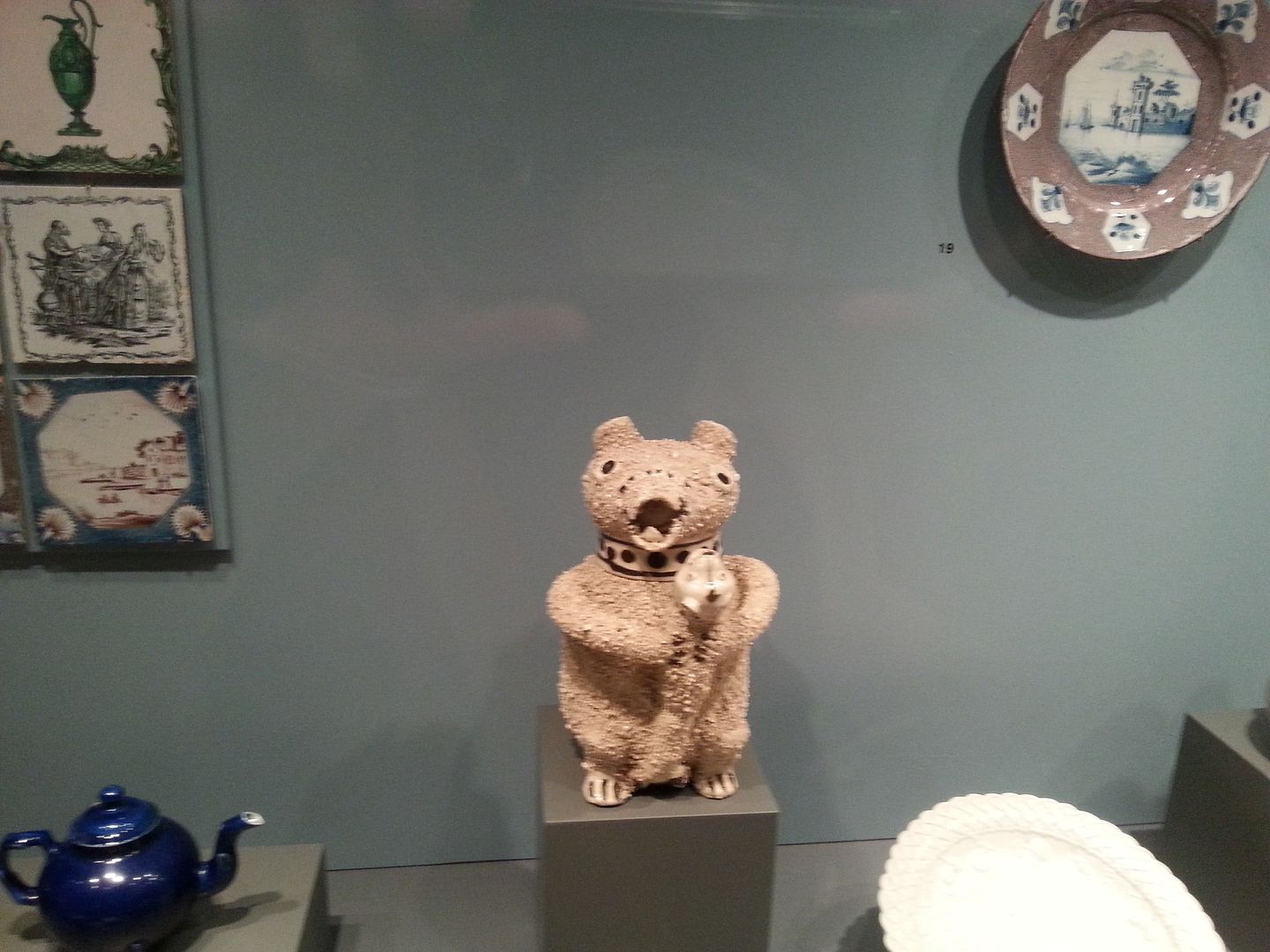 Plate, plate, teapot, WTF....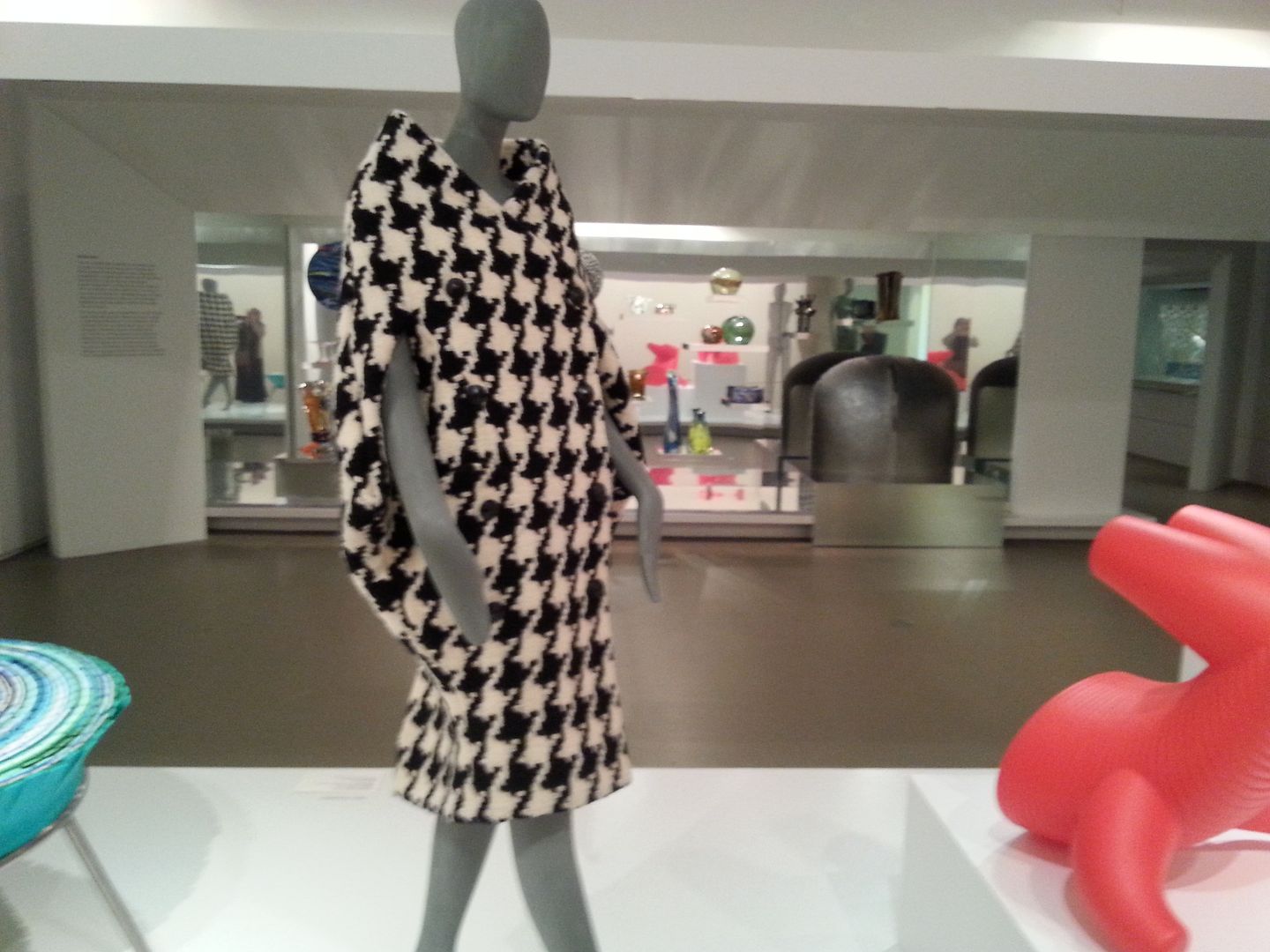 DJ's has escaped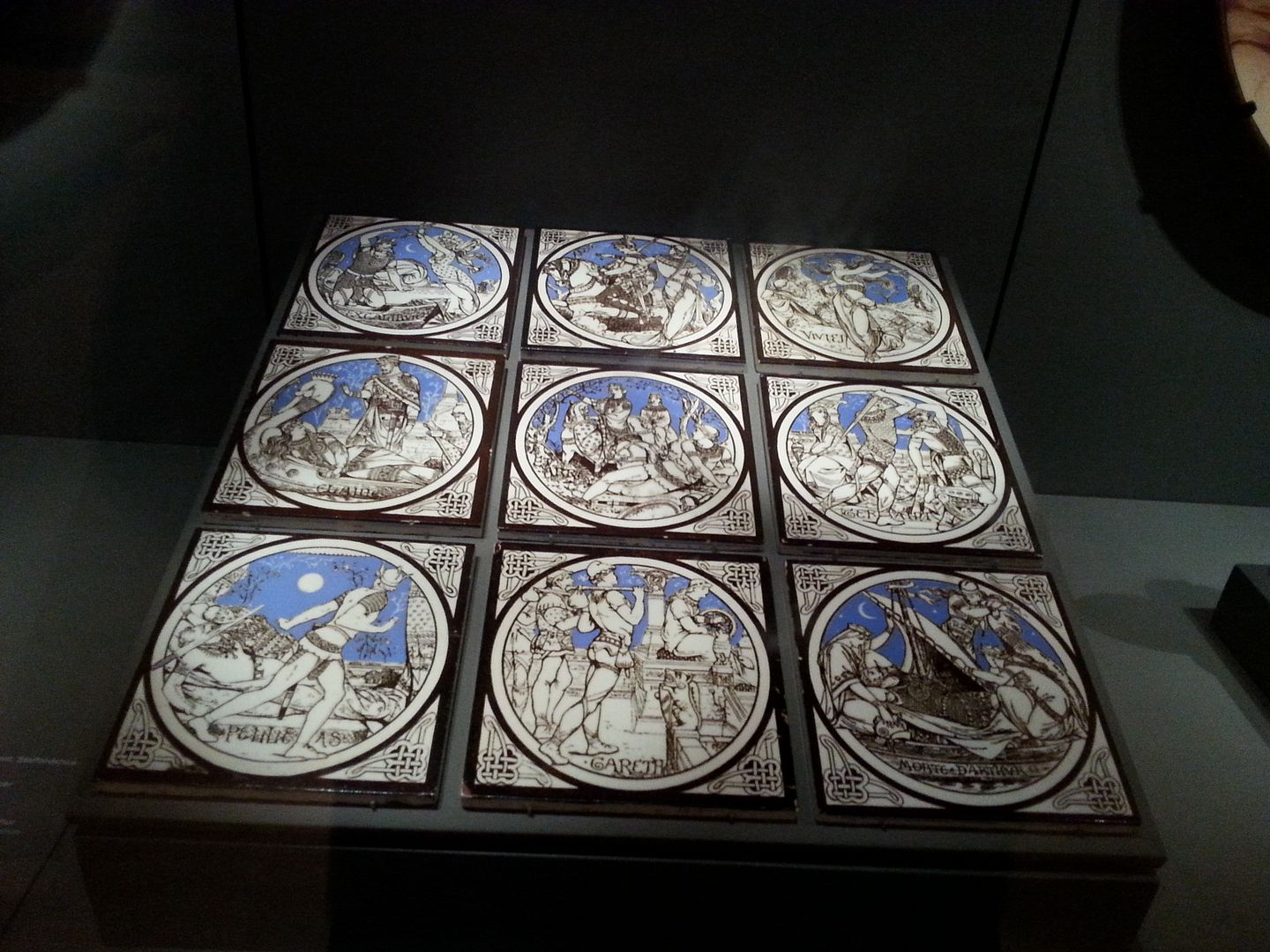 Arthurian tiles from the 1860s.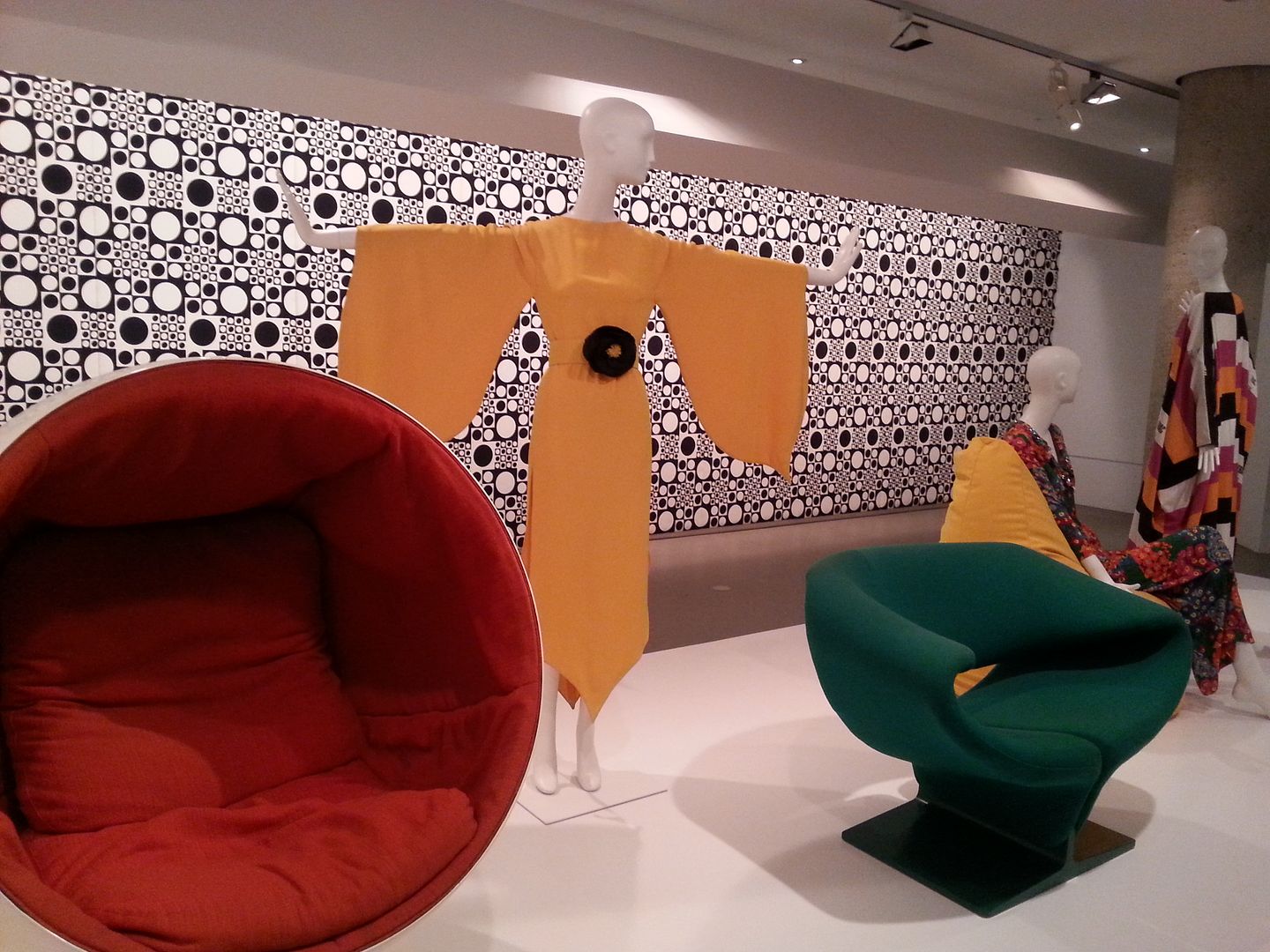 It came from the 1960s

Oh yeah, and there was the mysterious upgrade to business class on the flight home. I wasn't going to argue, and the check-in girl leant in and told me to go left to the lounge where the champagne was free. Right she was. So I sat in the liunge chair with my bubbly, reading the Iliad, and feeling ever so cosmopolitan. That was fun.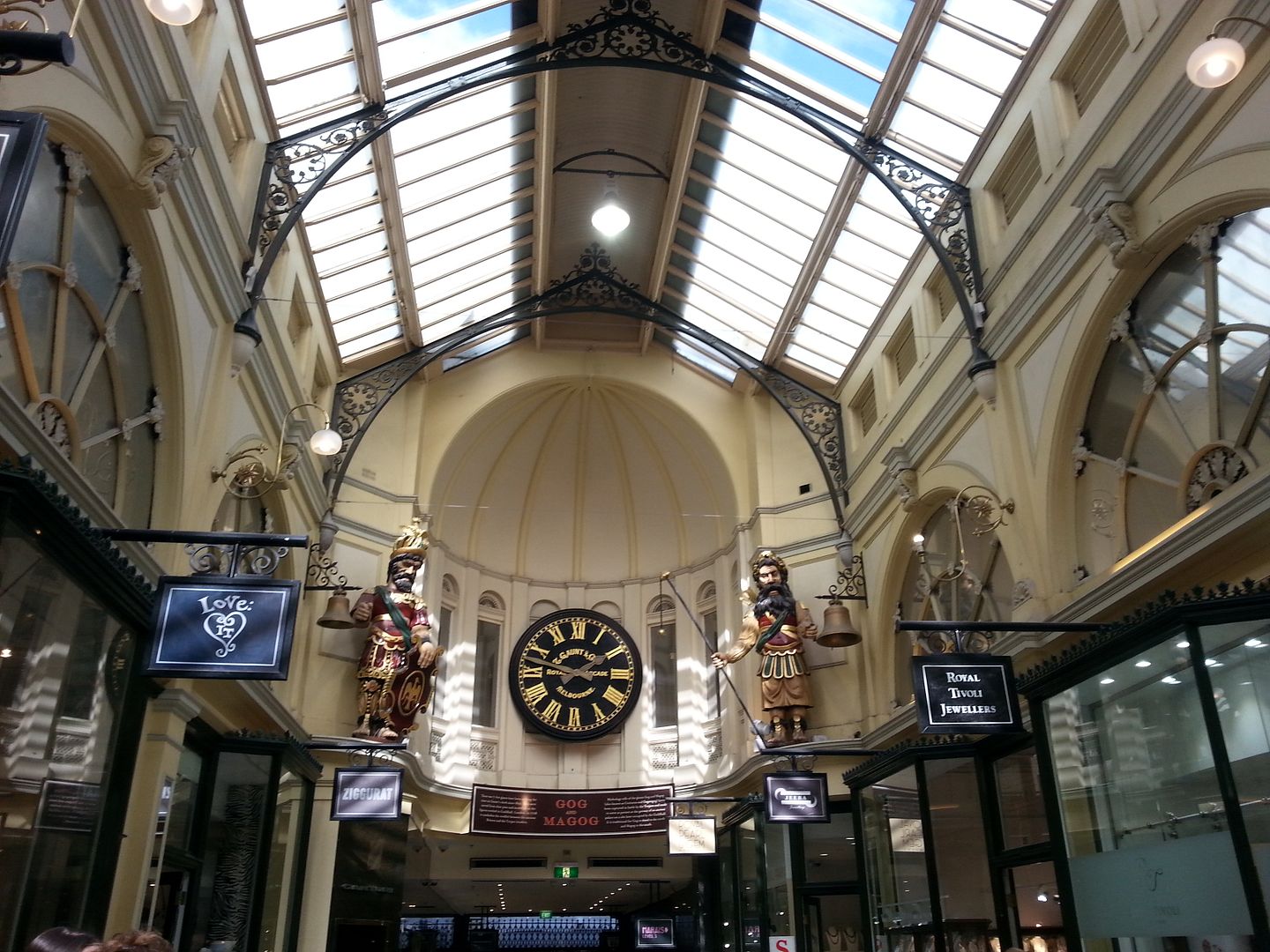 Gog and Magog

The whole thing was fun. And then I came back to Sydney. Game over.

Later...

So James Garner died. As you might be aware, I was a big fan, and Maverick remains one of my most beloved shows. Hell, I was on my knees trying to take a photo of the hat in that museum display in LA. It makes me sad, and none of the obits even mentioned his effigy in wood, such was the man's wide ranging influence.

Still, it's the long tail of his influence that warms me. He might not have invented the scoundrel as hero, but he certainly stamped it on popular culture. Through Mr Garner, via Maverick and Rockford, we have Han Solo, and from Han Solo to Guardians of the Galaxy (which I am eager to see).

Maverick lives, you see, so I'm sad, and not sad. Happy crying, as the Doctor would say.

In other news, they're remaking Manimal. Like W and TF? Not to say I didn't click on the news, and was caught reading it red handed as my preferred seat was occupied this morning so I couldn't read my feed with my back to the wall, and it was all Manimal and Doctor Who today, good grief. Still, I can only hope that they couldn't see what I was reading and neither knew nor cared.

I do not like the people in this building. The other day one poor woman was struggling to get an entire stand's worth of display martials up in the lift and two 'gentlemen' refused to help point blank. I got her up there, but still. The people in this building are not nice.

In other words, I don't fit in. They wear suits worth more than I earn in a year, I'm reading articles about Manimal on an old phone. I so don't fit in. Sigh.

Too Scottish, probably, if the dancing Tunnocks teacakes at the Commonwealth Games opening ceremony is any sample of a shared sense of whimsy. And a love of Tunnocks teacakes. Himself found a packet on Monday that did not taste like they'd spent six very sad and unhappy months at sea, as they usually do, and I'd been so happy all week, playing with the shiny red and silver wrappers, so imagine my delight when I saw that.

And I don't care about the uproar over John Barrowman. He's a sweetie and he can do what he likes, and besides, I think I now know far more about his marriage to Scotty than I ever needed to. Those two, they just made that con for me. It was like the John and Scott sitcom, live onstage. Now there's a thought...Episode One: The Shitty Kitty (I'm not even going to try finding a link, you simply just had to be there, dahlings).

Previously...

I think I totally forgot to mention that we did Vivid. Not well because faulty intel caused me to have to double back several times, and I was snarled at quite badly as my poor blown ankle refused to keep up as much as I tried (took three days for the swelling to go down). But yeah, just the light installations, none of the shows this time (sold out or not interested) and the lights were a bit meh this year (oooh, lookit, geometric shapes projected onto a wall, how novel, for the 57th time), except for the tree in Martin Place and the giant bunnies under the bridge. Those were cool.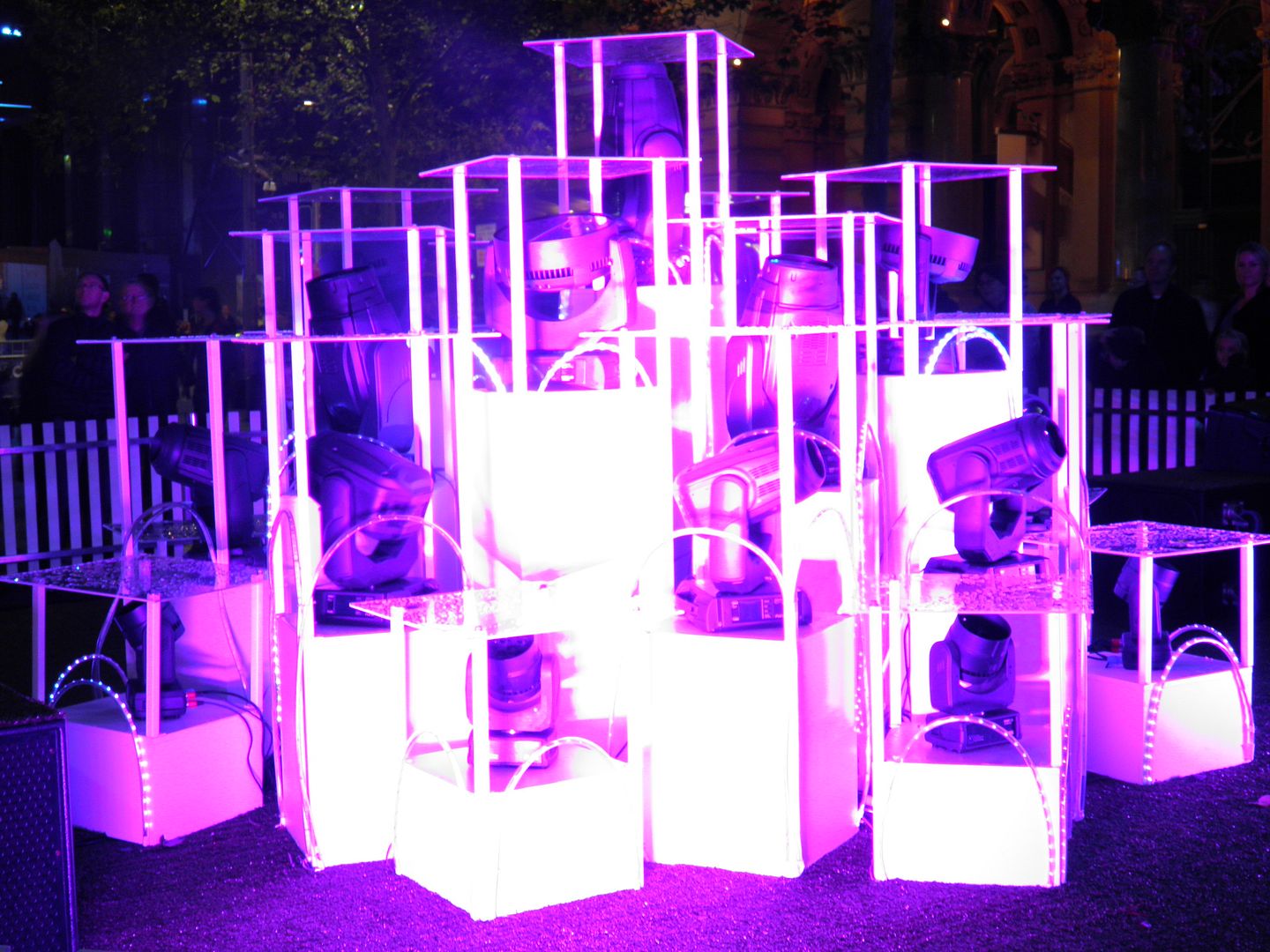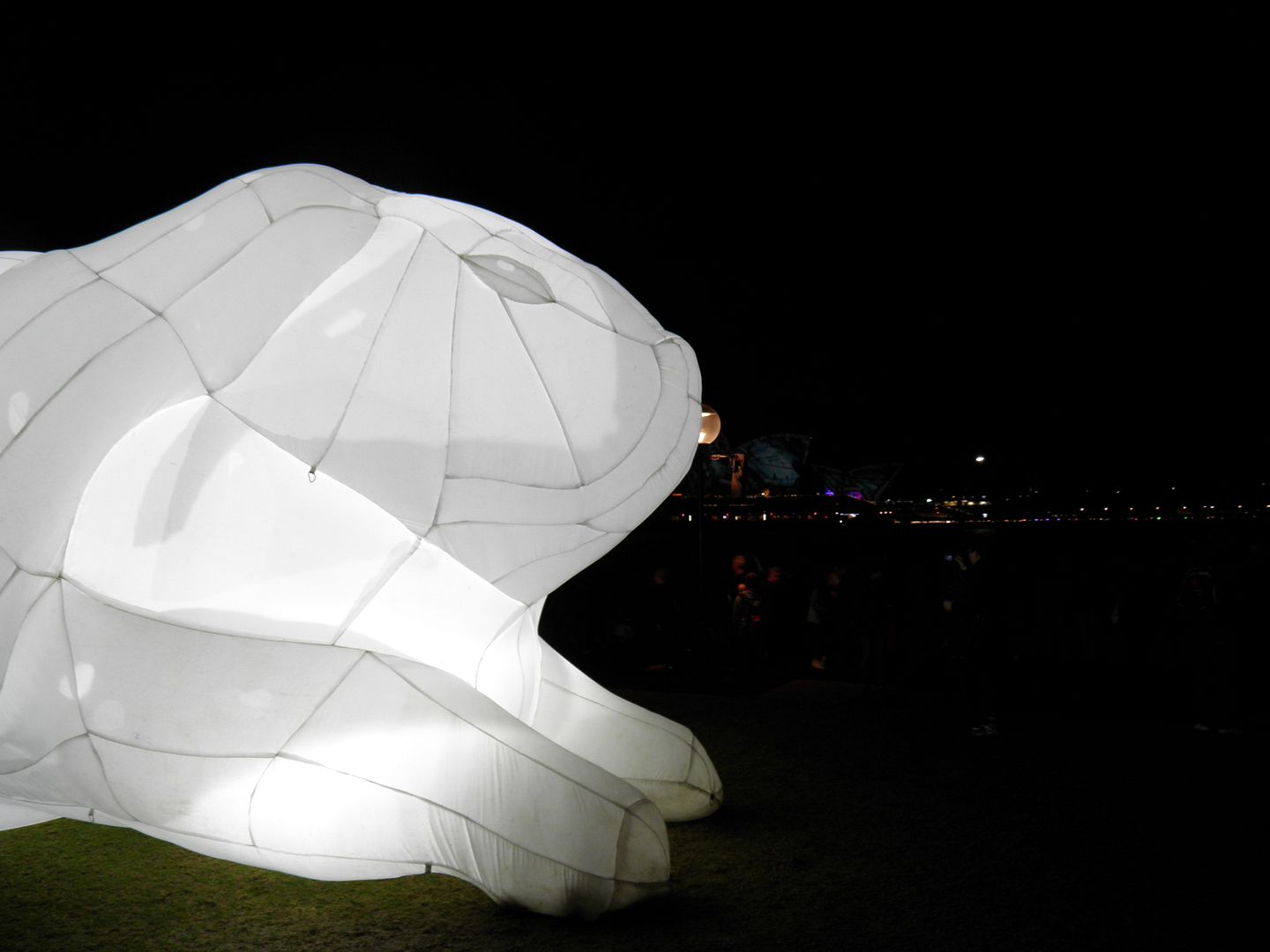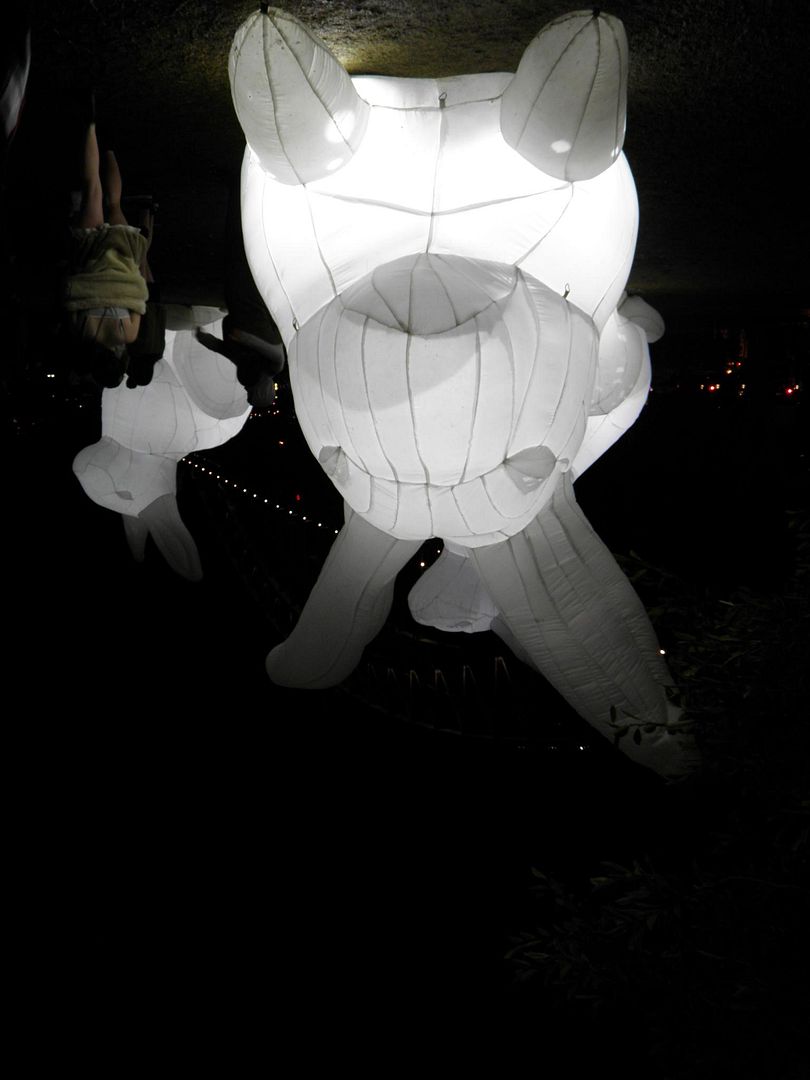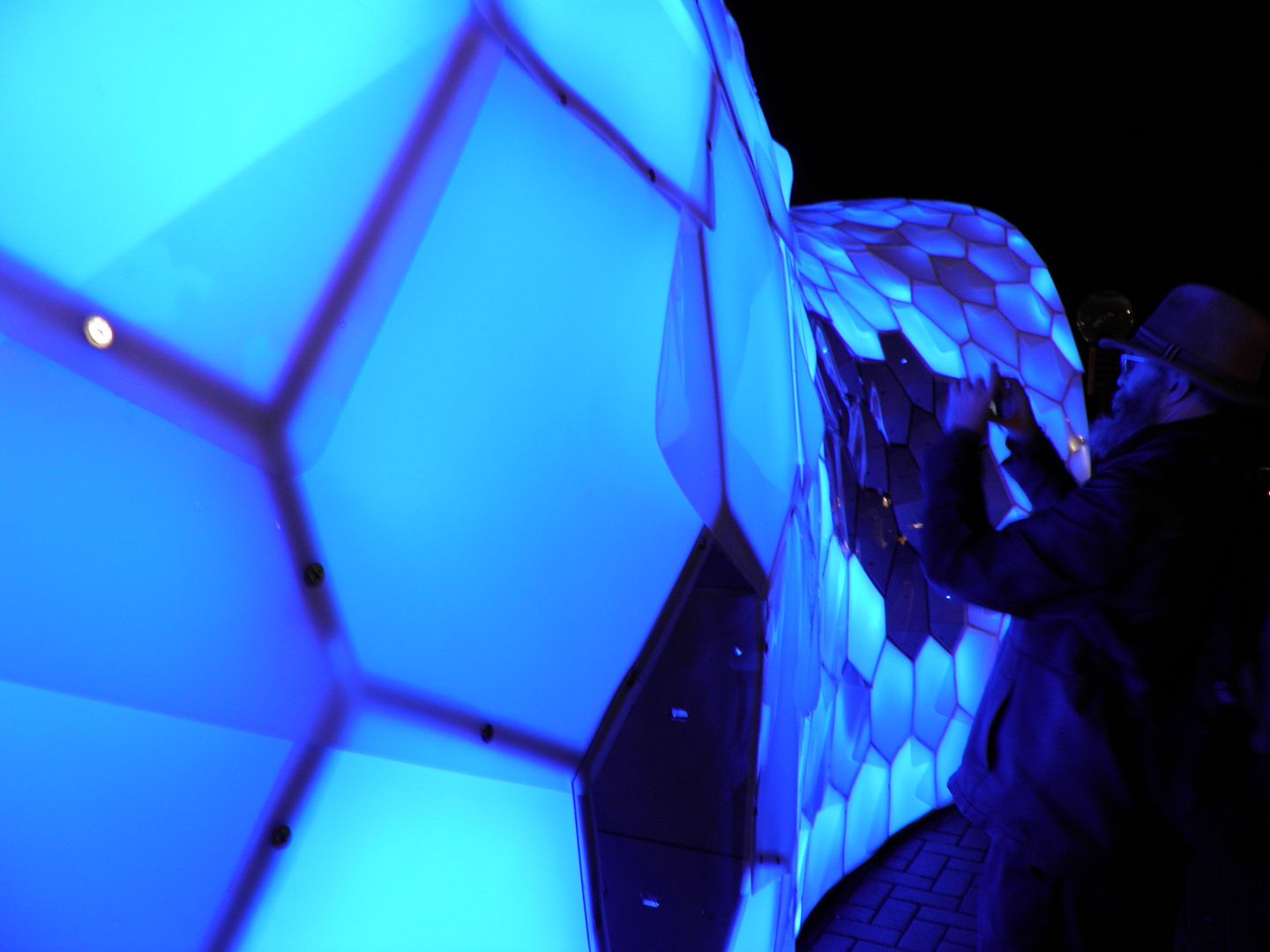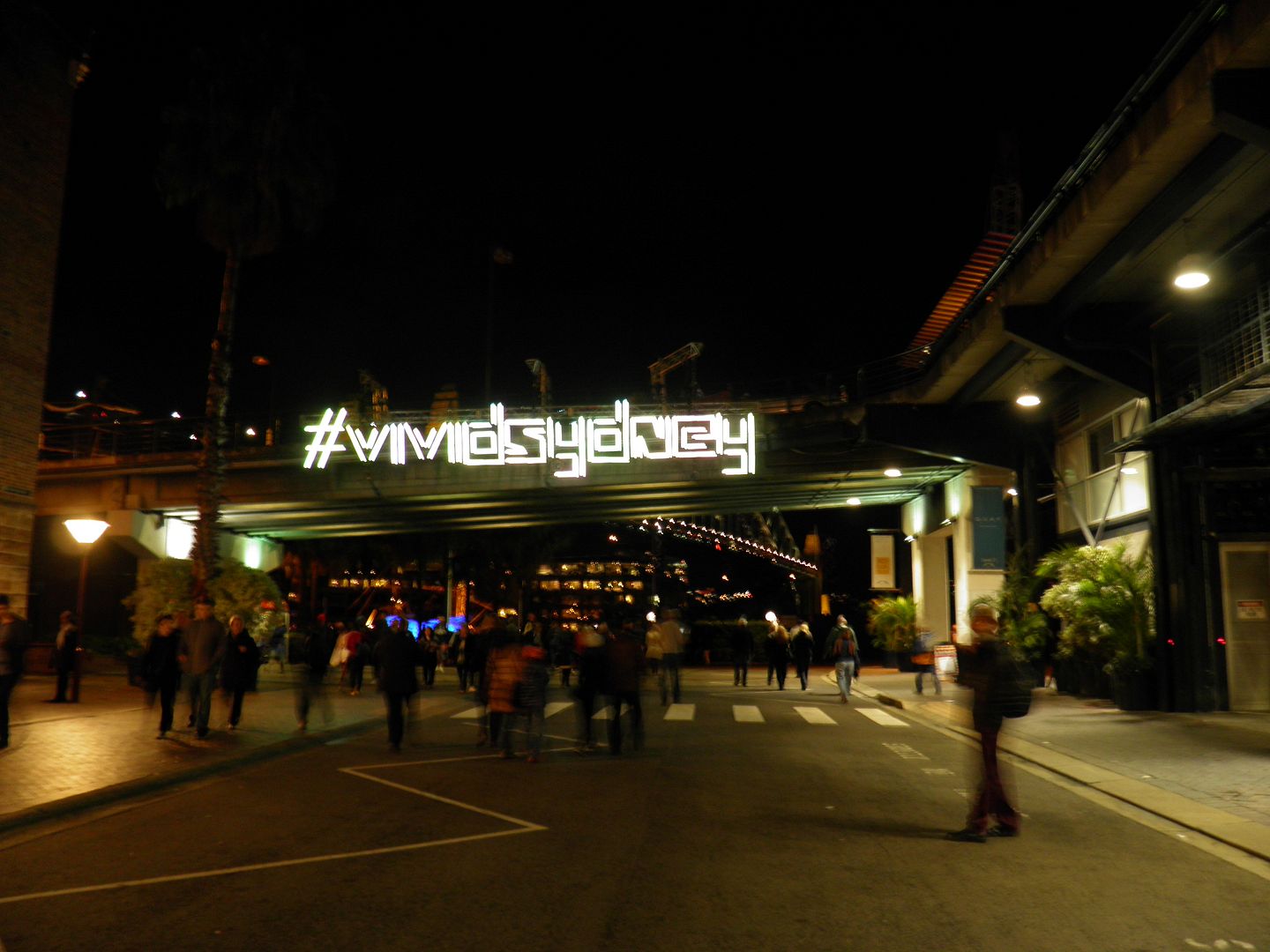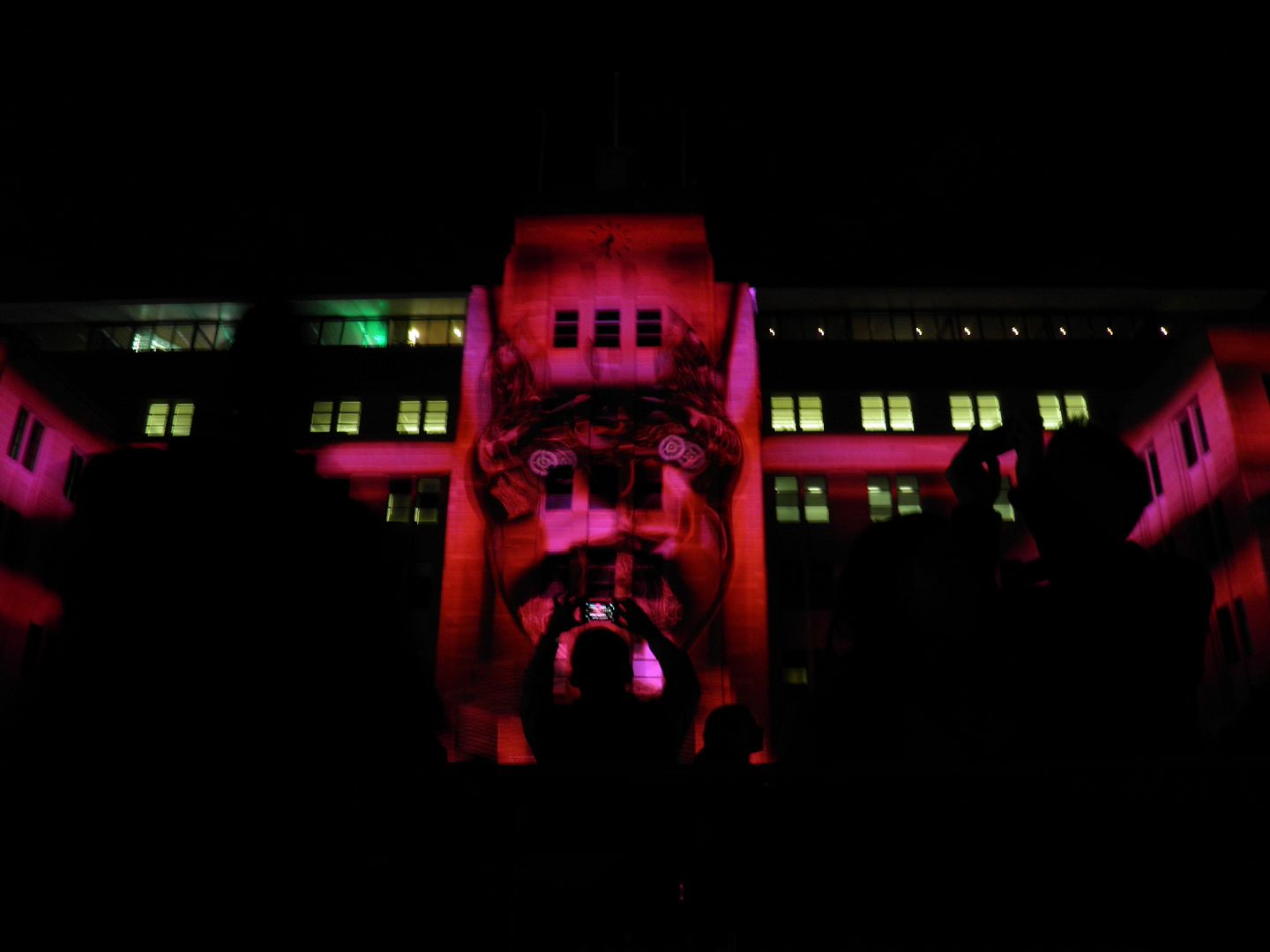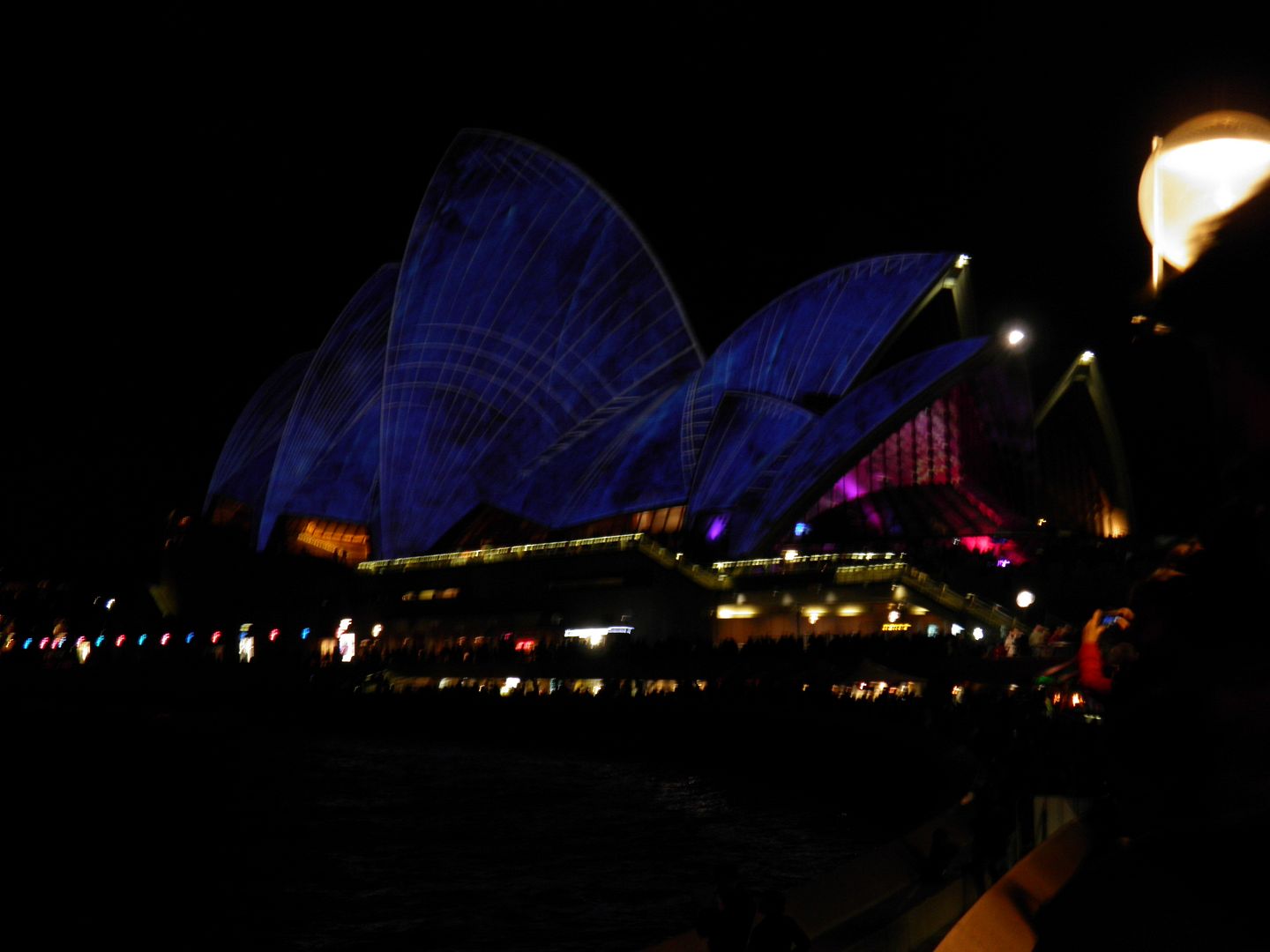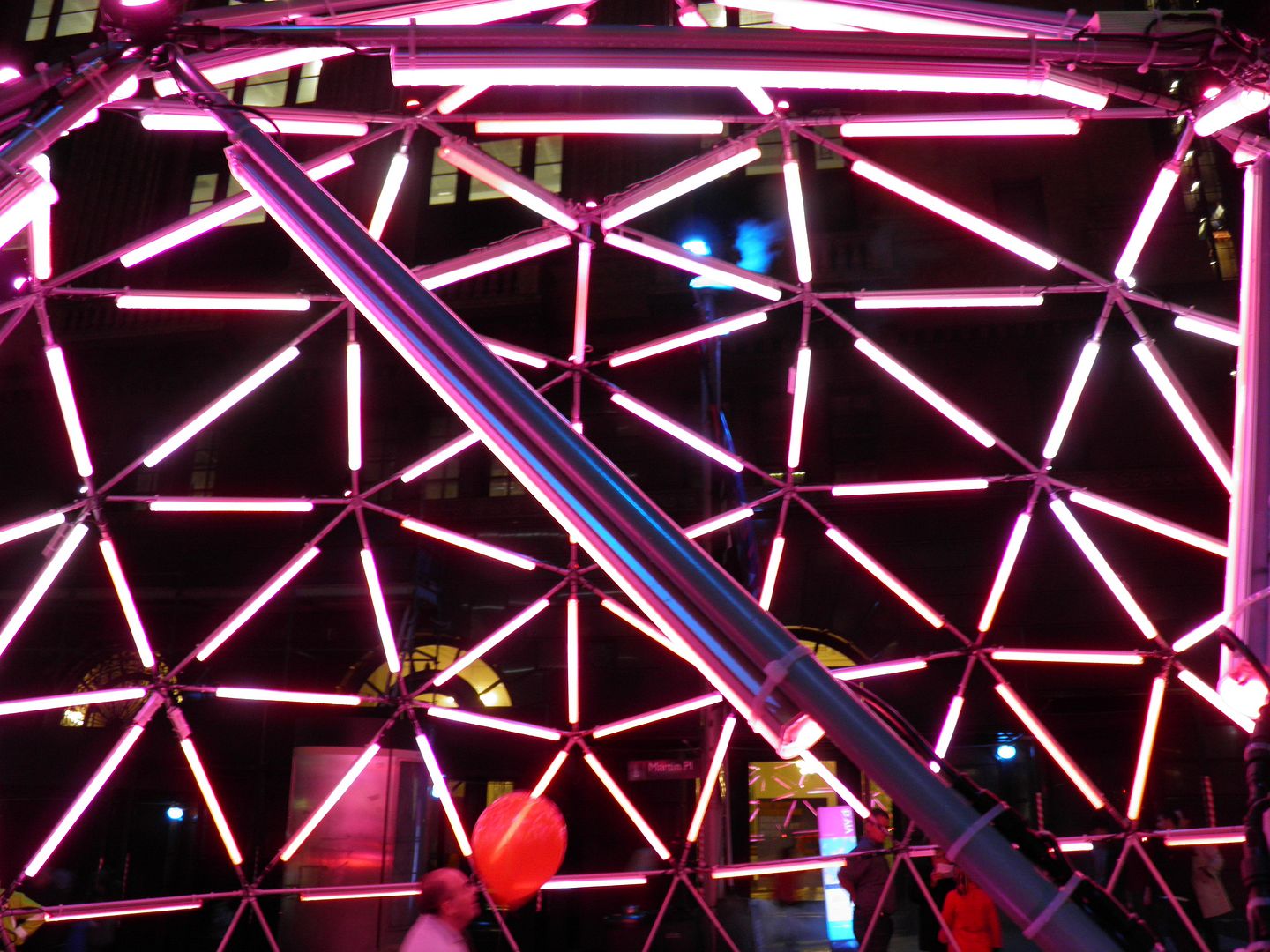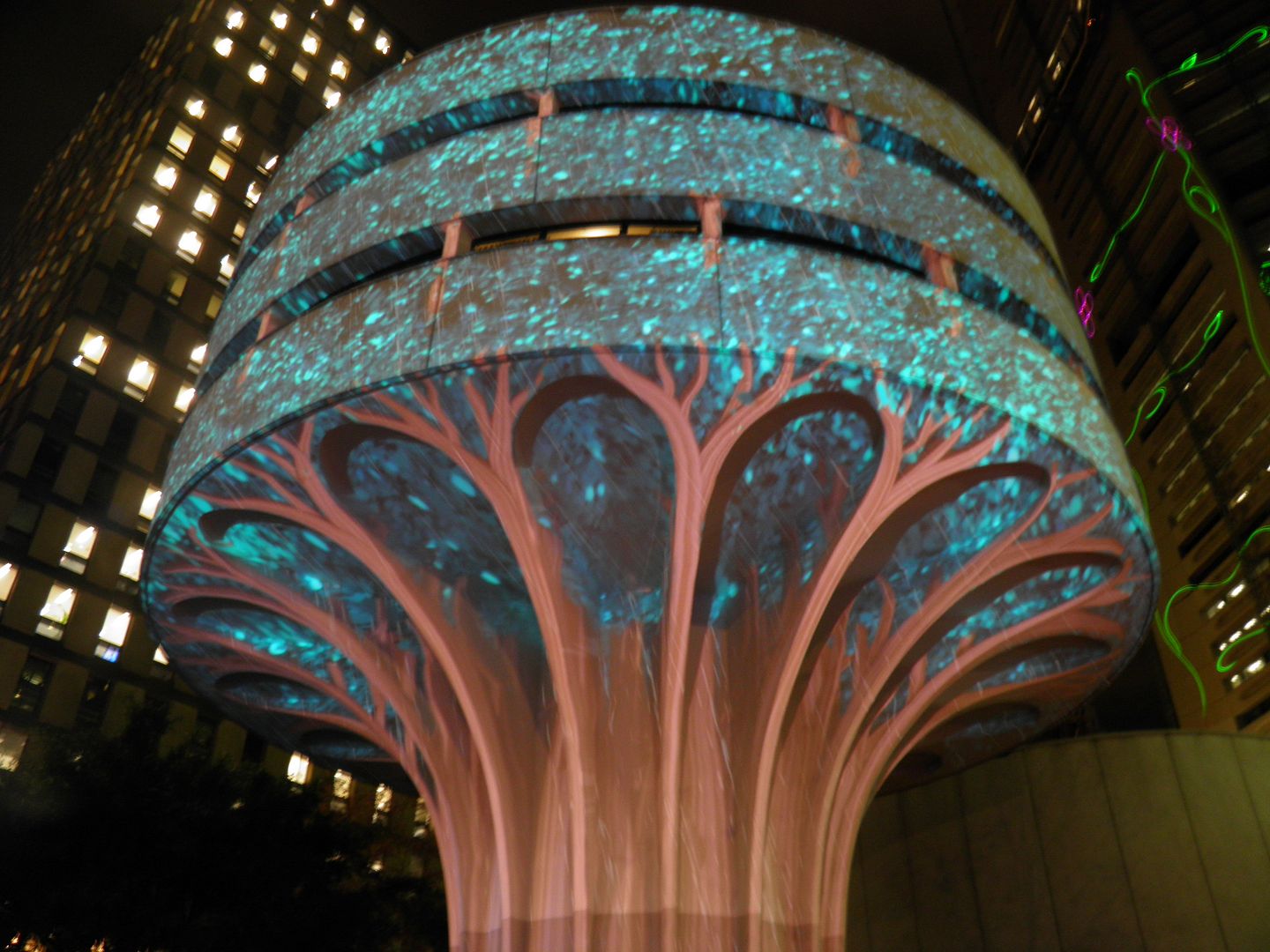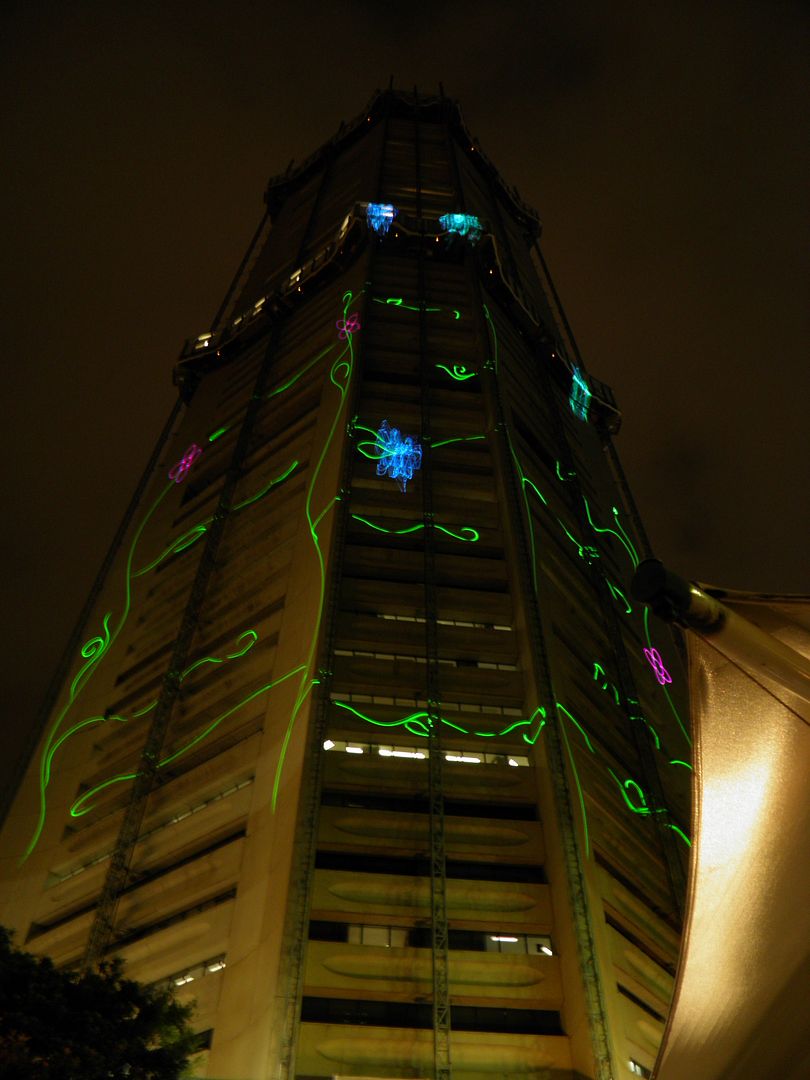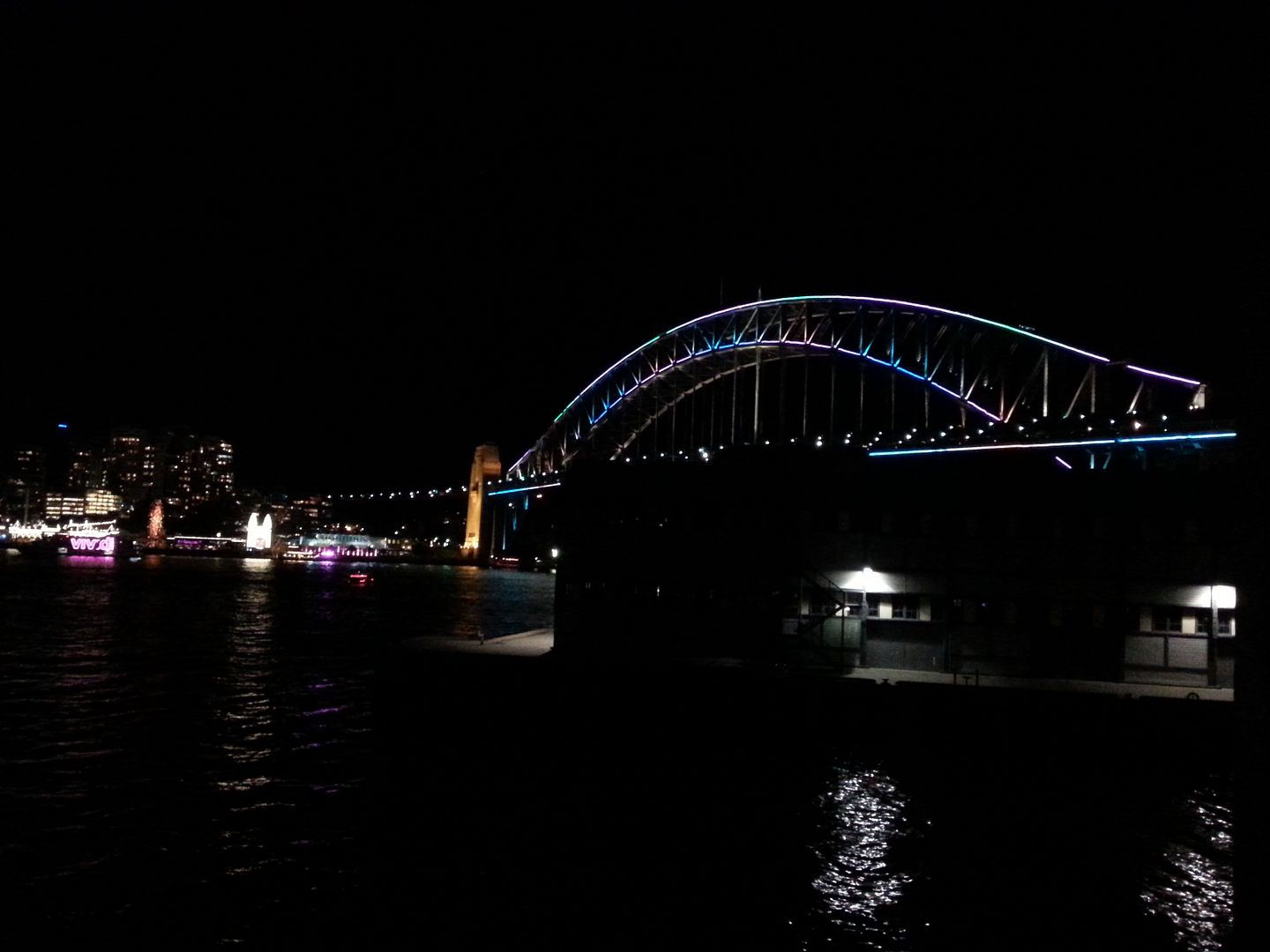 Also went off to see Lloyd Cole at The Basement. Now I've been looking forward to this for ages, having missed him the last time he played there (sold out) and so, best seats in the house ($$$), favourite troubadour, a great night out?

Nope. Himself was in such a mood he banged violently on the table when our entree failed to appear, communed with his iphone all night, and, well, misery, really. I was shamed in front of the people sharing our table (I think we ruined their night, too. In fact, I'm sure of it).

Small wonder I spent most of the next day home alone, scrubbing out the kitchen.

So I also tried to go and see the NT Live screening of King Lear. Again, hugely looking forward to it on account of the reviews, but no, someone is reeeking so badly of cheap perfume I have to change seats in the interval. At least I enjoyed the second half, sitting up by myself.

Despite my discomfort, it really was a top notch production, flying along (I've sat though some televised Lears that lasted 70 years, or felt like it) and perfectly judged (imho) in all the main beats (or at least, they played the parts I'd once written essays about the way I understood them), and my gosh, little Sam Troughton can play an evil bastard when he wants to. Ah, Edmund, putting the bastard back into bastard and bastardry. Complete and utter, utter bastard (yes, still mourning Rik, dear god, I can't believe he's gone).

And yes, the cast, as per the wee interval film, did have a point, if only Cordelia had toed the party line. But maybe she couldn't. I have always understood and sympathised, entirely lacking the ability to brown nose myself (today being a case in point, oy...). Maybe poor truth speaking Cordelia was an aspie, as much as they identify Lear with the obvious signs of dementia (and, oh my, spot on from my POV these days, right down to the cruelty, capriciousness, misbehaviour and hallucinations).

Maybe it's just age and experience that makes me appreciate and understand it more, the motivations and machinations, than I did as an ignorant youth forced to examine issues I had absolutely no context with.

But yeah, it's amazing what a glass of cheap red and a box of malteasers can do to lift a mood. Oh, and classy British theatre, of course.

I think this flu has finally crawled up in my head. I've been feeling weird and disconnected for days, but this morning, well, I can only blame the flu for this morning. Feeling as floppy as wet noodle I was doing the usual trudge all alone through the underground arcade, which was really pumping out the thumping disco this morning, and loud, and I was possessed of an impish impulse to drop my bag and dance it out for the security cameras.

Fortunately not. Right now I'd really like to dump paint all over someone's desk space, but again, I resist the urge.

Winter is icumen in. Well, it's been unseasonably warmish all 'winter' so an artic blast can hardly be complained about, but nevertheless, for a gal from a city where everyone breaks out the artic gear if it falls below 25C, 11C as it allegedly was when I set out for the bus stop this morning definitely comes under the meaning of the word parky (a word I picked up in my travels in Yorkshire).

The song, Sumer Is Icumen In, is one of my favourite songs. One of the oldest surviving examples of lyrics written down with little dots to denote the notes so that one can produce a reasonably faithful rendition of an actual mediaeval tune. Well, that and the verse about deer farting. I'd pay good money to see mediaeval dudes singing a round about deer farting, but I'm weird like that. You know this.

Anyways, now my mind has drifted to mediaeval priests, I think I'll sit and have a minor meditation on how gosh darn cute little Æthelstan is. Sigh.

Anyways, haven't watched anything of note, or tv at all, of late, due to very long days and being too tired to do anything except for working for other people for peanuts, doing things I don't approve of and am not happy about, with people who can't stand me. Sigh.

The List of Things

John Barrowman, Tunnock's teacakes and Nessie: The most Scottish WTF moments of the Commonwealth Games opening ceremony
http://metro.co.uk/2014/07/23/john-barrowman-tunnocks-teacakes-and-nessie-the-most-scottish-wtf-moments-of-the-commonwealth-games-opening-ceremony-4808348/

Commonwealth Games fans gather in Glasgow for the opening ceremony as 1bn people tune in
http://www.dailymail.co.uk/news/article-2703216/Tunnocks-Tea-Cakes-Irn-Bru-Forth-Bridge-Gretna-Green-Glasgow-opens-Commonwealth-Games-world-Scottish-flavour.html

How adorable Scottish terriers stole the show at Glasgow 2014 opening ceremony
http://metro.co.uk/2014/07/24/how-adorable-scottish-terriers-stole-the-show-at-glasgow-2014-opening-ceremony-4808524/

The Sarah Michelle Gellar and Anthony Head Buffy reunion picture we've all been waiting for
http://metro.co.uk/2014/07/24/the-buffy-reunion-picture-4809699/

Duran Duran sues own fan club over profits
http://www.nydailynews.com/entertainment/music/duran-duran-sues-fan-club-profits-article-1.1878612
http://www.watoday.com.au/entertainment/music/duran-duran-sues-fan-club-20140724-zw81s.html

Macbeth in 1610
https://www.sydneytheatre.com.au/magazine/posts/2014/july/Synopsis-Macbeth-in-1610

George R.R. Martin's Response To A Fan's Letter Is The Happiest Ending He Ever Wrote
http://www.huffingtonpost.com/2014/07/23/george-rr-martin-fan-letter_n_5614838.html

Kristen Bell is a Hilarious Mary Poppins, Sings 'Spoonful of Sugar' Parody About Wages
http://www.justjared.com/2014/07/24/kristen-bell-is-a-hilarious-mary-poppins-sings-spoonful-of-sugar-parody-about-wages-video/

Jennifer Morrison Arrives On Set for 'Once Upon a Time' & It's Getting Us Pumped for Season Four!
http://www.justjared.com/2014/07/24/jennifer-morrison-on-set-for-once-upon-a-time-is-getting-us-pumped-for-season-four/

This Is Elsa on Once Upon a Time
http://time.com/3023462/frozen-elsa-once-upon-a-time-georgina-haig/

Chris Pratt French Braided Some Girl's Hair, Because Why The Heck Not
http://www.huffingtonpost.com/2014/07/23/chris-pratt-french-braid_n_5614537.html

Amazon and BBC to air different versions of Ripper Street series three
http://www.radiotimes.com/news/2014-07-18/amazon-and-bbc-to-air-different-versions-of-ripper-street-series-three

'Doctor Who's Day Roundup: Return of the Cybermen
http://www.bbcamerica.com/anglophenia/2014/07/doctor-whos-day-roundup-return-cybermen/

Doctor Who: missing episode hunter stokes fans' hopes over new discoveries
http://www.independent.co.uk/arts-entertainment/tv/news/doctor-who-missing-episode-hunter-stokes-fans-hopes-over-new-discoveries-9623762.html

Steven Moffat on Peter Jackson Directing 'Doctor Who': "I Think It Will Probably Happen"
http://www.bbcamerica.com/anglophenia/2014/07/steven-moffat-peter-jackson-directing-doctor-think-will-probably-happen/

Sophie Turner Can't Wait for San Diego Comic-Con (and Neither Can We)
http://www.whosay.com/articles/2768-sophie-turner-cant-wait-for-san-diego-comic-con-and-neither-can-we

'Brothers & Sisters' Alum Luke MacFarlane, Hannah John-Kamen and Aaron Ashmore Join Syfy's 'Killjoys'
http://www.thewrap.com/brothers-sisters-alum-luke-macfarlane-hannah-john-kamen-and-aaron-ashmore-join-syfys-killjoys/

Guardians of the Galaxy's Chris Pratt, Zoë Saldana Face 5-Year-Old Girl in Marvel Trivia
http://au.eonline.com/news/561975/guardians-of-the-galaxy-s-chris-pratt-zoe-saldana-face-5-year-old-girl-in-marvel-trivia-watch-now

Chris Pratt Proves He Can Do an Impressive French Braid by Doing One Mid-Interview
http://www.vulture.com/2014/07/chris-pratt-proves-he-can-do-a-good-french-braid.html

Gwendoline Christie's Star Wars Episode 7 role 'leaks', Game of Thrones actress seen in lightsaber training
http://www.independent.co.uk/arts-entertainment/films/news/gwendoline-christies-star-wars-episode-7-role-leaks-game-of-thrones-actress-seen-in-lightsaber-training-9623953.html

Karen Gillan Attacked by a Gorilla in 'A Touch of Cloth'
http://www.bbcamerica.com/anglophenia/2014/07/watch-karen-gillan-attacked-gorilla-touch-cloth/

Lucy Lawless Joins Agents of S.H.I.E.L.D. and We're Geeking Out
http://au.eonline.com/news/561900/lucy-lawless-joins-agents-of-s-h-i-e-l-d-and-we-re-geeking-out

Nelsan Ellis Opens Up About Luke Grimes' Alleged 'True Blood' Departure Over Gay Role
http://www.huffingtonpost.com/2014/07/22/nelsan-ellis-true-blood_n_5609620.html

'Gotham' Exclusive: Ben McKenzie Interviews His Producers
http://www.accesshollywood.com/gotham-exclusive-ben-mckenzie-interviews-his-producers_video_2258837

Supernatural Boss Dishes on Sam's "Hunt" for Demon Dean—Is He Trying to Save or Kill Him?
http://au.eonline.com/news/561774/supernatural-boss-dishes-on-sam-s-hunt-for-demon-dean-is-he-trying-to-save-or-kill-him

J.J. Abrams Reveals the New X-Wing in Latest Star Wars Set Video
http://www.wired.com/2014/07/star-wars-episode-vii-x-wing/

James Garner dead at 86: Actor leaves big legacy as a 'Maverick' on the small screen
http://www.nydailynews.com/entertainment/tv/james-garner-leaves-big-legacy-maverick-small-screen-article-1.1874450

James Garner was the perfect fit in 'Rockford Files'
http://www.latimes.com/entertainment/tv/showtracker/la-et-st-james-garner-critics-notebook-robert-lloyd-20140720-column.html

James Garner: Cowboy, soldier, detective, astronaut, race car driver
http://www.latimes.com/entertainment/la-et-james-garner-obit-gallery-20140721-story.html?track=rss#page=1

James Garner: An Appreciation
http://www.hollywoodreporter.com/news/james-garner-an-appreciation-719842

James Garner 1928-2014
http://www.empireonline.com/news/story.asp?NID=41571

Maverick Star James Garner Dead at 86: Piers Morgan and More Stars Pay Tribute to the Late Actor
http://au.eonline.com/news/561423/maverick-star-james-garner-dead-at-86-piers-morgan-and-more-stars-pay-tribute-to-the-late-actor

James Garner obituary
http://www.theguardian.com/tv-and-radio/2014/jul/20/james-garner

James Garner's Life in Photos
http://time.com/3009493/james-garners-life-in-photos/

James Garner, Rockford Files star, dies aged 86
http://www.bbc.com/news/entertainment-arts-28390309#"

James Garner dies; actor changed what a hero could be like
http://www.latimes.com/entertainment/tv/showtracker/la-et-james-garner-appreciation-20140721-column.html

James Garner: an actor of gentle gallantry
http://www.telegraph.co.uk/culture/film/10978926/James-Garner-an-actor-of-gentle-gallantry.html

James Garner, Witty, Handsome Leading Man, Dies at 86
http://www.nytimes.com/2014/07/21/movies/james-garner-actor-dies-at-86.html?partner=rss&emc=rss&_r=0

James Garner's career: In pictures
http://www.bbc.com/news/entertainment-arts-28389814

James Garner, Rockford Files star, dies aged 86
http://www.bbc.com/news/entertainment-arts-28390309

James Garner Dead - Legendary Actor Dies at 86
http://www.justjared.com/2014/07/20/legendary-actor-james-garner-dead-at-86/

James Garner dead: Actor in Maverick and The Rockford Files dies age 86
http://www.abc.net.au/news/2014-07-20/james-garner-dies/5610260?WT.mc_id=newsmail

Acting legend James Garner a reluctant hero
http://www.smh.com.au/entertainment/movies/acting-legend-james-garner-a-reluctant-hero-20140721-zv5jj.html

James Garner, Witty, Handsome Leading Man, Dies at 86
http://www.nytimes.com/2014/07/21/movies/james-garner-actor-dies-at-86.html?emc=edit_th_20140721&nl=todaysheadlines&nlid=21767000&_r=0

James Garner, 'Rockford Files' and 'Maverick' Star, Dead at 86
http://www.thewrap.com/james-garner-of-rockford-files-maverick-dead-at-86/

James Garner Death: Hollywood Remembers Beloved 'Rockford Files' and 'Maverick' Star
http://www.thewrap.com/james-garner-death-hollywood-remembers-beloved-rockford-files-and-maverick-star/

James Garner always made it seem as though he was not acting at all
http://www.theguardian.com/tv-and-radio/2014/jul/22/james-garner-obituary-letters

Fascinating Ways People Try to Leave Their Mark on the World
http://www.wired.com/2014/07/david-gardner/

Pineapple
http://www.telegraph.co.uk/expat/expatpicturegalleries/10968994/A-place-to-stay-with-a-whole-lot-of-history.html

Queen photobombs Australian athlete's selfie
http://www.stuff.co.nz/sport/commonwealth-games/hockey/10309230/Queen-photobombs-Australian-athletes-selfie

Golden Circle juice maker reveals secret ingredients: beef and alcohol
http://www.goodfood.com.au/good-food/food-news/golden-circle-juice-maker-reveals-secret-ingredients-beef-and-alcohol-20140725-zwilq.html

Murdoch eyes off HBO's Iron Throne in Time Warner bid
http://www.smh.com.au/digital-life/computers/gadgets-on-the-go/murdoch-eyes-off-hbos-iron-throne-in-time-warner-bid-20140720-zv5oi.html.html

Here's Just How Much It Pays To Be Conventionally Attractive
http://www.huffingtonpost.com/2014/07/21/beautiful-people-make-more-vox_n_5600597.html

The perils of ethical consumption
http://www.abc.net.au/radionational/programs/talkingshop/the-perils-of-ethical-consumption/5612446

At the Marx Memorial Library in Clerkenwell. This banner was made by William Morris
https://twitter.com/exitthelemming/status/492286924623982592/photo/1

5 Comics to Read Before Seeing Guardians of the Galaxy
http://www.wired.com/2014/07/guardians-of-the-galaxy-reading-list/?mbid=social_gplus

Why Does Sleeping In Just Make Me More Tired?
http://www.wired.com/2014/07/whats-up-with-that-why-does-sleeping-in-just-make-me-more-tired/

The Strange Real-Life Origins of the Fiendish Werewolf
http://www.wired.com/2014/07/fantastically-wrong-fiendish-werewolf/

Check Out Manimal, the Insane '80s Show Will Ferrell Is Making Into a Movie
http://www.vulture.com/2014/07/manimal-the-80s-show-turned-will-ferrell-film.html

WTF Just Happened: My Photos Make Everyone Look Like a Demon
http://www.wired.com/2014/07/wtf-just-happened-demon-photos/

When time stood still
http://www.bbc.com/news/magazine-28392047

Astronaut Alexander Gerst shows Gaza war in 'saddest' photo from space
http://www.theage.com.au/technology/sci-tech/astronaut-alexander-gerst-shows-gaza-war-in-saddest-photo-from-space-20140724-zwbfu.html

'Supernatural' stars answer: When will the show end?
http://insidetv.ew.com/2014/07/18/supernatural-end/#tw=@SPN_updates

Dinosaur 'Stampede' actually a stroll
http://www.brisbanetimes.com.au/queensland/dinosaur-stampede-actually-a-stroll-20140713-zt644.html

New find sheds light on dinosaur flight
http://www.abc.net.au/science/articles/2014/07/16/4046502.htm

The Strange History of Using Organ-Shaped Plants to Treat Diseas
http://www.wired.com/2014/07/fantastically-wrong-doctrine-of-signatures/

The Bizarre Rise and Fall of the Tiki Bar
http://www.wired.com/2014/07/the-bizarre-rise-and-fall-of-the-tiki-bar-in-american-culture/

Here's Why You Really Shouldn't Wash Your Jeans
http://www.huffingtonpost.com/chip-bergh/the-dirty-jeans-manifesto_b_5588628.html

What's Up With That: Why You Always Seem to Choose the Slowest Line
http://www.wired.com/2014/07/whats-up-with-the-other-line-is-always-faster/

MAD MAGAZINE'S GLORIOUS ANTI-SMOKING CAMPAIGN
http://www.newyorker.com/online/blogs/culture/2014/06/mad-magazines-glorious-anti-smoking-campaign.html

Shark attack victim, Marcia Hathaway, 1963 (at shark at the shops)
http://consumer.fairfaxsyndication.com/Package/2ITHRGMBHDA7

Tassie boy discovers new genus of spider
http://www.abc.net.au/news/2014-07-22/new-spider-discovery-bush-blitz/5615440

Fierce but furry: feathers were a common dinosaur trait
http://www.watoday.com.au/technology/sci-tech/fierce-but-furry-feathers-were-a-common-dinosaur-trait-20140724-zwgap.html

The Great War
http://www.nytimes.com/interactive/2014/06/27/world/legacy-of-world-war-i.html

7 Ways to Tell You're a Woman in a Michael Bay Movie
http://www.vulture.com/2014/06/how-to-tell-youre-a-woman-in-a-michael-bay-film.html

Actress Charlene McKenna shows new man signs and sounds of Dublin
http://www.independent.ie/style/celebrity/actress-charlene-mckenna-shows-new-man-signs-and-sounds-of-dublin-30374474.html

Saharan remains may be evidence of first race war, 13,000 years ago
http://www.independent.co.uk/news/science/archaeology/saharan-remains-may-be-evidence-of-first-race-war-13000-years-ago-9603632.html?utm_source=indynewsletter&utm_medium=email14072014

Joss Whedon Has A Hilarious Response To A Fan's 'Buffy' Request
http://www.huffingtonpost.com/2014/07/14/joss-whedon-buffy-the-vampire-slayer_n_5584505.html

Star Wars behind the scenes shots of Harrison Ford and Carrie Fisher from first trilogy shared by man who played Chewbacca
http://m.hi-likes.com/gallery/entertainment/star-wars-behind-the-scenes-shots-of-harrison-ford-and-carrie-fisher-from-first-trilogy-shared-by-man-who-played-chewbacca/12

Joss Whedon draws new episodes of 'Buffy the Vampire Slayer' and 'Firefly' for fans
http://www.nydailynews.com/entertainment/tv/joss-whedon-draws-new-episodes-buffy-firefly-article-1.1867688

Binge watching, that great American pastime, can also be good medicine (Adam Rothenberg)
http://www.latimes.com/entertainment/tv/la-et-st-binge-watching-20140704-column.html

Why SuperTed must clean up his act
http://www.theguardian.com/tv-and-radio/shortcuts/2014/jul/15/why-superted-must-clean-up-his-act

FXX Launches Simpsons World in October
http://time.com/3018428/hello-simpsons-world-goodbye-the-rest-of-your-life/

Auto Racing Was Wildly Dangerous in the '30s—And a Lot More Fun
http://www.wired.com/2014/07/1930s-british-car-racing/?mbid=social_gplus#slide-id-1233931

9 American Actors Whose Terrible British Accents Will Make You Laugh (& Cringe)
http://www.bustle.com/articles/30683-9-american-actors-whose-terrible-british-accents-will-make-you-laugh-cringe

Why we love to quote our favourite films and TV shows
http://www.abc.net.au/radionational/programs/thelist/why-we-love-to-quote-our-favourite-films-and-tv-shows/5590388

Fricking Awesome Maps From the Silver Age of Comic Books
http://www.wired.com/2014/07/comic-book-maps/?mbid=social_gplus

Eight Unusual Takes on Portraiture By This Year's Archibald Finalists
http://sydney.concreteplayground.com.au/news/224910/eight-unusual-takes-on-portraiture-by-this-years-a.htm

How not to attract women to coding: Make tech pink
http://www.sfgate.com/news/article/How-not-to-attract-women-to-coding-Make-tech-pink-5602104.php?cmpid=twitter

New Yorker
https://twitter.com/BenjaminRamm/status/485483608963317760/photo/1

Josh Dallas & Colin O'Donoghue Catch Major League Soccer Game Amidst World Cup Fever!
http://www.justjared.com/2014/07/15/josh-dallas-colin-odonoghue-catch-major-league-soccer-game-amidst-world-cup-fever/

Haunting Underground Railroad Images Retrace the Steps of Fleeing Slaves
http://www.wired.com/2014/07/underground-railroad/?mbid=social_gplus#slide-id-1232661

HUMILIATION, HONOR, AND BRAZIL
http://www.newyorker.com/online/blogs/comment/2014/07/a-soccer-game-cant-humiliate-brazil.html

A reason millions of bees are dying
http://www.washingtonpost.com/news/morning-mix/wp/2014/07/10/the-surprisingly-simple-reason-millions-of-bees-are-dying/

Giving Us a Female Thor and Black Captain America Isn't Enough
http://www.wired.com/2014/07/captain-america-announcement/?mbid=social_gplus

Crater appeared on the Yamal peninsula in northern Russia
http://time.com/2992819/hole-siberia-yamal-peninsula/

Hollow Earth conspiracy theories: the hole truth
http://www.telegraph.co.uk/culture/books/10961412/Hollow-Earth-conspiracy-theories-the-hole-truth.html

Pilots Share Their All-Time Favorite Views From The Cockpit
http://www.huffingtonpost.com/2014/07/09/airplane-views_n_5551623.html

Supernatural Is Doing a "Musical-ish" Episode!
http://au.eonline.com/news/561249/supernatural-is-doing-a-musical-ish-episode

'Supernatural' Stars, Showrunner Don't See End in Sight
http://www.hollywoodreporter.com/live-feed/supernatural-stars-no-end-sight-719656

Supernatural: A "Different" Demon Dean and No Series End in Sight
http://www.tvguide.com/News/Supernatural-Season-10-End-1084635.aspx

Jared Padalecki & Jensen Ackles Talk the End of 'Supernatural'
http://www.justjared.com/2014/07/18/jared-padalecki-jensen-ackles-talk-the-end-of-supernatural/

Why winter is coming to Game of Thrones' cool factor
http://www.smh.com.au/entertainment/music/why-winter-is-coming-to-game-of-thrones-cool-factor-20140715-zt7rb.html

What would you add to The Hobbit: The Battle of the Five Armies?
http://www.theguardian.com/film/2014/jul/14/hobbit-battle-five-armies-movie?CMP=EMCNEWEML6619I2

Lloyd Cole's warm and witty way
http://www.theage.com.au/entertainment/music/lloyd-coles-warm-and-witty-way-20140629-zspwe.html

Lloyd Cole: Cheekbones Like Geometry and Eyes like Sin
http://blogs.abc.net.au/sa/2014/07/lloyd-cole-cheekbones-like-geometry-and-eyes-like-sin.html?site=adelaide&progra

Sherlock series four: which stories would you like to see adapted?
http://www.theguardian.com/tv-and-radio/tvandradioblog/2014/jul/02/sherlock-series-four-bbc-conan-doyle-stories-adapted

21 Actors Offer Their TV Characters One Piece Of Advice
http://www.buzzfeed.com/jarettwieselman/21-actors-offer-their-tv-characters-one-piece-of-advice?bftw=main

Neil Gaiman's 'American Gods' picked up as series by Starz
http://www.nydailynews.com/entertainment/tv/neil-gaiman-american-gods-picked-series-starz-article-1.1852023

Should we mourn the end of blogs?
http://www.theguardian.com/commentisfree/2014/jul/17/should-we-mourn-the-end-of-blogs

Rolf Harris: guilty man, guilty art?
http://www.abc.net.au/news/2014-07-01/rosewarne-rolf-harris-guilty-man-guilty-art/5561640?WT.mc_id=newsmail

Ryan Kwanten begged for True Blood gay sex scene
http://www.theage.com.au/entertainment/box-seat/ryan-kwanten-begged-for-true-blood-gay-sex-scene-20140701-zss17.html

Stress is contagious, US study reveals
http://www.brisbanetimes.com.au/lifestyle/life/stress-is-contagious-us-study-reveals-20140630-zsr8p.html

Karen Gillan teaches you Scottish colloquialisms
http://www.radiotimes.com/news/2014-06-30/karen-gillan-teaches-you-scottish-colloquialisms

Last day of Game of Thrones exhibition draws massive crowds
http://www.smh.com.au/entertainment/last-day-of-game-of-thrones-exhibition-draws-massive-crowds-20140705-zsxb0.html

Game of Thrones fans pay strangers to queue for them at exhibition
http://www.smh.com.au/entertainment/about-town/game-of-thrones-fans-pay-strangers-to-queue-for-them-at-exhibition-20140704-zswib.html

Thousands demand Glasgow 2014 outfits are scrapped
http://www.scotsman.com/news/scotland/top-stories/thousands-demand-glasgow-2014-outfits-are-scrapped-1-3473372

John Ruskin love triangle scandal still fascinates
http://www.scotsman.com/lifestyle/arts/visual-arts/john-ruskin-love-triangle-scandal-still-fascinates-1-3466087

Are Bert and Ernie really a gay couple?
http://www.independent.co.uk/arts-entertainment/bert-and-ernie-they-call-it-muppet-love-9593215.html

Matt Bomer Hears Emmy Nomination News From Husband Simon Halls
http://www.justjared.com/2014/07/19/matt-bomer-received-emmy-nomination-news-from-husband-simon-halls/

Tim DeKay filming a scene on the set of the TV Series 'White Collar' in Union Square Park
http://archive.firstcoastnews.com/video/default.aspx?bctid=3652588558001

Matt Bomer Honored with Coveted Giffoni Award Tonight
http://www.broadwayworld.com/bwwtv/article/Matt-Bomer-to-Be-Honored-with-Coveted-Giffoni-Award-20140718#

Matt Bomer, Lea Michele Honored by Giffoni Festival
http://variety.com/2014/film/spotlight/matt-bomer-honored-by-giffoni-festival-1201262529/

Watch Matt Bomer Accidentally Grope Liv Tyler In This Bizarre 'Space Station 76' Trailer
http://www.etonline.com/movies/148747_matt_bomer_and_liv_tyler_get_physical_in_space_station_76_trailer/index.html

Matt Bomer, Lea Michele Honored by Giffoni Festival
http://variety.com/2014/film/spotlight/matt-bomer-honored-by-giffoni-festival-1201262529/

Matt Bomer replicates The IT Crowd's Moss' look attending Giffoni Film Festival
http://www.dailymail.co.uk/tvshowbiz/article-2698684/Maurice-Moss-called-wants-look-Matt-Bomer-replicates-IT-Crowd-characters-nerdy-look-attends-Giffoni-Film-Festival.html

Matt Bomer to Be Honored with Coveted Giffoni Award
http://www.broadwayworld.com/bwwtv/article/Matt-Bomer-to-Be-Honored-with-Coveted-Giffoni-Award-20140708#.U8Yo0_mSyFk

Matt Bomer: 'It Was Great to Share' Emmy Nomination News With Husband Simon
http://abcnews.go.com/Entertainment/matt-bomer-great-share-emmy-nomination-news-husband/story?id=24508970

Matt Bomer (Lost 35 Pounds)
http://www.mensjournal.com/health-fitness/health/matt-bomer-lost-35-pounds-hollywood-weight-loss-20140703

Matt Bomer's Beautiful Smile Lights Up the 'White Collar' Set!
http://www.justjared.com/2014/06/30/matt-bomers-beautiful-smile-lights-up-the-white-collar-set/

Matt Bomer Brings His Beautiful Smile To The 'White Collar' Set, Looks Good In Grey
http://www.socialitelife.com/matt-bomer-brings-his-beautiful-smile-to-the-white-collar-set-looks-good-in-grey-06-2014

Matt Bomer's Beautiful Smile Lights Up the 'White Collar' Set!
http://www.justjared.com/2014/06/30/matt-bomers-beautiful-smile-lights-up-the-white-collar-set/

Is Matt Bomer ('Normal Heart') too sexy to win that Emmy?
http://www.goldderby.com/news/6774/matt-bomer-sexy-normal-heart-emmy-nominations-tv-entertainment-news-3692581470.html

Matt Bomer Wins Critics' Choice TV Awards For 'The Normal Heart' As The World Erupts In Cheers
http://www.socialitelife.com/matt-bomer-wins-critics-choice-tv-awards-for-the-normal-heart-as-the-world-erupts-in-cheers-06-2014
http://t2t4.tumblr.com/post/89030273542