Went off to another philosophy lecture on Saturday. I love those. I love the ideas I discover, the wild and wide ranging discussion, the aha! moments. I like the way philosophy tries to apply scientific methodology to the esoteric, ethereal, emotional and spiritual. Whether it works or not depends on your own personal philodophy, but for someone like me, completely clueless and born without the manual everyone else seems to have, reading someone elses's observations is invaluable. Also, one nod from the Prof counters almost a week's worth of snips, snarks and red penned rejection at work.

It makes me happy, in a proper Socratic sense of happiness, so why not, eh?

And it keeps me off the streets. Very useful.

Other news? Not much. Did my usual catching up on a week's worth of telly while I did the washing/ironing/etc., but the funniest thing I saw, snippy lines in Once notwithstanding, was that Peter O'Toole interview on TCM. Oh, my beautiful boy and his charmingly wicked turn of phrase, the stories of the camel riding in Lawrence, describing Omar with his worry beads as looking like a nun with a moustache (that's a mental image that's gonna stick), tales of other greats, and pointed advice to young actors (do attend, young actors, he spoke wisely). Adorable.

Oh yeah, that's why we had it stuck on TCM - I'd found Jason and the Argonauts on while flicking around. I'm not sure if I named it as a favourite, but yes. Hey, men in micro minis (some real Gosford hemlines) fighting monsters, what more do you want? Okay, yes I was watching wrong, but I heart the skeleton warriors big time.

Further wrong watching ensued with a short that came on after featuring an antique posse of cowboys so gorgeously bedecked and bespangled I was already sniggering, and then they started singing about following that raindbow trail. Flail. Complete flail. Even more giggle worthy was little miss Thirties fashion plate sitting there furiously sulking as she was serenaded by said rainbow trailing cowboys. 'I said bring me eligible, not confirmed!' Snort. Wheeze.

I know, but there's always something deliciously subversive in watching old stuff that a bit, you know, encoded, and you just wonder am I actually watching it right? I dare say, sometimes, yes.

Ah, Foxtel, and your smorgasboard of alternative lifestyle cowboys. I mean, Hoss was dressed as a giant rabbit one night while I was curled on the couch with a cup of tea. I know I wasn't well, but I swear I wasn't hallucinating. Why the giant rabbit? I never found out. But you know, whatever makes him happy, right?

Did I mention the crusty old prospectors on Gunsmoke who did the old clutching at each other as they died under gunfire bit? And they were a mixed couple, too. No wonder they had to go out in a rain of hot lead. Gracious, me. We can't be having that now, can we, not in Kansas. No rainbow trails in Kansas (or Sydney, certainly not, we'll have none of your multicoloured mischief here, thank you very much).

Meanwhile, in another case of you don't get it until you stop looking for it, White Collar S3 has finally started playing on Soho. I'm still not happy about the whole nazi sub plot (a trope in desperate need of Graham Chapman strutting on and declaring it all 'Too silly!'), but my, I'd nearly forgotten how easy on the eyes young Bomer is. Hard to believe someone so pretty could be such a careless little sociopath, but there you are, and there he is, a rather uncharming bastard, but so dangerously pretty. Vicious little rattlesnake.

Really, more rogue and less rattlesnake and it would be fine. I could deal with it more if Peter's correct and proper Aristotelian virtues of duty, courage and temperance weren't constantly being undermined and belittled by the little jackanapes. Harumph.

As if that wasn't enough, as I'm on shows I love to hate, why did they have to kill off dear Giuliano on Da Vinci's rubbish? He was the only character with any sense of decency, duty, courage, love and loyalty. He was a sweetie (and he filled out the leather trou rather nicely). But no, they decide to kill him off to be historically accurate, like the only historically accurate thing they've done in the whole freakin' train wreck of a show, because I'm fairly sure Leo never met Dracula or snorkled into the Vatican to admire their secret stash of Kryptonite (unless those particular adventures were chronicled in the missing codices), but no, let's adhere to the facts in the one single instance where it involves the demise of my favourite character. They killed him. You bastards.

I swear, not even the Tom Riley pretty is enough to carry that show, even though it is now travelling firmly in the high campery of 'how bad can it get?' realm, which, from my years of MST3K watching in my youth, you know I have a fatal weakness for. Damn him.

I mean, I could talk about Game of Thrones, but the SMH blog pretty much covered off anything I might have wanted to say (complete with Hitchcock references the very week that idiot tutor declared him a nonentity).

Other stuff I dare not mention, okay, I will mention Smash, which went out with one of the best endings I've ever seen. That is how you wrap up a cancelled show, kids. That was very classy indeed, and, after weeks of wishing it could be put out of its limping misery, it made me miss it. Mission accomplished. Well done to all involved on the finale (like many an axed show these days, it seemed to finally find its feet one or two episodes from the end, to make it a bittersweet parting).

Tuesday: Talk about socially awkward theatre. Went to see The Maids at the STC last night, which is a rather confronting play about (take your pick) class, fantasy, reality, personality, as two maids, trapped in servitude, religion and fantasy (from reading crime novels in their tiny attic room) spiral down into murderous fantasies. It was wicked, delicious, over the top and tragic, and very memorable, with an outstanding cast (Cate Blanchett, Isabelle Huppert, Elizabeth Debicki). Only a french actress can spit the word 'bitch' like that. But there was Cate, glorious, gorgeous Cate, dropping the c-bomb and doing quite a bit of wrong touching, and there I am, sitting behind Mr Upton himself (the pudding faced boy from Dundas who gives hope to us all).

Fortunately the play was so horribly fascinating I wasn't really paying attention to anything but the stage, but in the bits that made me squirm, well, yeah, just a bit awkward. Just a bit.

Not quite as socially awkward as being in the same line in Coles Express as some actor one has just seen in the all-together at, say, the Belvoir the other night, one might hazard. What was that Mr O'Toole said on the telly yesterday? There are no small parts? Smirk.

Thus followed me walking through the dangerous suburbs and deserted industrial parks to pick up the mail, as Australia Post no longer delivers, with my own personal rain cloud. Seriously. Blue skies all around, but over me, a grey boiling downpour that soaked me to the skin. The double rainbow was just taking the piss, frankly.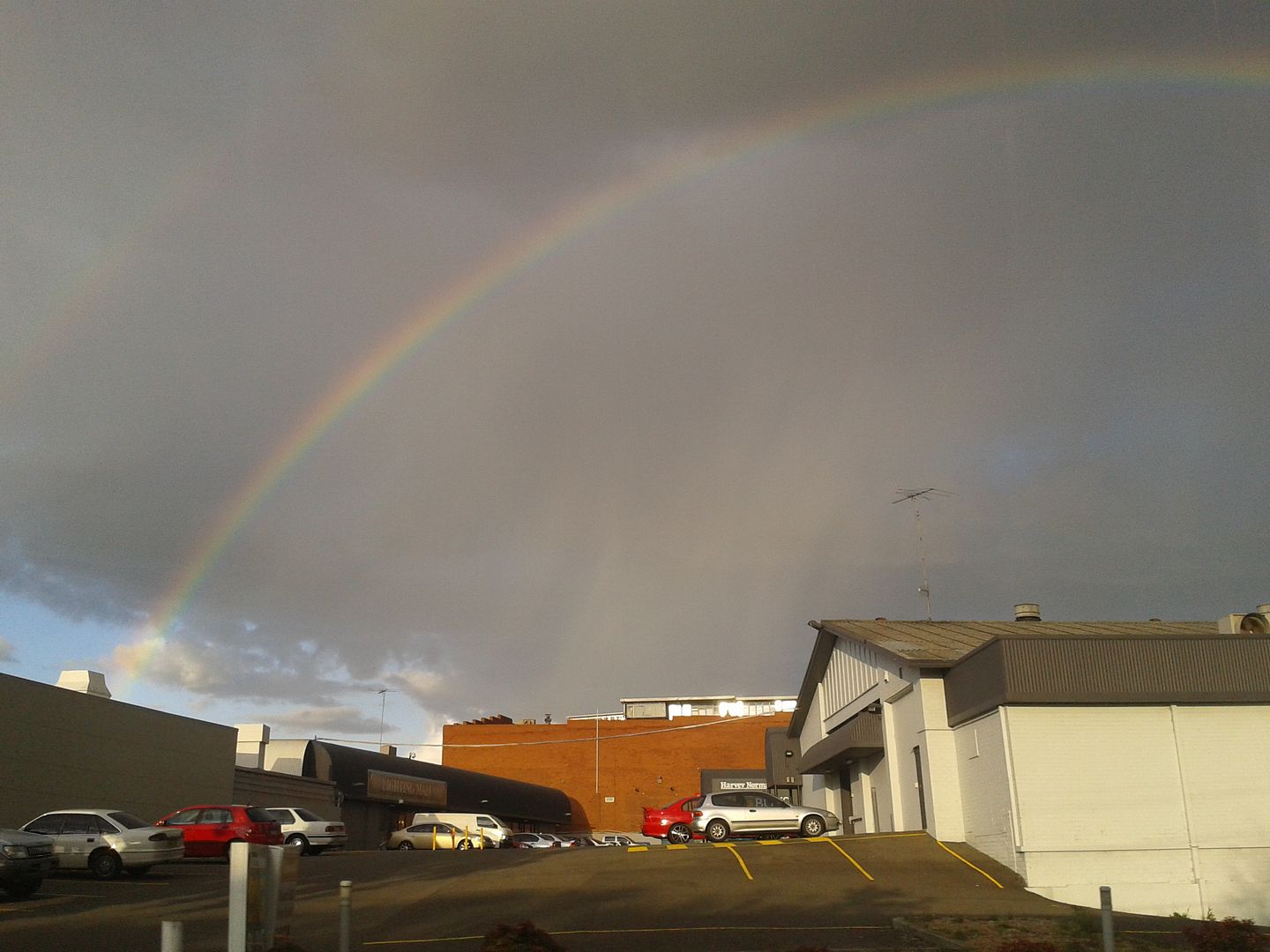 The Maids
http://www.sydneytheatre.com.au/what%27s-on/productions/2013/the-maids.aspx

Penelope Keith returns to TV for Jane Austen role
http://www.bbc.co.uk/news/entertainment-arts-22942464

How Napoleon's semaphore telegraph changed the world
http://www.bbc.co.uk/news/magazine-22909590

Captain Wickham fought them bravely for hours
http://tomriley.tumblr.com/post/53691429211/captain-wickham-fought-them-bravely-for-hours

Why Can't Anyone Recognize Superman?
http://www.slate.com/articles/health_and_science/medical_examiner/2013/06/superman_man_of_steel_disguise_prosopagnosia_explains_why_no_one_recognizes.html?wpisrc=newsletter_slatest_morning_newsletter

Google Reader's end hatches better service
http://seattletimes.com/html/businesstechnology/2021243487_reviewgooglereaderaltsxml.html

Alexis
https://twitter.com/josswhedon/status/344766347521183745/photo/1

Joss Whedon shoots Shakespeare home movie
http://www.bbc.co.uk/news/entertainment-arts-22868903

Neil Gaiman novel The Ocean at the End of the Lane to become a Radio 4 Book at Bedtime
http://www.radiotimes.com/news/2013-06-12/neil-gaiman-novel-the-ocean-at-the-end-of-the-lane-to-become-a-radio-4-book-at-bedtime

Neil Gaiman on why Scotland is his second home
http://www.scotsman.com/lifestyle/books/features/neil-gaiman-on-why-scotland-is-his-second-home-1-2968554?utm_medium=twitter&utm_source=twitterfeed

Write a story with Neil Gaiman
http://www.guardian.co.uk/books/booksblog/2013/jun/14/neil-gaiman-write-a-story

Nikolaj Coster-Waldau on the Naked Truth About the 'Game of Thrones' Kingslayer
https://www.thewrap.com/awards/column-post/emmys-nikolaj-coster-waldau-naked-truth-about-game-thrones-kingslayer-98791

The Paintings That Inspired The Movies
http://www.empireonline.com/features/paintings-that-inspired-the-movies?utm_source=ExactTarget&utm_medium=email&utm_campaign=062113+newsletter

NSA whistleblower Edward Snowden: 'I don't want to live in a society that does these sort of things'
http://www.guardian.co.uk/world/video/2013/jun/09/nsa-whistleblower-edward-snowden-interview-video

One in three women suffers violence, global study finds
http://www.guardian.co.uk/society/2013/jun/20/one-in-three-women-suffers-violence?CMP=twt_gu

Hairy stockings are not the answer to rape culture
http://www.guardian.co.uk/commentisfree/2013/jun/19/hairy-stockings-not-answer-rape-culture

Unlikely feminist hero: Army chief's video message draws plaudits
http://www.watoday.com.au/opinion/political-news/unlikely-feminist-hero-army-chiefs-video-message-draws-plaudits-20130614-2o86b.html

Character Posters for Season 2 of THE NEWSROOM
http://collider.com/newsroom-season-2-posters/

Gallery wants 'Apocalypse' now
http://www.brisbanetimes.com.au/entertainment/art-and-design/gallery-wants-apocalypse-now-20130611-2o1ok.html

Hero worship
http://www.theage.com.au/entertainment/movies/hero-worship-20130613-2o56p.html

Man of Steel: Are superheroes the new gods?
http://www.telegraph.co.uk/culture/film/10125441/Man-of-Steel-Are-superheroes-the-new-gods.html

The 10 Best Oral-Sex-Face GIFs of the 2012–13 Television Season
http://www.vulture.com/2013/06/tv-oral-sex-face-gifs-top-10.html

Secrets of ribbon curling revealed
http://www.abc.net.au/science/articles/2012/10/02/3599021.htm#.UbjweZybE_h

Hopes and Fears for Supernatural Season 9
http://www.tvguide.com/News/Supernatural-Season9-Hopes-Fears-1066618.aspx

Supernatural star Jensen Ackles is a daddy now? We feel old...
http://entertainment.ie/celebrity-tv-gossip/Supernatural-star-Jensen-Ackles-is-a-daddy-now-We-feel-old/191514.htm

A week in the life of War Horse's Joey
http://www.officiallondontheatre.co.uk/news/backstage-pass/gallery/article/item189572/a-week-in-the-life-of-war-horses-joey/

Arthur
http://instagram.com/p/atc2gsDgD-/#

Have you been watching … Justified?
http://www.guardian.co.uk/tv-and-radio/tvandradioblog/2013/jun/12/have-you-been-watching-justified

Mafia claims pioneering test of killer drones
http://www.smh.com.au/technology/technology-news/mafia-claims-pioneering-test-of-killer-drones-20130613-2o5mu.html

Companies can't patent genes, US court rules
http://www.smh.com.au/technology/sci-tech/companies-cant-patent-genes-us-court-rules-20130614-2o836.html

Woman who showed the sky's the limit
http://www.smh.com.au/technology/sci-tech/woman-who-showed-the-skys-the-limit-20130612-2o2rf.html

Brtiain's beautiful castles
http://www.telegraph.co.uk/expat/expatpicturegalleries/10103678/Brtiains-beautiful-castles-part-two.html

Fry
http://stephen-fry-me.tumblr.com/post/53017319724

Stamp collecting is big business in Asia
http://www.telegraph.co.uk/finance/personalfinance/expat-money/10106107/Stamp-collecting-is-big-business-in-Asia..html

Thank you for the musical, Smash
http://www.smh.com.au/entertainment/tv-and-radio/thank-you-for-the-musical-smash-20130611-2o1op.html

Uncharted Waters: Joe Hill Explores Neil Gaiman's The Ocean at the End of the Lane
http://www.omnivoracious.com/2013/06/uncharted-waters-joe-hill-explores-neil-gaimans-the-ocean-at-the-end-of-the-lane.html

Joss Whedon wants more female superheroes. Who would you pick?
http://herocomplex.latimes.com/movies/joss-whedon-wants-more-female-superheroes-who-would-you-pick/#/0

Joss Whedon: 'Much Ado,' a soothing switch from 'Avengers'
http://seattletimes.com/html/movies/2021175965_josswhedonxml.html

RTÉ Ten interview: Joss Whedon
http://www.rte.ie/ten/video/2013/0607/455251-joss-whedon/

'Game Of Thrones' Star Nikolaj Coster-Waldau On Being Outshone By 'Mama' Co-Star Jessica Chastain
http://www.huffingtonpost.co.uk/2013/06/17/game-of-thrones-nikolaj-coster-waldau-mama-jessica-chastain_n_3453478.html?utm_hp_ref=uk-entertainment

'Game of Thrones' finale: Nikolaj Coster-Waldau on Jaime's homecoming
http://herocomplex.latimes.com/tv/game-of-thrones-finale-nikolaj-coster-waldau-on-jaimes-homecoming/?track=lat-email-latimesentertainment

Diamonds, D.B. Cooper, and the Mona Lisa
http://www.slate.com/articles/life/longform/2013/06/diamonds_d_b_cooper_and_the_mona_lisa_the_longform_guide_to_audacious_heists.html?wpisrc=newsletter_jcr:content

Matt Bomer: New Character in the TV Drama 'The Normal Heart' and New Love Interest in 'White Collar' Season 5
http://au.ibtimes.com/articles/475373/20130606/matt-bomer-new-character-tv-drama-normal.htm

Matt Bomer eager to get The Normal Heart role spot on
http://www.fansshare.com/news/matt-bomer-eager-to-get-normal-heart-role-spot-on/

'White Collar' season 5 spoilers: Will Matt Bomer, Hilarie Burton's characters reunite?
http://cartermatt.com/66886/white-collar-season-5-spoilers-will-matt-bomer-hilarie-burtons-characters-reunite/

Matt Bomer: 'White Collar' Fifth Season Filming!
http://www.justjared.com/2013/05/31/matt-bomer-white-collar-fifth-season-filming/

White Collar
https://twitter.com/CampJim44/status/346686212930678786/photo/1
https://twitter.com/CampJim44/status/346759144797261824/photo/1
https://twitter.com/CampJim44/status/347009162980495360/photo/1
https://twitter.com/CampJim44/status/347111225697648643/photo/1
https://twitter.com/CampJim44/status/347434003470635008/photo/1
https://twitter.com/CampJim44/status/347371928010518528/photo/1
https://twitter.com/CampJim44/status/347130700627054594/photo/1
https://twitter.com/CampJim44/status/346647586553356288/photo/1
https://twitter.com/CampJim44/status/345622369416654848/photo/1
https://twitter.com/CampJim44/status/345290451349286912/photo/1
https://twitter.com/CampJim44/status/345227568888307712/photo/1
https://twitter.com/CampJim44/status/344841672909271040/photo/1
https://twitter.com/CampJim44/status/344584679388753920/photo/1

White Collar, Season 5 - Back This Fall
http://youtu.be/2FRpvzg-XOk

David Beckham vs. Matt Bomer: Who's the Hotter Dad?
http://omg.yahoo.com/news/david-beckham-vs--matt-bomer--who-s-the-hotter-dad--012543134.html

Sexy Men. Matt Bomer in White Collar
http://yareah.com/1420-sexy-men-matt-bomer-in-white-collar/

'White Collar' season 5 spoilers: 'The Americans' regular joins Matt Bomer series
http://cartermatt.com/67942/white-collar-season-5-spoilers-the-americans-regular-joins-matt-bomer-series-as/


Who Weekly

12 September 2005

Australia
GQ

June 2009

US
Town

Spring 2013

UK