So I ran away from home. Well, just for a little bit. Just for the weekend, really. Work, as always, made the leaving fraught and far more difficult than it should have been, and the exhibition I actually went down there for was complete pants, and my favourite hotel has declined so suddenly it is now a scary chair against the door bedbug ridden dive, but aside from that, it was completely marvellous and wonderful. I love Melbourne so much. I'd move there if I didn't think I'd break the magic.

So, onto the good things. Trams. I love trams. Trams are good. Everyone should have trams. Trams take you up hills so you don't arrive at your museum of choice already footsore and blistered. Trams have old world charm. Trams run frequently and go where you want to go. Not sure about the Myki though. It didn't boop on and off like the old Oyster. Turns out, you have to hold it in place for about 15 minutes before it boops, which is bad news if you're only going four blocks uphill cause you're a lazy sod with sore feet. So, trams for free, then. Even better.





Cafes. Melbourne has cafes. I was going to wander and take some photos, but there were several impediments to that. One, even though my Olympus has decided to play ball and take the odd photo rather than being chucked in the bin, I still don't trust it. Two, the weather, though it never actually rained, kept on with the threatening opening the Lost Ark of the Covenant type clouds that disiclined one to striking out across open country and third, I'm just lazy and I really was coming down with a spot of plane flu* and had a bit of the wobbles. So cafes it was.

First cafe was the Hopetoun Tea Rooms, famous of wallpaper and they appear in a Phryne book so I figured why not. Straight off the plane, into the now horrid hotel, I figured I needed cheering up.

Got a table, but alas, it wasn't all that. At least, not for me. I didn't see anyone ordering off menu except me, so these wonderful things were carried past my table, but I ended up with the cream tea and the scones which were so full of baking soda I'm still getting over them. Sigh. The tea was good though, I must give them that. I guess I was just tired, had the internet fail on important work stuff and was on it until midnight, then I had to get up at three to pack and then to find my favourite hotel had slipped from three stars to one, and, well, sigh.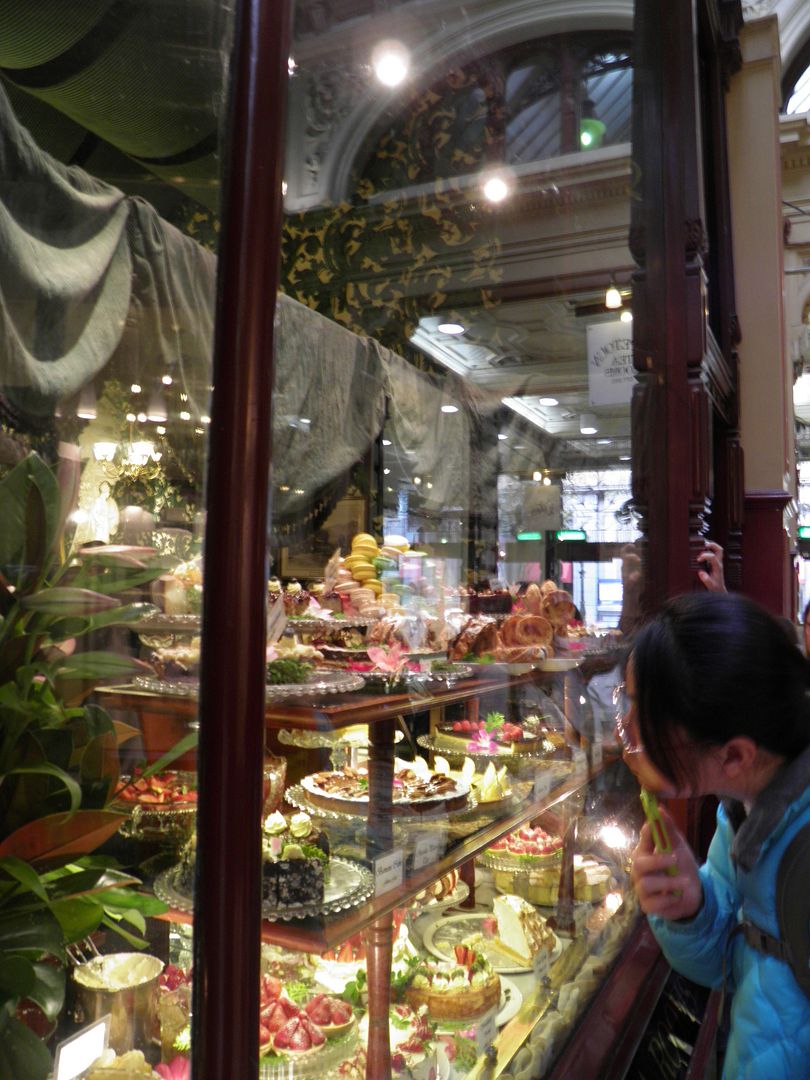 Hopetoun Cafe, The Block



Never mind, there was Koko Black, with my favourite hot chocolate. Noisy with tourists, and I always seemed to end up at the constantly bumped table, but nothing could detract from my hot chocolate experience. I went there twice, as it was still being wintery, and I don't care that this elicited comment from the wait staff.

Then there was Gordon's Cafe on Saturday, my favourite spot for breakast, brunch or lunch. The staff are so friendly they had my skinny latte on the table before I got there (alas, I wanted a pot of Earl Grey tea, but points for smooching). This time I had eggs and tomato, just cause I felt I needed some protein. Luverly.

Alas, it wasn't open on Sunday, but the cafe opposite was and oh dear, Gordon's may have some competition. Here was the cafe of my dreams (no, really, alas no walkons by Tom Hiddleston), with the seats with the metal crosses on them in a Roman design, just like in my dream, and yes, it was the perfect cafe to sit in a corner and scribble. I ended up staying there from brunch to lunch. I had fruit toast, the excellet homemade chicken and corn soup, a pot of tea, again, excellent, and an amazing shiraz from the Mornington Peninsula (can't remember the name, alas). People were nice, staff left me alone (not like in Sydney where they will hustle me out before my coffee has even arrived) and I scribbled and scribbled. Nothing worthwhile, I was content.

Melbourne has shops. It has retained it's old arcades and it is quite simply a wonderful shopping experience. I had a very expensive trip to the ladies in Myers when I saw a dress on the way in and on the way out I decided to try it on for a lark. OMG, here is the dress, at last (thirty years too late, but still). Boobs in the right place, bum in the right place, it actually makes me look female. Amazing. And it was on special. Dammit. Most expensive trip to the loo ever. But I was happy I have a Melbourne dress. Now I just need somewhere glam to wear it.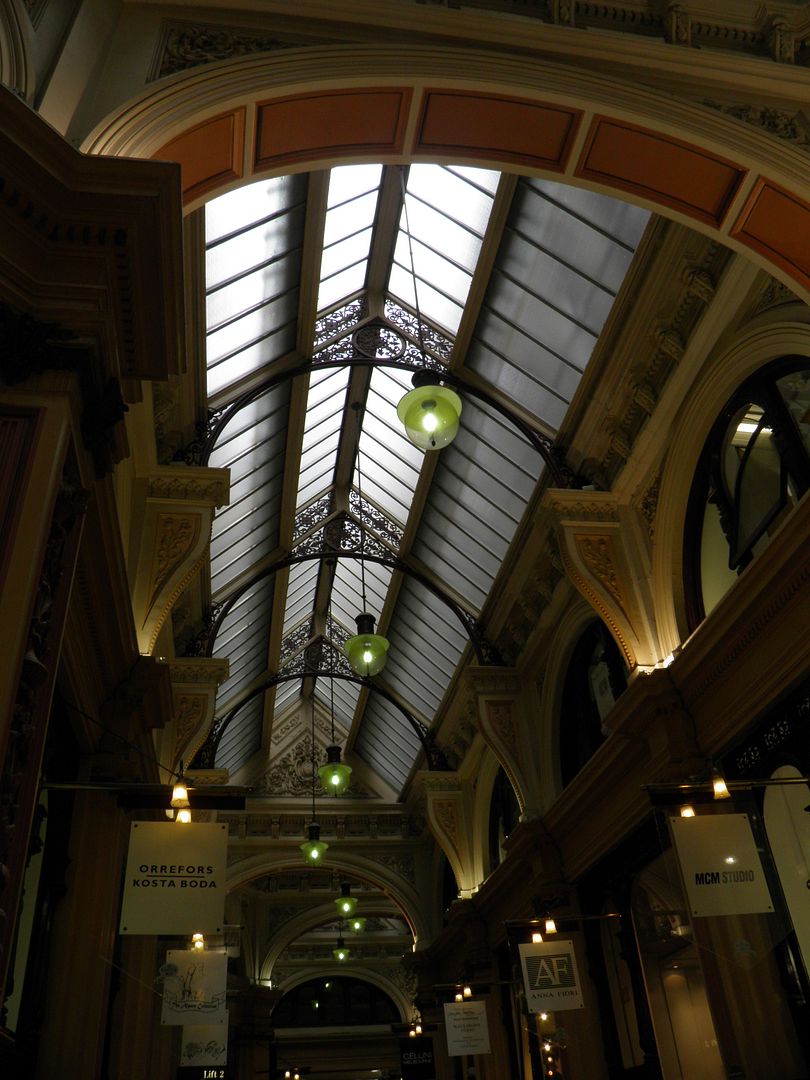 The Block




I also dropped in on Basement Discs, which is my favourite record store in the whole world (and, yes, sadly, one of the few remaining). I won't cop to what I bought, but it was eclectic enough for the poor guy to have to reach up and down and right across and he declared that his workout for the day. Heh.

Wandered in and out of a few more stores. The little blue paste brooch in fly form is the only thing I think I'll admit to, though. Hey, it's Melbourne. You shop.

But there was kulcha, too. As I said, the big ticket item was complete pants, and only a silly little southern state could put a big gold N on the front of their building and think it cute. In Sydney, it was our worst fucking nightmare, and not completely paranoid, either. Those maps made by 'naturalists' are more accurate than Google maps. Only two eagles and two uniforms and a shitload of tea sets. Still, I learnt a few things about the revolution and I saw a copy of The Death of Marat, which I've always liked rather too well for the complete melodrama of it.



Napoleon



Never mind, because on Friday I spent the afternoon up in the Ian Potter museum up at the University of Melbourne (not to be confused with the Ian Potter gallery at the other end of Swanston at Federation Square and who the by heck is this Ian Potter dude any way?). Oh, I wish I'd gone to U of M, but it just didn't work that way when I was of matriculating age, but I liked it, and I loved the museum. I was there for the Cypriot pots, because I love an old pot (I can take or leave Cyprus, I once had a Cypriot friend who broke my heart and thus all things Cyprus are tainted by painful association) and I just love small museums like this because I had the pots all to myself so I could be one with the pot, and there were only a handful, so I felt no pressure, I could just examine the examples presented before me in a leisurely fashion.





So it was I was bemused at the pot with what the card described as a bird motif, ignoring the well known indo-european symbol stamped all over it, oh dear. Then there was the pot with the decoration that went diamond, diamond, wavy lines, diamond, diamond wavy lines, diamond - fuck. Heh. Oh, and the big pot with the carefully drawn parallel lines around the hips of it. Clearly the pot painter had thought job well done and knocked off for lunch down and the pub, and staggered back to do the other side. Oh dear. Wobble, wobble, droop. Don't drink and paint, kids, especially if it means some oik like me is going to chortle away unkindly two millenia later.

Best, and most unexpected though, was the anatomy class exhibition, which had many grusome models and texts, really old anatomy books, as well as installations, some lovely old paintings, photos and prints of the human body, almost exclusively male. It was intellectual, studious, revolting, challenging, intriguing and arousing in disturbing portions. I loved it. I went round it four or five times. Best of all, one of the artists of one of the more recent installations was there to give a talk and I was thinking oh dear but I hung about and she was amazing. Dancer, philsopher, choreographer, curator, she talked of movement, the actor/dancers spontaneous, then rehearsed movements, especially what had once been unconscious micro gestures, focusing on on their face, their hands, their throat, the Decartesian dualistic schism of mind and body, and all sorts of things. I was actually sitting there silently pleading with her to stop and slow down as she was giving me so many new thoughts and ideas.

Best of all, I discovered grim old Albrecht Dürer isn't above a dick joke, if you have a look at the tap fitting in The Bath House. Ooo-er.

There was more AD to come, as after I'd escaped the Napoleon exhibition, and refortified myself (eventually, aparently I'd offended the waitress somehow) with tea and sandwiches in the cafe, I wandered off to see the rest of the NGV and they had a print exhibition that was heavy on the Durer that was all about the Apocalypse. The guide thought he should warn me that it was a bit grim. Well, he's not all clowns and kittens, the old AD, quipped I, and we fell about giggling, imagining AD doing kittens and sad clowns. Oh dear.

And it was good. I liked it. Very elaborate and stern woodcut stuff (note to self, religion, freaky) but my favourites, as you might imagine, were the tabloidy 'monstrous births'. Always one for a sideshow, me. And I find the enduring human fascination for two headed animals rather endearing.

The rest of the gallery rocked. They're in the middle of a re-hang, moving from an Ashmolean room of spoons approach to a more Brooklyn Museum way of contextualising, putting together items that share context, time, place or artistic/poltical/thematic movement together. I particularly liked the inclusion of carvings and masks from the Oceania section included with the modernists, just so you could see what they were influenced by and what they were doing. This I like, where I can see and make my own narrative connections (the Picasso was missing though, on loan, not stolen, and it's sad when I asked where the Picasso was, it was Picasso, singular).

Starting in the mid 20thC and moving backwards, I found enjoyable, and, because I wasn't as tired as I usually am, I had far more time for the freaky modernists and their cubist experimentalism.

There was a black and white Wassily Kandinsky on display that I thought Arkady might like, as he tends to bold modernist prints, liking his art to be black and white if nothing else is, and I meanwhile, sat entranced by the electric blue lines on Eugène Jansson's Ring gymnast I.

Other favourites included William Orpen's Night (no. 2), James Tissot's An interesting story (so not) and Claude Monet's Rough weather at Étretat, because the little guy in the corner, hanging onto his hat. J'adore.

I love the NGV. Love, love, love. I think the Brooklyn Museum and the NGV would have to battle it out in a cage fight as to which was my favourite, but they are very like, and I love them both. I should live in a city with close access to one of them. It feeds my soul.

Luverly stuff, and finishing off with a hot chocolate at Koko Black. Perfection.

Alas, the horrid hotel room. Fortunately, my favourite spell shop was still open, opposite the chocolate shop, and they sold me some white sage to burn. Not a problem as the evil hotel had changed my booking to a smoking room, the bastards, so I set off the sage (and had to damp it down during Doctor Who on the bad reception telly, lest it actually set off the smoke alarms, if they still worked), but at least the sage fought a winning battle against the choking smoke wafting under the door and the nicotine seeping out of the walls. And it made me feel better to attempt something proactive rather than just sitting in the middle of the bed and sulking.

Dinner? Not so much. My fave resurant on Little Bourke was under new, scuzzy management and was now a student dive, sigh, and as for the place on Saturday night. Very polite, but the worst seafood pasta I've ever had, complete with stray bits of clam shell to break my teeth on. Dreadful! Oh, Melbourne, what have you done? Clearly all the good resturants have moved out of the city (if not interstate).

But overall, a stunningly fine experience. Oh, I nearly forgot, one last museum on Sunday. Went to see the Wonders of Ancient Mesopotamia at the Melbourne Museum. I wasn't expecting much, as the Tut one was so awful, but this I loved. Could have done with less prams (does your two year old really need to be taken to see cuniform?) but I enjoyed the bits and bobs from the British Museum, with scholarly text. Could have done with out the MM's kiddie friendly animated graphics on the wall (like shut up, I'm trying to read and peer at chicken scratches in clay here), but, whatever. I did learn that it's a bucket, not a handbag (so they say). Oh, and there was a whole bit about Agatha Christie on digs in Mesopotamia and some ivories that may or may not have been cleaned by Agatha from the Melbourne Uni collection via digs by her husband. So that was cool. I picked up Murder in Mesopotamia in the gift shop, which surprised me as I wasn't expecting an Agatha tie in.

Then it was cafe and home, eventually. Always seem to have trouble leaving Melbourne, which I wouldn't mind if I wasn't cooling my heels at Tullamarine, which is a little country airport if ever there was one. It's so quaint that the security measures involve queuing behind nylon tape. It'd never work if Melbournians weren't largely so polite and law abiding, the big display on Bushrangers at the library notwithstanding.

Oh, I forgot, I went to the library, too, as it always has cool stuff. This time, more lovely old books and crazy modernist books (so it tied in really well with the NGV and Anatomy) and a display of food industry ephemera in the Gusto! exhibition, that was cute. Lots of photos, old menus, tins, jars, labels, ads and posters. I loved the 'Eat More Grapefruit' poster. Your leader has spoken.

So, adieu Melbourne, my most favourite city on earth. Truly, it is. It's a bit Paris, a bit Budapest, a bit London, a bit New York. All love. It's like going to a foreign city, for cheap. For those people who live close to European cities and don't visit them, fie on you.



Burke and Wills



Even Amanda Palmer loves Melbourne, and recorded her lastest album there. Which is brilliant, btw. I got my Kickstarter packet last night. So much love.

Oh yeah, I was supporting Theatre is Evil and Husbands, the first web series to be presented at the Paley Center. Oh yeah, baby, I know where it's at.

No, really, I just liked their work and wished to be a subscriber. The packages were fun, though, as was the involvement, from newsletters to web chats and the like. The whole thing was an experience, and I loved every minute of it. Sad it's all over now.
I need new projects to support.

Back to Sydney and off to Bondi, yes, on the actual beach, waves and sand, well, rain and dramatic thunderstorm, but you know, to see I want to sleep with Tom Stoppard at the Pavillion. Who knew there was a rather nice theatre upstairs, as the downstairs is very bus sheltery, and a nice pub attached, where I lurked, out of the rain, and scribbled some more. There is now a thunderstorm in the fic. Well, it was so dramatic, banging and flashing away over the black and white waves.

I was meeting a friend from lj and rocked up to everyone waiting in a red shirt but finally we met up and chatted away and it was marvellous. Talked all about theatre, good and bad. Apparently the local scene owes a lot of to a German theatre company (all is explained) and apparently the whole bare set, one prop, occassional sprinkles of glitter is all on the checklist.

We both love Shakespeare, and talked of performances good and bad, seen and missed. Funnily enough, Wednesday's episode of Star Trek was Conscience of the King, which, I must admit, to mocking, just a bit, but mainly ever the silvery space blankets, the stupid girl's fur mini and Spock's passive aggressive bitchiness, which, throw in Yeoman Rand's look of 'what has the Captain dragged in this time' and Bones spending the whole episode drunk as a skunk, and, well, hilarity ensued.

More hilarity on Rake where the local theatre scene was again lambasted, with The Tempest set in a laundromat in Potts Point. Cleaver goes off on a rant that had me in such fits of giggles I couldn't possibly reproduce it, but yes, and yes again.

Which brings me back to I want to sleep with Tom Stoppard, a play about the local theatre scene, for good or bad. With the worst actress in the world and the middle class subscribers pilloried, and mentions of that play with the dildos that everyone tittering nervously, I'm still not sure if it was for or against, but it was bitchy and funny, and I liked it. Who knew Andrew McFarlane could be so sleazy? Heh.

And I made a new friend. Two, I hope. a grand night out.

And that's the week. Tired now. Not talking to the bullies unless absolutely necessary, which has worked wonders. I've got my music, my theatre, new friends, hopefully, a lovely fogging morning (raining now but I don't care), stuff I like on telly. It's good.

Say what you like, but I think some people really do just drag you down. Reducing their impact, and I feel like I'm soaring up high. Don't bring me down. Life is good. I even have chocolate (I brought back some milk chocolate peppermint buttons from Koko Black).

And, oh yes, there was even Bomer. That episode of Glee I missed due to the remote being in the iron fist of himself, well, it finally played on Fox8 and finally saw Bomer murder Duran Duran. I may never recover. Still, it had to be seen, I suppose.

It also segued nicely into the week's themes of bad actors (muderous on Rake and Star Trek, just plain bad in I want to sleep with Tom Stoppard) and I was just watching his mannered moves, as pointed out by the choreographer in Melbourne, and now I can see what he's doing, and why it doesn't ring quite true (rehearsed gestures versus spontaneous). Interesting. And he still looks crazy. But hey, that's just me, watching, from a point of view informed by recent experiences.

As they say, you can never enter the same river twice, it it goes for watching tv, theatre or viewing art. Even if the art, like a painting or tv, is static and unchanging, the viewer is not, and so, it's different, every time. This time, I was just watching, not drooling, and it was...interesting.

Oh, Doctor Who. Aside from my uneven viewing of the Pertwee years (I never see two episodes in a row so one minute it's Silurians, then spacemen, now evil eye-patch wearing Brigadiers, I am confoozed) there was the happy viewing of the Doc on iView (huzzah).

Doctor Who does westerns, and well, for once (I've seen the Hartnell one. Don't. Just, don't). Proper western, too, big old morality play with six shooters, as is right (and about the way the Yanks seem to solve all their moral quandries) and high noons and, well, throw in some Doctor Who silliness and it worked for me. As an added bonus, there was Ben Browder redeeming himself after Failgate. As for the plot, yeah, it was thick and juicy: good vs bad, what is greater evil or greater good, how much sacrifice of lives and souls is worth winning the battle, can good men still be good men after they have done bad things for what they thought were the right reasons, how battle scars those who walk away. It was very much, as the modern stories seem to be, the Doctor seeing his reflection and not liking what he saw, at least, I assume that's why he became so very angry. And Amy, being the voice of humanity and mercy, and the sheriff, the voice of decency and justice (and, I'm guessing, more than a bit battlescarred himself, which is why I assume he was so extraordinarily non-judgemental, for a sheriff). And all this in a kid's show. Bless.

So-called non kid shows? Attend.

The Hopetoun Tea Rooms
http://www.hopetountearooms.com.au/

The Block Arcade
http://www.theblockarcade.com.au/

Koko Black
http://www.kokoblack.com/

The Basement Discs
http://www.basementdiscs.com.au/

Napoleon
http://www.ngv.vic.gov.au/napoleon

THE ANATOMY LESSON
http://www.art-museum.unimelb.edu.au/exhibitions/exhib-date/2012-09-01/exhib/the-anatomy-lesson

CERAMIC ART OF ANCIENT CYPRUS
http://www.art-museum.unimelb.edu.au/exhibitions/exhib-date/2012-04-21/exhib/ceramic-art-of-ancient-cyprus

The Four Horsemen
http://www.ngv.vic.gov.au/whats-on/exhibitions/exhibitions/the-four-horsemen

The Wonders of Ancient Mesopotamia
http://museumvictoria.com.au/melbournemuseum/whatson/current-exhibitions/the-wonders-of-ancient-mesopotamia/

Grasshopper's Feast
http://www.grasshoppersfeast.com.au/index1.html

Gusto! A culinary history of Victoria
http://www.slv.vic.gov.au/event/gusto-culinary-history-victoria

The changing face of Victoria
http://www.slv.vic.gov.au/event/changing-face-victoria

Mirror of the world
http://www.slv.vic.gov.au/event/mirror-world

I want to sleep with Tom Stoppard
http://rocksurfers.org/2012/04/i-want-to-sleep-with-tom-stoppard/

Uncomfortable truths laid bare in withering comedy of manners
http://www.smh.com.au/entertainment/theatre/uncomfortable-truths-laid-bare-in-withering-comedy-of-manners-20120909-25m2w.html

THE GLOBE ON SCREEN
http://www.dendy.com.au/Promotion/The-Globe-On-Screen
http://www.hoyts.com.au/Movies/details/Globe_Alls_Well_That_Ends_Well.aspx?_m_utk=66c4f89fa68ae048d35d3fe8e410aee9

NATIONAL THEATRE LIVE SEASON 4
http://www.dendy.com.au/Promotion/Nt-Live-2012-13-Season

From Kickstarter to Billboard charts, Palmer's 'Theatre' an indie success
http://www.news-journalonline.com/article/20120919/COLUMNS/120919666?Title=From-Kickstarter-to-Billboard-charts-Palmer-s-Theatre-an-indie-success

Recognition sought for new cloud variety
http://www.usatoday.com/weather/story/2012/09/18/new-cloud-species-discovered/57803214/1

Why sleep loss is a nightmare
http://www.brisbanetimes.com.au/lifestyle/life/why-sleep-loss-is-a-nightmare-20120919-266st.html

Cute overload: the sloth sanctuary
http://www.brisbanetimes.com.au/travel/holiday-type/eco-tourism/cute-overload-the-sloth-sanctuary-20120920-268dr.html

Everything was Moving: Photography from the 60s and 70s
http://www.telegraph.co.uk/culture/culturepicturegalleries/9548595/Everything-was-Moving-Photography-from-the-60s-and-70s.html

Exclusive: Watch a Behind-the-Scenes Look at the Season 2 Finale of HUSBANDS
http://collider.com/husbands-season-finale-video-behind-the-scenes/196715/

Peter Jackson Says He'd Love to Direct a DOCTOR WHO Episode
http://collider.com/peter-jackson-doctor-who/196856/

Joss Whedon Talks AVENGERS 2, Says He "Desperately Wanted to Say More About These Characters"
http://collider.com/joss-whedon-avengers-2-quotes/196785/

Science is more beautiful than art
http://www.guardian.co.uk/artanddesign/jonathanjonesblog/2012/sep/19/science-more-beautiful-than-art?CMP=EMCNEWEML1355

Classic Hollywood: These TV series never get old
http://www.latimes.com/entertainment/news/la-et-classic-hollywood-20120917,0,147336.story?track=lat-email-topofthetimes

Henry Darrow made his mark as an actor
http://www.latimes.com/entertainment/tv/showtracker/la-et-st-henry-darrow-20120915,0,7993137.story

'I was not expecting to find my inner whore': Doctor Who's Alex Kingston finds out great-granny ran a brothel
http://www.mirror.co.uk/tv/tv-news/doctor-who-star-alex-kingston-1329062

Exclusive Interview: Brad "Cheeks" Bell chats HUSBANDS THE SERIES
http://www.assignmentx.com/2012/exclusive-interview-brad-cheeks-bell-chats-husbands-the-series/

Gays, Geeks, and Going Your Own Way Part 1
http://www.comicsbulletin.com/interviews/4925/gays-geeks-and-going-your-own-way-part-1/

Nathan Fillion
http://www.whosay.com/nathanfillion/videos/227704

'The Glades' Matt Passmore Q&A: 'We're the flip side of CSI: Miami'
http://www.digitalspy.co.uk/tv/interviews/a401472/the-glades-matt-passmore-qa-were-the-flip-side-of-csi-miami.html

Matthew [aka Matt Passmore]
http://www.abc.net.au/abcforkids/sites/playschool/about/presenters/?presenter=MATTHEW

'Supernatural': The fall (and rise?) of The CW's cult drama
http://www.digitalspy.co.uk/ustv/s6/supernatural/tubetalk/a405263/supernatural-the-fall-and-rise-of-the-cws-cult-drama.html

Jensen Ackles & Steve Carlson: 'Angeles' Video - Watch Now!
http://www.justjared.com/2012/09/18/jensen-ackles-steve-carlson-angeles-video-watch-now/?ref=topposts

Spiders
http://deepblue.lib.umich.edu/bitstream/2027.42/31447/1/0000367.pdf

Psychopaths have poor sense of smell, say Macquarie University scientists
http://www.dailytelegraph.com.au/news/national/psychopaths-have-poor-sense-of-smell-say-macquarie-university-scientists/story-fndo2j43-1226478502621?utm_source=feedburner&utm_medium=feed&utm_campaign=Feed%3A+dailytelegraphnationalnewsndm+%28Daily+Telegraph+|+National+News%29

Warp Drives Might Be More Realistic Than Thought
http://www.wired.com/wiredscience/2012/09/warp-drive-plausible/?utm_source=feedburner&utm_medium=feed&utm_campaign=Feed%3A+wired%2Findex+%28Wired%3A+Top+Stories%29&utm_content=Google+International

Opus Design - Trim Telephone
http://www.opusdesign.com.au/component/icommerce/product/category/264/product/4887.html?utm_source=toogoodtrim&utm_medium=toogoodtrim&utm_campaign=toogoodtrim

A casual lunchtime snap, or the world's most iconic publicity stunt?
http://www.independent.co.uk/arts-entertainment/art/news/a-casual-lunchtime-snap-or-the-worlds-most-iconic-publicity-stunt-8157380.html

DNA science that may make photofits a thing of the past
http://www.independent.co.uk/news/science/dna-science-that-may-make-photofits-a-thing-of-the-past-8135808.html

The Last Word on "Don't Ask, Don't Tell"
http://www.slate.com/articles/news_and_politics/politics/2012/09/study_of_don_t_ask_don_t_tell_repeal_helped_the_military_.single.html

James Bond film locations around Britain
http://www.telegraph.co.uk/travel/picturegalleries/9547619/James-Bond-film-locations-around-Britain.html

Matt Bomer, Lucy Griffiths, Eva Marie Saint joins 'Winter's Tale'
http://www.digitalspy.co.uk/movies/news/a407559/matt-bomer-lucy-griffiths-eva-marie-saint-joins-winters-tale.html

White Collar Preview Episode 9- Gloves Off
http://www.tvovermind.com/white-collar/whitecollar-preview-episode-9-gloves-off/
http://www.craveonline.com/tv/reviews/195877-white-collar-409-gloves-off
http://www.buzzfocus.com/2012/09/12/white-collar-season-4-episode-9-gloves-off-review/
http://www.nypost.com/p/entertainment/tv/drama_mama_HNXugdoP76DCFPIWeX2W2L?utm_medium=rss&utm_content=TV
http://www.newnownext.com/white-collar-recap-how-dreamy-was-matt-bomer-5/09/2012/
http://www.seattlepi.com/entertainment/tv/tvguide/article/Ask-Matt-Glee-vs-Grey-s-White-Collar-Army-3871170.php

White Collar
https://twitpic.com/avp32t/full
http://youtu.be/zJLR5m3VMFY
http://twitpic.com/aw3sx6
http://twitpic.com/aw0umi
http://youtu.be/r_tQkgcGi34

'White Collar' Summer Finale: Neal Gets A Bombshell Dropped On Him About Sam (VIDEO)
http://www.huffingtonpost.com/2012/09/19/white-collar-sam-shocker-video_n_1895992.html?utm_hp_ref=tv-replay

'White Collar' Exclusive Sneak Peek: Neal Hatches A Sneaky New Scheme (VIDEO)
http://www.huffingtonpost.com/2012/09/18/white-collar-midseason-finale_n_1894473.html

Tim DeKay Previews Emotional 'Collar' Finale
http://www.theinsider.com/tv/55536_Tim_DeKay_White_Collar_Season_4_Finale_Interview/index.html

'White Collar' Season 4 summer finale: The bromanciest episode yet
http://blog.zap2it.com/frominsidethebox/2012/09/white-collar-season-4-summer-finale-the-bromanciest-episode-yet.html?utm_source=twitterfeed&utm_medium=twitter
http://www.newnownext.com/white-collar-recap-how-dreamy-was-matt-bomer-6/09/2012/

White Collar Summer Finale: Just…WOW (Advance Review of "Vested Interest"!)
http://smallscreenscoop.com/white-collar-vested-interest-review/327455/

Post Mortem: White Collar Boss Talks Neal and Peter's Daddy Issues
http://tvline.com/2012/09/18/white-collar-season-4-summer-finale-post-mortem/

My Favorite Summer 2012 TV Bromances
http://www.buddytv.com/slideshows/suits/my-favorite-summer-2012-tv-bromances-89958.aspx

* Worst case of plane I ever had was a short hop to Canberra. I was fine all day, but in the space of a taxi ride to the restaurant in the evening, I wasn't, and that night I was coughing up blood in the hotel sink. Not fun. And I still queued up for the NGA the next day, little trooper that I am. Whatever that was, it was nasty and I never want to catch it again. It was like Hollywood plague film bad.