I've been putting off writing this blog so it wouldn't just be me being miserable, but this week just gets worse and worse and I can't do anything right. This frown is hammered down.

Even going to the Mousetrap last night was a disaster from start to finish. It was supposed to be a treat but I completely fucked it up. I managed to pick the wrong night of the wrong week, the seats were in the very back row and Himself was tired and grumpy and had important stuff on today and I've made such a mess of things and I don't know what to do.

Even arranging to meet at my beloved Mercantile pub seemed to weigh heavily in the underwhelming scales. Sure it's a little scruffy, but I just adore the original Art Nouveau decor, the swirly green tiles, the patterned plaster ceiling, the gorgeous and elegant sweep of the wooden arms on the mantlepiece. The staff are friendly, the clientle unpretentious and the food is in the solid and hearty, cheap and cheerful range. No truffle oil, in other words. Just bangers and mash, beef and Guinness pie, that sort of thing. Close by, comfy, perfect for winter, I thought.

Okay, the chef is surly, but the surlier he is, the better the food. 'Yippee, then,' deapanned Himself, without any enthusiasm.

At least the walk down the wall did have the spectacular views as promised, and Gleebooks had their pop up store at the theatre as advertised.

Sadly, the one time I get a stage set, I'm miles from it, so I couldn't peer at it to my heart's content, but at least the broad and mannered style of acting carried to the back rows. It was a good choice for an old play that has been so pastiched and parodied it was a farce before it even started. I did like it and I've always wanted to see it, but I can't tell you the plot as we were all sworn to secrecy, and as I had the delight of not being spoiled for a sixty year old play I'm going to respect that (unlike day old tv shows).

So I didn't mind it, but I very the heavy oppressive weight of having done a very bad thing. Been that way all week. The sort of week where I couldn't stoop to tie my shoelaces without taking out the entire Tour de France race. That kind of week.

And it's not like I'm looking for reasons to be miserable. Quite the opposite. I took my time walking down to Walsh Bay from work and it's amazing how much I see when I meander as opposed to hufing along. The tree fern laden little triangle of jungle in the corner of one building forecourt that made me expect to see young dinosaurs grazing amonfst the ferns, being wobbled around by a chap on a unicycle, four gents with bright green mohawks, a huge drift of ice in one gutter.

And when the sky darkened, with bare tree branches, one of the buildings opposite my window reminded me of Centrepoint. Only I could ever get nostalgic for London in February.




ABC - All Of My Heart by ABC



Thinking of Centrepoint made me start humming All of My Heart (because it's in the video) and by the time I got up to:
'Yes I hope and I pray
That maybe someday
You'll walk in the room with my heart
And I shrug and I say
That maybe today
You'll come home soon'

I'm thinking again of Peter, that image of him alone in that room, and I feel the pinch again of not being in the White Collar loop. Sure, I can watch the trailers, and I'm just about through my disks of series three, which has never screened out here, but still. I try to ignore it, but like that label on one of my jumpers, it bites every so often.

But that, my dears, is the least of my problems. Skipping over being the butt of nasty office politics (how well did the presentation go? Well, if the whispers and nastiness are anything to go by, that well) I should tell you that my Samsung tablet bricked it, taking with it photo albums, libraries and carefully curated playlists amongst everything else (my maps, my bookmarks, my notes and lists, my calendar, my radio stations, my image folders). Not happy.

At least it was a share bear before it's sudden fall off its perch (tested fine against virus checkers, just fell over on Tuesday for no reason). Here is one of the photos I took on Saturday that I'd managed to upload to share (but forgot to). It was the day we went to see One Man, Two Guvnors, and this is my home town, with looming clouds (there was no rain, as is frequently the case).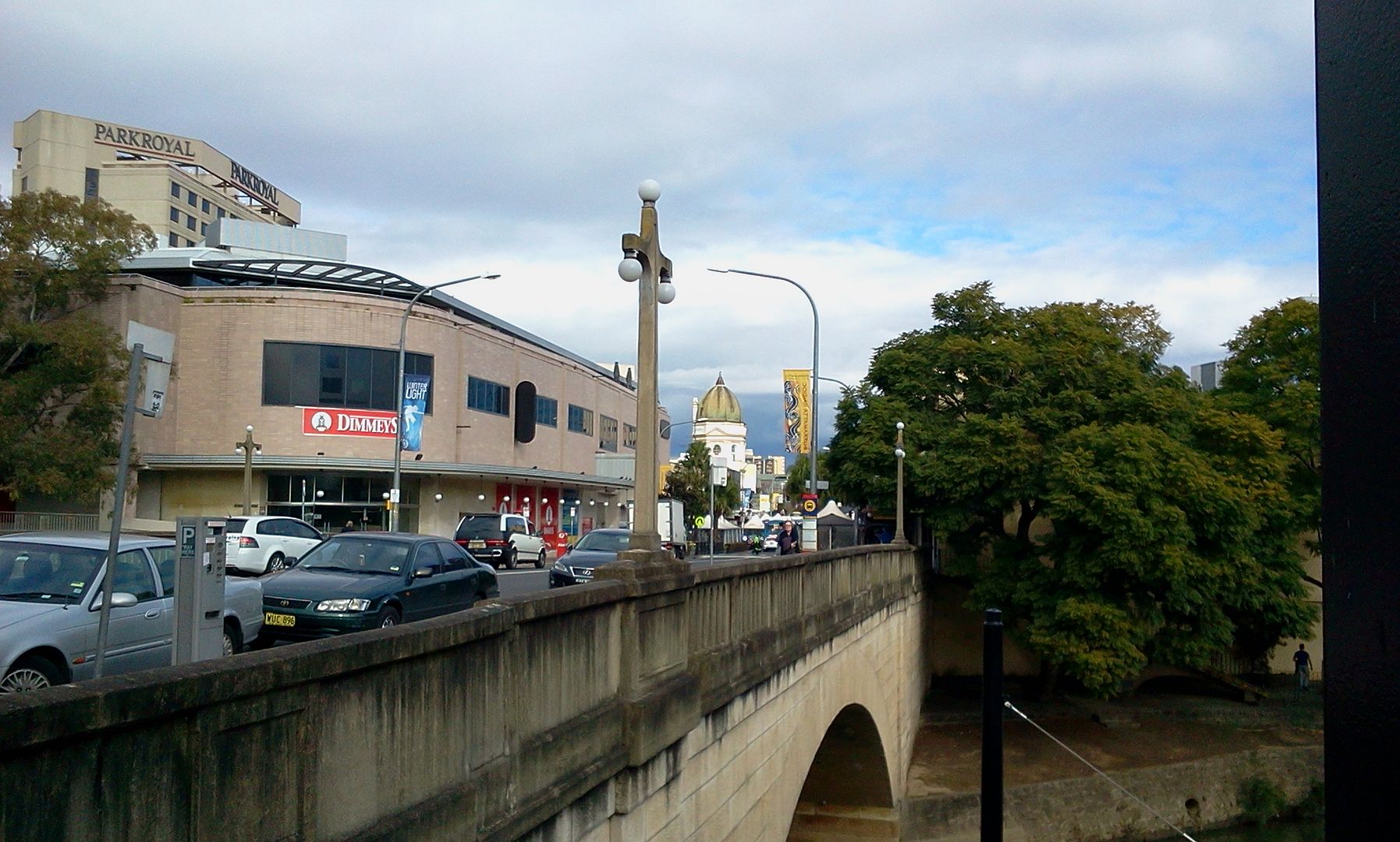 So now I have no camera, except the one in my phone, and as my phone is now my only connection to the world, well, I'm scared to even touch it, so bad is my luck right now (for the record, down two cameras, a HD, a tablet and a laptop in the last six weeks).

Nor can I afford to replace any of those, and man, that electricity bill was a shocker. Still, sans toys, it should be cheaper? It won't be, but it should.

This should have been a fun week. Sucks.

Monday update: Sucks even more. Down with dreadful case of flu. Samsung dead. Online stuff not happening. Sitting up not really happening. Last time I felt this bad was '05. Oh dear...

Comic-Con: Neil Gaiman Announces SANDMAN Prequel
http://collider.com/sandman-prequel-neil-gaiman/179878/
http://journal.neilgaiman.com/2012/07/and-by-way-here-is-some-actual-news.html?utm_source=twitterfeed&utm_medium=twitter

Priority Boarding - The people who get on the plane before you do.
http://www.slate.com/articles/life/low_concept/2012/07/pre_boarding_why_do_so_many_people_get_to_board_before_you_do_.html?wpisrc=newsletter_slatest

Off-the-rails hotels just don't wash with guests
http://www.smh.com.au/opinion/society-and-culture/offtherails-hotels-just-dont-wash-with-guests-20120708-21peg.html

Putting in long hours becomes a weighty problem for today's women
http://www.smh.com.au/lifestyle/diet-and-fitness/putting-in-long-hours-becomes-a-weighty-problem-for-todays-women-20120709-21rrg.html

Shaming the overweight
http://www.dailylife.com.au/health-and-fitness/shaming-the-overweight-20120711-21vdk.html

Stop Binge-Watching TV
http://www.slate.com/blogs/browbeat/2012/07/09/binge_watching_tv_why_you_need_to_stop_.html?wpisrc=newsletter_slatest

Every click you make, they'll be watching
http://www.smh.com.au/technology/technology-news/every-click-you-make-theyll-be-watching-20120711-21wfg.html

Darrell Lea 'missed the boat' on trends
http://www.smh.com.au/business/darrell-lea-missed-the-boat-on-trends-20120711-21w7k.html

London opens doors to Olympic village
http://www.smh.com.au/olympics/news-london-2012/london-opens-doors-to-olympic-village-20120713-21zmk.html

2 million-year-old skeleton found in Cradle of Humankind
http://www.smh.com.au/technology/sci-tech/2-millionyearold-skeleton-found-in--cradle-of-humankind-20120713-21zxk.html

Hubble Discovers New Moon Around Pluto
http://www.wired.com/wiredscience/2012/07/new-pluto-moon/?utm_source=feedburner&utm_medium=feed&utm_campaign=Feed%3A+wired%2Findex+%28Wired%3A+Top+Stories%29&utm_content=Google+International

How to make love to a boson
http://blog.sfgate.com/morford/2012/07/10/how-to-make-love-to-a-boson/?utm_source=WhatCountsEmail&utm_medium=sfgatenewsletter+Notes%20&%20Errata%20Newsletter&utm_campaign=Notes%20&%20Errata%20Newsletter

Still in orbit: Telstar, the 50-year-old satellite and genesis of telecommunications for the masses
http://www.smh.com.au/technology/sci-tech/still-in-orbit-telstar-the-50yearold-satellite-and-genesis-of-telecommunications-for-the-masses-20120711-21uhb.html

Precious pink sparkler lights up museum
http://www.smh.com.au/national/precious-pink-sparkler-lights-up-museum-20120712-21yyz.html

The Scream's secret
http://www.independent.co.uk/arts-entertainment/art/news/the-screams-secret-7939598.html

Gustav Klimt 'lost' fresco found in Austrian garage, art dealer claims
http://www.guardian.co.uk/artanddesign/2012/jul/15/gustav-klimt-trumpeting-putto-discovery?CMP=EMCNEWEML1355

L.A. County sheriff recalls 200 badges given to local politicians
http://www.latimes.com/news/local/la-me-sheriff-badges-20120711,0,7628614.story?track=lat-email-topofthetimes

The world's most famous imposters
http://www.telegraph.co.uk/expat/expatpicturegalleries/9376326/The-worlds-most-famous-imposters.html

Fake it 'til you make it in love
http://www.smh.com.au/lifestyle/life/fake-it-til-you-make-it-in-love-20120709-21r2h.html

Fifty Shades of Grey giving bondage a bad name
http://www.watoday.com.au/opinion/fifty-shades-of-grey-giving-bondage-a-bad-name-20120709-21rm3.html

Girls gone wild: what it's really like to be a male stripper
http://www.smh.com.au/lifestyle/life/girls-gone-wild-what-its-really-like-to-be-a-male-stripper-20120710-21smz.html

Matthew McConaughey, Channing Tatum Admit Stripping Was Scary At 'Magic Mike' London Screening (PICTURES)
http://www.huffingtonpost.co.uk/2012/07/11/matthew-mcconaughey-channing-tatum-magic-mike_n_1663943.html?utm_hp_ref=uk-entertainment

Magic Mike premieres in London
http://www.telegraph.co.uk/culture/film/9391466/Magic-Mike-premieres-in-London.html

Channing Tatum to play Evel Knievel as he talks Magic Mike stripping woes
http://www.metro.co.uk/film/904857-channing-tatum-to-play-evel-knievel-as-he-talks-magic-mike-stripping-woes

Channing Tatum Confirms Another Magic Mike Film Is in Works
http://au.eonline.com/news/329517/channing-tatum-confirms-another-magic-mike-film-is-in-works?cmpid=rss-000000-rssfeed-365-topstories&utm_source=eonline&utm_medium=rssfeeds&utm_campaign=rss_topstories

William Shatner's 'Get a Life' documentary looks at Trekkie culture
http://www.heraldsun.com.au/news/national/william-shatners-get-a-life-documentary-looks-at-trekkie-culture/story-fndo48ca-1226424114382

Mick Jagger and David Bowie 'were lovers' [from our 'we thought everyone knew' archives]
http://www.smh.com.au/lifestyle/celebrity/mick-jagger-and-david-bowie-were-lovers-20120710-21sqa.html

22 Embarrassing Celebrity Ads (VIDEO)
http://www.huffingtonpost.co.uk/2012/07/11/embarrassing-celebrity-adverts_n_1664395.html?utm_hp_ref=uk-entertainment

Renner: I can't take out my trash
http://www.belfasttelegraph.co.uk/entertainment/film-tv/news/renner-i-cant-take-out-my-trash-16182825.html

Sam Neill supports Downstage with show
http://www.stuff.co.nz/dominion-post/culture/performance/7268261/Sam-Neill-supports-Downstage-with-show

Diana Rigg Joins Game Of Thrones
http://www.empireonline.com/news/story.asp?NID=34575

Duran Duran's John Taylor Talks Sex, Cocaine In New Book, 'In The Pleasure Groove'
http://www.huffingtonpost.com/2012/07/15/duran-duran-john-taylor-sex-cocaine_n_1674794.html?utm_hp_ref=entertainment&ir=Entertainment

Zachary Levi confirms he'll be in 'Thor 2'
http://blog.zap2it.com/pop2it/2012/07/zachary-levi-confirms-hell-be-in-thor-2.html

Mads Mikkelsen Won't Play the Villain in THOR 2 After All
http://collider.com/mads-mikkelsen-thor-2-sequel/179629/

'Southland' Ben McKenzie video Q&A: 'The job tends to break you down'
http://www.digitalspy.com/tv/interviews/a392074/southland-ben-mckenzie-video-qa-the-job-tends-to-break-you-down.html

Ernest Borgnine Movies: Remembering The Late Actor Through His Most Memorable Films
http://www.huffingtonpost.com/2012/07/08/ernest-borgnine-movies-films_n_1657787.html?utm_hp_ref=uk-entertainment&ir=UK%20Entertainment

Durable Borgnine's motto: 'You gotta go to work'
http://seattletimes.nwsource.com/html/entertainment/2018639170_apusobitborgnine.html

Joss Whedon to star in online series 'Husbands'
http://www.digitalspy.com/celebrity/news/a393453/joss-whedon-to-star-in-online-series-husbands.html

Comic-Con 2012: Joss Whedon: America Is Turning Into 'Tsarist Russia'
http://www.thewrap.com/tv/column-post/joss-whedon-america-turning-tsarist-russia-47756

'Firefly' at Comic-Con, one last thing -- PHOTO
http://insidetv.ew.com/2012/07/16/firefly-reunion-one-last-thing/

Comic-Con: Joss Whedon thanks Browncoats at tearful 'Firefly' reunion
http://herocomplex.latimes.com/2012/07/13/comic-con-joss-whedon-browncoats-firefly-reunion/

Modern fairytales true to dark roots [Grimm]
http://www.stuff.co.nz/dominion-post/culture/television/7081197/Modern-fairytales-true-to-dark-roots

Comic-Con: GRIMM Panel Recap
http://collider.com/comic-con-grimm-panel/180710/#more-180710

'Supernatural' Season 8: Hopes For The Winchesters And Fears From The Past
http://www.huffingtonpost.com/maureen-ryan/supernatural-season-8_b_1651908.html?utm_hp_ref=uk-entertainment&ir=UK%20Entertainment

'Supernatural' panel at Comic-Con 2012: We live-blogged it!
http://insidetv.ew.com/2012/07/15/supernatural-panel-at-comic-con-2012-were-live-blogging-it/

'Supernatural' at Comic-Con 2012: Jared Padalecki on Sam's year without Dean and more
http://blog.zap2it.com/frominsidethebox/2012/07/supernatural-at-comic-con-2012-jared-padalecki-on-sams-year-without-dean.html

Supernatural at Comic-Con: Dean's Coming Back "Quickly" — But There's a Catch
http://www.tvguide.com/News/Supernatural-Spoilers-Dean-Purgatory-1050002.aspx

'Supernatural's Jensen Ackles talks Dean's scars and directing at Comic-Con 2012
http://blog.zap2it.com/frominsidethebox/2012/07/supernaturals-jensen-ackles-talks-deans-scars-and-directing-at-comic-con-2012.html

'Supernatural' exec on new episodes: 'It's more like early seasons'
http://www.digitalspy.co.uk/ustv/s6/supernatural/news/a392332/supernatural-exec-on-new-episodes-its-more-like-early-seasons.html

Comic-Con: TRUE BLOOD Panel Recap Featuring Joe Manganiello Stripping, Alan Ball Dancing and Ryan Kwanten Doing a Walking Handstand
http://collider.com/comic-con-true-blood/180619/#more-180619

'True Blood': Eric Glamours a Terrified Alcide
http://www.theinsider.com/tv/53883_True_Blood_Season_5_Clips/index.html

Comic-Con: 'True Blood' panel flows with emotion
http://herocomplex.latimes.com/2012/07/14/comic-con-true-blood-panel-salutes-alan-ball-with-standing-ovation-stripper-jokes/

As the Closet Door Opens Wider, Where are the Gay Movie Stars?
http://www.thewrap.com/movies/article/anderson-cooper-frank-ocean-closet-door-swings-open-not-where-are-movie-stars-46671

White Collar season 4 EXCLUSIVE advance review – "Wanted"
http://smallscreenscoop.com/white-collar-review-wanted/326560/

'White Collar' Season 4 premiere: 'Wanted' by Mekhi Phifer
http://blog.zap2it.com/frominsidethebox/2012/07/white-collar-season-4-premiere-wanted-by-mekhi-phifer.html

'White Collar' season 4 premiere: Born to run
http://popwatch.ew.com/2012/07/10/white-collar-season-4-premiere-born-to-run/?utm_source=feedburner&utm_medium=feed&utm_campaign=Feed%3A+entertainmentweekly%2Flatest-blog-news+%28Entertainment+Weekly%2FEW.com%27s%3A+Latest+Blog+News%29&utm_content=Google+International

White Collar
http://i47.tinypic.com/rhik9x.png
http://twitpic.com/a67lkc
https://twitter.com/Cee_Floown/status/223089591828217859/photo/1

White Collar Boss Jeff Eastin on Neal's Getaway, Flashbacks and the Search for His Dad
http://www.tvguide.com/News/White-Collar-Season4-Jeff-Eastin-1049749.aspx

Matt Bomer and Tim DeKay Talk "White Collar"
http://www.bing.com/videos/watch/video/matt-bomer-and-tim-dekay-talk-white-collar/1d2byeqcy?from=sharepermalink-twitter&src=v5%3ashare%3atwitter

'White Collar' Preview: 4 Things to Know About the Season 4 Premiere
http://www.buddytv.com/articles/white-collar/white-collar-preview-4-things-46273.aspx

WHITE COLLAR Season 4 "Most Wanted" Advance Review
http://www.lenalamoray.com/2012/07/14/white-collar-season-4-most-wanted-advance-review/

White Collar's Tim DeKay Talks Islands, Chemistry, Hats, and Season 4
http://news.directv.com/2012/07/10/white-collars-tim-dekay-talks-islands-chemistry-hats-and-season-4/

Exclusive: White Collar Elects Titus Welliver and Reed Diamond for Guest Roles
http://www.tvguide.com/News/White-Collar-Titus-Welliver-Reed-Diamond-1049746.aspx

'White Collar' creator: Matt Bomer's a magnet for viewers
http://marquee.blogs.cnn.com/2012/07/10/white-collar-creator-matt-bomers-a-magnet-for-viewers/

Matt Bomer talks waxing for 'Magic Mike'
http://www.examiner.com/article/matt-bomer-talks-waxing-for-magic-mike-1

Matt Bomer dresses down for Magic Mike
http://www.canada.com/entertainment/Matt+Bomer+dresses+down+Magic+Mike/6918597/story.html

'White Collar' Season 4 Premiere: Matt Bomer And Tim DeKay On Treat Williams, Tension And An Epic Boxing Scene
http://www.huffingtonpost.com/2012/07/10/white-collar-season-4-premiere-matt-bomer-tim-dekay-interview_n_1661310.html

'White Collar' Premiere: Matthew Bomer Is As Dreamy As Ever
http://www.hollywood.com/news/White_Collar_Premiere_Matthew_Bomer_Is_As_Dreamy_As_Ever/33572321

Jeff Eastin Talks WHITE COLLAR Season 4, His New TV Series GRACELAND, and What Happened to His TRUE LIES Sequel Script
http://collider.com/jeff-eastin-white-collar-graceland-interview/178605/

Matt Bomer's 7 Best Video Moments
http://www.newnownext.com/matt-bomers-7-best-moments-caught-on-video/07/2012/

Matt Bomer's back in 'White Collar' again
http://articles.nydailynews.com/2012-07-10/news/32621537_1_matt-bomer-neal-caffrey-mozzie

'White Collar's' Matt Bomer and 'Covert Affairs' Piper Perabo spend another summer on USA
http://blog.zap2it.com/frominsidethebox/2012/07/white-collars-matt-bomer-and-covert-affairs-piper-perabo-spend-another-summer-on-usa.html

'White Collar' Recap: How Dreamy Was Matt Bomer?
http://www.newnownext.com/white-collar-recap-matt-bomer-hot-dudes/07/2012/

Matt Bomer strips down for Magic Mike
http://www.vancouversun.com/life/fashion-beauty/Matt+Bomer+strips+down+Magic+Mike/6923313/story.html

'White Collar' star Tim DeKay escapes to paradise
http://www.lansingstatejournal.com/article/20120709/THINGSTODO08/307090048/-White-Collar-star-Tim-DeKay-escapes-paradise?odyssey=nav|head


Famous

16 July 2012

Australia
OK

#315

16 July 2012

Australia
TV Week

14-20 July 2012

Australia
Details

June-July 2012

US