Seeing the sights. A tale of bloody bandaids and sunburn. I mean, 44F and wet, so the interwebs told me. So my first day, and it's 88F and sunny. I'd not packed for 88F. So there was some shopping done, and hey, that Kmart is still there where I remembered it, and the little checked shirt and matching t-shirt I bought did me well. I still have them. I also picked up a sundress I was less pleased with, but needs must.

So, armed with all my maps, in hand to hold, yes, really sweat proof and waterproof, from bitter experience, I set off on what I thought were to be street photography walks, but the camera failed me, both of them, but I also failed myself. I just cannot take people. And it's a pity, because I saw some get me an A grade stuff, like the three young ballerinas up on pointe in Madison Square Park, Elmo, crossing the road diagonally in Times Square (ended up in a queue at a deli with Donald Duck, New York is surreal), and a homeless gent, shaving himself in the reflection of a glamourous fashion shop. Stunning photos all, but I could not invade their privacy, and, well, now I know they'd not have saved anyway.

Anyways, set off on my first tour down 23rd all the way to Chelsea to go up on the High Line, there and back, while the Empire State Building kept photo bombing my photos. Well, it would have been a silly series of photos if they'd turned out. Then off to wind round and round the village this way and that as I tried to combine about six different walks. At least I nailed down a couple of locations I was using in my fic that I vaguely remembered. Took reference photos, but, you know. Never mind. I found some cool and crazy pricey record shops, and others that had the usual bargain bin cheesy fun, sadly none quite worth posting home. Ended up in a lovely little garden as the sun set before I staggered back via Irving Place and Gramercy Park (where camera #1 died) and lo, I found a vintage shop just a block from the hotel. Oh dear.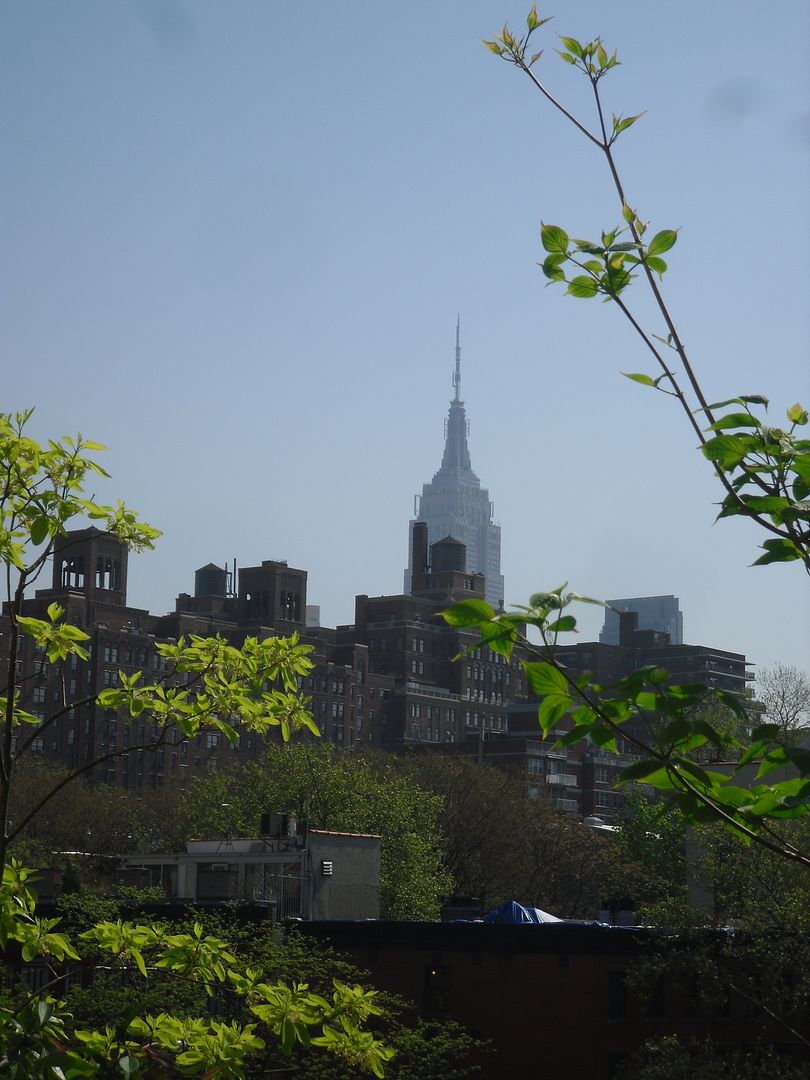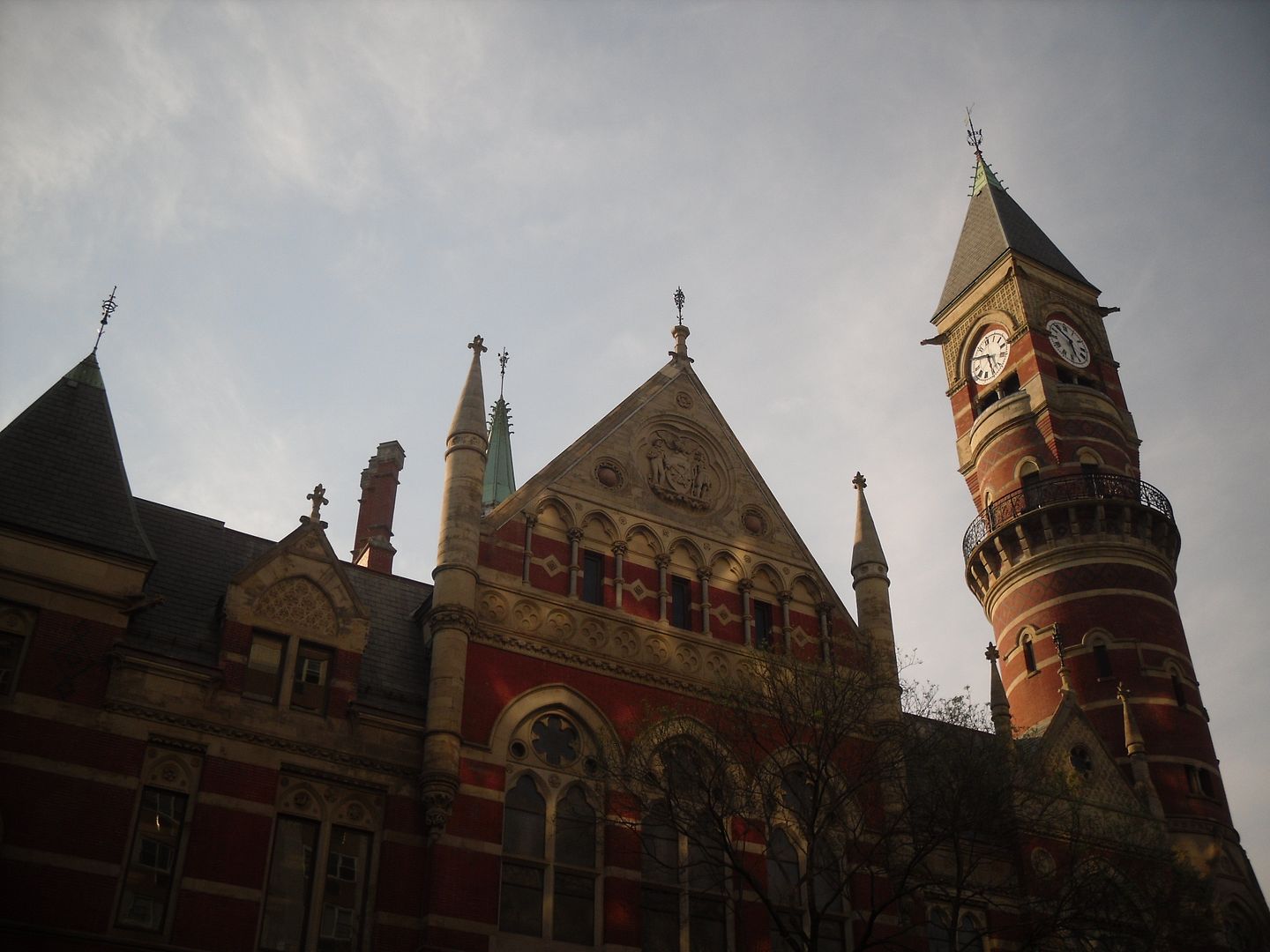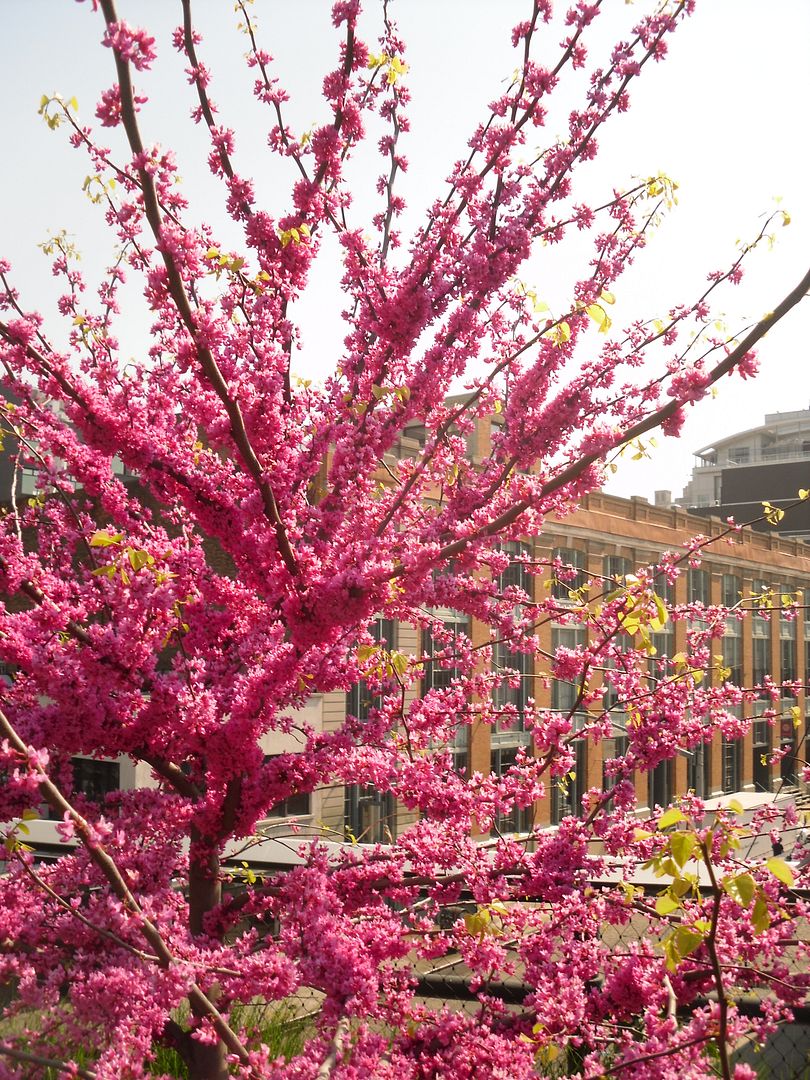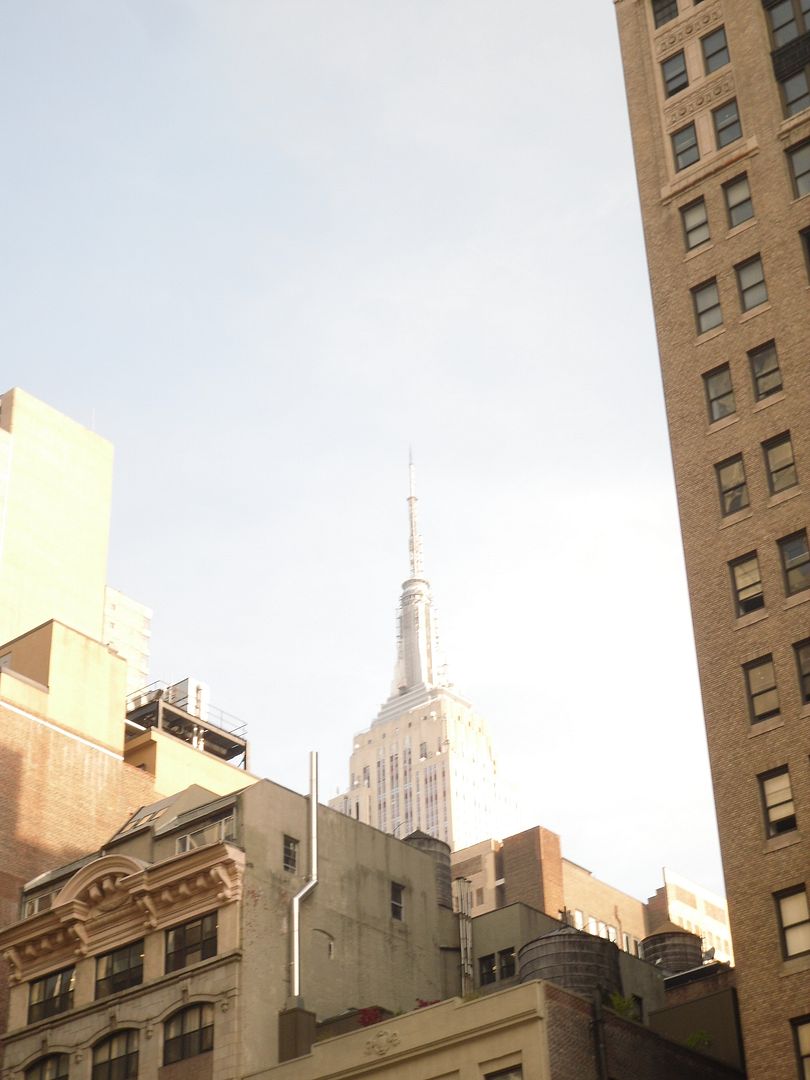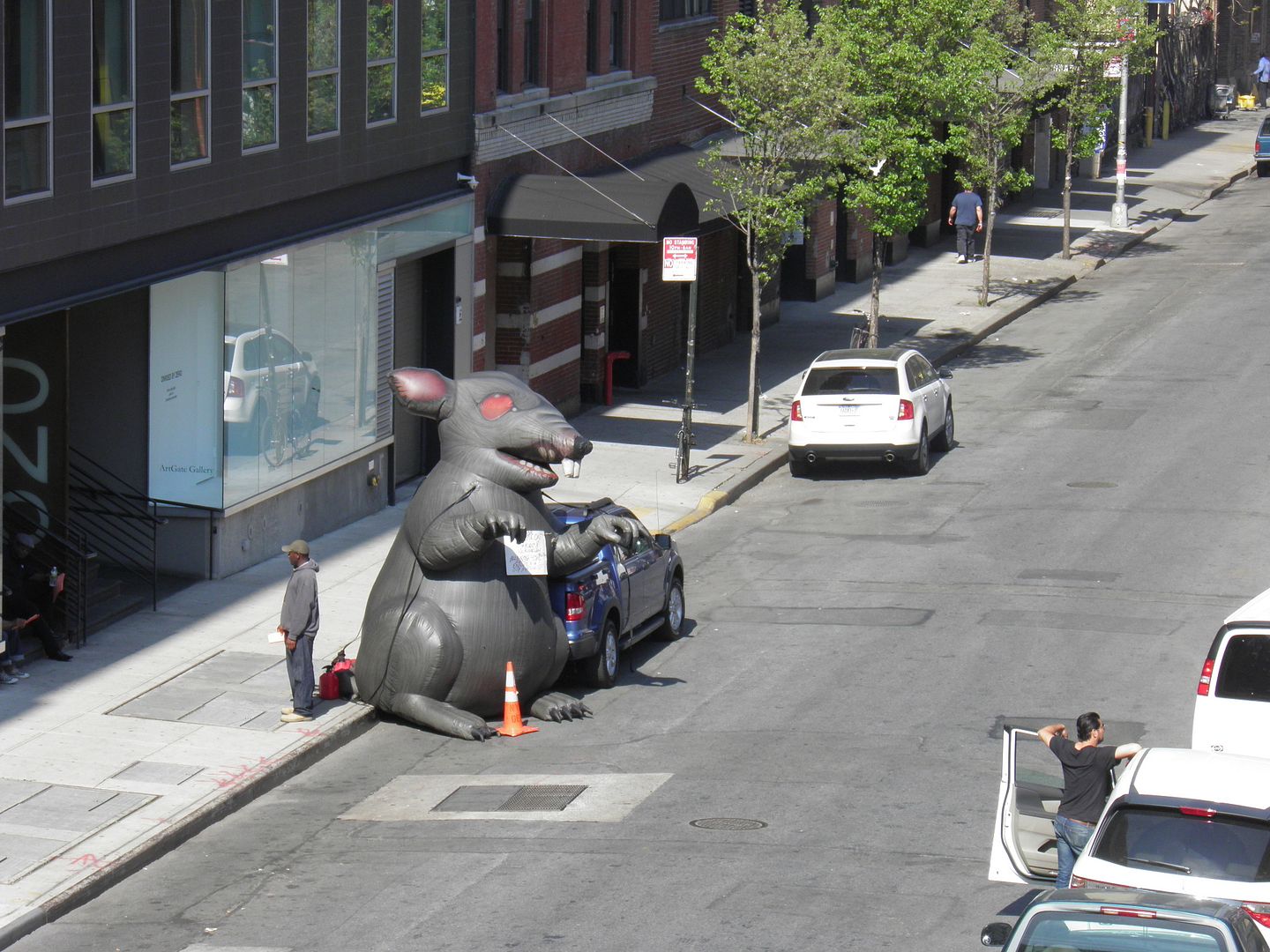 Yes, I did buy a cup, it only cost me a dollar, and was admired twice on the way to the register. I won't tell you what it cost to get home, but it's home, and it's my New York cup. It's acually Japanese but very 50s/60s. Bought himself a brace of vintage ties (as there were no markets in my travels, alas, aside from the farmers market at Union Square which wasn't even as good at the one they used to have here). Someone had been dropping in some designer ones, but I tried to keep to the styles I'd seen him wear. Oh yes, and one vintage cook book of suitably stomach churning gloopy food photography, complete with tissue still in situ marking the signature dish. Oh dear.

Sadly I had to leave the ceramic cockatoo bookends in the shop, but covet, covet, covet. Just so you know.

There was the early morning Soho walk that was quite fun, and was meant to be my study of a thousand and one fire escapes, but, oh well. That's where I ran into the White Collar film crew, but just the FauxFeds that morning. Oh well. I sat primly on a nearby step and sipped my coffee (much needed) and watched, clutching my maps (cause one of the PAs kept giving me dirty looks, but I'd just flip through my guidebook, playing the tourist card to the hilt (they were much friendlier on NYPD Blue, just sayin').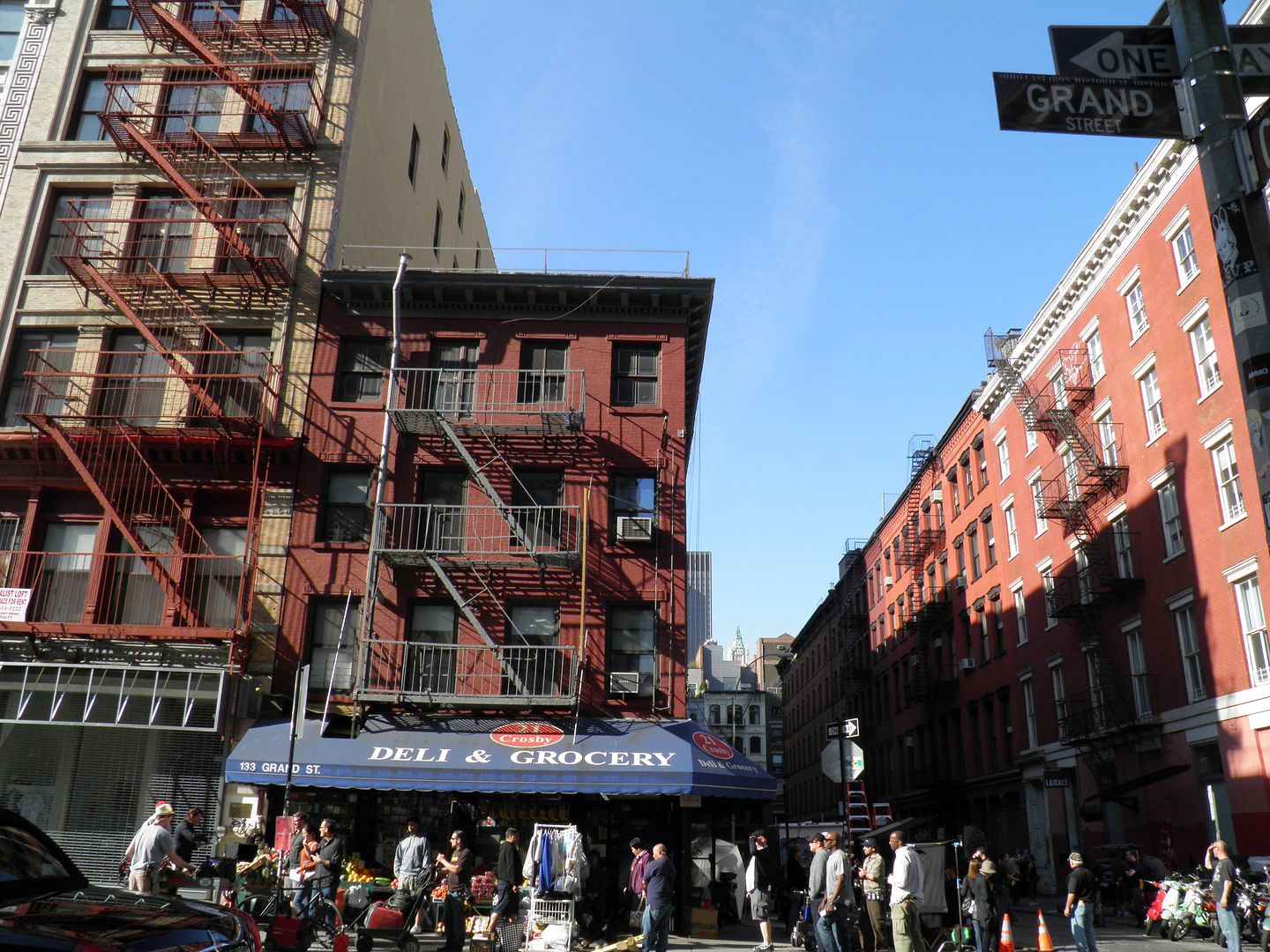 After that I did my tours of the Tenement Museum and the New Museum, with more walks around and about, lunh at a less stellar branch of Intoteca, with a very disapointing salad, but a great rose, and that stupid poster of J Depp as my once beloved Barnabas Collins glaring down at me the whole while, which was also of the queasy making.

Shoved off, did a massive blockie, according to my walks, past the Katz Deli at some stage, then back up, did I go through Washington Square then or another day? I did go down this crazy street I can't remember with the craziest shops, and ended up back up through Gramercy again, and on the way actually walked past the The Hitchens Memorial Service at Cooper Union, just as everyone was spilling out, and saw Mr Fry, from across the road, which added even further to my determined anglophilia (and again proving the ease at which Brit thesps can be casually sighted in the wild, as opposed to that elusive little pimpernel).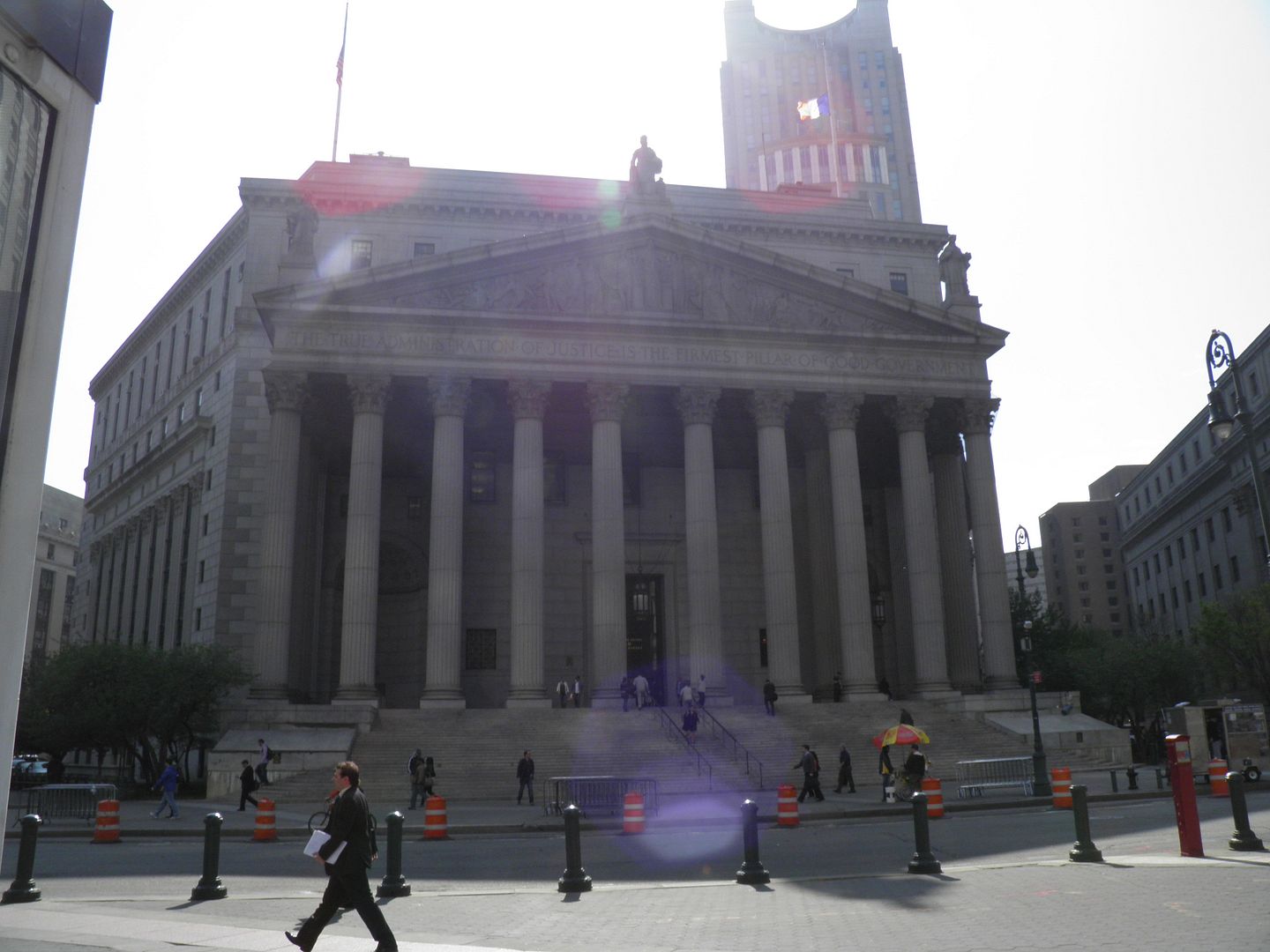 Another day I walked down Broadway from Union Square, and another I walked all aound down from the old Law and Order court house buildings (because that's where the subway is, I always remember that), a brief visit to my favourite parks, a hot chocolate because suddenly it's cold again, and then all around the wall street area, sighing over art deco/art noveau buildings and cobbled streets and settling in an Oirish pub that just suited me at that moment. It sort of reminded me of the one in Canberra, truth be told, and I don't mind it. The chicken pot pie was nice, the beer huge and I forget that American beer is lolly water and I can't get drunk on it (unlike that French beer I had in that cafe in the village, the waitress had to give me a glass of water, too, cause I'd knocked it down to try and silence the barking dogs - sore feet- but it damn nearly knocked me off me pins, so it did). Giggled at the gargoyles on the church, did my museums and then round the park to sit and gaze at the green lady, remembering how consoling my sit in the sun had been last time (I'd been very unwell) and then I wandered around a bit more and found a lovely little treasure of a garden. Nice. By then it was hot again so I didn't stay too long and it was a long stagger back, with a much needed comfort stop at the World Financial Center (see also, large beers).

I was so tired I sat in a wee park and watched the squirrels until some authority figure started giving me the squinty and I moved on.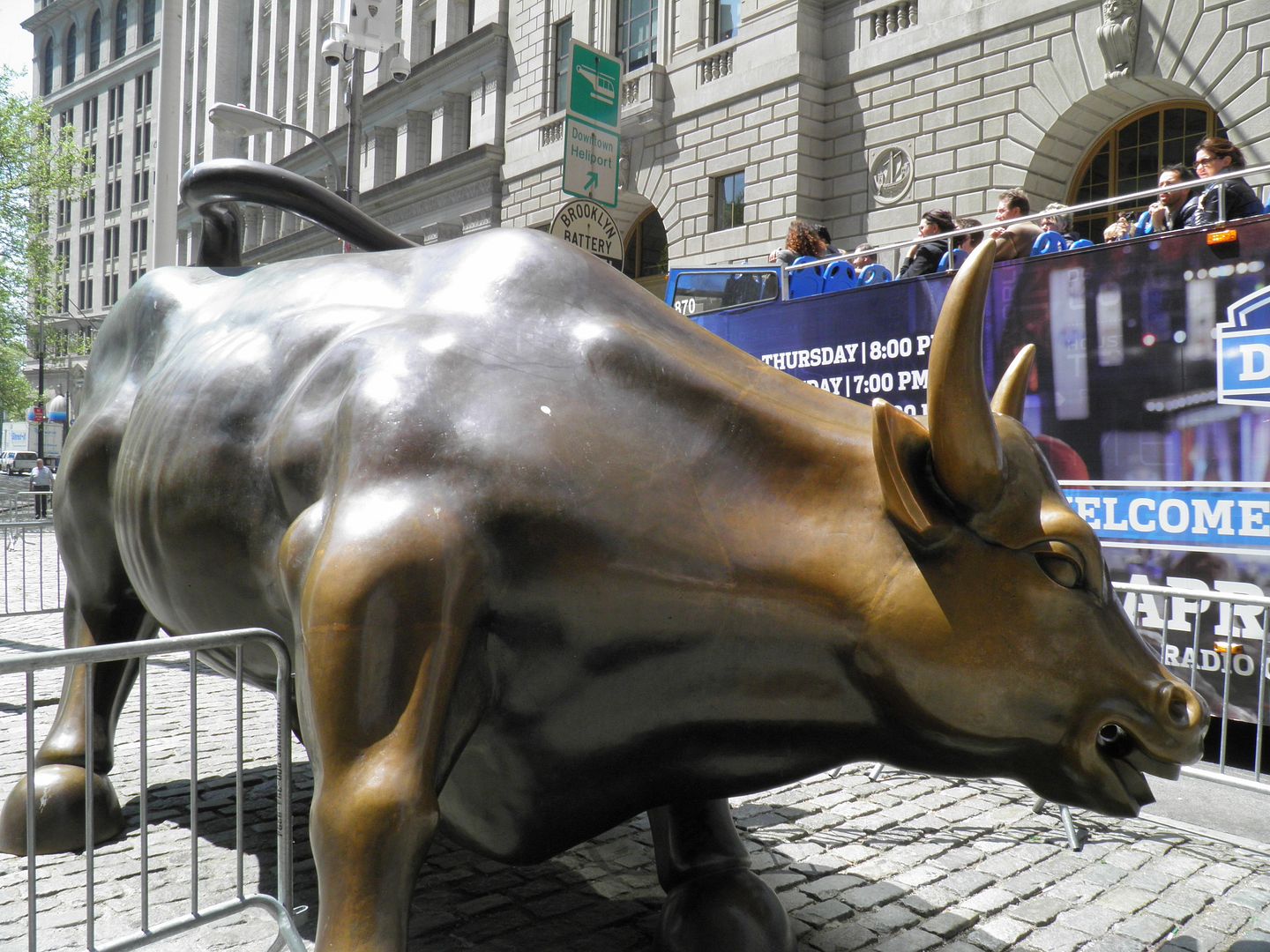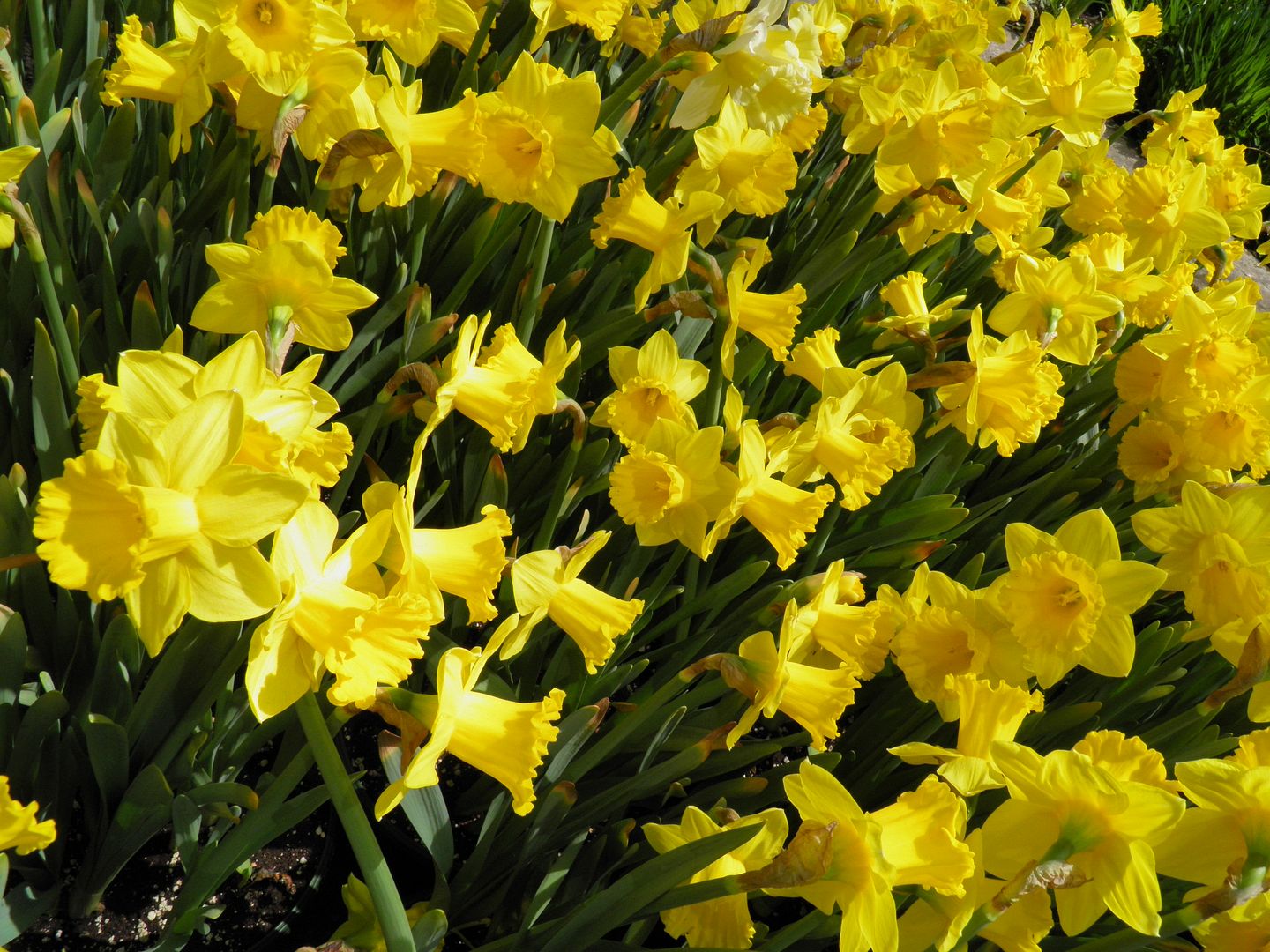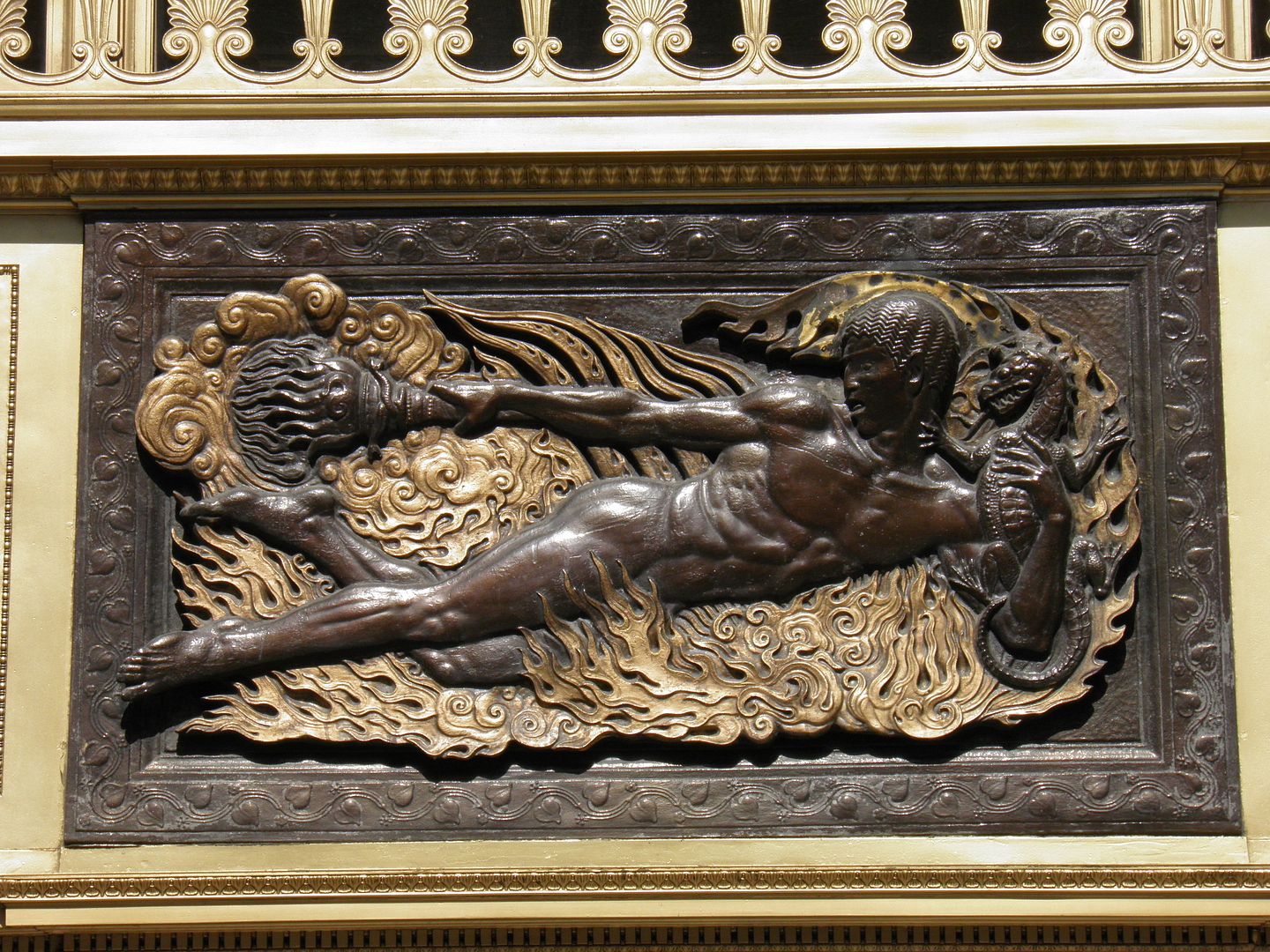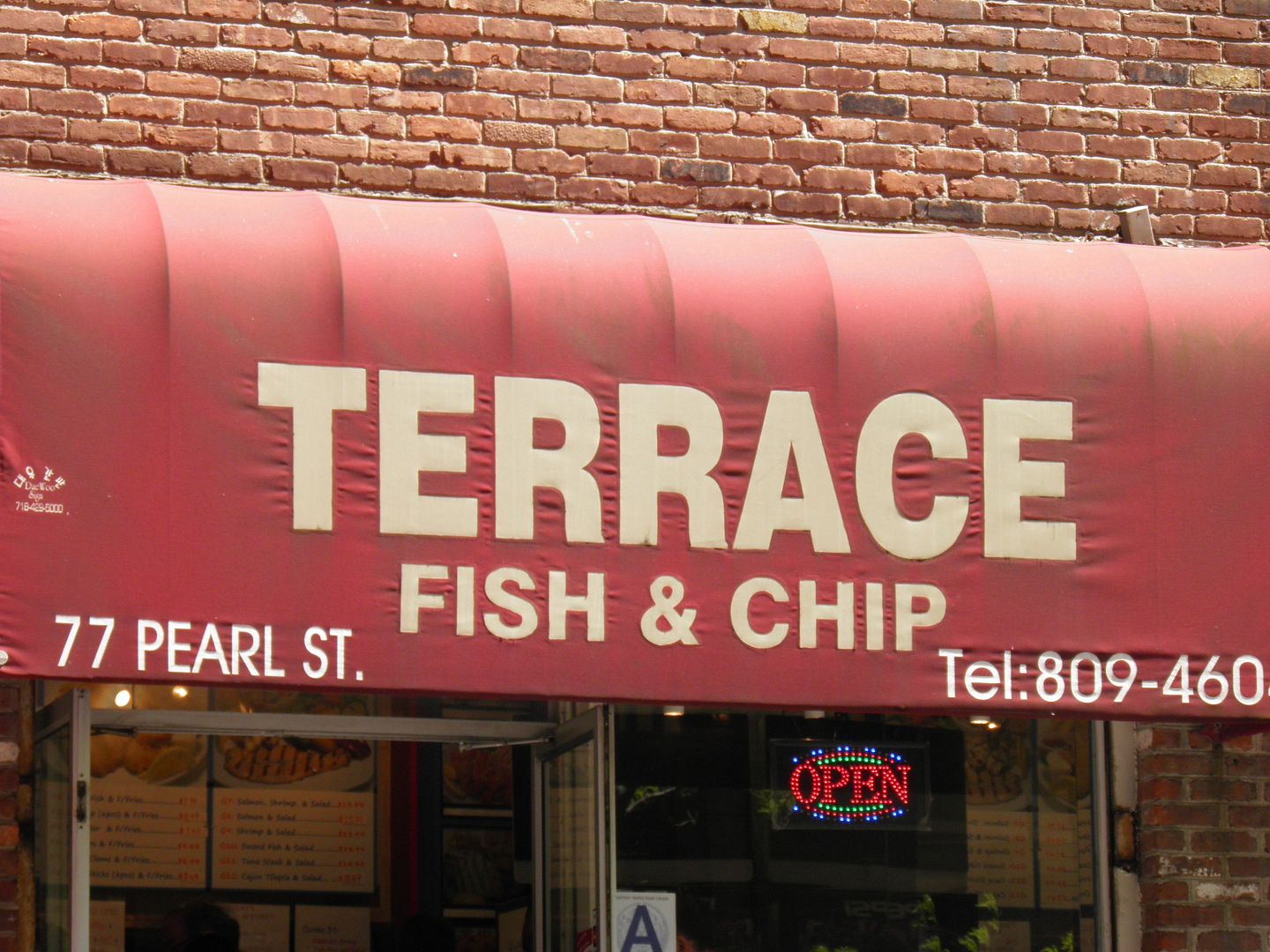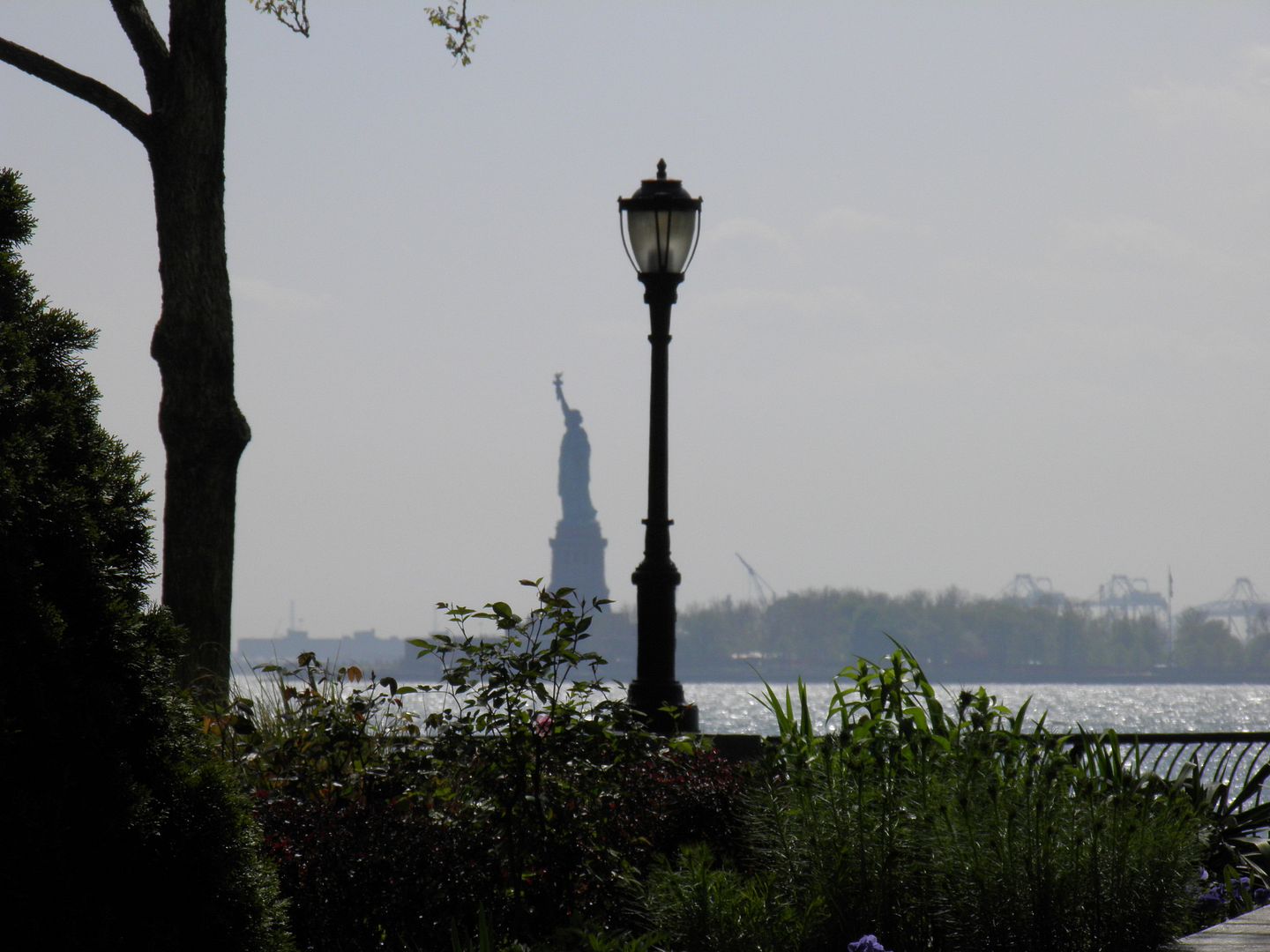 Then there was the big walk down Riverside Drive. That was pretty. The park with the view of New Jersey was pretty. The posh, oh so fancy houses were pretty (one looked a touch familiar, but, you know, shrug).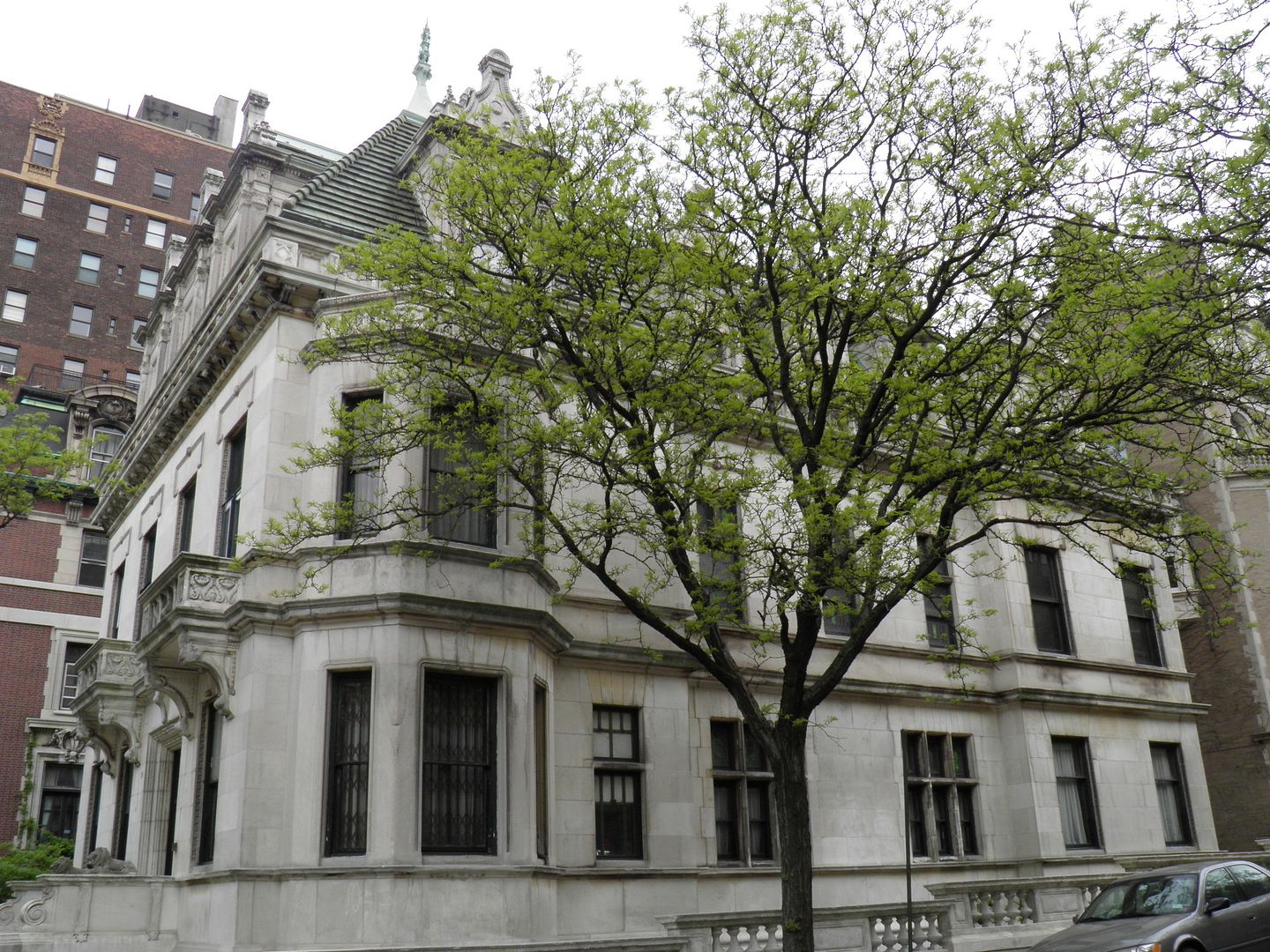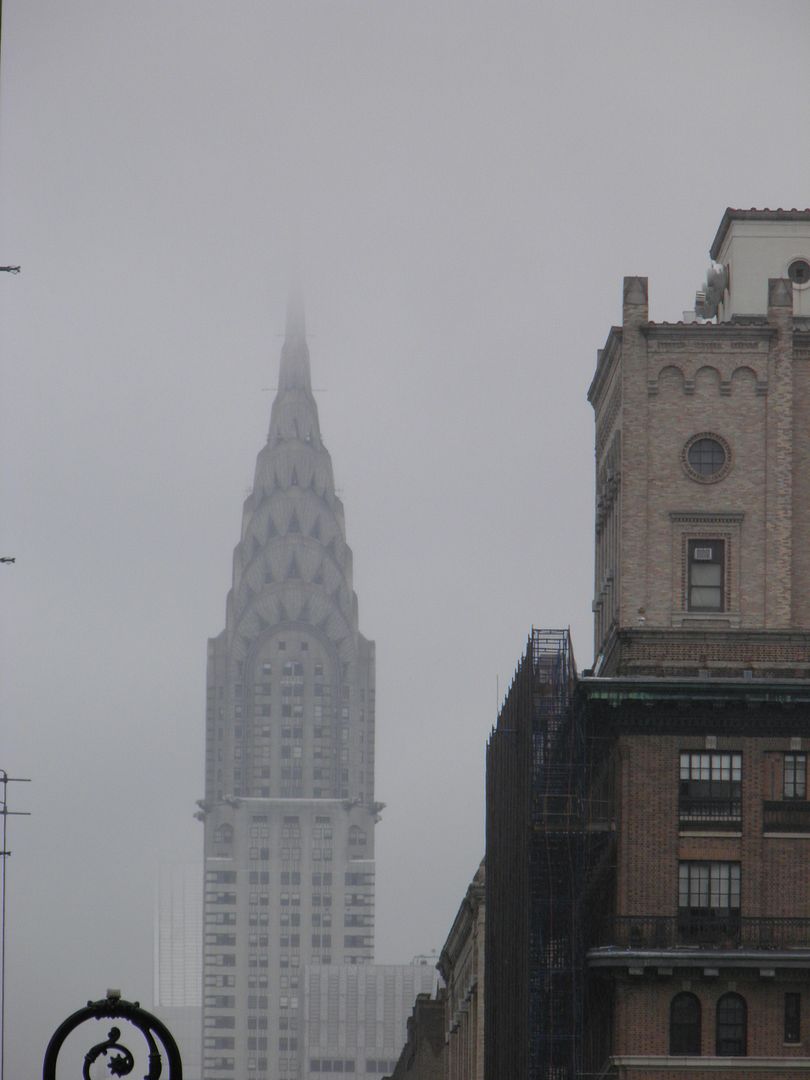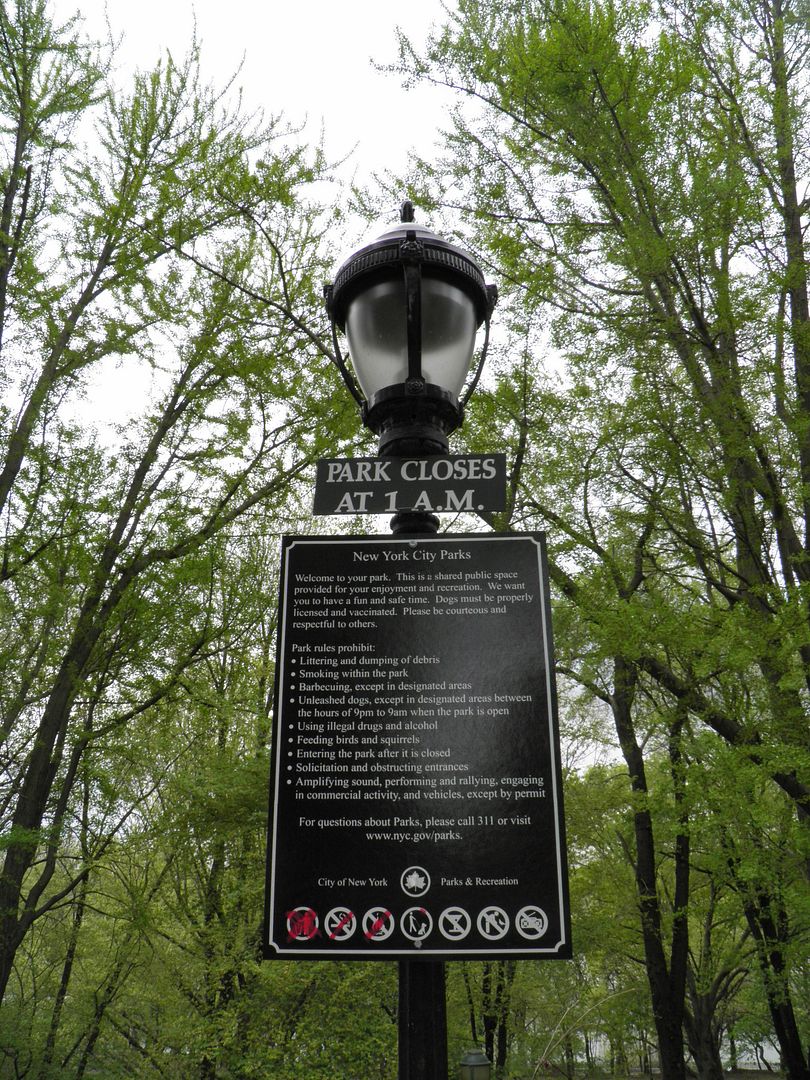 Sights? My beloved Chrysler Building, of course. Sitting in Bryant Park and writing fic (then toddling across the road, into the newsagent that had been calling me with its siren song, and actually tripping over a copy of that dratted Italian GQ with Bomer in it). The poor drowned cherry blossums in Brooklyn, a week before the planned cherry blossum festivities (ooops, darn global warming). The weird snake vases in the park there. The hello sailor statues. The sacrifices every saturday night public library in Brooklyn - though not a bit as scary as the public library in LA which was Ghostbusters scary and then some, like a nightmarish masonic temple. I tell ya, I've been to historical sites where dread deeds have been done, but nothing creeped me out like that library. Yikes.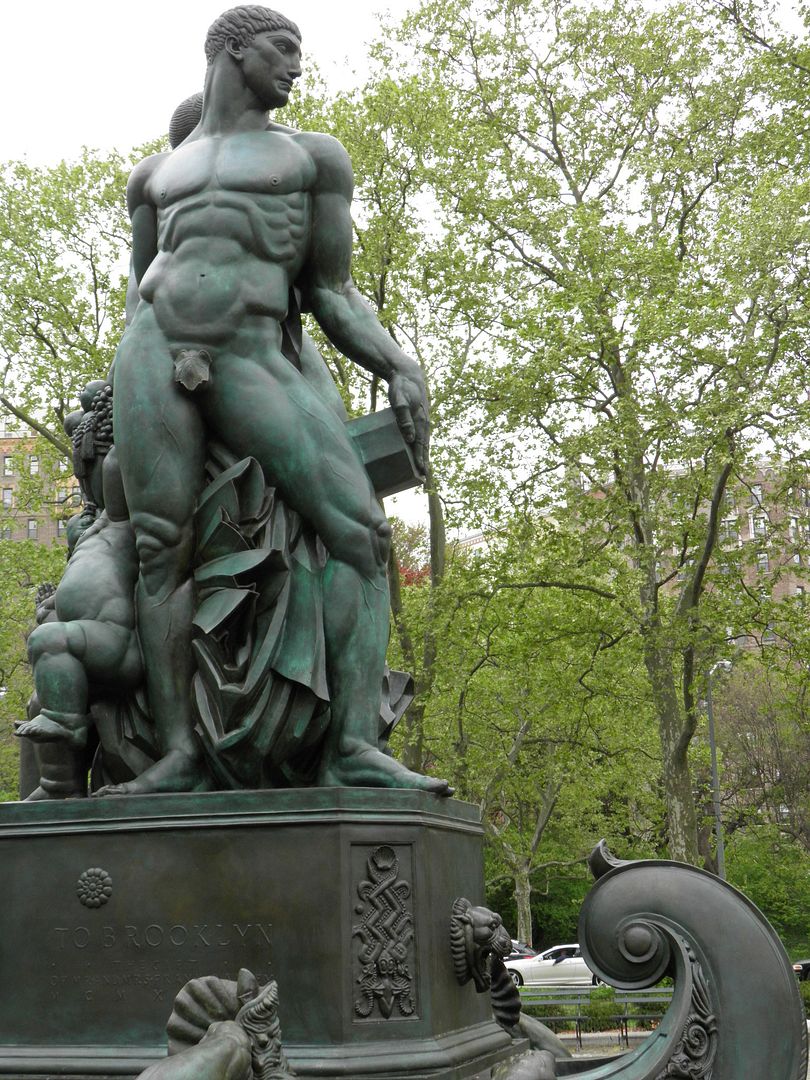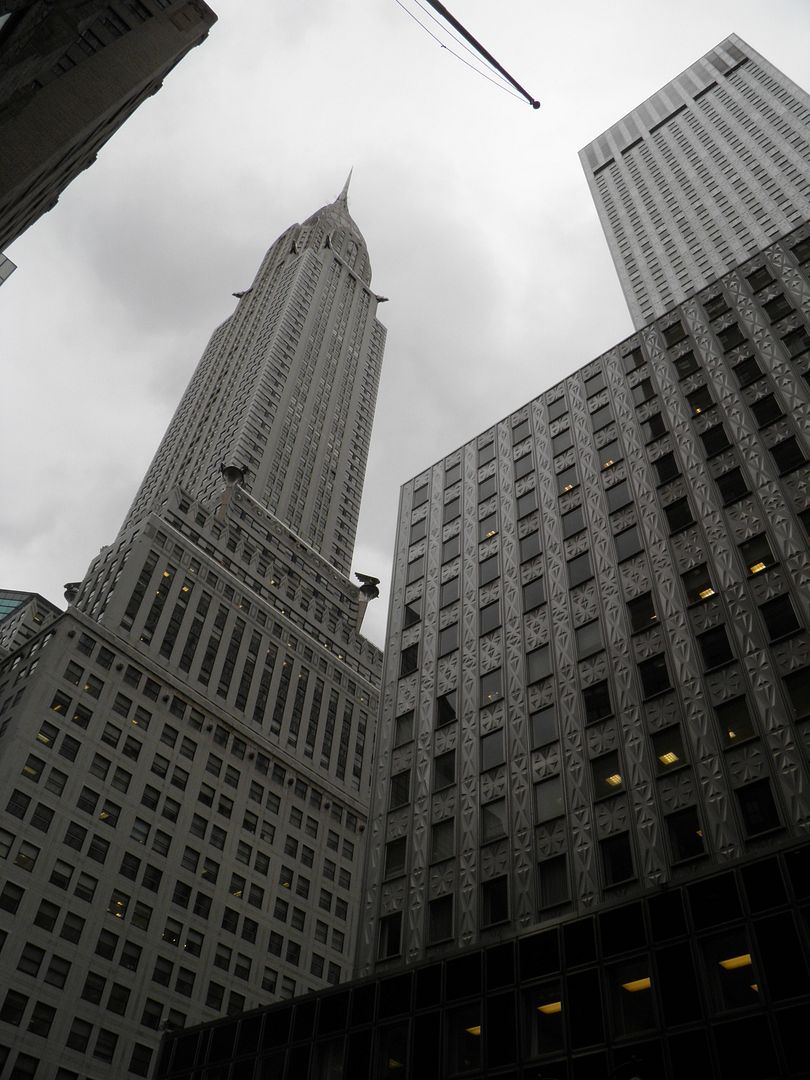 Btw, the loos in Bryant Park? Best ever. You won't believe a public loo could be so posh. Spend your penny there.

Silly things? All the costumed characters in that queue at the deli - again, I kept my camera holstered. The pink elephant car wash in Seattle (it was, once, my landmark, as in get off the bus at the pink elephant - this much I could remember).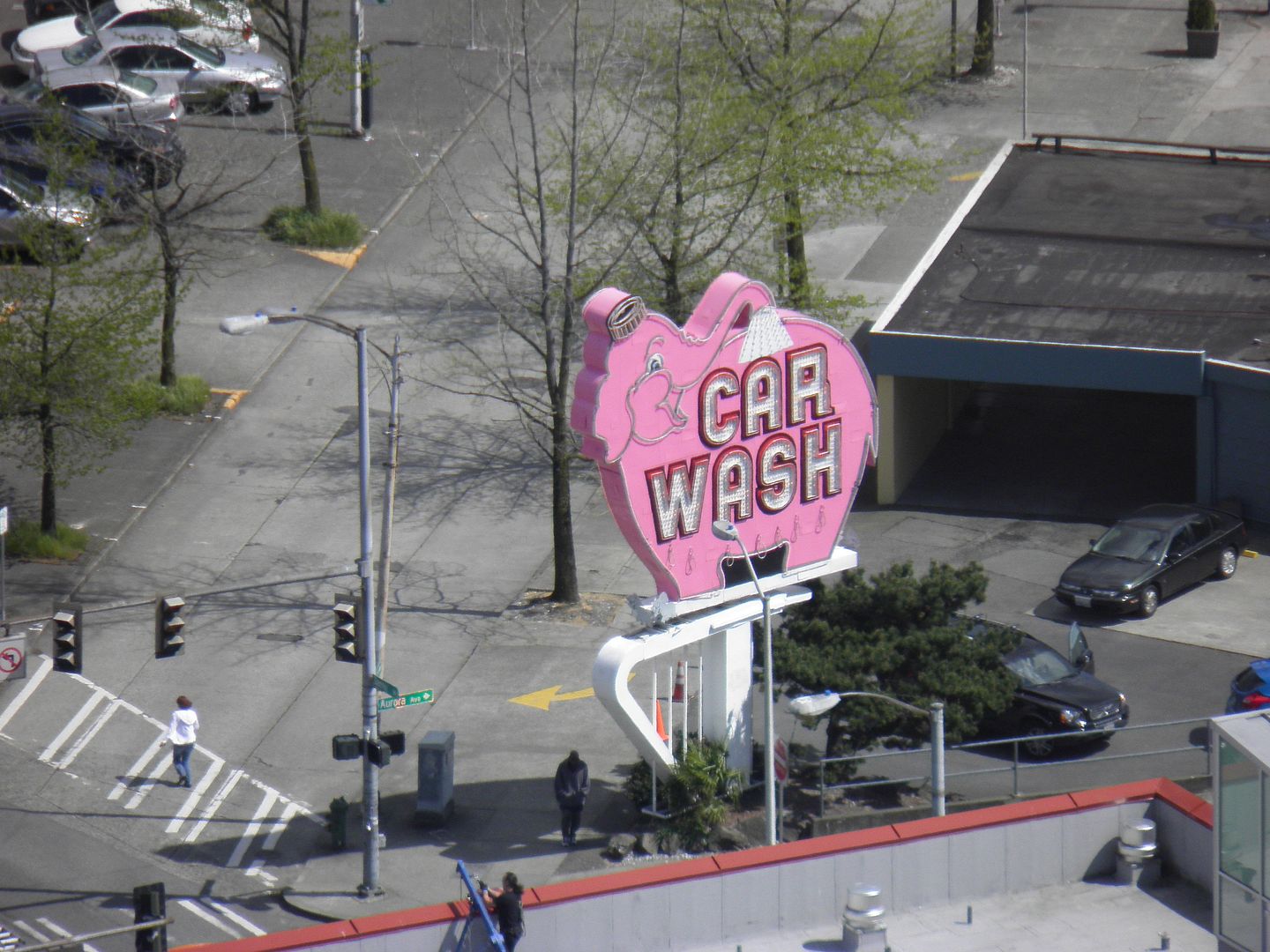 Oh yeah, the Needle. My beloved Space Needle. Celebrating its 50th (and dare I talk, yikes, not far behind it now) with its reversion to its old colours, which Prince Philip found garish and I'm inclined to agree with the old curmudgeon. Let's see, they were Astronaut White, Orbital Green, Re-entry Red and Galaxy Gold. If I got that right without cheating and looking at Google, do I get a prize?
Center></tr>
Brilliant sunny day, so we went up, and, oh my, the first time I ever saw all the mountains. Magnificent. Ad, crazier still, some dudes walking around the rim. Golly gosh. It goes without saying that you wouldn't catch me doing that. No idea why, they just were, to the amazement of the crowd. I was just taking photos and then there was a guy in shot, where there shouldn't have been, if you know what I mean. Crazy.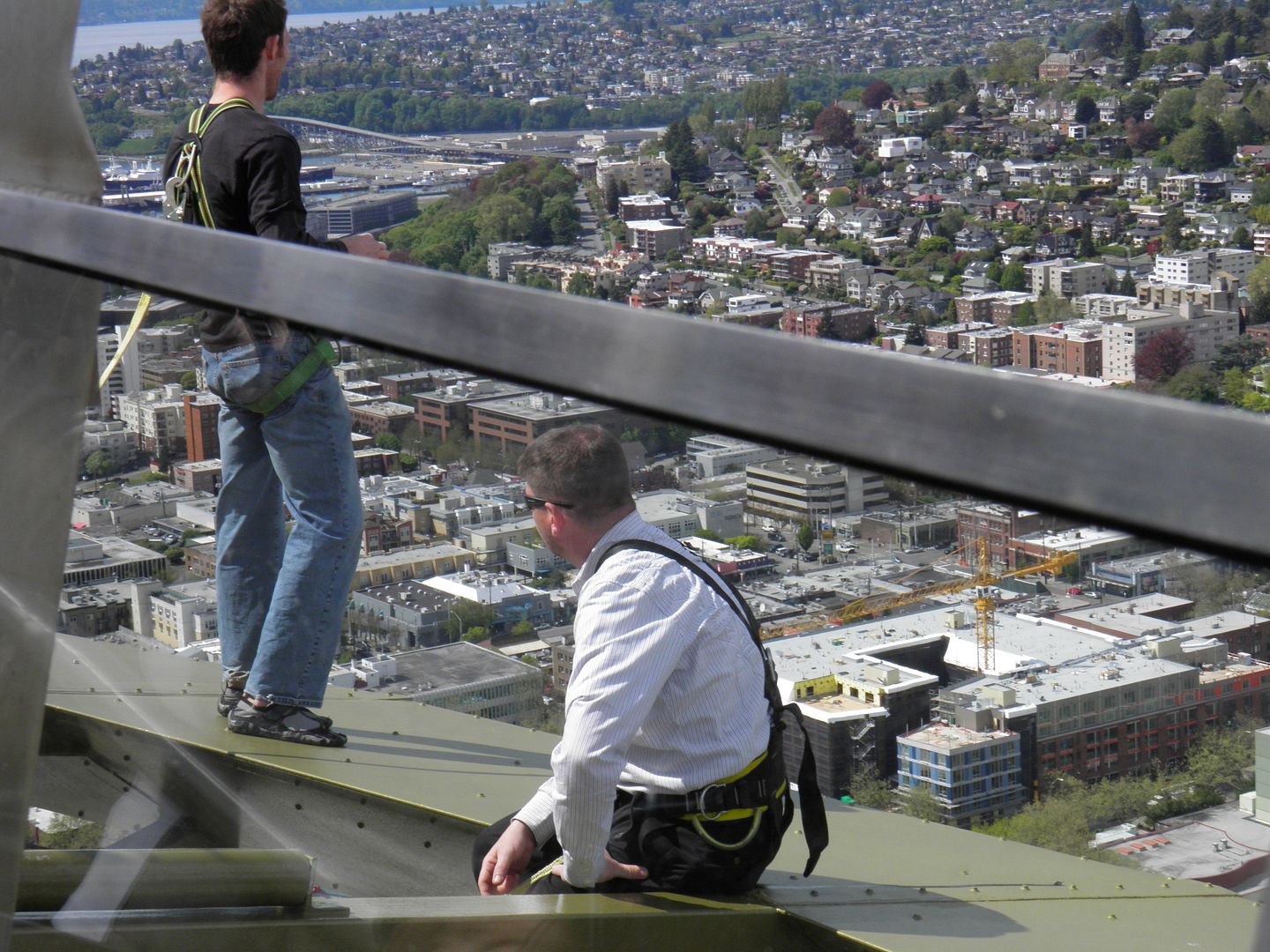 What else? All the fabby architecture of New York. I just love all the twizzles and bits and bobs. That was one of the main reasons for the trip. When I found that book of architectural walks in that shop in Melbourne, well, the idea took hold, shall we say.

I saw the big silver bean in Chicago. I liked it. It was big and silvery enough to be weird and cool. I went up on the walkway to spy the lake, just before a fog rolled in. Oh, and windy city? So not kidding. Maybe the whole grid thing not such a good idea, but never mind. Loved the elevated train lines. So cool. why don't we do that. It seemed to worked. I thought it adorable, like a train set.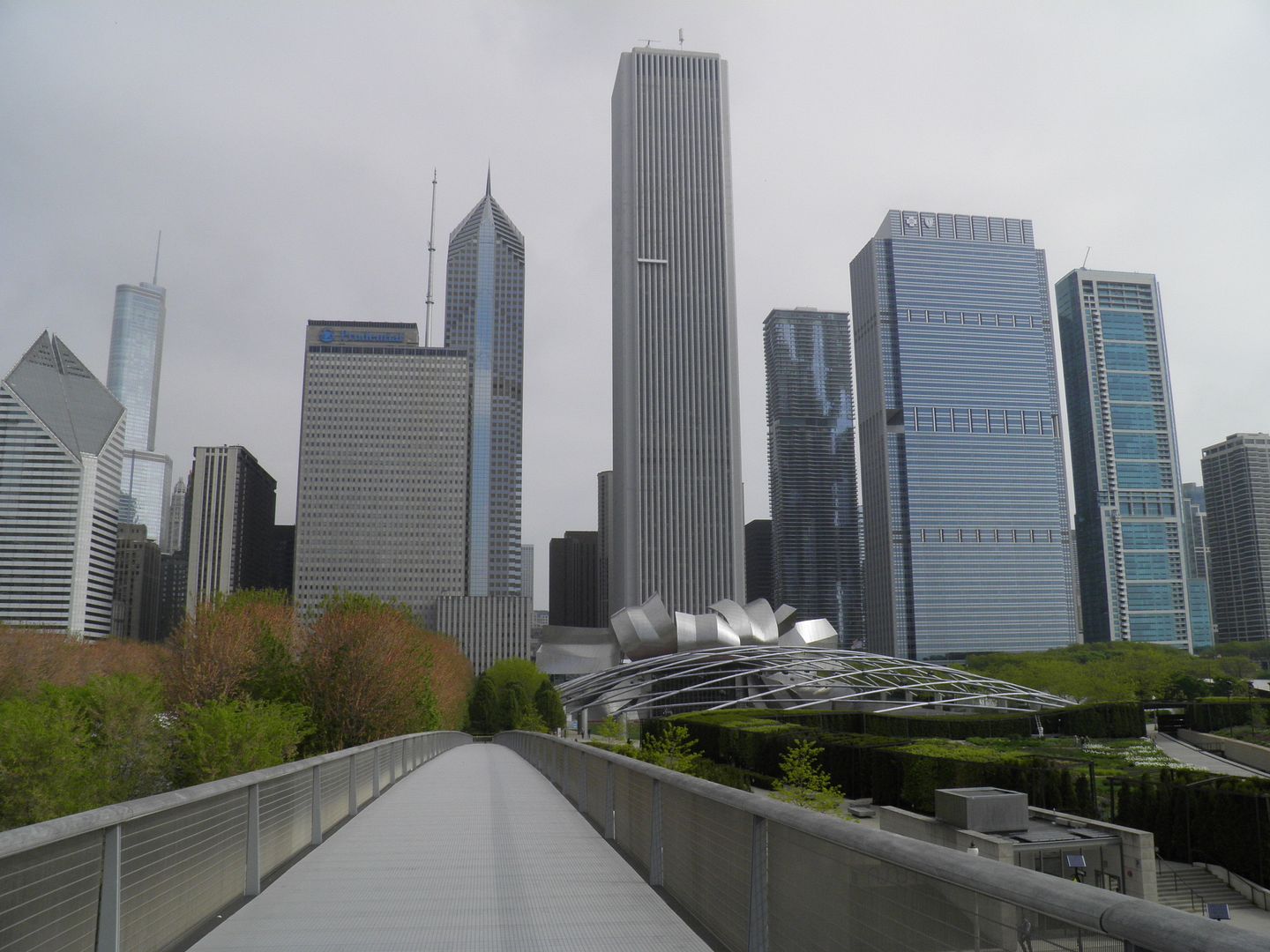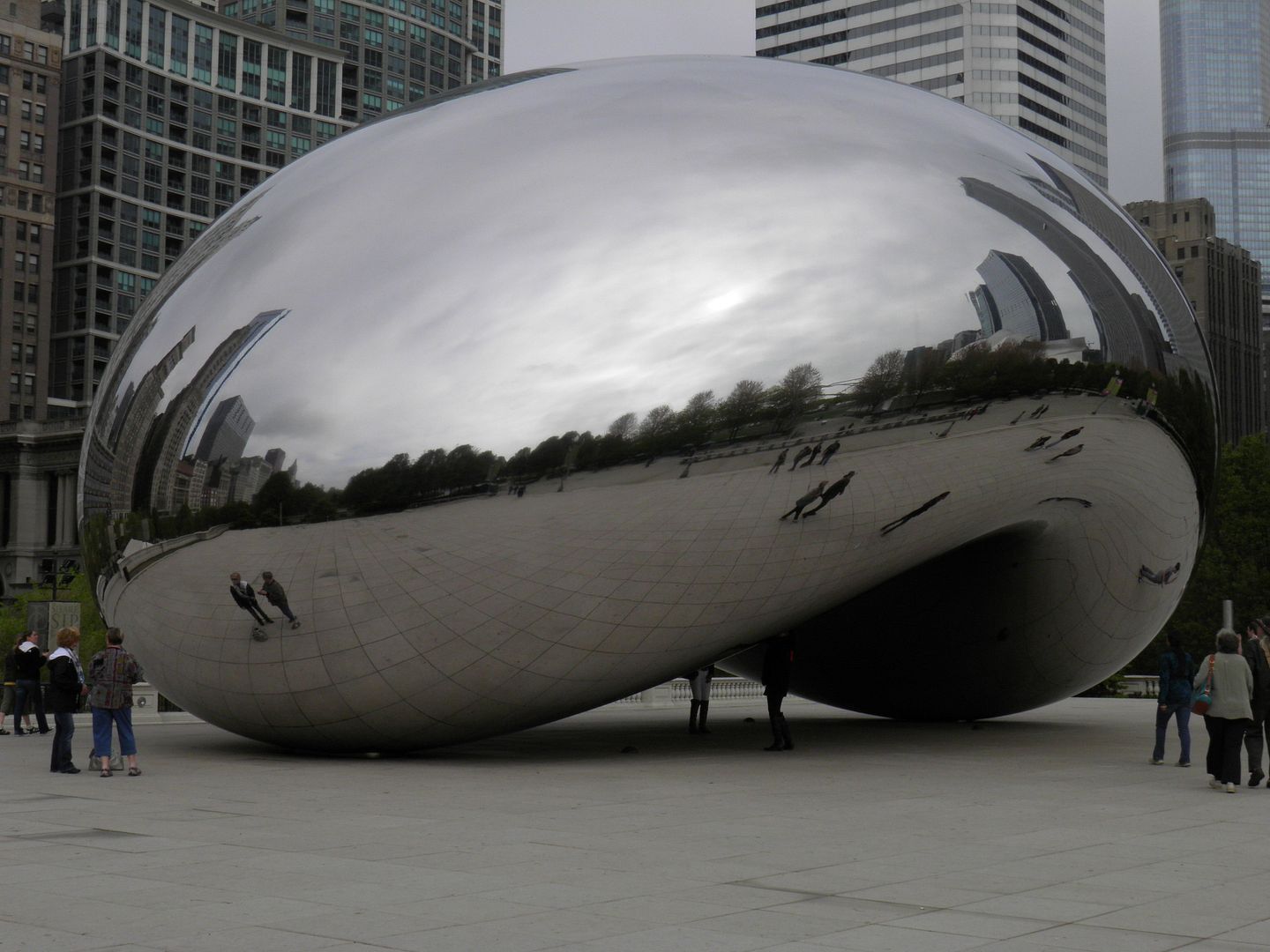 I revisted my beloved Pike Markets in Seattle. One day I'll buy one of those big crabs and boil it to buggery, one day. It'll probably require the assistance of an understanding friend, and a promise to clean up their kitchen - grin. I did taste the chocolate covered cherries. Yum yum.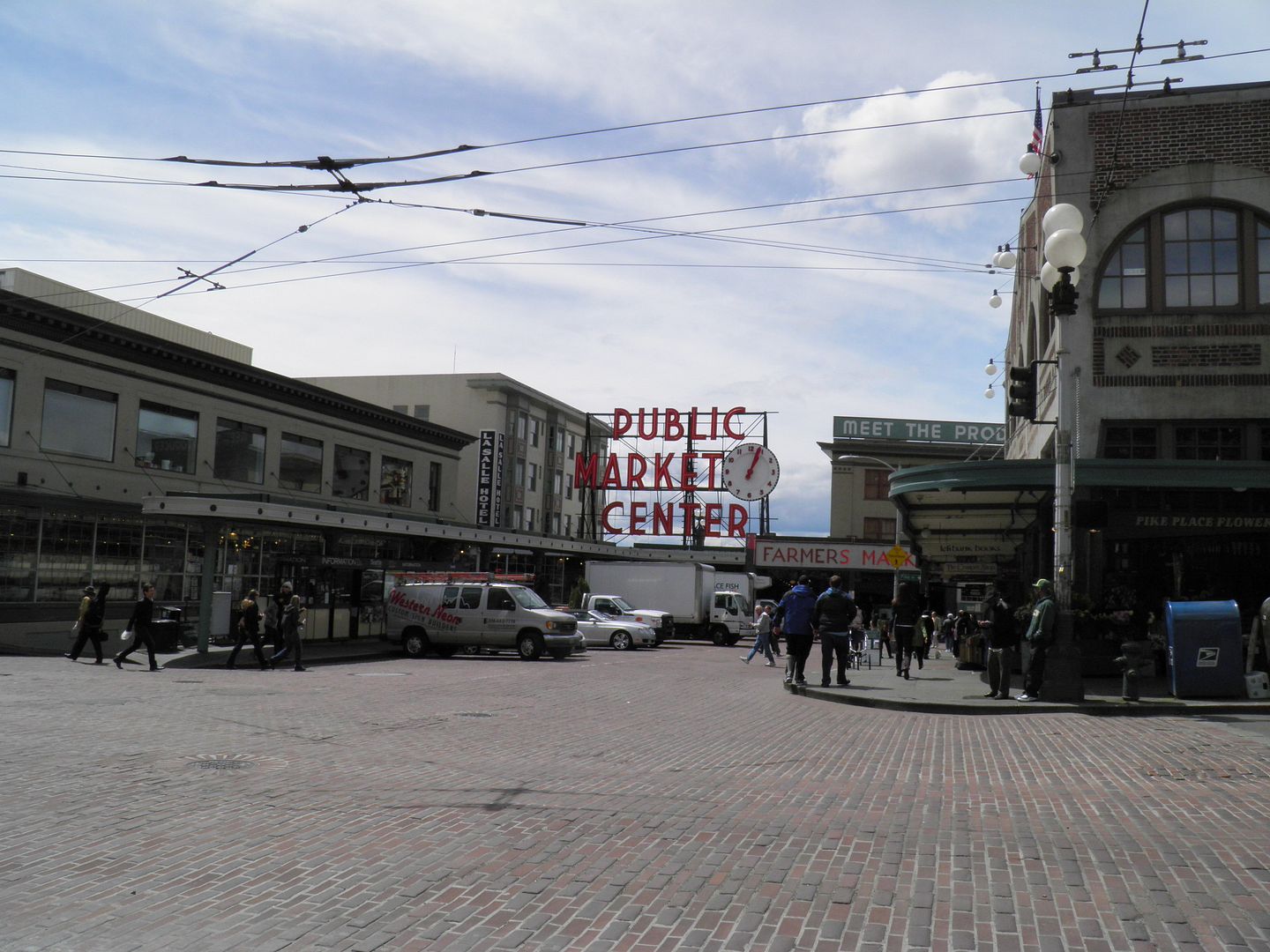 Oh, yes, there was some shopping. Popped into Macys, very disappointing, but I did buy a silly cardigan for dining on the Lakeshore Limited (very 50s), and then there was that trip to Starbucks. Just another comfort stop but I thought I ought to buy something and the twat didn't put the lid on properly, firm enough to fool me, loose enough to explode Flashdance style all over my beloved blue Monet shirt (no longer very blue, sigh). Then I got balled out for locking myself in the loo and trying to rinse out the worst of it, dry it to damp under the blower and pull out my cardy. Is the cardy over bra fashion on the streets of NY yet?

Staggered in and out of several shops until I found some awful t-shirts that at least were on a two fer one deal (at that stage, I thought, wise), but I do hate them so. At least a few more doors down was the Lush shop, and the girls descended on me, gathered me in, offered me free trials and treatments and free strawberries for being their first customer to sample a new handcream, which was nice. Oh, those girls. I was so upset over the whole Starbucks thing, and they were so kind. Yes, they loaded me up with bath bombs and scrubs, but I needed them, I really did, and they set to filling little tiny pots with samples to try on my train trip of variuos creams, which I did use, were lovely and did the job admirably without any reactions (except for the conditioner, but that was just one). All praise Lush. I should not have survived without them.

And that includes the lovely girls in the Seattle shop, which I went to three times, loading up on bath bombs (well, that lovely tub). I swear my cold improved somewhat when I could steam myself silly in bath bombed out bliss. It was definitely a case of leaving a couple of dollars for the maid every morning. Today I've left the bath blue/green/yellow/pink/purple/orange...oops.

Again, Americans and the free stuff. Love ya. Spoiled me rotten though.

Culturally, I found Americans, bar a few pointed examples (Starbucks twat, the surly sow at the Walgreens on 23rd, the mad taxi driver in LA) to be delightful. Especially helpful and friendly (in ways I don't remember from previous trips). It's like they all got the memo to turn that frown upside down (funny how when they put a dollar price on paranoia they suddenly lighten up). Oh, and those mad bastards on my first night on the train out of Chicago. Wound up with two judgement day freaks and one paranoid who reckoned his driver's licence number was the number he was traded on the stock exchange. And I was hemmed in at dinner. Help.

The next morning I was wondering just how hungry was I, but I sucumbed and found myself seated next to an old soldier and a backwoods looking couple, complete with truckers hat, but they were the swetest people, not only giving me tips on what to do with fallen apples (though I came home to find my beloved apple tree dead, so moot) but pointing out the wild life as we went, including white tailed deer and turkeys on the hoof, as were, including a few with their tails fanned out. Magic. I've seen seen a turkey that wasn't plucked and vacum sealed. 'So you're not going to eat them any more?' asked the soldier, suspecting me of fluffy bunnyness. No chance, far too delicious, I answer, to their satisfaction.

Then there were the tech students (he did weather imaging) from college travelling through to New Mexico. They were cool, and talked my language (or at least, I could keep up) and I amused/horrified them with tales of my IT woes, and we laughed over the 'spicy' soup - it was Women's Weekly spicy, as in maybe a sprinkle of pepper had been added.

Oh yeah, and all the gay dads at the Brooklyn museum. I couldn't help but stare, marriage, adoption and surrogacy all being illegal here. They had the most well behaved kids, too, I mean, my god, those kids were not the rampaging fiends I'm used to. So well done, you not good enough to be parents here chaps. Funny how America, or parts of it at least, are so far forward from us these days.

Also met some proper injuns, and not just of the wooden cigar store variety or the infortunate drunks in Pioneer Square, but the ones who came to sell tat to the train folk at Albuquerque (as well as some of the staff at the Museum of the American Indian). Hey, if my Dad were still alive he could tell you I've been fascinated by the American Indian since I was a wee tot, for whatever reason. Just one of those things (maybe it's all the feather and beads, maybe I really am just a gay man trapped in a fat old broad's body). I bought some bits and bobs (no feathers, no beads of clay or dried fruit, quarantine, alas). I really could have bought one of those blankets, so comfy on the train, I thought, but too hard to get home. The guy next to me said it was a pity he didn't have a blanket with him to trade. Oh, cringe, cringe, cringe. What, he left all the ones with smallpox back at home? I mean, really. This, after me seing the Edison film of the ghost dance at the Brooklyn museum. I mean, really.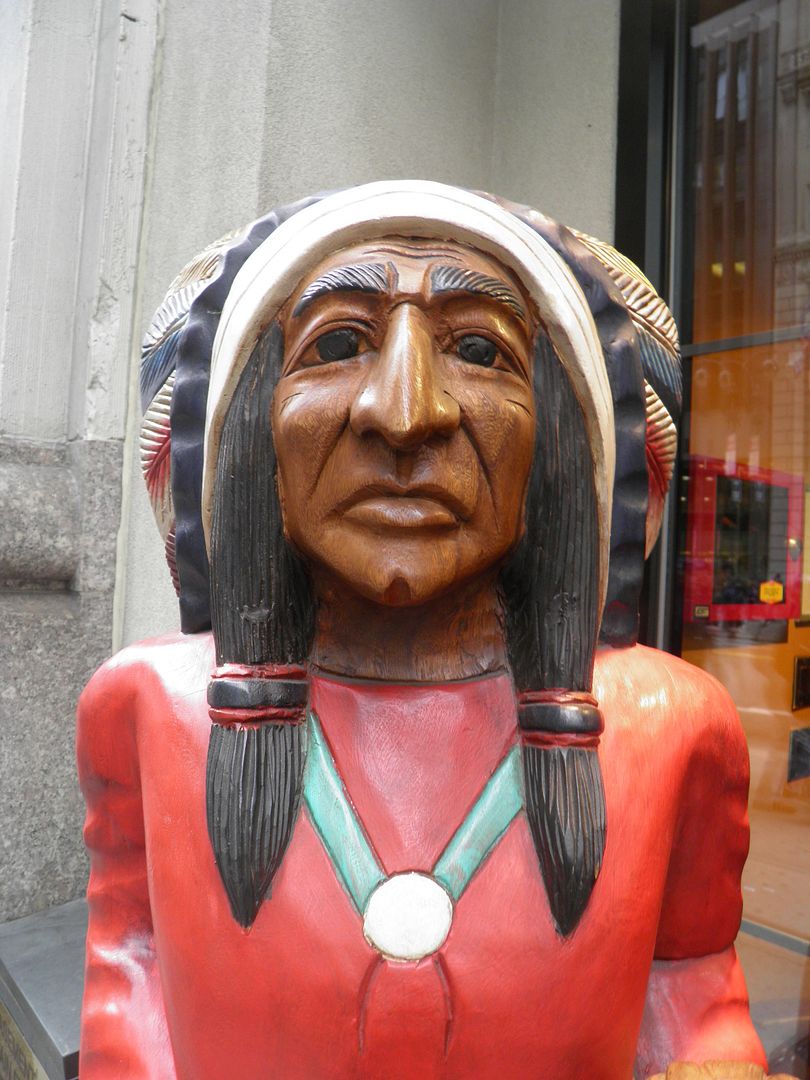 Anthroplogically speaking, meeting many, many peoples, of all stripes and spots, it was quite a trip. Even the drunks at the bus stop in New York were cheerful and polite. I mean, wow.

Yeah, I figure I got down amongst the natives.

City Walks: New York: 50 Adventures on Foot
http://www.amazon.com/City-Walks-York-Adventures-Foot/dp/0811838447

City Walks Architecture: New York
http://www.amazon.com/City-Walks-Architecture-New-York/dp/0811868761/ref=pd_sim_b_3/185-2240168-4943708

Pike Place Market
http://www.pikeplacemarket.org/

Elephant Car Wash
http://elephantcarwash.com/website/

Space Needle
http://www.spaceneedle.com/

The High Line
http://www.thehighline.org/

Bryant Park
http://www.bryantpark.org/

Madison Square Park Conservancy
http://www.madisonsquarepark.org/

Shake Shack
http://shakeshack.com/

Union Square Greenmarket
http://www.grownyc.org/unionsquaregreenmarket

Lush (USA)
http://www.lushusa.com/

Welcome to Tullamarine. Your humiliation begins now
http://www.theage.com.au/victoria/welcome-to-tullamarine-your-humiliation-begins-now-20120414-1x0ca.html

Y'all come and visit, y'hear
http://www.smh.com.au/travel/travel-news/yall-come-and-visit-yhear-20120412-1wu48.html

Larger ladies feel 'insulted by rude shop assistants', survey finds
http://www.telegraph.co.uk/news/newstopics/howaboutthat/9251231/Larger-ladies-feel-insulted-by-rude-shop-assistants-survey-finds.html

Angry, sad or happy - it's all in the eye of the beholder
http://www.smh.com.au/technology/sci-tech/angry-sad-or-happy--its-all-in-the-eye-of-the-beholder-20120509-1ycwh.html

I won't vote for it: PM stands firm on gay marriage
http://www.smh.com.au/opinion/political-news/i-wont-vote-for-it-pm-stands-firm-on-gay-marriage-20120510-1ye2e.html

Why I'm treated like a second-class citizen: Justice Michael Kirby
http://www.brisbanetimes.com.au/national/why-im-treated-like-a-secondclass-citizen-justice-michael-kirby-20120503-1y0o3.html

Retired judge speaks up for gay marriage
http://www.nationaltimes.com.au/opinion/politics/retired-judge-speaks-up-for-gay-marriage-20120503-1y1py.html

Malaysian Government Bans Gay TV Characters
http://www.hollywoodreporter.com/news/malaysian-government-gay-characters-ban-313774?utm_source=dlvr.it&utm_medium=twitter

Homophobic? Maybe You're Gay
http://www.nytimes.com/2012/04/29/opinion/sunday/homophobic-maybe-youre-gay.html?_r=1&nl=todaysheadlines&emc=edit_th_20120429

Gay on TV: It's All in the Family
http://www.nytimes.com/2012/05/09/business/media/gay-on-tv-its-all-in-the-family.html?_r=1&nl=todaysheadlines&emc=edit_th_20120509

Gotye: 'Glee's Somebody That I Used To Know cover was ultra dry'
http://www.digitalspy.com/tv/s57/glee/news/a377857/gotye-glees-somebody-that-i-used-to-know-cover-was-ultra-dry.html

Glee Trash Talking: Gotye Slams Song Cover as "Dinky and Wrong"
http://www.eonline.com/news/glee_trash_talking_gotye_slams_song/310717

Gotye On 'Glee' Cover: 'Ultra Dry, Sounded Pretty Tuned'
http://www.huffingtonpost.com/2012/04/22/gotye-glee-cover-ultra-dry-sounded-pretty-tuned_n_1444265.html?ref=entertainment&ir=Entertainment

Gotye slams Glee's cover of his Somebody That I Used To Know song
http://www.metro.co.uk/music/897061-gotye-slams-glees-cover-of-his-somebody-that-i-used-to-know-song

Gotye gets right to the top with US Billboard number one (mashup feat. Bomer)
http://www.watoday.com.au/entertainment/music/gotye-gets-right-to-the-top-with-us-billboard-number-one-20120419-1x8ek.html

Matt Bomer on Signing Jane Lynch's Body, Working "Cray Cray" Into Glee, Dissing NCIS
http://www.tvguide.com/News/Matt-Bomer-Glee-Interview-1045615.aspx

Bomer
http://lockerz.com/s/202129237
http://lockerz.com/s/202129223
https://twitter.com/#!/jeffeastin/status/195959327553622017/photo/1
http://instagr.am/p/J5GPWTt2JR/

'White Collar': 'House' Actor Lands Guest Starring Gig (Exclusive)
http://www.hollywoodreporter.com/live-feed/white-collar-season-4-michael-weston-312972

Matt Bomer & Laura Vandervoort Kiss for 'White Collar'
http://www.justjared.com/2012/04/15/matt-bomer-laura-vandervoort-kiss-for-white-collar/

Channing Tatum & Matt Bomer: 'Magic Mike' Stills!
http://www.justjared.com/2012/04/13/channing-tatum-matt-bomer-magic-mike-stills/

'White Collar' Season 4: Laura Vandervoot, Michael Weston To Guest Star And More Casting News
http://www.huffingtonpost.com/2012/04/17/white-collar-season-4-casting_n_1431053.html

'House' actor Michael Weston for 'White Collar' role
http://www.digitalspy.com/tv/news/a377199/house-actor-michael-weston-for-white-collar-role.html

?Magic Mike? Trailer Unleashed
http://www.accesshollywood.com/magic-mike-channing-tatum-matthew-mcconaughey-and-joe-manganiello-get-shirtless-in-new-trailer_article_63533

'White Collar' Premiere: Matt Bomer Series And More USA Shows Get Return Dates
http://www.huffingtonpost.com/2012/04/17/white-collar-premiere-summer-2012_n_1431968.html

Channing Tatum & Matt Bomer Sizzle in New ?Magic Mike? Shots
http://www.celebuzz.com/2012-04-13/channing-tatum-matt-bomer-sizzle-in-new-magic-mike-shots/

Channing Tatum Gives More Of His ?Magic Mike? To Matt Bomer
http://bestmoviesevernews.com/magic-mike-channing-tatum-images/

Channing Tatum & Matt Bomer In 'Magic Mike': Actors Who Played Strippers (PHOTOS)
http://www.huffingtonpost.com/2012/04/13/channing-tatum-matt-bomer-magic-mike-actors-played-strippers_n_1423859.html

New 'Magic Mike' official photos feature Matt Bomer
http://www.examiner.com/article/new-magic-mike-official-photos-feature-matt-bomer

Glee Recap: Quinn's Fate Revealed! Plus, Matt Bomer Graces Us With His Blue-Eyed Presence
http://www.eonline.com/news/watch_with_kristin/Glee_Recap_Quinns_Fate_Revealed_Plus_Matt_Bomer_Graces_Us_With_His_Blue-Eyed_Presence/307678

'Glee' returns to season low despite Matt Bomer
http://insidetv.ew.com/2012/04/11/glee-ratings-matt-boomer/

'Lost' Actress Rebecca Mader To Guest Star On 'White Collar'
http://www.tvequals.com/2012/04/23/lost-actress-rebecca-mader-to-guest-star-on-white-collar/

Gotye thinks 'Glee' botched his song
http://music-mix.ew.com/2012/04/23/gotye-glee-somebody-that-i-used-to-know-matt-bomer-darren-criss/

Gotye Clarifies 'Glee' Comment; Calls Darren Criss-Matt Bomer Cover 'Clever'
http://www.hollywoodreporter.com/earshot/gotye-glee-darren-criss-somebody-used-know-315184

Gotye Chimes In On Nasty Glee Remarks!
http://perezhilton.com/2012-04-24-gotye-glee-somebody-i-used-to-know-darren-criss-matt-bomer-insult#.T5xBe2E_gow

White' Hot New Pics
http://www.theinsider.com/tv/51807_White_Collar_Season_Three_Spoilers/index.html?page=4

L.A. Reading of 8, With George Clooney, Brad Pitt, Chris Colfer, Will Be Broadcast and Released as Audio Book
http://m.playbill.com//news/article/165576-LA-Reading-of-8-With-George-Clooney-Brad-Pitt-Chris-Colfer-Will-Be-Broadcast-and-Released-as-Audio-Book

50 hottest summer movie men in mainstream releases
http://www.examiner.com/article/hottest-summer-movie-men

'Glee's' Darren Criss and Matt Bomer respond to Gotye's negative comments - VIDEOS
http://www.irishcentral.com/story/ent/amyandrews_gossipgirl/glees-darren-criss-and-matt-bomer-respond-to-gotyes-negative-comments---videos-151112595.html

'Everwood' star joins 'White Collar' as [possible spoiler] -- EXCLUSIVE
http://insidetv.ew.com/2012/05/10/white-collar-everwood-star-treat-williams-cast/

Matt Bomer & Adrien Brody - Met Ball 2012
http://www.justjared.com/2012/05/08/matt-bomer-adrien-brody-met-ball-2012/

Matt Bomer: Moth Ball with Tiffani Thiessen!
http://www.justjared.com/2012/05/09/matt-bomer-moth-ball-with-tiffani-thiessen/

Matt Bomer: Revlon Walk with Simon Halls & Kit!
http://www.justjared.com/2012/05/12/matt-bomer-revlon-walk-with-simon-halls-kit/

Matt Bomer: American Fertility Association's Illuminations 2012
http://www.justjared.com/2012/04/30/matt-bomer-american-fertility-associations-illuminations-2012/

Matt Bomer, Partner Simon Halls Make Rare Public Appearance Together
http://www.usmagazine.com/celebrity-news/news/matt-bomer-partner-simon-halls-make-rare-public-appearance-together-2012304

Matt Bomer and Partner Simon Halls Make Red Carpet Debut as a Couple
http://au.eonline.com/redcarpet/2012/premieres/news/matt-bomer-and-partner-simon-halls-make-red-carpet-debut-as-a-couple/312827

Matt Bomer Supports Partner Simon Halls At Illuminations LA Event [PHOTOS]
http://socialitelife.com/matt-bomer-supports-partner-simon-hals-at-illuminations-la-event-photos-05-2012

A Slick Matt Bomer Films 'White Collar' [PHOTOS]
http://socialitelife.com/a-slick-matt-bomer-films-white-collar-photos-04-2012

Matt Bomer, Nicole Kidman, and More Stars on Set!
http://www.buzzsugar.com/Celebrities-Set-Week-May-4-2012-22945777

Darren Criss and Matt Bomer: Is Either Guy Bitter Over Gotye's Glee Dis?
http://www.wetpaint.com/glee/articles/darren-criss-and-matt-bomer-is-either-guy-bitter-over-gotyes-glee-dis

Best Dressed Men At 2012 Met Gala
http://www.celebuzz.com/photos/best-dressed-men-at-2012-met-gala/schiaparelli-and-prada-impossible-conversations-costume-institute-gala-9/#.T6mGcIxeOzE.twitter

Bomer
https://twitter.com/#!/jeffeastin/status/200299859813728259/photo/1
https://twitter.com/#!/jeffeastin/status/200298726504402944/photo/1
http://twitpic.com/9iu6vm
http://i748.photobucket.com/albums/xx130/popwrap/bomer.jpg
https://twitter.com/#!/MattNegrete/status/200994610888192000/photo/1
http://twitpic.com/9l3x2j
http://twitpic.com/9l3kbc
https://twitter.com/#!/Rutabega80/status/203204164103307264/photo/1
https://twitter.com/#!/ssamiam725/status/203223736751632384/photo/1
http://lockerz.com/s/209722288
https://twitter.com/#!/Bilal_Mian/status/203217192932741120/photo/1
https://twitter.com/#!/WhiteCollarUSA/status/203207526861377536/photo/1
http://yfrog.com/0o11ewz

DeKay
https://twitter.com/#!/MattNegrete/status/202067839044161537/photo/1

Matt Bomer Q&A: 'White Collar' and 'Glee'
http://www.goldderby.com/television/videos/44/352/matt-bomer-qa-%27white-collar%27-and-%27glee%27.html#

2012 Moth Ball Interviews: Celebrity Guests on Storytelling and Scorsese
http://flavorwire.com/288342/2012-moth-ball-interviews-celebrity-guests-on-storytelling-and-scorsese#3

Casting Scoops: Richard Burgi Tapped as Burn Notice Villain, Gloria Votsis Back on White Collar
http://tvline.com/2012/05/14/burn-notice-casts-burgi-eaton-white-collar-votsis/