Museums and galleries, oh my. Where to start? At the very beginning, I suppose, it's a very good place to start, so I'm told. Ahem. Anyhoo, did not frag myself trying to do the Met in a day, as usual. In fact, my first day, being a Monday, was entirely museum free, and I just spent it walking around Chelsea, Greenwich Village, Soho, back up through Gramercy and back to the hotel at last. But more on the walks later.

Weirdly, the first stop was the UN, which wasn't really a museum or a gallery, but it did have a tour, and while I'd been there once before in '96, that was a long time ago and it was a lot like going for the first time as I have precious little memory of the '96 tour (I only know I must have been cause I have photos and souveniers).

This was after, yes, doing the Roosevelt Island tram because, well, whee, you know me and cable cars and I couldn't let that one go unchallenged, and besides, pretty views. Then I noodled around midtown on one of my walks, popping into a few kirks and the Trump tower for a tea and pee, since they had facility. I was desperate for a comfort stop, so in this one instance, and only this once, Donald Trump's existence was useful. I took many photos, none of which survived. Insert the sound of my jaw grinding itself to powder here.

The UN tour was educational, shocking and kind of fun, mainly due to the cute little Italian firecracker of a guide we had, and the fact that the tour was 90% Australian, and the wonderful American dad with his daughter pointing out how we'd signed up to various UN intitiatives while the US had not. He must have been from a blue state, but he was such a keen dad, it was cute. Shocking included the Hiroshima statue (completely fried on one side) and the machine gun made out of a guitar (so not flower power). Good news stories were the mosquito nets, school in a box and peanut paste stories. See, despite my jet lagged state I was paying attention.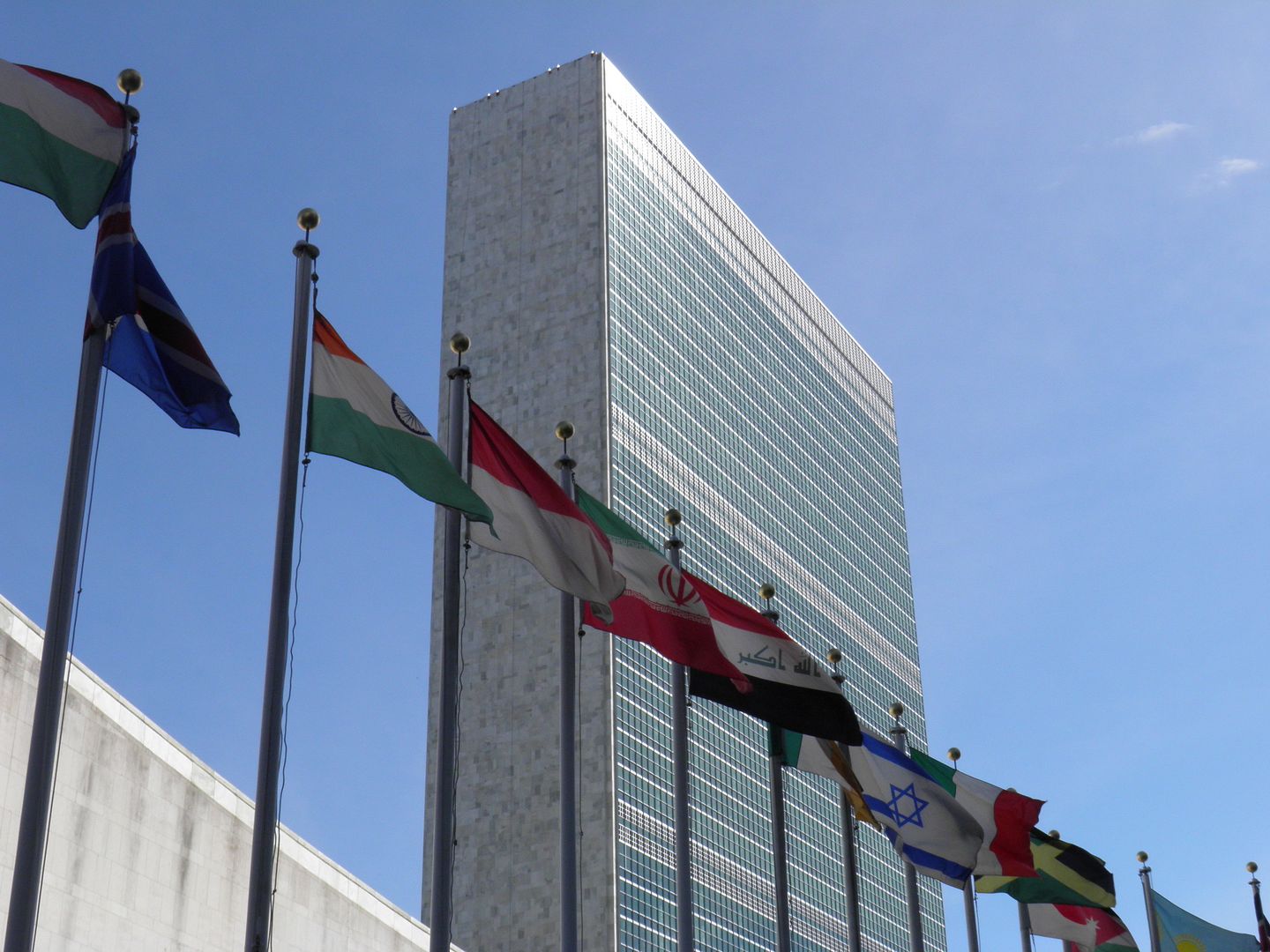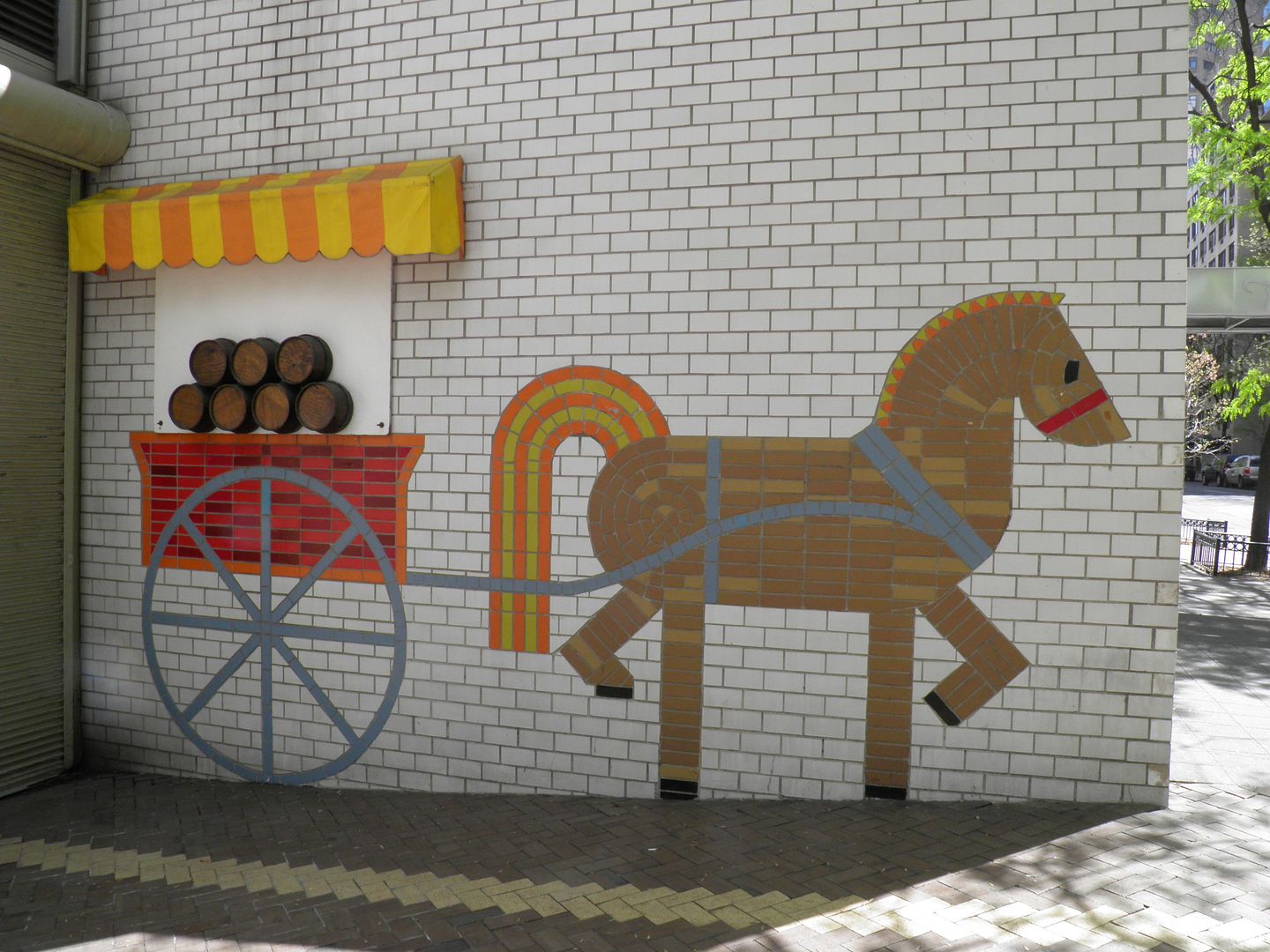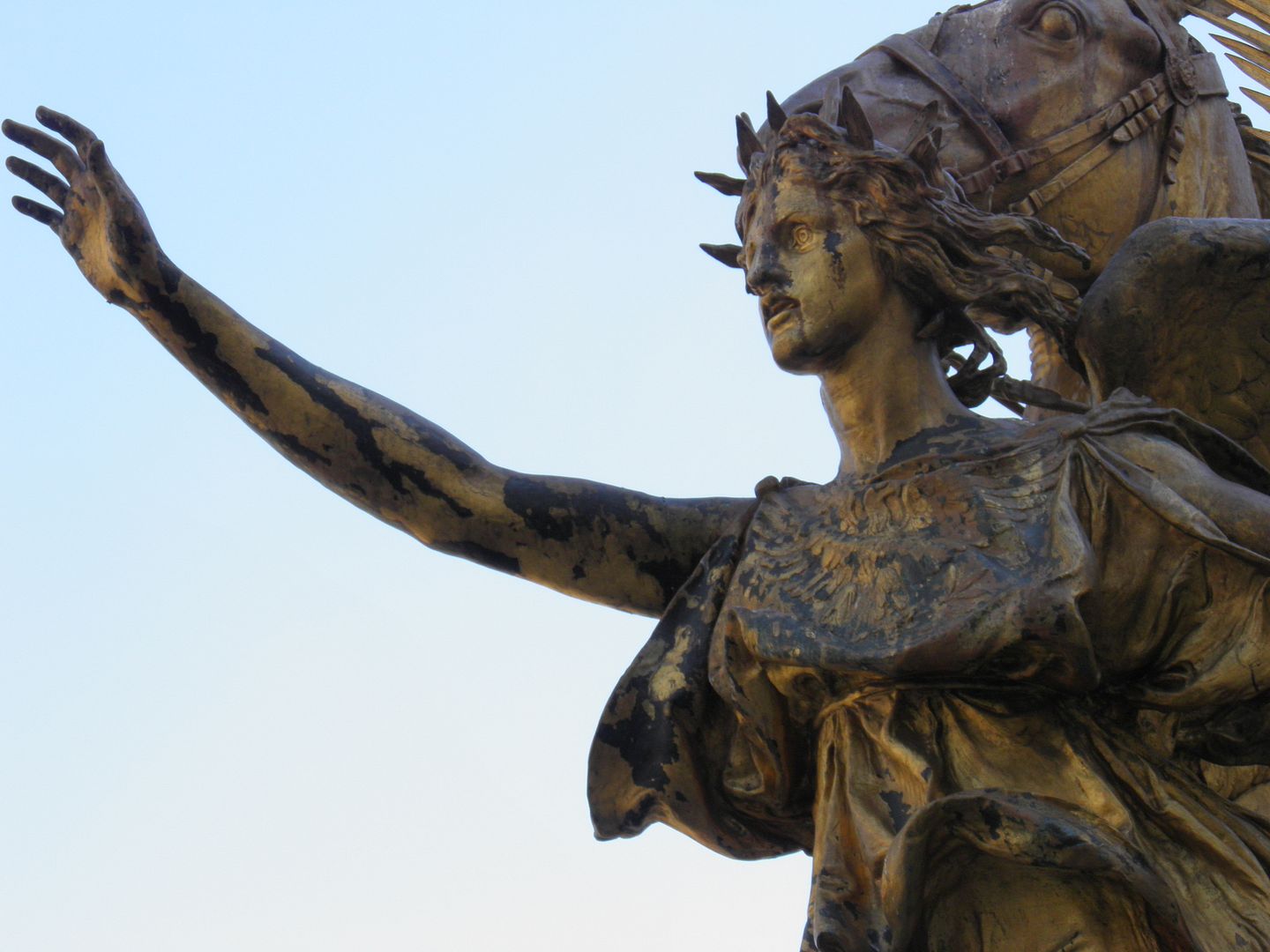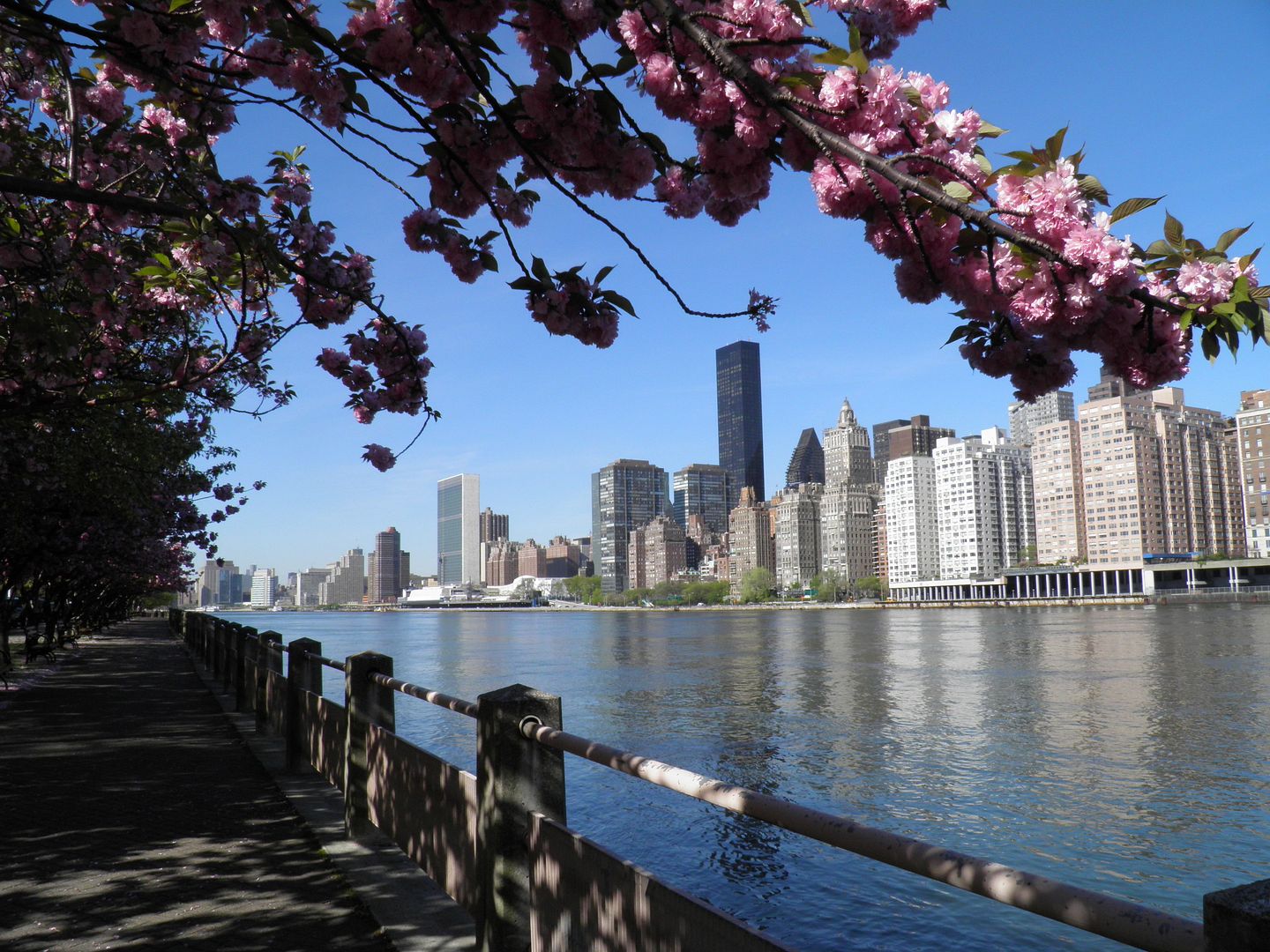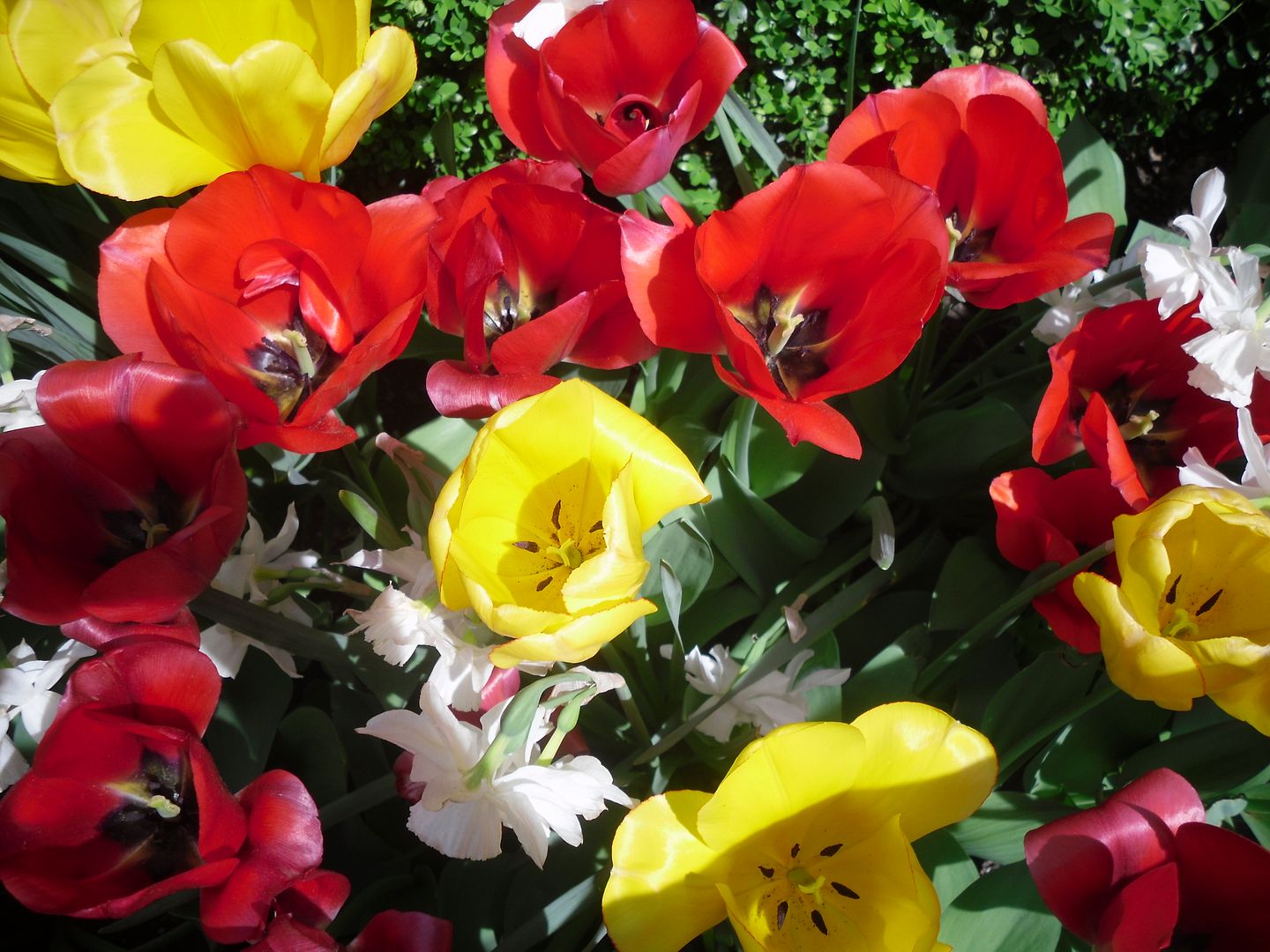 Then there were the Cloisters, after which I followed my walks down through the park, Riverside Drive (I cheated a bit and bused a few sections) down to Grant's Tomb, which I had to see because he's invoked in so many of my tv westerns, and, according to the brochure, was quite progressive in his reforms, and finally the Natural History Museum, where, upon recommendation, I checked the Hall of Gems to see the big pieces, was horrified by the creationists and ended up in the North West tribes section, my old faves, after the stuffed animals, and then I staggered across to the Shake Shhack there. Still not near as good as I remembered it being. Sigh.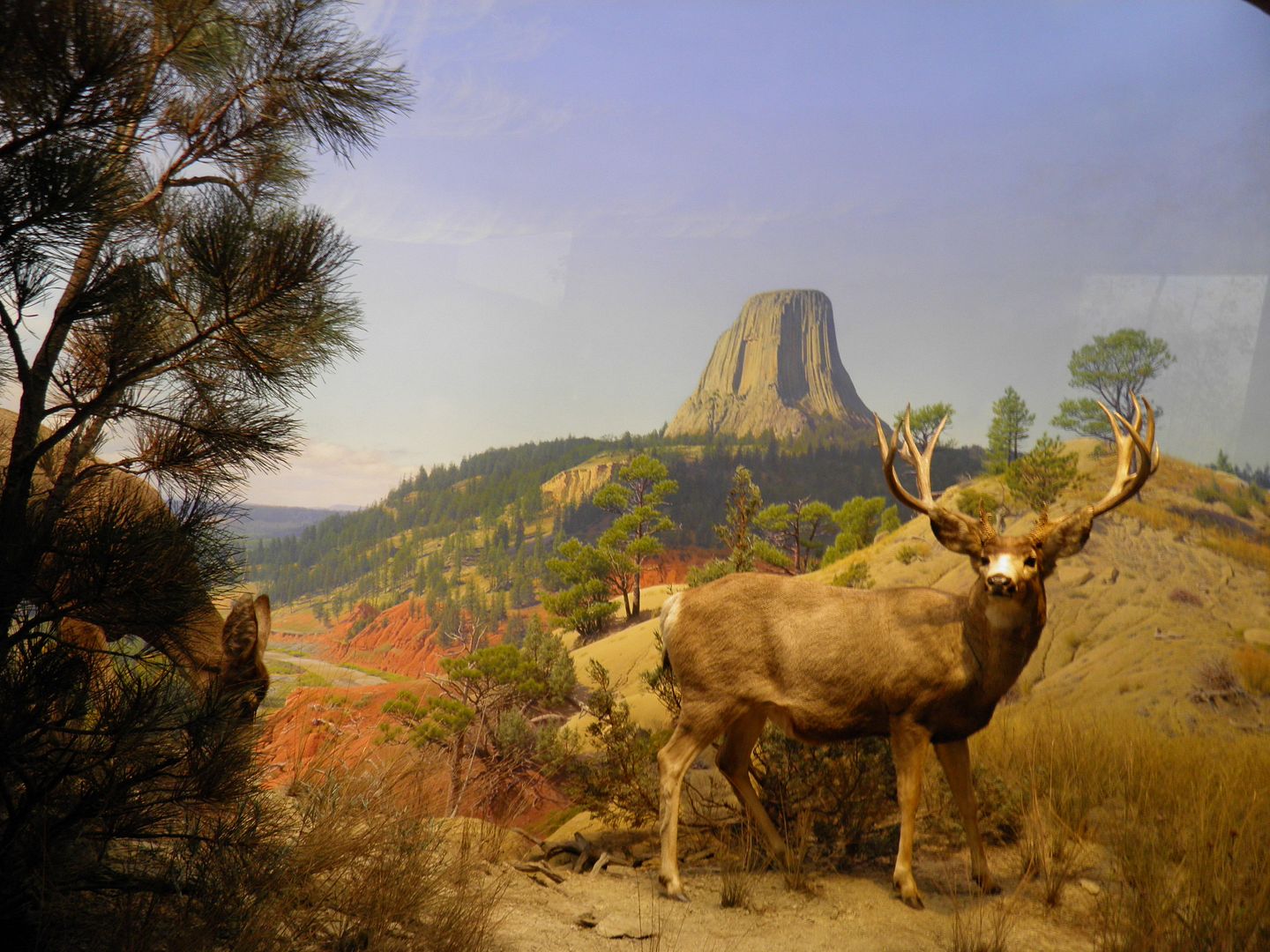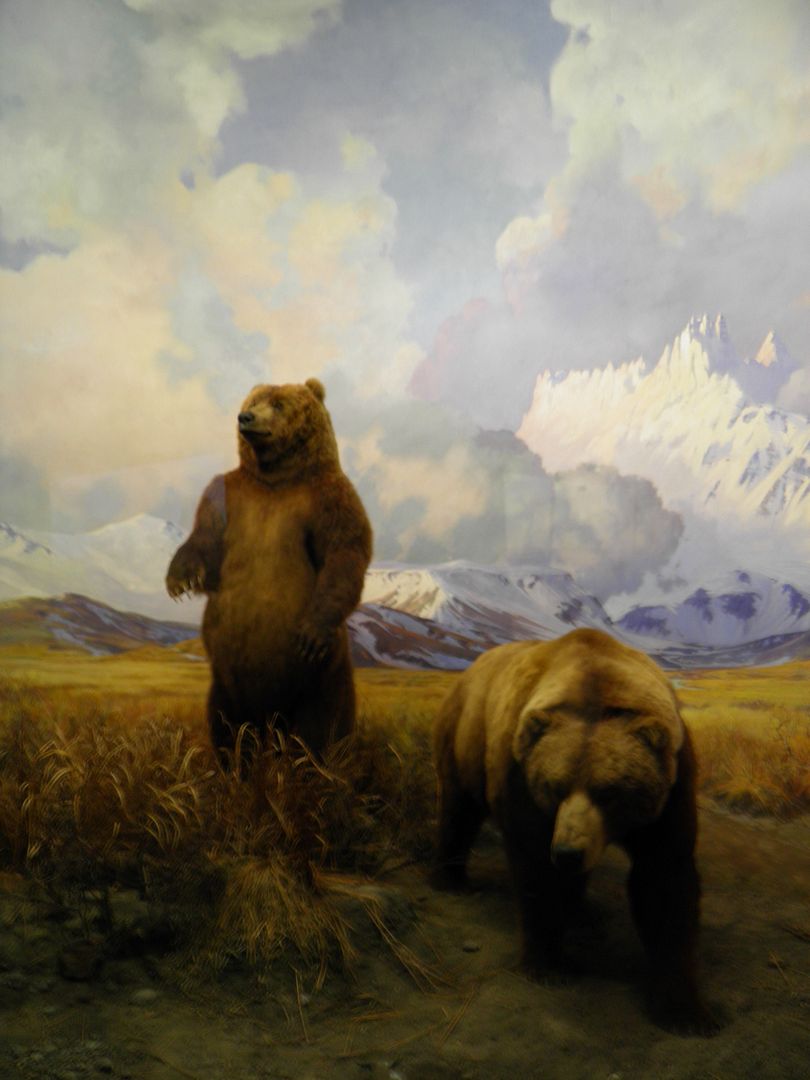 The Next day I went downtown and did Federal Hall, The National Museum of the American Indian, which was in a cool building and had a very interesting exhibition on how western photographers made their subjects pose according to western norms, and now I see how they aped the classical poses in the paintings of the time, not to mention the women with pots on their heads trope. They had put together so many pictures to make the point of just how trite and stupid and demeaning it was. Round past the park to the Skyscraper Museum, which was cute. They had an exhibition on all the old newspaper towers. Then, with some difficulty, up via Tribeca, across to the subway down near the Brooklyn Bridge where I'd started and back. Phew.

Friday I was up early for my walks through Soho and that's when I turned the corner down a cobbled street, thinking of Phryne and her Melbourne lanes (yes, we've planned a tour), and ran smack into that film crew blocking my way. The cheek of them. Wandered around, taking non photos, then a spot of brekkie (the granola) and on to the Tenement Museum, where I did the immigrant tour and discovered that, let's see, outdoor loo, regular school leaflets and checks for lice, food donations and government supplied milk and oh my god I was poor! Like dirt, disgusting poor. No wonder everyone shrinks from me. Ah well, only three times was I asked where, exactly, in Sydney I was from. The dirt poor bits, quite obviously.

Then I did the New Museum, and hey, if only I'd thought of sticking old glassware on a wall, but hey. You know me and modern art, but it wasn't too annoying, so long as I never, ever read the captions.

Saturday, more walks, and the Museum of Sex, which was, as to be expected, all hat and no trousers, but the section on animal willies was educational. Just popped in because it was on the way up to the theatre to see Death of a Salesman.

After which, instead of going directly to the Met I had to go back to the hotel and change (that Starbucks incident) so I missed a couple of hours but I did get there in time to loop through the Stein collection with the Matisse, Picasso and Guis, which, as hoped, was everything I'd wanted in the AGNES exhibition but so wasn't, so I was delighted. I've not really seen any Matisse so I get the influence on folks like Bunny now. Then I just had time to scream through a couple of near deserted rooms of Impressionists before the dreaded closing announcement, but still, fun. Me likey late night openings. Caught the bus all the way down to 25th instead of changing at 42nd and missed a big car into pedestrians thing, so that was lucky. It was a lucky trip. I even managed to get in and out of a bank after hours with my foreign card.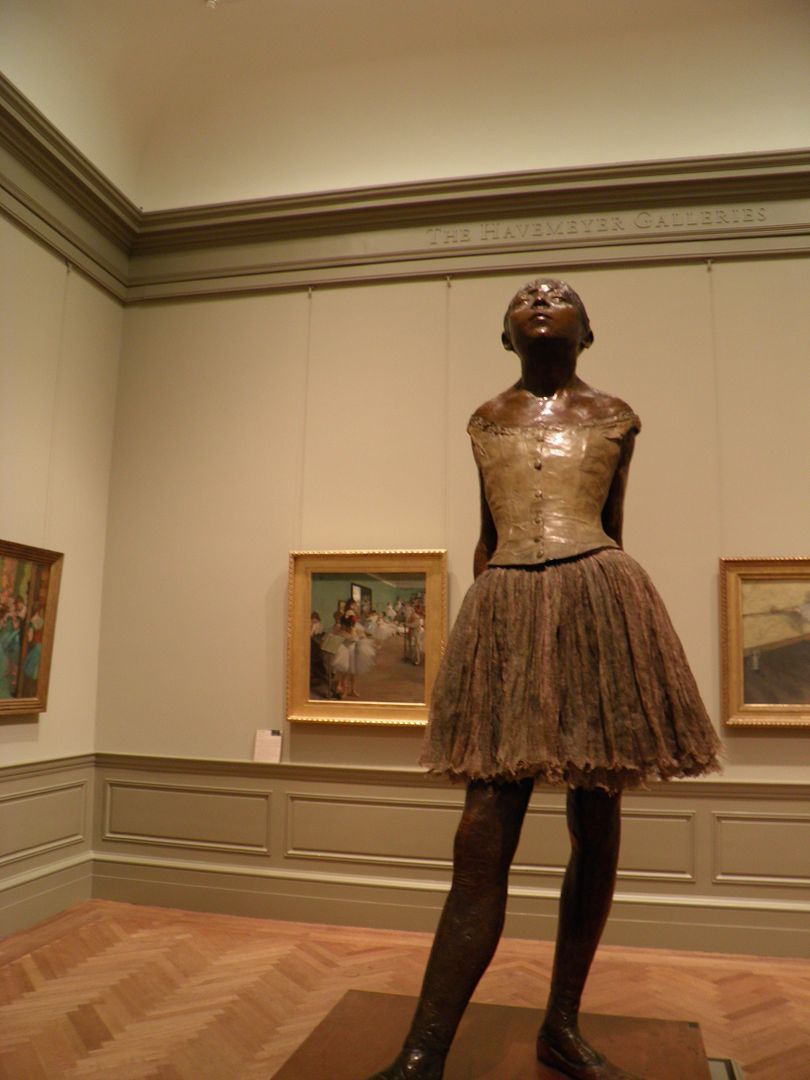 Sunday was raining buckets, which was good for going to the museum but not so much for the lolling about in the park nearby for some much needed P and Q, nor any planned walks (by the time I came out of the museum it was raining so hard I shelved the walks and just went back to Manhatten, lest the subways stations flood on me as they did once before).

So, the Brooklyn Museum, a nice, sanely sized museum of quirkiness which reminded me very much of the NGV, only slightly more quirky. I think I fell in love when them when I saw the jelly moulds under glass and the card, that said, to effect, because we think they're cute, so there. I thought they were cute, so clearly the curator and I were of a mind, which made walking through the museum, a short easy stroll around the sections, just a treat. More of an ecclectic staging of like minded objects than the rows and rows of a certain type of pot school of exhibition. I loved it to bits.

I especially loved the visible storage wing, with all the old 50s chairs, 50s clocks, art deco radios and tea pots and, love, love, love. Then I look back and realise it's as seen on tv. Cute. Oh, they had one of those gorgeous bright green radio sets there. To die for. Lots of cool art deco-y stuff, my particular failing.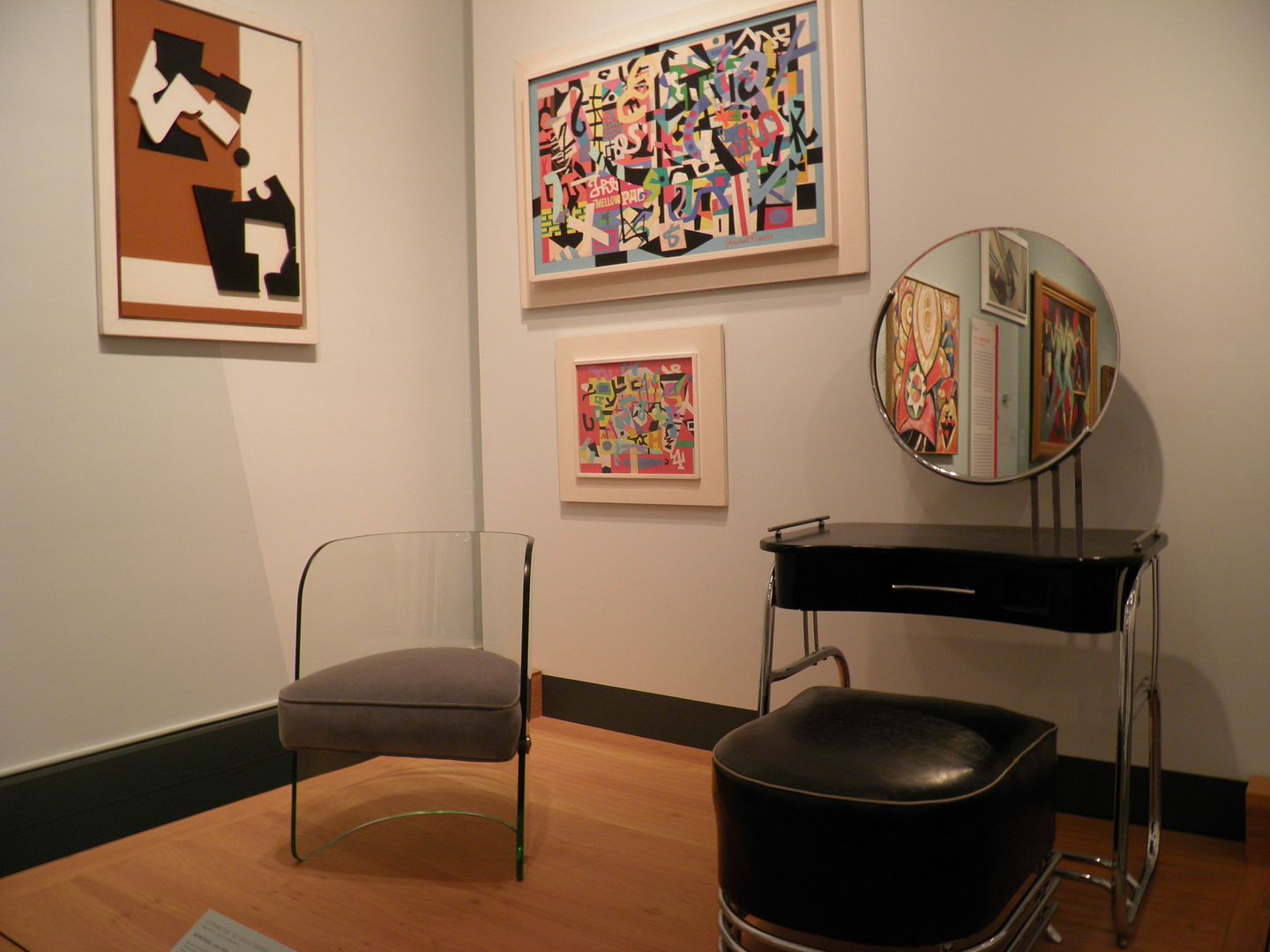 Another level had historical rooms, which I just adore, and then, my gosh, a whole wing of Egyptian stuff. Oh, that museum was so much fun. I figured I'd do that than killing myself at the Met, and I had fun.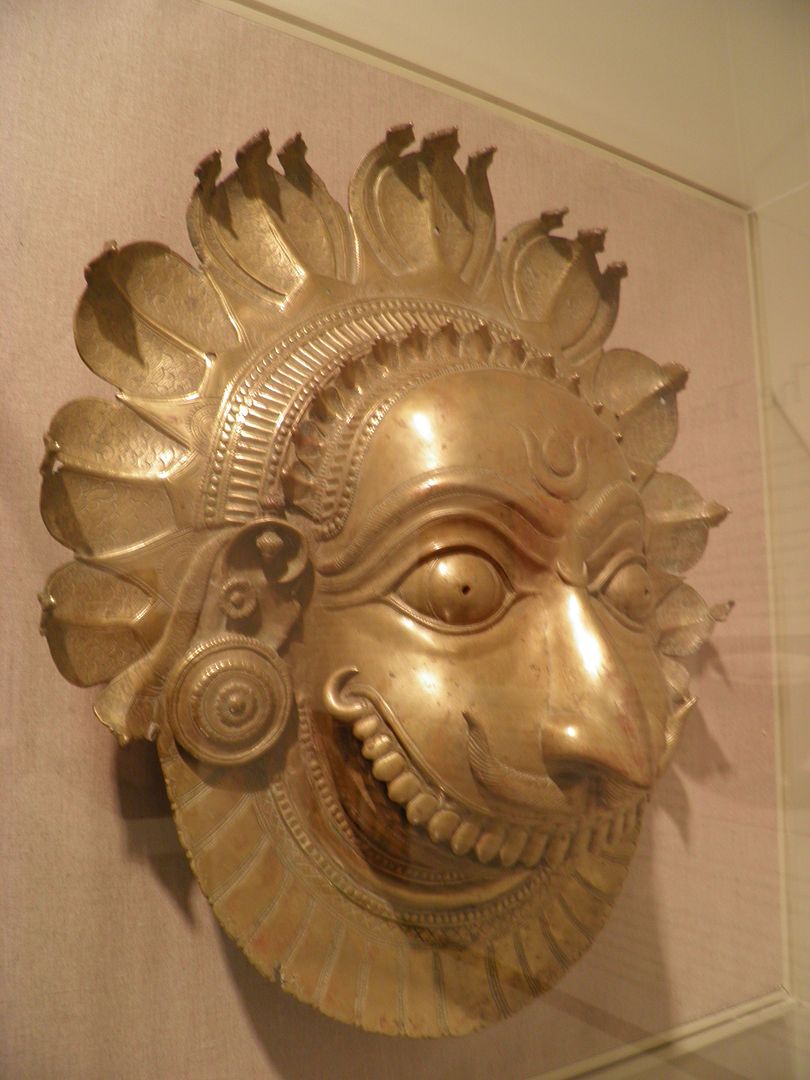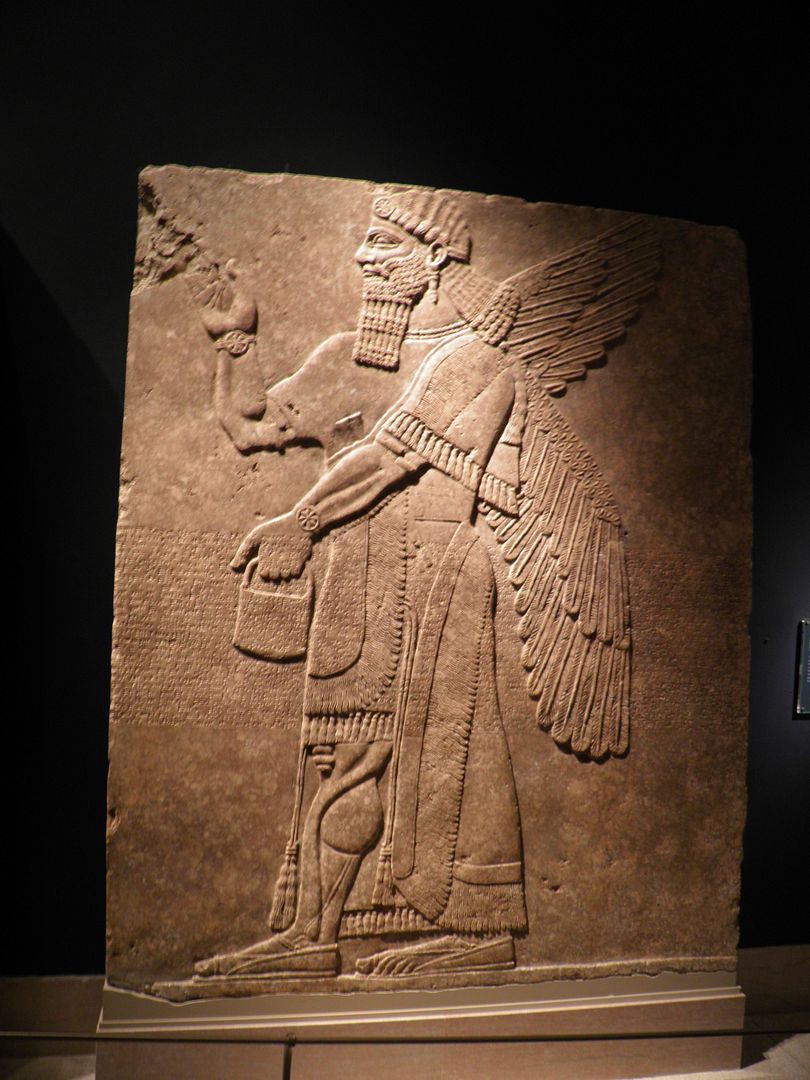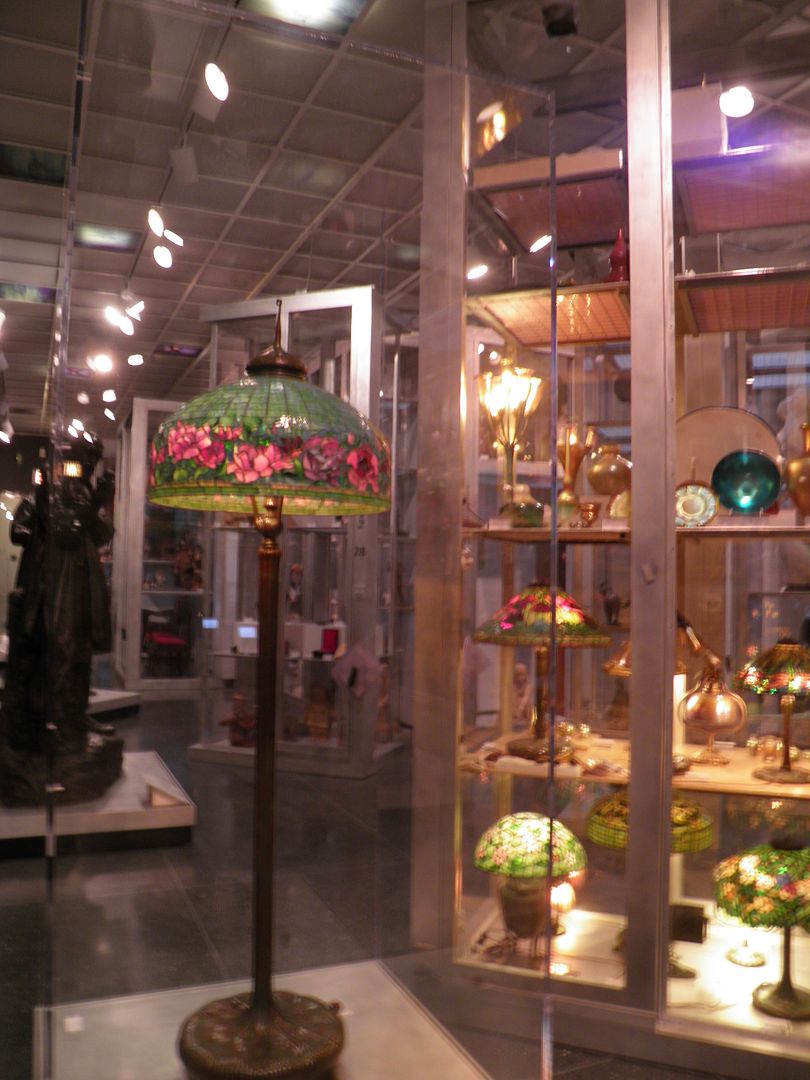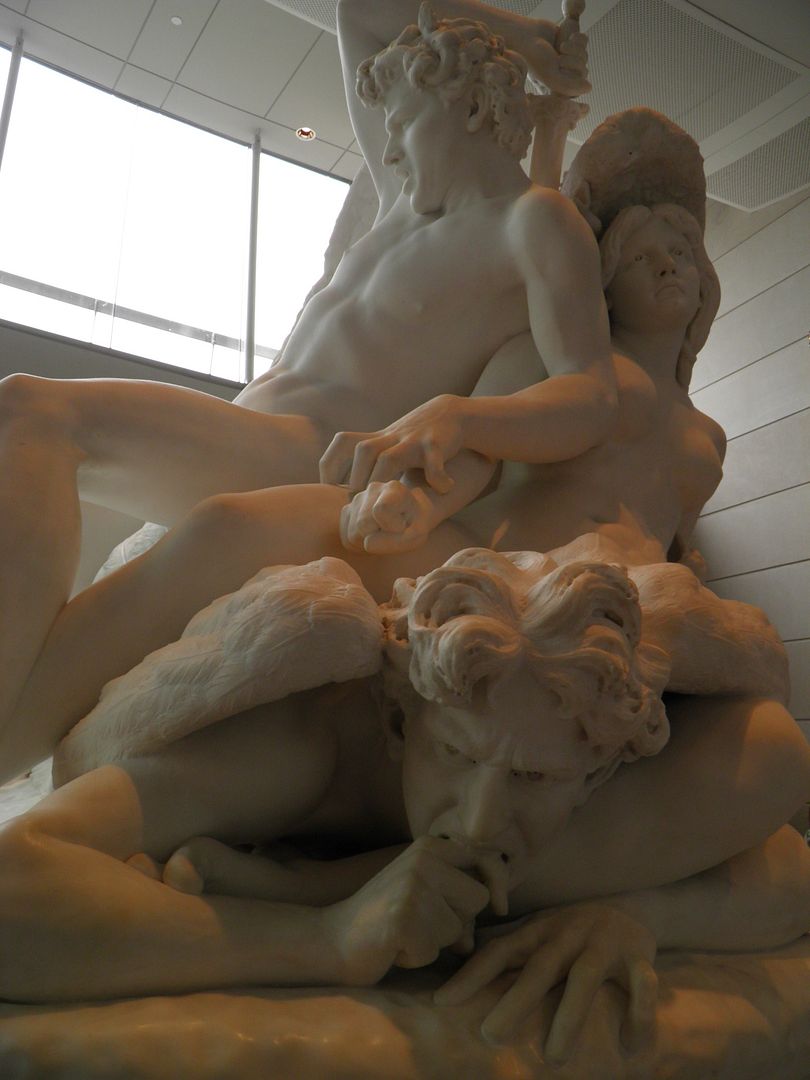 The next museum was The Art Institute of Chicago, which I did kill myself at, but I figured I might not ever get there again, and, despite not being all that well, I did my best (even though several people have demanded to know if I saw a couple of things in the bits I had to give up on, which is so annoying). I mean, I'd just got off the train from New York after a rough night, so I figured I was doing well to be out and about.

The main thing I wanted to see was the wing, wing, mark you, of Impressionists and it was impressive, as advertised. Especially the Surat. I've only seen tiny postcard sized reqprints, I never knew it was so big or impressive. Whoa. And the whole wall of haystacks. Creepy.


They had some great rooms, too, especially the art noveau ones, with the required Tiffany lamp, and even a bit of Charles Rennie Mackintosh in one corner (whoo, and well spotted, if I do say so myself). Found my favourite ever Degas lurking in a corridor, and realised I was getting peckish when all the still lifes of food started me thinking. But no, round and round the moderns I went, for form's sake rather than the unbridled joy the older pieces gave me, then down into an Asian wing. A volunteer tipped me that the Japanese room was quite place to chill for a bit but sadly a guard kept hovering so, despite the architecturally purposed quiet, there was no chilling to be had (do I really look that suspicious? Sheesh).

Exit through the gift shop and then, as it was only 5pm, I had to settle for the lunch menu in the hotel, which was, as I'd hoped, staggering distance from the museum (see, I do plan these things, cause I knew I was on the clock and would be tired anyway). Sadly indifferent burger and non service but never mind, it did the job and I staggered up to room to crash.

Ah, such a nice bed. I slept in so it was a very hurried couple of blocks in the morning as I went about taking not-photos (and I watched every one save to the card, so I thought, the beast) and then my booked tour of the hotel. Just me, so it was a bit weird, and the guy suitably flamoyant and eccentric (yes, think a Chicago version of Buchan from Whitechapel, right down to the office, where we started the tour with a lecture on the history. It was fun. Then I got to walk through some truly maginificent ballrooms (the chandelier with garnets sticks in my mind), Obama had been there just the week before, and then down to the kitchen where I got my brownies, and my cold, foolishly nibbling at a straight off the tray cookie without washing my hands. Tsk.

That was fun. Then it was a steeplechase to the station with my blue bag in tow, as the street I'd been directed up was blocked off at the end and I had to go on this crazy diversion, including through the foyer of an office building that only had revolving doors. Some choice Saxon words dropped there, I can tell you.

Still, found what passes for the first class lounge and got on the train okay, after lugging my bag upstairs to a cabin a third of a size of the one from New York, to my dismay. Worse, no ensuite. Worse, someone was constantly wafting sulphurous fumes through the cabin. I counted fourteen in the first hour. They really needed to lay off the egg and cheese. Man. At least they calmed down after Dodhe City, I thought they might have got off the train, but they started up again as we came into LA, but for one day, at least, I enjoyed the scenery rolling by in relative peace.

LA and it's off to the Getty, and no, I failed the post visit exam, missing out important exhibitions, but at the time we'd made a pact not to go nuts and to just do what we felt comfortable doing but as it turned out it was a bite size gallery and we did three wings (but of course, not the one in question), marvelling at the paintings, but after a while, okay, for me, immediately find the sculptural itms and crockery alarmingly chaste in the so called baroque rooms.

Never mind, it was a glorious day, the taxi ride, though yea gods pricey, was the right choice as we got there right on opening, walked right on a tram (trams! That tootle up the hill!) and had the galleries almost all to ourselves, compared to the hoardes that followed. We had some lovely lounging about on the cafe terrace, admiring the smogged in view, and felt ourselves satisfied.

Finding a cab at the taxi rank (lucky!), we then weaved our way to the Paley Centre, which the guy had never heard of, but it was worth going, because oh my, that WB exhibit. Had I known that Maverick's hat and the Intersect lay in wait I would have rocketed through the Getty, I can tell you.

How fabulous they had Maverick's hat! I mean, the perfect end to a voyage of homage that had started in Chicago, picking Palmer House as the sort of hotel Maverick might have stayed at, catching the train down through various points on the map name-checked in Maverick, to find the hat. Okay, yes, just a hat, but I'm such a fan, and it was cool.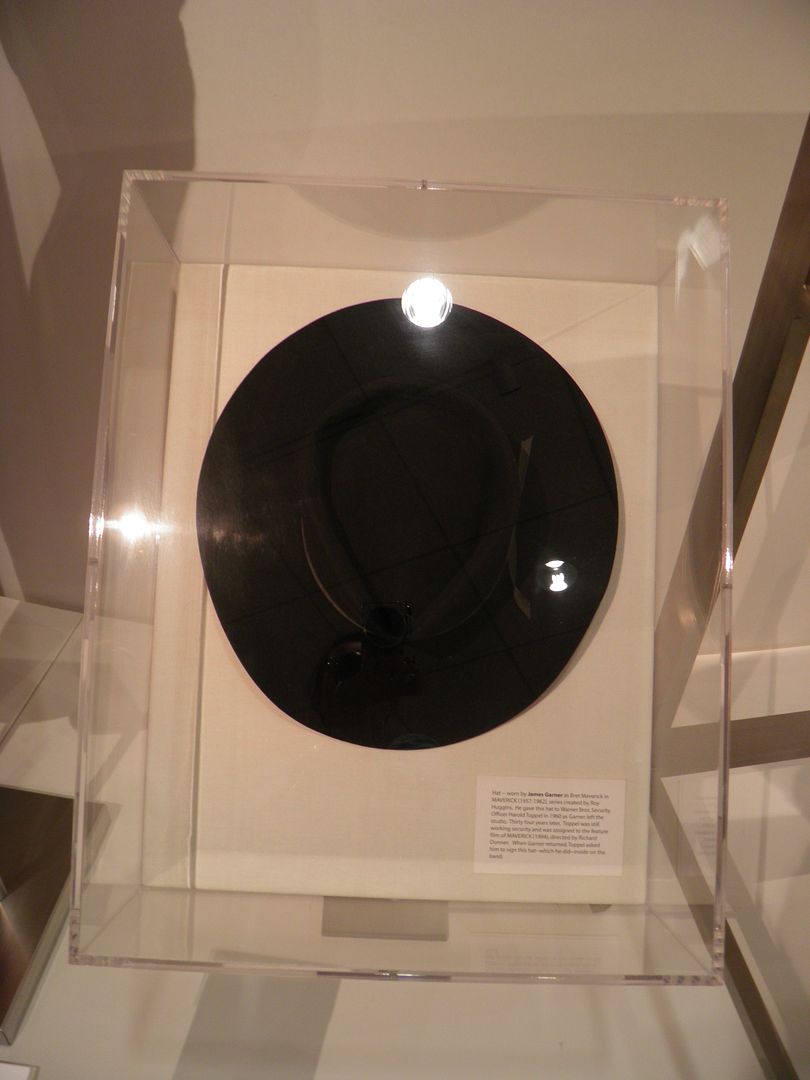 There was also stuff from, deep breath, True Blood, Band Of Brothers, Deadwood, Chuck, Smallville and Supernatural as well. And the cartoons, oh yes, perfectly chosen illustrations and cheesy merchandise. Bravo to the curator, just the right degree of love, homage and quirky. In other words, they knew their stuff. Just the Wall Of LunchBoxes was full of awe. One of the most fun exhbitions I've ever been to, in terms of oohing and aahing and downright squealing.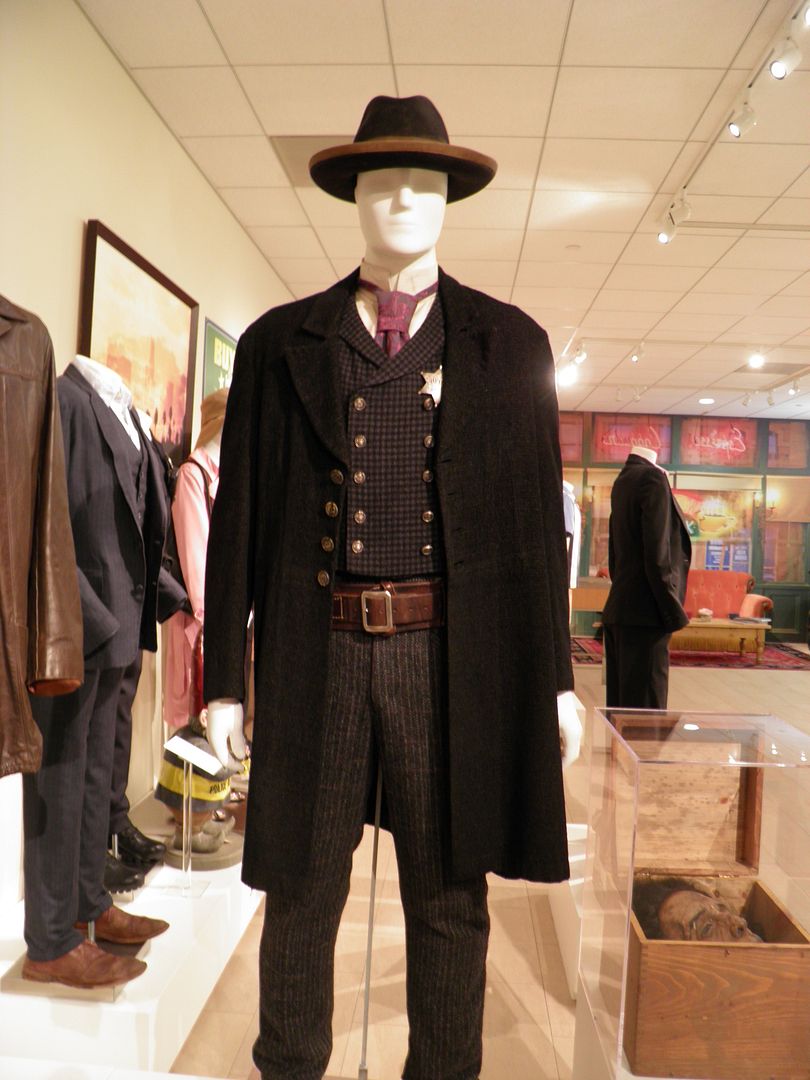 I mean, there's great art, and then there are those Supernatural bookcovers - snerk.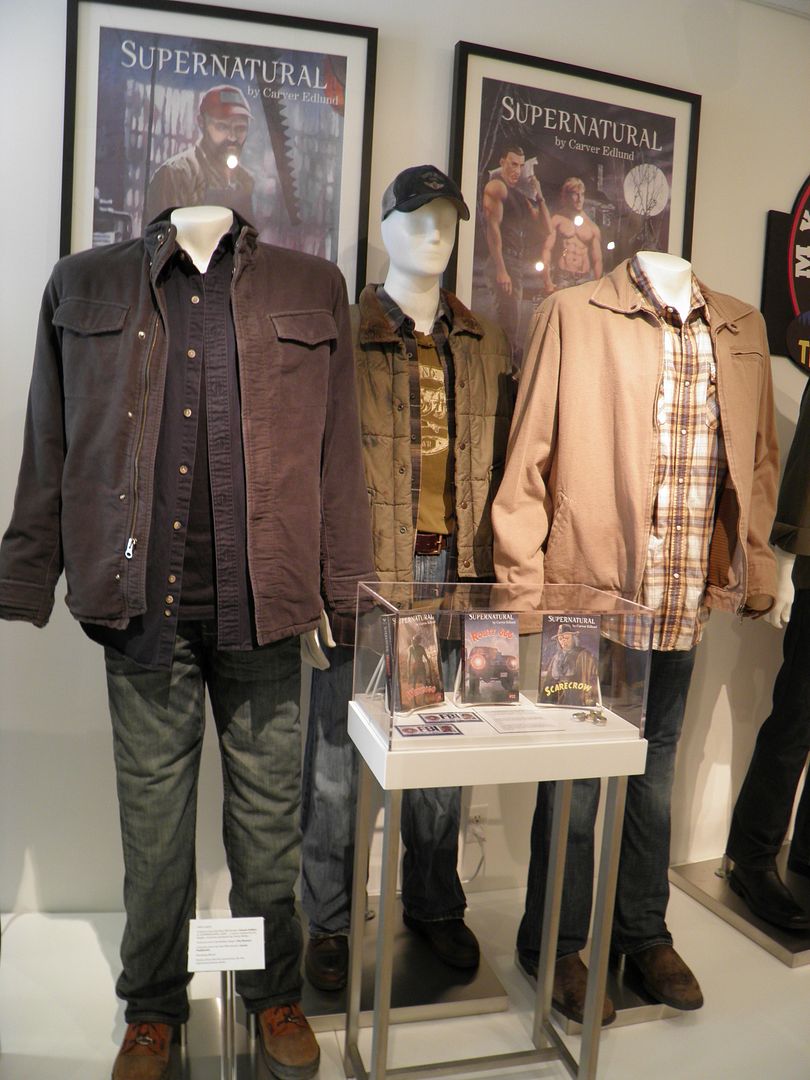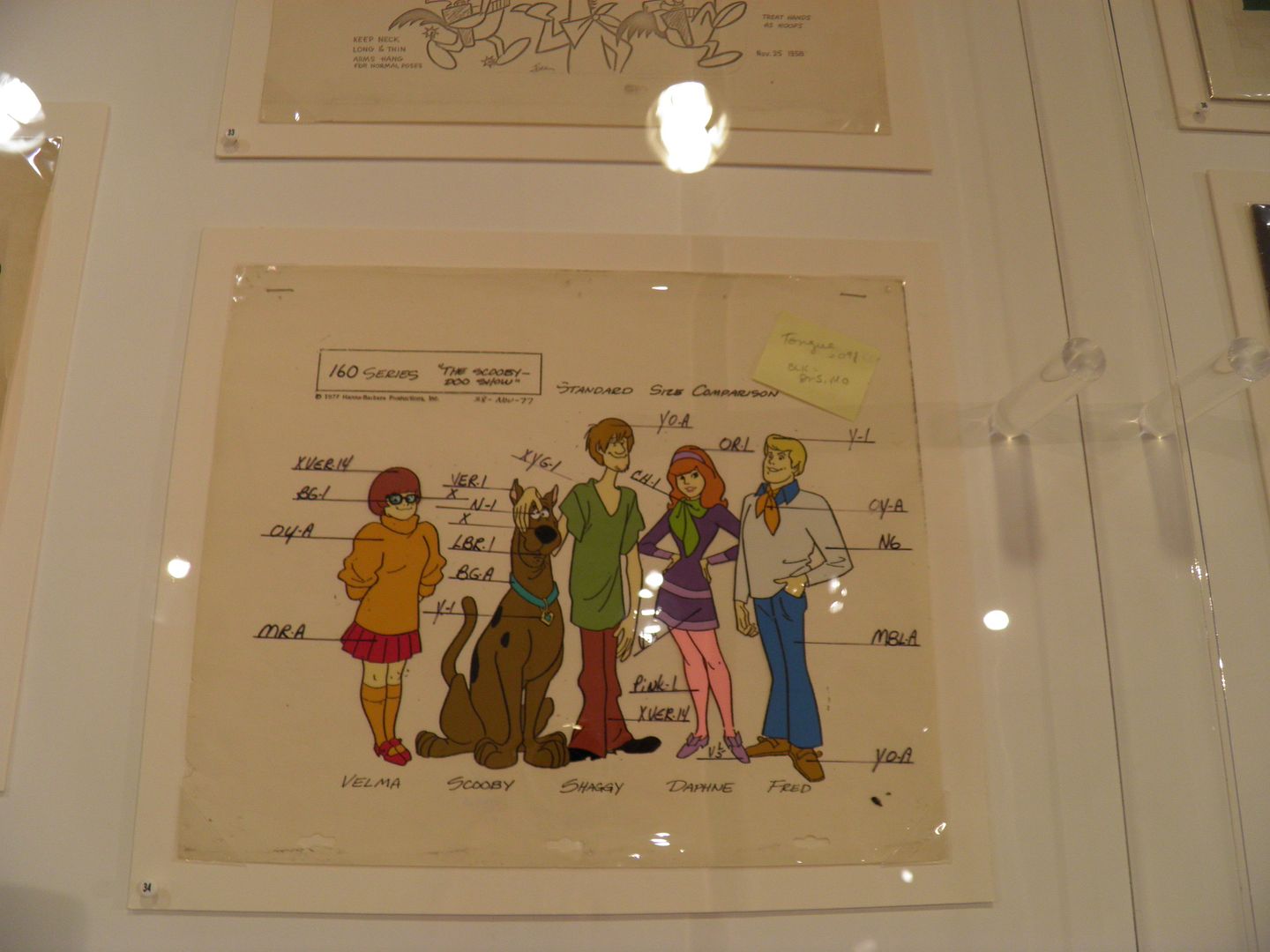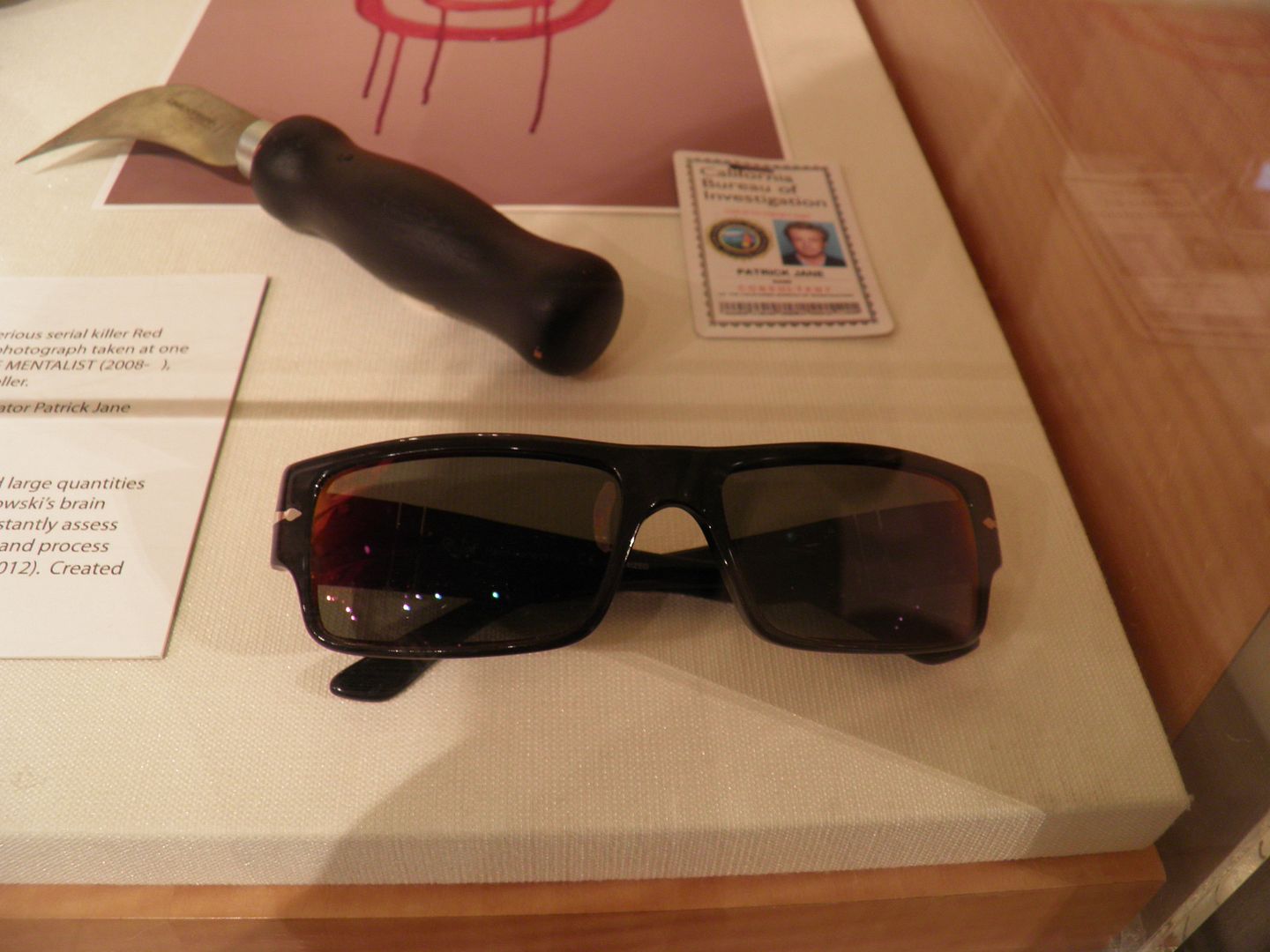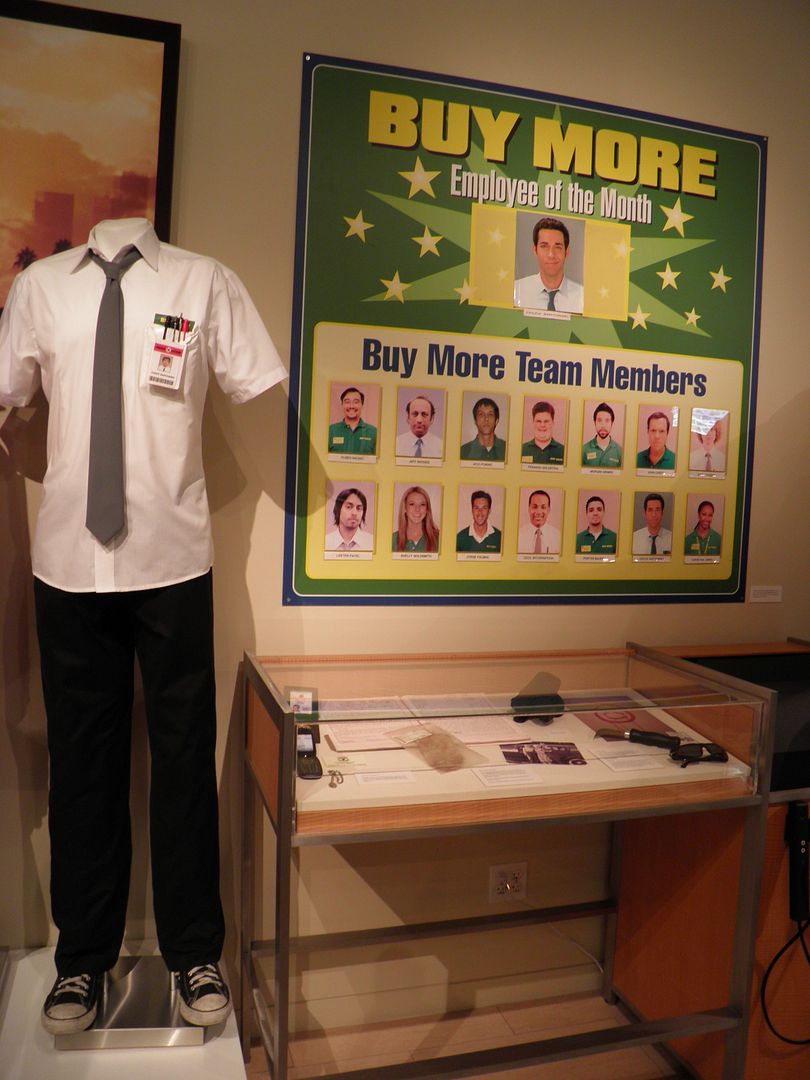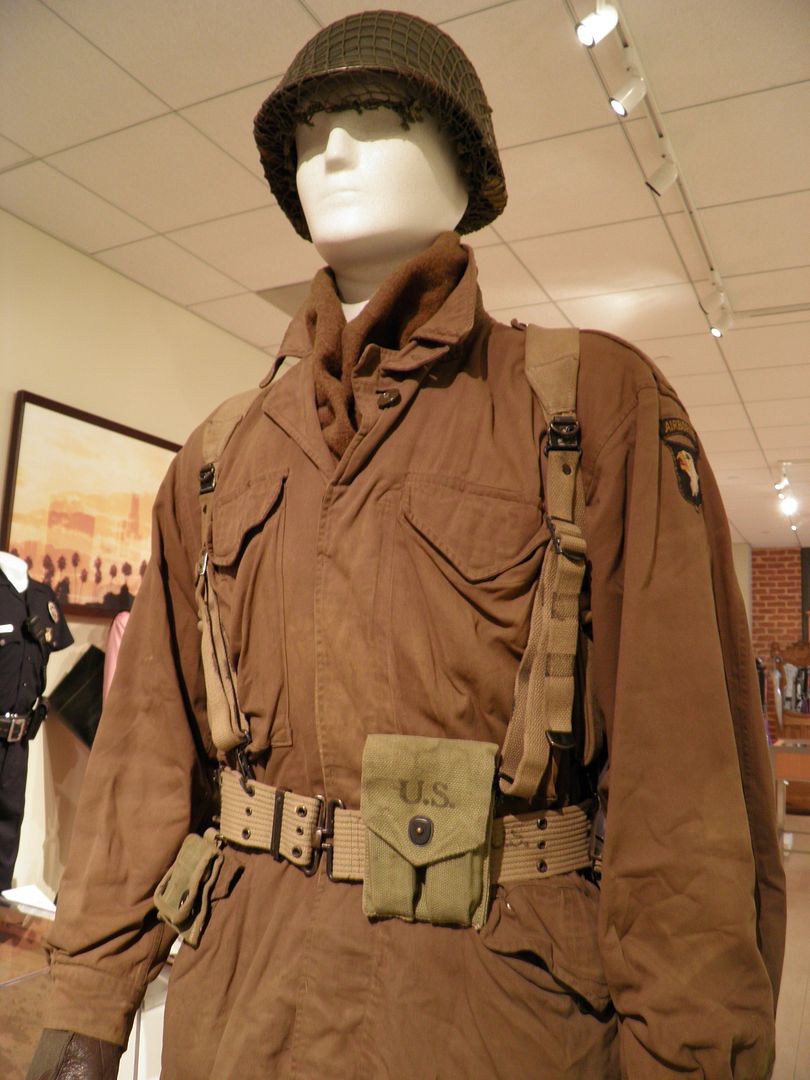 I reckon we did LA well, that day. Great taxi ride back, too, one of those lovely chaps who decided to double as tour guide and commentator. Fun.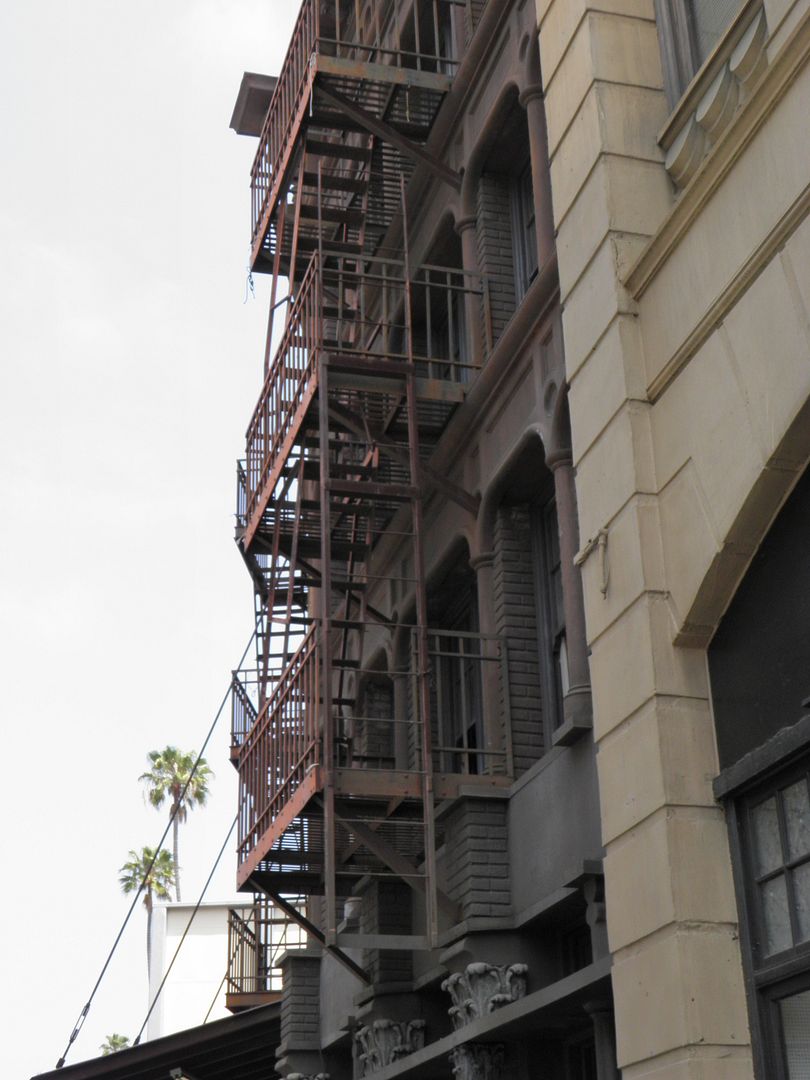 The next day, well, worst cab driver ever, and that's saying something, but I made it to Paramount Studios for my tour (shoulda been WB to stay on theme, but I'd done that once and Paramount was bumped from my trip the last time and I'd stewed over that for twelve years so off I went) and it was stupid, cheesy, but kinda fun and I learnt a few more about the tricks of the trade, set wise, and yes, more of the Glee cast (scat, scat, where's my pepper spray).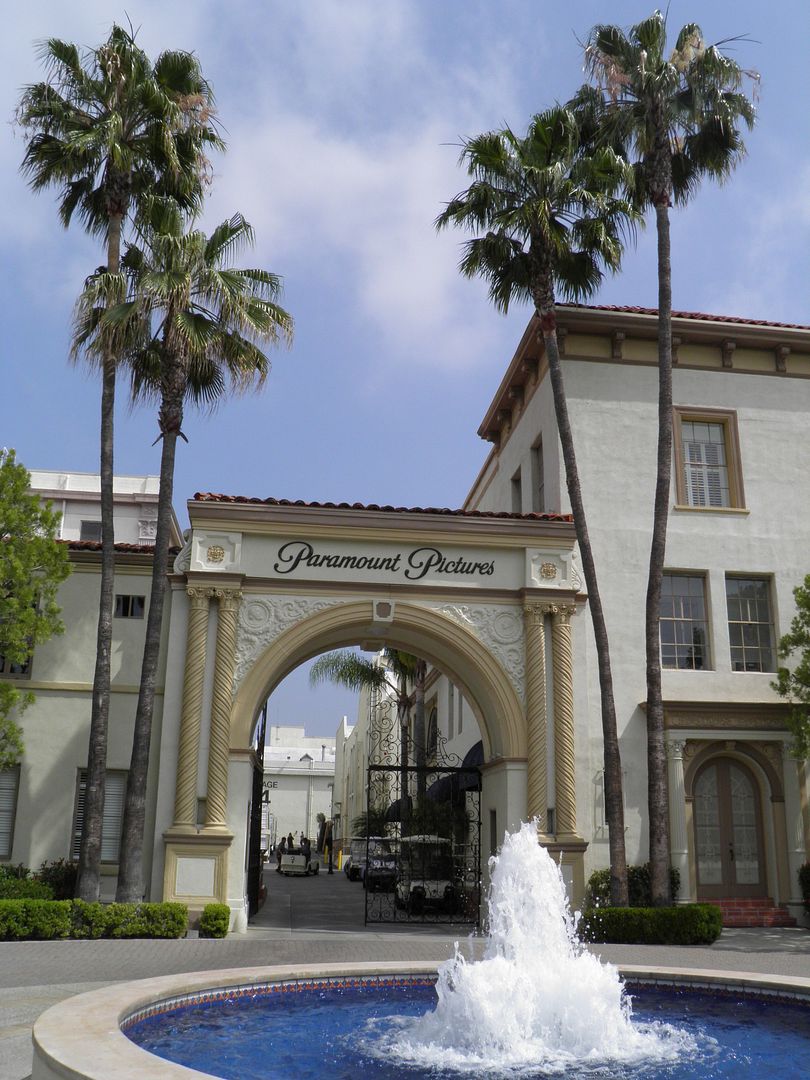 Then, consulting my map, I figured the Grove was the best luncheon option (yes, and no), window shopped, actual shopped in the Barnes and Noble, got into a discussion of Troughton vs Hartnell with over eager shop guy, and giggled over the Doctor Who magazine being wedged in with the Outs. Well, yes, but no, it's usually more discretely found in the tv section here. Sorry, it still makes me smile. But how dare they have the big wall of Brit Telly on dvd, when there's no such thing here, and we have the bloody Queen on our coins. Outrageous.

Staggered over to LACMA, bit of a hike, especially as I was starting to feel really unwell, popped in on a Walgreen or whatever it was on the way for much needed supplies (note that the bandaids I bought in New York were the business but the LA ones were rubbish. Shows, don't it). Lovely footpaths, precious few folks usin' 'em.



So, LACMA. Bargained with myself to just do three floors (really fading now, alas), so I did the baroque stuff, the classical stuff, debauched crockery at last! Naked men in marble, hoorah! The moderns, with a whole pile of German Expressionism (to keep up the ongoing theme) and a room of ignored Picassos, that were way better than the slop served up at AGNSW. Sorry, but we really do get the stuff in the basement nobody cares about. Not that I care for Picasso, but I made a point to visit every one I could on this trip, because they were better, and, being in LA, the ones they refer to on telly (and I'm thinking Rocky and Bullwinkle here, my gateway to mid 19thC art, sad but true). (Sidebar: A lot of the artworks they reference on White Collar, even obliquely, are at LACMA, not the Met).

Finished with LACMA, or it finished with me, and it was so different from the last time I'd been, cough, 12 years ago, but I could not go on. Taxi rank (hooray, they should have these here) and back to the hotel for a bit of much needed downtime. Bit of a waste, yeah, but I've learnt not to push it and make myself silly sick. And it is a nasty cold, I've still got it. Bastard.

Seattle, well, the Frye was shut (one of the reasons why I booked the Sorrento, but the hotel was so much fun it was by the by), never got to the Burke and you know the rest. No, wait, we did the Klondike Gold Rush museum which was tiny but cute and educational. Well, not as educational as it might have been, having studied The Gold Rush at school, but it was interesting to see the Alaskan perspective, with photos.

And that was it, pretty much, my trip/stumble/stagger through American and world culture. I am enlightened. Or, at least, I gave it a damn good go.

The Art Institute of Chicago
http://www.artic.edu/

Klondike Gold Rush
http://www.nps.gov/klse/index.htm

The Metropolitan Museum of Art - The Steins Collect: Matisse, Picasso, and the Parisian Avant-Garde
http://www.metmuseum.org/exhibitions/listings/2012/steins-collect/

Visit The Cloisters
http://www.metmuseum.org/visit/visit-the-cloisters

LACMA
http://www.lacma.org/art/collection/american-art

WB Exhibit
http://www.paleycenter.org/p-television-out-of-the-box

Brooklyn Museum
http://www.brooklynmuseum.org/opencollection/decorative_arts/objects/

Tenement Museum New York City
http://www.tenement.org/

Federal Hall National Memorial
http://www.nps.gov/feha/index.htm

General Grant National Memorial
http://www.nps.gov/gegr/index.htm

NewMuseum.org
http://www.newmuseum.org/about/

The J. Paul Getty Museum
http://www.getty.edu/museum/

AC/DC Family Jewels - Official Exhibition Website
http://www.acdcfamilyjewels.com/

The Skyscraper Museum
http://www.skyscraper.org/home.htm

United Nations Visitors Centre
http://visit.un.org/wcm/content/

Paramount Pictures Studio Tour
http://www.paramountstudiotour.com/

The Roosevelt Island Tramway
http://www.ny.com/transportation/ri_tramway.html

Time Exposures: Picturing a History of Isleta Pueblo in the 19th Century | National Museum of the American Indian
http://nmai.si.edu/explore/exhibitions/item/194/

American Museum of Natural History
http://www.amnh.org/exhibitions/permanent/culture/northwest.html

Museum of Sex
http://www.museumofsex.com/

Shelley's Ghost: The Afterlife of a Poet
http://www.nypl.org/events/exhibitions/shelley%E2%80%99s-ghost-afterlife-poet

St. Patrick's Cathedral
http://www.saintpatrickscathedral.org/

Trinity Wall Street
http://www.trinitywallstreet.org/

The Grove
http://www.thegrovela.com/

Ringing Finally Ended, but There's No Button to Stop Shame
http://www.nytimes.com/2012/01/13/nyregion/ringing-finally-stopped-but-concertgoers-alarm-persists.html

Scientists shatter quantum teleportation record
http://www.smh.com.au/technology/sci-tech/scientists-shatter-quantum-teleportation-record-20120516-1ypxh.html