So to the theatre. Managed three out of four of the productions I'd gone to see, which isn't bad, all things considering, and how fast and loose I was playing with my plans (walking and looking, yes, photos and writing, not so much). Stuff came up that seemed important at the time, ain't it always the way. It was stuff that sent me to New York in the first place, still fuming like an over-ripe volcano over being denied my trip to Blighty last year. When I heard that One Man, Two Guvnors was transferring to Broadway, it was on. If the UK wasn't to be, then maybe I could sneak off to America? Thus begins the most anglophile trip to New York since my ancestors were sent packing (God Save the King!).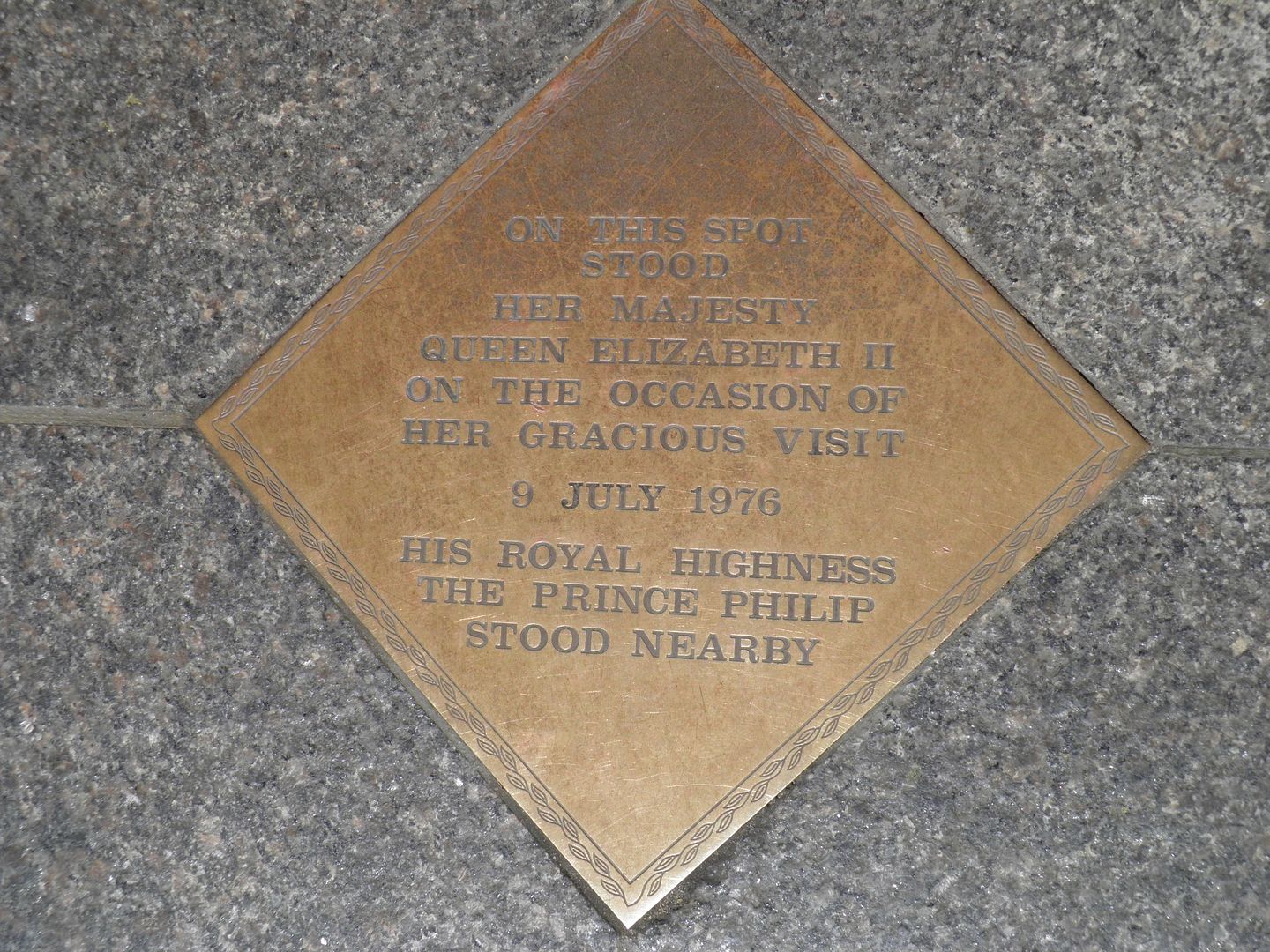 So, second night in New York proper (I'd left a buffer day, from experience and the 16 hour+ delay at LAX last time) and I'm off to the the theat-er, as they like to spell it there, up past Times Square, still a zoo, but now seething with Italian tourists, to the Music Box theatre, where the nice man hands me my ticket (always a nasty pause as I wait to see if it really is being held for collection as promised) and away I go. Sadly the audience, incredibly for this play and no other, are puckered at both ends toffy nosed snobs, and no fun at all, and seem horrified when I try to shoot out for an interval pee and wine break, and what's with the $13 for a very sad red, then? Not even the Opera House is that cheeky, yet. Still, I got to keep the dribbly sippy cup it came in (sippy cup, really, New York?) and settled down for the play. I'd seen it on NT Live but I was right, nothing beats a live performance and this play needs to be experienced live, raucus old music hall farce that it is.

I shan't review it because the plot, slender though it is, is there in the title: one man, two guvnors, hijinks ensue. The main reason to see it is the cast. James Corden, practically a household god at home, actually, not practically, is the witty, funny, prat-falling ring master of proceedings, and never was a better man suited to playing the fool. Then there's my beloved Jemima Rooper (Hex, Lost in Austen) as the cross-dressing heroine, and Daniel Rigby, who does such a brilliant 'bad actor' that he leaves all other bad actors in the very definite shade. I was crying with laughter.

Oh, it was a brilliant play to see. And I chose the right day, too. I almost forgot what day it was, until I was walking past Grand Central on 42nd when I heard a piper suddenly start up, of all things, echoing off the buildings, and I suddenly exploded in sobs all the way down the street, startling New Yorkers but nobody bothered to ask if I was okay. I snuffled on the bus and then sobbed and sobbed and sobbed curled up in the hotel bed. That's one thing I never get to do here, howl, just howl, and let it out. There was me, under the Chrysler Building at night, howling.

Was that the night I had the poppy seed bagel in bed? Never do that. It looked like a flea circus was in town by the time I'd finished. Great bagel shop, btw, Bagel Express (no, the memory isn't that good, I still have the placky bag).

That aside, the next play up was War Horse. I'd seen it in the UK and been greatly affected, but also very tired and coming down with a cold, and so I wanted to see it again, especially to de-Spielberg my experience as much as I could, and I was curious to see it on American stage. Somehow I ended up in the middle of this highschool group (I was always doing that, ending up in the middle of a group, American seating computers are either old and/or capricious) but once I explained I'd lost a brace of great uncles in the war they were very respectful and as for the production, whoa. Okay, some of the actors were going the Disney film English just a bit too much, but I think because my seat was way better, up high, but central, I could see more of what was going on and, well, sappy Black Beauty goes to war story aside, it is a magnificent piece of theatre. Those horse puppets (and the goose), effin' amazing. They really are (you wouldn't think the film loses something with real horses, but it does).

You really must see this, if you can. Yes, another war is bad, file under lions led by donkeys ouvre, but the staging, oh my. This, darlings, is theatre. Whiz bang showbiz.

Oh, while I was waiting in the foyer I met a couple, the gentleman worked at the Getty, and his wife was a flautist on the Simpsons, can you believe it? They were over from LA. She was going to comp me tickets to see a performance but it was in Pasadena. Americans, always with the free stuff. Yay.

Lastly, but by no means least, was Death of a Salesman. An American classic, on an American stage. With Philip Seymour Hoffman and Andrew Garfield. The set was grand, the skeletal outline of a house. The play, well, you know the play. Gracious knows why I was seeing that week of all weeks, as Mr Hoffman was striking far too many resonances with me (which meant he was magnificent and spot on but searingly painful and squirm in my seat to watch) and young Mr Garfield, that scene at the end, how does he do that every night, or arvo, as it was.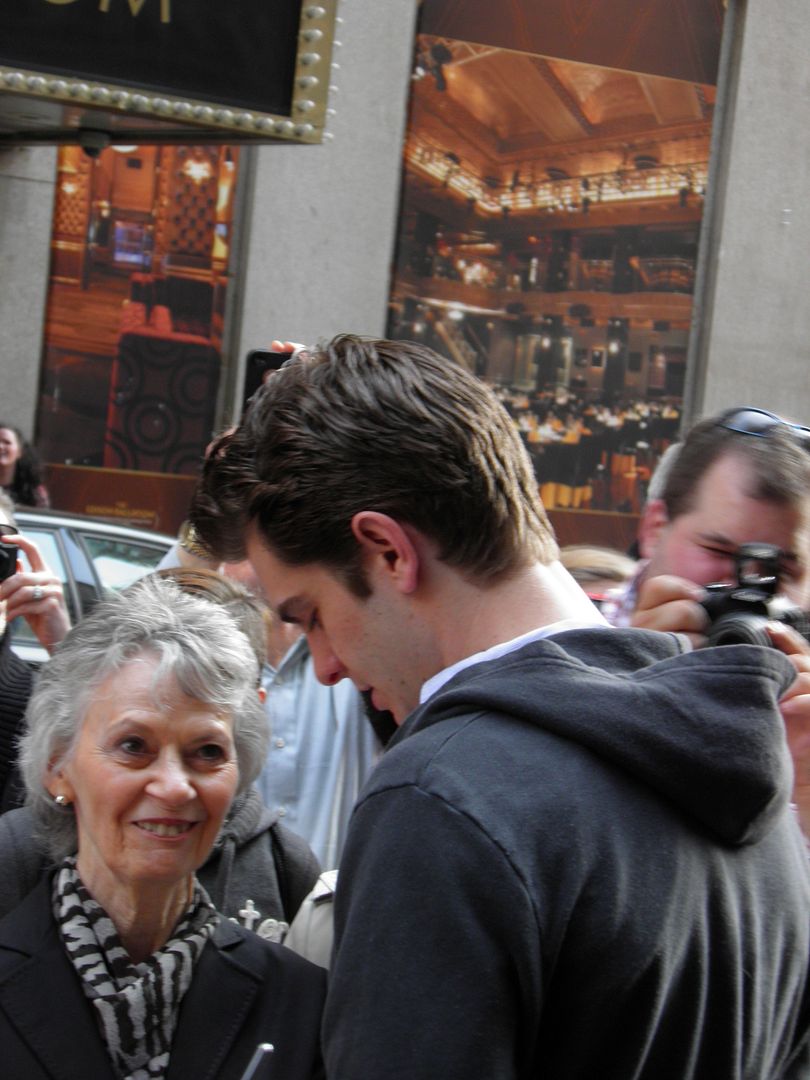 Unlike here, the matinee, at least where I was, was mainly young or youngish folk, not the blue rinse set, anyway, we all banded together in loathing for a noisy snacker. The lass beside could not believe that this woman had decided to picnic right down the front rows. 'It's Philip Fucking Seymour Hoffman, for fuck's sake', I believe was the quote, so you can see how we bonded. I regaled them with tales of the audience at the Scottish play, telling them they had it easy with just one miscreant. Anyway, we compared theatre behaviour (the others were Danish) and it was a lively interval discussion until madame nosebag came back. Chomp chomp chomp.

So that's two National Theatre productions and one Brit thesp roughing it on Broadway. Aside from theatre, there was the Oirish pub down near Wall Street (I'd been walking all day and it was time for beer and pie), and the Lewis Chessmen at The Cloisters.

I'd never made it to the Cloisters before, and now I know why. A mighty trip of three buses upwards, and four, as it turned out, as the bus driver did the usual trick of clocking off and dumping us eff knows where, this time Washington Heights, of all places, me and this other woman of a certain age clutching a tapestry bag, so I figured she was for the Cloisters too, and possibly a regular. Indeed she was. We got to talking as we waited for the next bus, and on the next bus, and she was a retired teacher from Brooklyn who'd done several spells teaching in Australia (a lot of American teachers of a certain age have, and I remember them from childhood, so glamourous, being American) and so we chatted on, right to the door. Turns out she was a member, so she comped me in. Americans and the free stuff. Lovin' it.

It was fun, too. This is where all the cool medieval stuff lives (not in Europe at all) and I wandered from room to room ooohing and aaahing and then the unicor tapestries, very much on my must see list since childhood, and finally seen. In my tiny reproductions I'd never seen that the poor unicorn is hemmed in and bleeding from dog bites. It resonates with me even more now.

And I got to see my wee Lewis Chessmen, over from the BM for a tour. I love them. I could not see the boys, knowing they were in town. It's like when I stay in London, I always pop in to say hello. I love them so much. They're so cute.

I also popped into the New York Library and found a Shelley exhibition which was brilliant, I mean, my gosh, pages from Frankenstein with all the scribbles and crossings out on it. Oh my. Small but stunning.

So, anglophile enough for you?

One Man, Two Guvnors - Official Broadway Site
http://www.onemantwoguvnorsbroadway.com/

Death of a Salesman
http://deathofasalesmanbroadway.com/

The Lewis Chessmen
http://www.britishmuseum.org/explore/highlights/highlight_objects/pe_mla/t/the_lewis_chessmen.aspx

Shelley's Ghost: The Afterlife of a Poet
http://www.nypl.org/events/exhibitions/shelley%E2%80%99s-ghost-afterlife-poet

A TV watcher's guide to Twitter
http://www.theage.com.au/entertainment/tv-and-radio/a-tv-watchers-guide-to-twitter-20120504-1y3an.html

Ruffians, Pickpockets, and Jewel Fences
http://www.slate.com/articles/arts/culturebox/2012/05/sherlock_holmes_what_was_crime_fighting_actually_like_in_the_london_of_his_day_.html?wpisrc=newsletter_slatest

Edvard Munch's 'Scream' sets auction record
http://www.independent.co.uk/arts-entertainment/art/news/edvard-munchs-scream-sets-auction-record-7710799.html

Duran Duran to headline Olympics opening gig
http://www.telegraph.co.uk/culture/music/music-news/9237846/Duran-Duran-to-headline-Olympics-opening-gig.html