Apologies for the in absentia. I've been busy/lazy/fighting aliens warlords in another dimension (delete as applicable).

Anyhoo, what have I been up to. Well, I'm so glad you asked. Are you sitting comfortably? Good, then we'll begin.

I think I told you about the sheep. Love those sheep. Rest of the week was pretty, well, you know, whatever. I even spent xmas eve trying to do the washing before it rained on me. No, not rained, poured. So that was half the wash bunged in the dryer and the rest decking the halls/dripping in the halls. Very merry.

Never fear. The big hamper from Fortnum and Mason arrived by magic, and double magic, I found out later, as I was one of the chosen few to get their hampers for xmas. The hamper gods did smile.

There was nothing to do but to open it up and start in on the tea and biscuits. Naughty, yes, but we figured we'd be too full of turkey to fully appreciate the epicurian delights of the hamper on Sunday.

It did turn to sunny that afternoon, and we had lobster for tea, which I managed to slice up and serve without mangling either myself or the lobster, which was frankly amazing given my baseline for competency these days (I make Frank Spencer look like Neal Caffrey).

No, no, we didn't brave the fish markets. Are you crazy? It was just that I saw the local supermarket had lobsters for sale and I could not believe it, given that fish fingers was as fancy as it ever got when I was growing up (like, last year). So we just had to, just for the sake of it, really. Indeedy, the wee bastard was so encased in permafrost he took a whole day to thaw out. I even had to hurry the wee fellow along by settling him in a bowl bobbing on a pot of warm water as the dinner hour approached and yes, it was a touch on the 'I've been encased in permafrost since the Cretaceous' in the consistency, but it was in no way nowhere near as rubbery as that wretched lobster I had in Doyles for a very disappointing birthday long since passed that took forever to arrive and when it finally did it was so rubbery I could have bounced it around the plate humming Sweet Georgia Brown.

It was quite fine and fun and only not as good as that fresh lobster I bought home that one time from the Chinese fish shop behind my office (both long since gone). We cracked open a bottle of bubbly that I'd won a year or so ago and that was lovely too. So fie on everyone who snubbed me. We had lobster and champagne. So there.

There was also a pudding (in our usual panic we'd doubled up on Glenfiddich puddings again, oh dear, such a hardship) and the F&M coffee to finish as we watched Going Postal, which for some reason has become the traditional xmas programme.

Xmas day I actually spent doing the washing, but I wasn't expecting the Spanish Inquistion (heh) and besides, it was the first sunny day in a month of wet weekends and you've probably already seen the pic of all the socks drying on the line that I posted:




It wasn't all grim, though. Being international diet amnesty day, the usual chaff museli and yoghurt was pushed aside for coco pops (yes, I am still five) and we got out my prettiest red and green cups to have another nice morning tea (thank you, F&M). Then it was lying around watching Downton S2 (available across the ditch on dvd), swilling more tea, and then the heavy industry of the turkey dinner.

Which was magnificent. A triumph, as always. More bubbly, best plates, crackers, silly hats, worse jokes, the works.

Didn't get the Doctor Who special until Boxing Day, but fair enough, as they're eleven hours behind us or some such nonsense, and it was fun. Not quite as much fun as last year's, which I'd been watching all Xmas day, and loving it anew, but still fun. I do love Matt Smith. He seems to be the incarnation of my favourite Doctors (oh yes, I'm that old, I heart Jamie, still) so I kind of love what he does with the role.

Took a few more days to catch up on Downton and the special, making our way through the hamper. No hunting scenes, but we cracked open the hunting biscuits every time there was a shoot and I had no idea my tv viewing was so blood sports heavy (Downton, Poroit, Merlin, just off the top of my head) because we're two thirds through the tin. They are very nice biscuits.

New Years was me, a sparkler, another bottle of bubbly (one I'd bought this time, so not the best) and the fireworks on telly.

Also been watching classic 1940s dvds of The Saint with George Sanders, which I got for Xmas, and they are jolly fun, and, when the sun finally peeped out, I dragged out the drought breaking sunbed (unfold it and it rains) and sprawled back with a couple of very lacklustre Sutcliff's (but beggars can't be choosers, I guess, and I'm back onto Cadfael now, anyway). Oh, and there was no signal down the back of the garden. absolutely none. I did try, just so as you know.

Oh, I forgot to mention the Captain. He's still not forgiven me for trying to take his photo, because I know you don't believe me when I say I have to feed a large, grumpy, one eyed parrot, but I do, but he'd been seriously blanking me all month, but on xmas day he bellowed "HELLOOOO!" through the open door and was all sweetness and light and I was thinking so, a grumpy parrot can learn the true spirit of xmas, just like on tv. But no. By boxing day he was back to his usual snappy self and now I know what I've always suspected, that come boxing day old Ebenezer was back kicking orphans, too. Harumph.

What else? Also finally saw Christopher and His Kind (oh, so that's what a Douglas Booth looks like, eh?) and a couple of other things lurking on the 'to watch' pile but I can't remember what, so behold the impression they made. Christopher at least fitted in with a year's worth of Mad Square (NSFW) stuff, so that pleased me, because I like having themes.

Sticking to themes, with all the Downtown and Poirot that was being watched (but missed the Fassy one, dammit) we struck out on a couple of day trips, one to Vaucluse and one to Katoomba.

Vaucluse is where the posh people live, now and then, and I can't believe we've not been to the house before, but there you. Especially when there's a bus stop right in front.

So, we set off early, so to avoid the ladies who lunch and the prams, and arrived very early indeed so we walked along the beach, with the boats bobbing off the shore, birds, and sand between my toes (I was wearing sandals, on a rare day of summer). Just magic.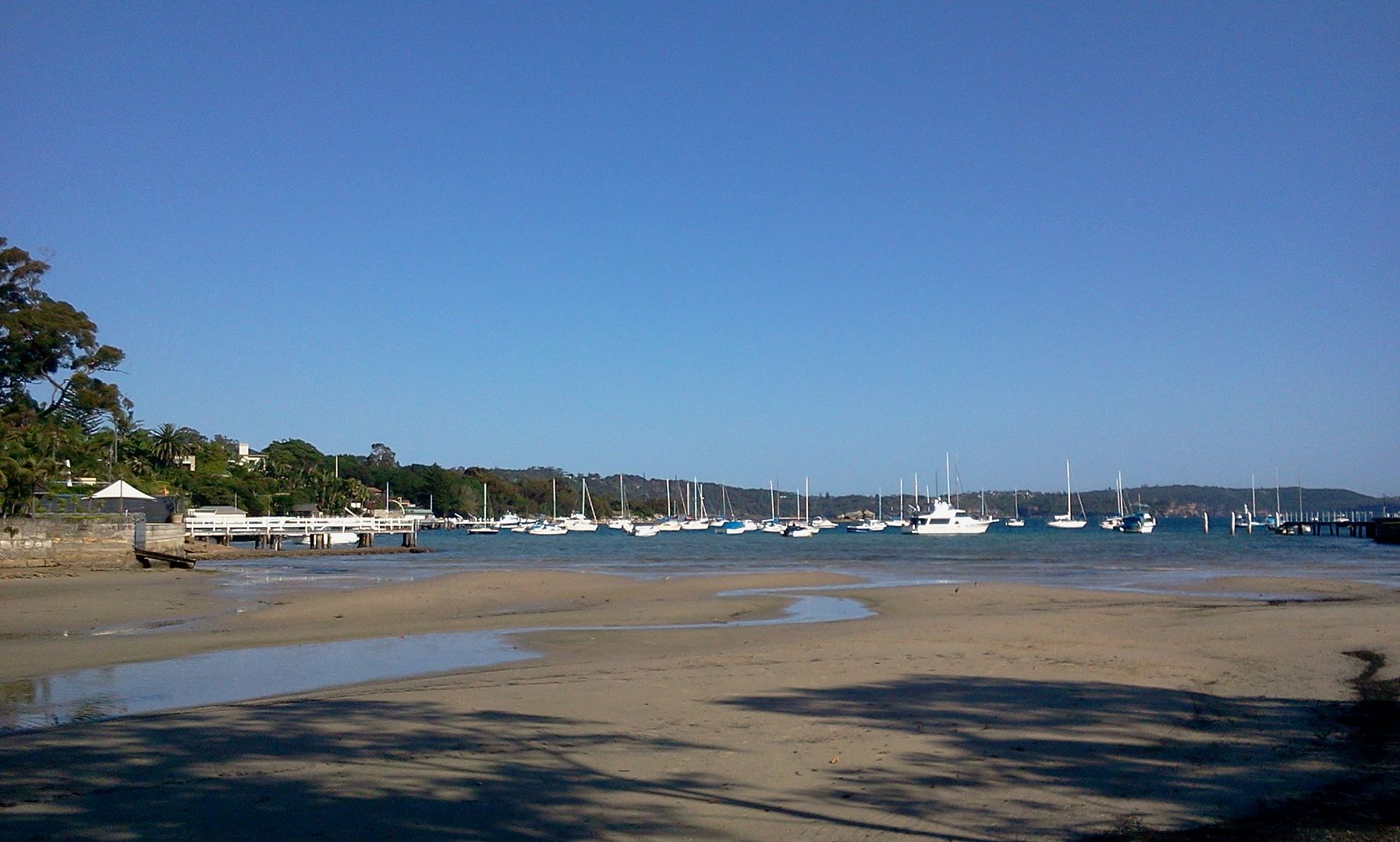 Better yet, we had a tour around the house all to ourselves, which was brilliant, because we were allowed to pick up and play with stuff and step behind the velvet ropes to examine the artworks up close (Himself in professional capacity) and, well, that was fun. Super, super fun. It's an odd little house. Really odd, with no main entrance and actual doors to nowhere (they open onto unfinished stone walls). Perfect sort of vaguely creepy Doctor Who house. So I loved it to bits. Better yet, all the family were quite notorious, and there's a series there, certainly.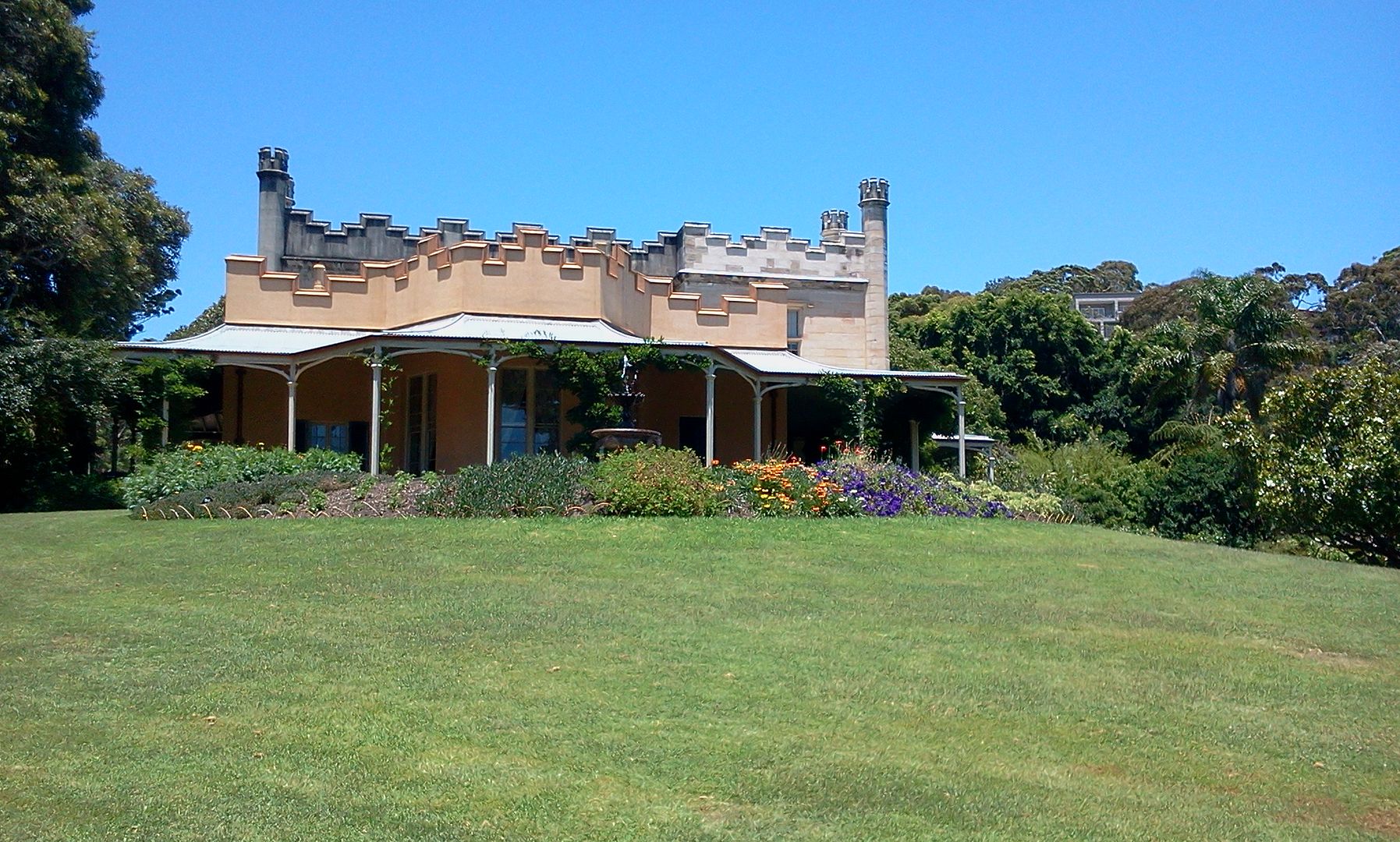 Having tramped around the house and surrounds we retired to the teahouse which says 1920s but betrays it's 1910 origins, for it is such an Edwardian tea room. Just perfect. perfect also was the toast with avacodo, lemon and sea salt and the Darjeeling tea. Less perfect was the service but it's Sydney so you know, shrug.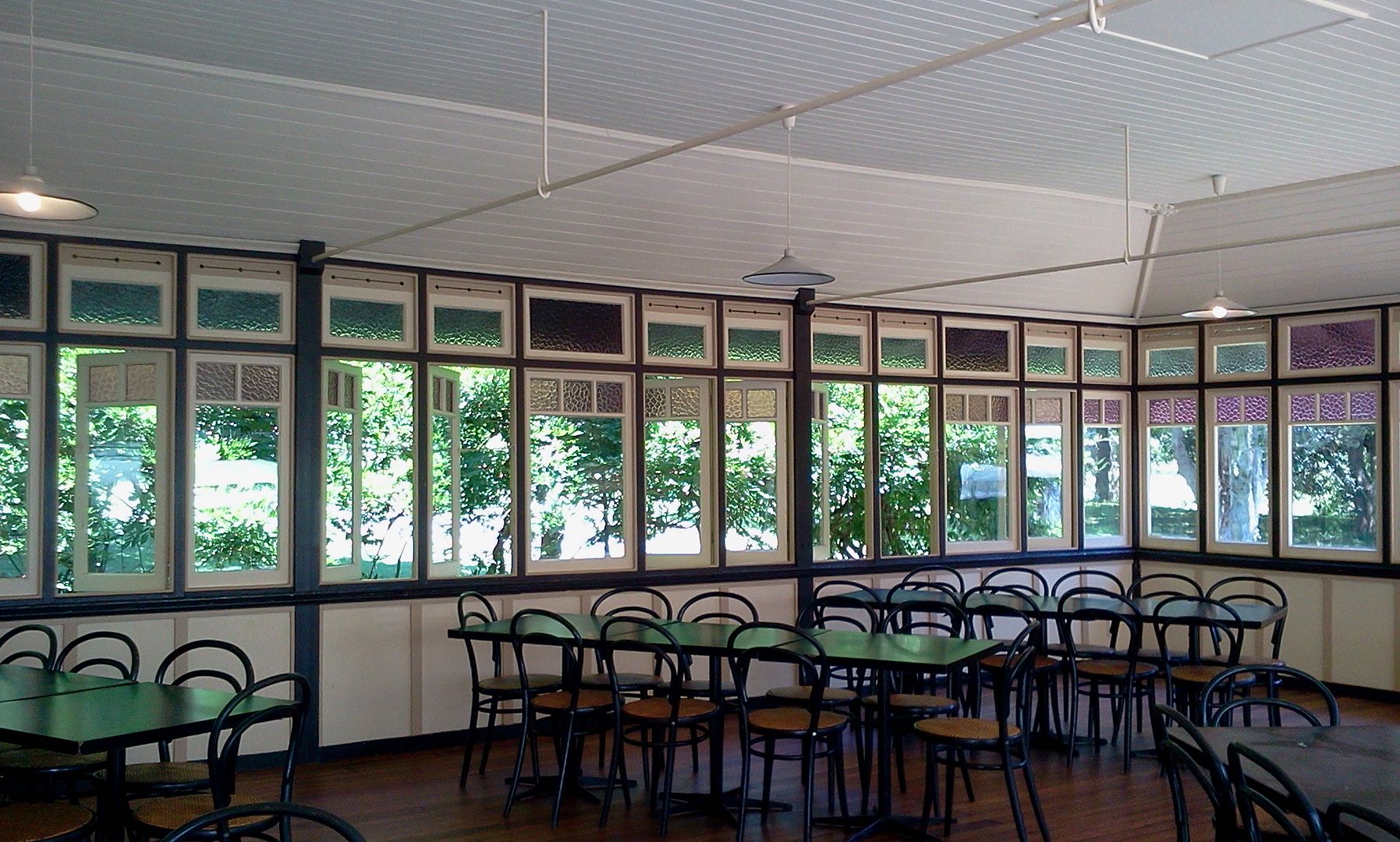 A grand day out.

Headed the other direction to Katoomba, basically just to wallow in the interior of the Paragon, which I adore (the only other tea room which could possibly rival my affection is the one in the V&A). The menu has gone a bit upmarket, but not so upmarket that my brunch didn't sit like a stone all day, but no matter, it saved me from sugary temptations, except the ginger beer spider I wallowed in when we slumped back into the same booth on the way back to the station.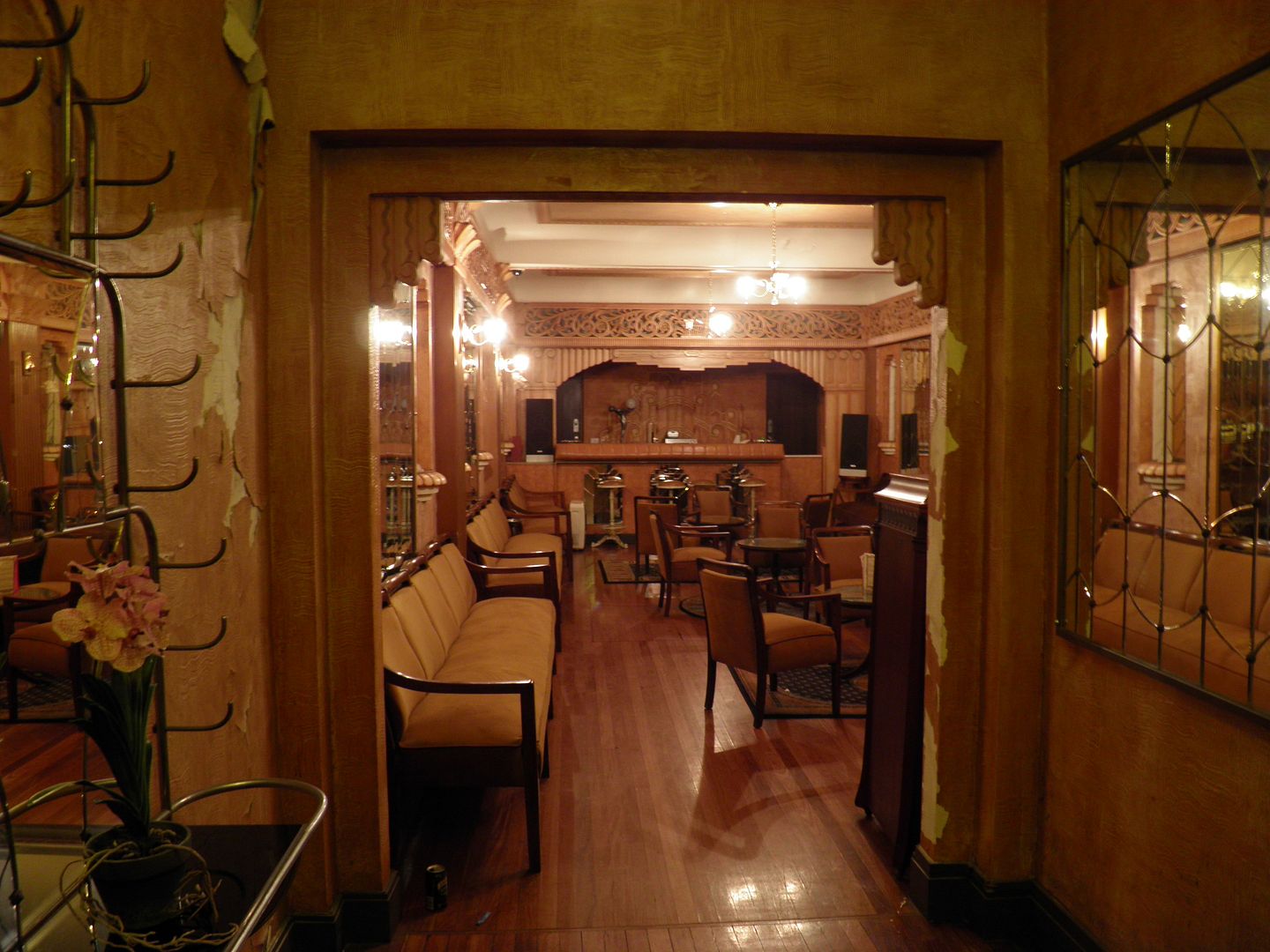 We'd walked up and down just the main drag but I managed to exhaust myself winding in and out of all the antique shops and book shops. Himself picked up a vintage never been worn YSL trench coat for $20 (and glowers at me whenever I mention George Smiley) but alas, nothing for me (but I had the $80 mink stole last time and they're going for quite a bit more than that now). I also picked up a couple of old records from the cheapie bin (Astaire, Sinatra, Fitzgerald) and some more crumbling Saint books for the collection.

Oh, I saw some treasures, but it was more of question of how are you going to get that home before it ever came to and where are you going to put it, so that was kind of frustrating but there you go. Better it goes to a far hipper home than mine (though if I had my druthers...).

Himself did find some glorious camp and hideous old cookbooks, of the Gallery of Regrettable Food persuasion, and one unfortunate title that had us doubled over and wheezing, because I, at least, am indeed five: A Wizz in the Kitchen.

Okay, so you had to be there.

Birthday was kinda quiet and mainly involved watching quite a bit of The Avengers, which I adore. I did take myself out to see Celebrity Autobiography, which was fun, very funny and more than a bit naughty, with young Daniel MacPherson and Jeremy Simms, so it was kind of like Wild Boys on stage, though WB never gave us that wonderful scene where, with JS reading Richard Burton and DM reading Eddie Fisher, declared that he was going to take him upstairs and fuck him. Squeals from the audience. Oh my. Now there's a whole extra textual level of meaning to be had when watching the show - grin.

To be honest, I was quite happy just to have seats up the front to ogle young Dan, smirking all the way through as he was (and very funny he was, too). He's off in LA doing the pilot season thing again now (sigh) and any US show would be lucky to have him (again, he could blow away any American competition, easily, despite a very dodgy stint on The Bill).

It was a fun night out, and, not bothering with the festival as it's for wankers hipsters, I was home in time for tea and Hogfather on telly, oddly not being played at xmas, but whatevs.

And that's pretty much it: tea, biscuits, Emma Peel, Tara King, John Steed, Doctor Who, Downton Abbey. Anglophile? Moi?

Btw, that AbFab comment about once reaching a certain class you never eat anything but orange peel? Not wrong. Orange peel in everything in the F&M hamper, even the tea. At least I wasn't going to suffer from scurvy during the great pig out. Heh.

So, to sum up: Did not finish any fics, let alone all of them, for shame. Spent the whole time sulking in meh weather, eating mince pies and watching Downton, for shame. Saw so many things set in WWI I feared I was going to end up suffering trenchfoot (says she of the multitude of dead great uncles so I'm allowed to joke). Enjoyed my Avengers dvds rather too well. Ditto the Saint. If only my poor brain could at least bounce off the silly ideas like it used to, but alas, no. Was completely shunned by family but ended up having a very lovely time anyway, which speaks worlds about how much they drag me down, I guess. Show me a mince tart and I'm happy. I'm a girl of very simple needs.

TV has been fun. The Glades makes no sense, but I like Matt, I like Boardwalk and Doctor Who repeats and Merlin (especially when they hit a book or picture I know well). And Sherlock, oh, how much do I love that? We've watched Hounds twice now. I could hug it and pet it and call it George, so I could. It was perfect and silly, with all sorts of things that reminded me of classic old Pertwee or early Tom Baker Who, or, indeed, The Avengers (in fact several things smacked very much of the Avengers). It ticked all my buttons, it really did, it was just like watching all those shows I grew up with. Snuggle, cuddle.

The dogging bit was silly, but I laughed (I can't watched signals in anything now without going to the UMQRA place), the domestic always painful to watch (Sherlock!), the surfeit of Little Johns (actors who've played) was bemusing and they missed a trick never making Russell a Doctor Who companion. That high pitched squeal, he's a natural. And can I adopt Inspector Greg? Pretty please?

Finished up the last of the Glenfiddich cake (sigh) while watching Hogfather, which the ABC declined to show at the end of December, but the logic of local tv scheduling is not for the likes of mere mortals to ken, so, shrug. It was a good excuse it get out the cake and polish off (and sniff the tin ala Sherlock, which always makes me laugh as I was much the same with the sudden removal of a 40 a day passive smoking habit, oh my word, yes).

So it's still raining, didn't go out as planned to that thing I really wanted to see, which I hear was washed out anyway, and, feeling unwell, I just curled up and read Cadfael instead. Tsk. I'll never get anything done at this rate. Must be getting old, but I'm going to blame it on the weather.



Charles Addams: life and characters
http://www.telegraph.co.uk/culture/culturepicturegalleries/8995570/Charles-Addams-life-and-characters.html

Charles Addams: Master of black humour
http://www.telegraph.co.uk/culture/8997927/Charles-Addams-Master-of-black-humour.html

Roman cavalry helmet found in Iron Age shrine may prove Britons fought with legions
http://www.telegraph.co.uk/earth/environment/archaeology/9004942/Roman-cavalry-helmet-found-in-Iron-Age-shrine-may-prove-Britons-fought-with-legions.html

Somehow, the best comic book movie of the year was about Marvel's squarest hero.
http://www.slate.com/articles/arts/the_movie_club/features/2012/movie_club_2011/best_movies_2011_captain_america_and_hanna_were_both_pleasant_surprises_.html?wpisrc=newsletter_slatest

Neil Gaiman with Shadow Puppets, NYE 2011 Trashquerade
http://youtu.be/PcmRB8woBEY

Timothy Olyphant is Justified
http://www.calgaryherald.com/entertainment/Timothy+Olyphant+Justified/5882931/story.html

Harrison Ford Watches Indiana Jones for the First Time
http://kotaku.com/5873603/

Cool! La Nina delivers respite from the heat
http://www.theage.com.au/environment/weather/cool-la-nina-delivers-respite-from-the-heat-20120104-1pkny.html

Temps to soar in Sydney today
http://www.dailytelegraph.com.au/news/no-need-to-fly-as-summer-lands-in-sydney/story-e6freuy9-1226236067745

Clare Grogan to present STV's Scotlands Greatest Album
http://entertainment.stv.tv/tv/268153-claire-grogan-to-present-stvs-scotlands-greatest-album/

You are Anna Smith, head housemaid of Downton
http://www.weta.org/tv/picks/downtonabbey/quiz/anna

'Sherlock' Steven Moffat interview: 'Holmes might not survive'
http://www.digitalspy.co.uk/tv/s129/sherlock/interviews/a359357/sherlock-steven-moffat-interview-holmes-might-not-survive.html

The Guardian Dickens walk four: Heart of the City
http://www.guardian.co.uk/books/interactive/2012/jan/02/dickens-walk-heart-of-the-city?CMP=EMCNEWEML1355
http://www.guardian.co.uk/books/audio/2012/jan/02/dickens-audio-tour-heart-city

Star Wars sword-fight master Bob Anderson dies at 89
http://www.guardian.co.uk/film/2012/jan/02/star-wars-swordsman-bob-anderson-dies

Ronald Searle, St Trinian's creator, dies aged 91
http://www.guardian.co.uk/books/2012/jan/03/ronald-searle-st-trinians-creator-dies

Dalziel and Pascoe creator dies
http://www.scotsman.com/lifestyle/tv-and-radio/dalziel_and_pascoe_creator_dies_1_2056045

Charlie Brooker: A guide to the buzzwords of 2011
http://www.guardian.co.uk/lifeandstyle/2011/dec/28/charlie-brooker-guide-2011-buzzwords?CMP=EMCNEWEML1355

The Ten Most Annoying Management Terms Of 2011
http://www.linkedin.com/news?actionBar=&articleID=1014955404&ids=ejcSc30Pej4MciMMczcQdzcVcj0Nb3gMd3kRejgNc34IejAPdP0Pd34MciMUcjwVd38Qcj0N&aag=true&freq=weekly&trk=eml-tod2-b-ttl-2&ut=0SzyV1j4uNgl41

Chip shops: oh my cod, the plaices I've seen
http://www.guardian.co.uk/lifeandstyle/shortcuts/2012/jan/15/chip-shop-names-my-cod?CMP=EMCNEWEML1355

Codebreaker Alan Turing gets stamp of approval
http://www.guardian.co.uk/artanddesign/2012/jan/02/codebreaker-alan-turing-stamp-approval?CMP=EMCNEWEML1355

How the FBI built case against hedge-fund insider trading
http://seattletimes.nwsource.com/html/businesstechnology/2017171225_fbihedgeinsiders08.html

Woman sues dead man after being struck by his body parts
http://www.couriermail.com.au/news/world/woman-sues-dead-man-after-she-was-struck-by-his-body-parts/story-e6freoox-1226233218273

Rapist gets 32 years for framing victim
http://www.smh.com.au/world/rapist-gets-32-years-for-framing-victim-20120105-1pmxe.html

Dutch use F-16s to pursue criminal suspect
http://www.sfgate.com/cgi-bin/article.cgi?f=/n/a/2012/01/13/international/i061639S98.DTL

Emily Brontë portrait goes under the hammer
http://www.guardian.co.uk/artanddesign/2012/jan/11/emily-bronte-portrait-under-hammer

Polish art student hangs own painting in museum
http://www.sfgate.com/cgi-bin/article.cgi?f=/n/a/2012/01/04/international/i055713S15.DTL

Picasso stolen from Greek gallery
http://www.abc.net.au/news/2012-01-10/picasso-stolen-from-greek-gallery/3765010?WT.mc_id=newsmail

Naked man goes viral after French flub
http://www.watoday.com.au/technology/technology-news/naked-man-goes-viral-after-french-flub-20120106-1pnff.html

When adults go bananas
http://www.smh.com.au/entertainment/tv-and-radio/when-adults-go-bananas-20120103-1pjdf.html

A Farewell to Cheetah, the Original or Otherwise
http://www.nytimes.com/2012/01/01/us/sanctuary-claims-recently-deceased-chimp-was-in-tarzan.html?_r=1&nl=todaysheadlines&emc=tha23

Tour of 'most hated place in Britain' a surprise hit
http://www.theage.com.au/travel/travel-news/tour-of-most-hated-place-in-britain-a-surprise-hit-20111230-1pexb.html

Too Hipster For TV?
http://www.huffingtonpost.com/evan-shapiro/too-hipster-for-tv_b_1183051.html?ref=daily-brief?utm_source=DailyBrief&utm_campaign=010412&utm_medium=email&utm_content=BlogEntry&utm_term=Daily%20Brief

Alan Ball - Vampires, Death and the Mundane
http://play.sydneyoperahouse.com/index.php/media/1476-alan-ball-vampires-death-the-mundane.html

Downton Abbey servants seen and heard too much says expert
http://www.walesonline.co.uk/showbiz-and-lifestyle/television-in-wales/2011/12/28/downton-abbey-servants-seen-and-heard-too-much-says-expert-91466-30022601/

Justified Returns for a Third Season With Guns Blazing
http://www.huffingtonpost.com/morgan-glennon/justified-returns-for-a-t_b_1202369.html?ref=entertainment&ir=Entertainment

Scenes From a Career
http://www.nytimes.com/slideshow/2012/01/08/arts/television/20120108-OLYPHANT.html?ref=television

Overheard at 2012 Winter TV Press Tour (Jared Padalecki)
http://www.chicagotribune.com/entertainment/zap-overheard-at-press-tour-jan-2012-pictures,0,3218412.photogallery

'Supernatural': Jared Padalecki, EPs preview rest of the season
http://insidetv.ew.com/2012/01/13/supernatural-jared-padalecki-preview/

'Supernatural' exec: 'Castiel has changed'
http://www.digitalspy.co.uk/ustv/s6/supernatural/news/a360349/supernatural-exec-castiel-has-changed.html

'Supernatural': The CW show finds its future in the past
http://herocomplex.latimes.com/2012/01/13/supernatural-the-cw-show-finds-its-future-in-the-past/#/0

Cosmic escape artist dazzles with a dash past the sun
http://www.smh.com.au/technology/sci-tech/cosmic-escape-artist-dazzles-with-a-dash-past-the-sun-20111227-1pbiv.html

Joss Whedon promises that 'The Avengers' won't be 'obnoxiously 3D'
http://www.nme.com/filmandtv/news/joss-whedon-promises-that-the-avengers-wont-be-obnoxiously/256380

Scott Caan: On the crest of a crime wave
http://www.independent.co.uk/news/people/profiles/scott-caan-on-the-crest-of-a-crime-wave-6281844.html

My Secret Life: Robert Vaughn, actor, 79
http://www.independent.co.uk/news/people/profiles/my-secret-life-robert-vaughn-actor-79-6280105.html

Still magnificent 52 years on: Robert Vaughn dons his stetson for return to big screen
http://www.dailymail.co.uk/tvshowbiz/article-2081514/Robert-Vaughn-dons-stetson-return-big-screen.html

Why Broadband Is a Basic Human Right: ITU Secretary Hamadoun Tour
http://www.forbes.com/sites/techonomy/2011/11/14/why-broadband-is-a-basic-human-right-itu-secretary-hamadoun-tour/

'Chuck': The Christmas that almost wasn't, but then was awesome
http://www.chicagotribune.com/entertainment/zap-chuck-the-christmas-that-almost-wasnt-but-then-20111223,0,3136062.story

Tim DeKay
http://twitter.com/#!/TimDeKay/status/150048004303372288/photo/1

Chuck 5x08 "Chuck Versus the Baby" Promo (1)
http://youtu.be/LsEZHhTHrAw

White Collar Cast reading How the Grinch Stole Christmas
http://youtu.be/7-InLHaoNBU

NBC's Chuck vs. the Santa Suit previews, Dec. 23
http://www.monstersandcritics.com/smallscreen/news/article_1681673.php/NBC-s-Chuck-vs-the-Santa-Suit-previews-Dec-23

Matt Bomer at the "Haywire" Premiere
http://youtu.be/jA__KvX_5TE

Tim Dekay, Matt Bommer at People's Choice Awards
http://youtu.be/FmMy0HsBNRo

Hot in Cleveland Guest Stars Tim DeKay and Doug Savant
http://youtu.be/mY5t5HhIEmg

White Collar New Episodes
http://youtu.be/mkp_49dwQXQ
http://youtu.be/VasKhyX44D0
http://youtu.be/zPAY_ccJ4VA
http://youtu.be/IrEE39j4T5M

'Magic Mike': Matt Bomer on 'feeling kind of naked all the time' -- EXCLUSIVE PHOTOS
http://insidemovies.ew.com/2012/01/12/matt-bomer-magic-mike-photos/

Matt Bomer and Joe Manganiello pose pretty for Haywire premiere
http://www.accidentalsexiness.com/2012/01/06/matt-bomer-joe-manganiello-pose-pretty-haywire-premiere/

Channing Tatum: 'Haywire' Premiere with Jenna Dewan!
http://justjared.buzznet.com/2012/01/06/channing-tatum-haywire-premiere-with-jenna-dewan/

TV's 100 Sexiest Men of 2011 (#1 Matt Bomer, White Collar)
http://www.buddytv.com/slideshows/white-collar/tvs-100-sexiest-men-of-2011-29104.aspx?fmTw=1

New images from Magic Mike
http://www.totalfilm.com/news/new-images-from-magic-mike

Matt Bomer & Channing Tatum: Shirtless 'Magic Mike' Stills!
http://justjared.buzznet.com/2012/01/12/matt-bomer-channing-tatum-shirtles-magic-mike-stills/

Matt Bomer & Tim DeKay - People's Choice Awards 2012
http://justjared.buzznet.com/2012/01/11/matt-bomer-tim-dekay-peoples-choice-awards-2012/

Jessica Simpson & Katharine McPhee: Winter TCA Party!
http://justjared.buzznet.com/2012/01/08/jessica-simpson-katharine-mcphee-winter-tca-party/

Channing Tatum, Matt Bomer & Joe Manganiello Looking All Kinds Of Handsome At Haywire Premiere [PHOTOS]
http://socialitelife.com/channing-tatum-matt-bomer-joe-manganiello-looking-all-kinds-of-handsome-at-haywire-premiere-photos-01-2012

Because Theyre Hot: Channing Tatum, Matthew Bomer & Joe Manganiello Go Haywire In LA (PHOTOS)
http://www.celebuzz.com/2012-01-06/because-theyre-hot-channing-tatum-matthew-bomer-joe-manganiello-go-haywire-in-la-photos/

A far cry from The Full Monty! Channing Tatum and Matt Bomer are the full package in new male stripper movie Magic Mike
http://www.dailymail.co.uk/tvshowbiz/article-2086549/Channing-Tatum-Matt-Bomer-package-new-male-stripper-movie-Magic-Mike.html

Kristen Bell: Watch 'House of Lies' Full First Episode!
http://justjared.buzznet.com/2012/01/05/kristen-bell-watch-house-lies-full-first-episode/

Matt Bomer & Tim DeKay talk 'White Collar' cliffhangers & Yankee Stadium filming
http://www.examiner.com/tv-insider-in-los-angeles/matt-bomer-tim-dekay-talk-white-collar-cliffhangers-yankee-stadium-filming

'White Collar' season 3 return sneak peek: Is Neal close to freedom?
http://www.examiner.com/tv-in-phoenix/white-collar-season-3-return-sneak-peek-is-neal-close-to-freedom

Matt Bomer and Tim DeKay Talk WHITE COLLAR Season 3.5; Plus Bomer Talks About Playing a Stripper in MAGIC MIKE
http://collider.com/matt-bomer-tim-dekay-white-collar-season-3-5-magic-mike-interview/136195/

White Collar Series Recap
http://youtu.be/4uz5zT-yNzo

Two of Cable's Best Return This Week
http://www.huffingtonpost.com/jackie-k-cooper/two-of-cables-best-return_b_1197041.html?ref=entertainment&ir=Entertainment

White Collar New Episodes - Cops and Robbers
http://youtu.be/vups4x5Hc0U

Our Most Anticipated Movies Of 2012: 'Magic Mike' Takes It All Off At No. 4
http://hollywoodcrush.mtv.com/2011/12/27/most-anticipated-movies-of-2012-magic-mike/

First Look: Men of 'Magic Mike' get patriotic for strip routine
http://latimesblogs.latimes.com/gossip/2011/12/magic-mike-first-look-mcconaughey-manganiello-tatum.html

White Collar New Episodes - Checkmate
http://youtu.be/VasKhyX44D0

Exclusive: 'White Collar' Gets Physical
http://www.theinsider.com/tv/48767_Matt_Bomer_talks_White_Collar_exclusive_clip/

'White Collar,' green stars
http://www.mnn.com/lifestyle/arts-culture/stories/white-collar-green-stars

'White Collar': Neal and Peter on the mend? -- EXCLUSIVE CLIP
http://insidetv.ew.com/2012/01/11/white-collar-neal-on-the-mend/

White Collar Winter Season Preview
http://www.huffingtonpost.com/morgan-glennon/white-collar-season-premiere_b_1195328.html

Review | White Collar
http://www.usmagazine.com/entertainment/news/review--white-collar-2-201291

White Collar Exclusive Sneak Peek: How Can Peter Save Elizabeth Without the [Spoiler]?!
http://www.seattlepi.com/ae/tv/tvguide/article/White-Collar-Exclusive-Sneak-Peek-How-Can-Peter-2473277.php

'White Collar' promo: The search for Elizabeth is on...and Peter's not taking it well -- VIDEO
http://insidetv.ew.com/2012/01/03/white-collar-promo-the-search-for-elizabeth-is-on-and-peters-not-taking-it-well-video/

'White Collar' Mystery Launches Ahead of Winter Premiere
http://www.hollywoodreporter.com/live-feed/white-collar-winter-premiere-matt-bomer-277546

White Collar Winter Season Previews; Plus Where is Elizabeth?
http://www.yidio.com/news/white-collar-4993

'White Collar' Star Tim DeKay Going Green With New House
http://www.huffingtonpost.com/2012/01/14/white-collar-tim-dekay-green_n_1206423.html

5 Kick-Ass TV Shows to Start Watching in 2012 (If Youre Not Already)
http://www.beyondhollywood.com/5-kick-ass-tv-shows-to-start-watching-in-2012-if-youre-not-already/

White Collar Season 4 Returns January 17: New Details And Trailer To Jump In!
http://tvsomniac.com/2012/white-collar-season-4-returns-january-17-new-details-and-trailer-to-jump-in/

White Collar Season 3 Checkmate Spoilers Oh, Neal
http://smallscreenscoop.com/white-collar-season-3-checkmate-spoilers-oh-neal/320919/

'White Collar': Neal and Peter on the mend?
http://insidetv.ew.com/2012/01/11/white-collar-neal-on-the-mend/

NBC Winter Press Tour Party
http://timdekay.org/nbc-winter-press-tour-party-event-photos/

White Collar Winter Season Preview
http://www.huffingtonpost.com/morgan-glennon/white-collar-season-premiere_b_1195328.html

Hot in Cleveland Guest Stars Tim DeKay and Doug Savant
http://timdekay.org/hot-in-cleveland-guest-stars-tim-dekay-and-doug-savant/

Chuck season 5 episode 8 review: Chuck Versus The Baby
http://www.denofgeek.com/television/1189719/chuck_season_5_episode_8_review_chuck_versus_the_baby.html

matt bomer signing autographs at NBC party 1 6 11
http://youtu.be/yYDDqqRm3NY

'Magic Mike': Matt Bomer on 'feeling kind of naked all the time' -- EXCLUSIVE PHOTOS
http://insidemovies.ew.com/2012/01/12/matt-bomer-magic-mike-photos/

White Collar Exclusive Sneak Peek: How Can Peter Save Elizabeth Without the [Spoiler]?!
http://www.tvguide.com/News/White-Collar-Sneak-Peek-Treasure-1041494.aspx

White Collar Season 4 Returns January 17: New Details And Trailer To Jump In!
http://tvsomniac.com/2012/white-collar-season-4-returns-january-17-new-details-and-trailer-to-jump-in/

White Collar
http://www.twitvid.com/K3PWL
http://www.twitvid.com/WUAKL
http://twitter.com/#!/WhiteCollarUSA/status/155064640110473216/photo/1
http://twitter.com/#!/WhiteCollarUSA/status/155068192438484993/photo/1
http://twitter.com/#!/WhiteCollarUSA/status/155068752310972417/photo/1
http://twitter.com/#!/WhiteCollarUSA/status/155057766908706818/photo/1
http://twitter.com/#!/WhiteCollarUSA/status/155062547685457920/photo/1
http://twitter.com/#!/WhiteCollarUSA/status/155060541906358272/photo/1
http://twitter.com/#!/WhiteCollarUSA/status/155059214618861568/photo/1
http://twitter.com/#!/WhiteCollarUSA/status/155009436426051584/photo/1
https://twitter.com/#!/USA_Network/status/155402328629968896/photo/1
http://twitpic.com/83861e
http://t.co/DE7tEQSs
https://twitter.com/#!/WhiteCollarUSA/status/155367374952988673/photo/1
https://twitter.com/#!/WhiteCollarUSA/status/155354735141068800/photo/1
http://www.twitvid.com/0IJOJ
http://whitecollar-tv.livejournal.com/598229.html
http://youtu.be/H7bYs1n7Ajg
http://youtu.be/oy8YvdggrF4
http://youtu.be/GAY69E488jo
http://twitpic.com/866yzi
http://twitpic.com/8665aq
http://youtu.be/GAY69E488jo
http://timdekay.org/photos/thumbnails.php?album=202
https://twitter.com/#!/peopleschoice/status/157300344567775233/photo/1
http://twitpic.com/86x5bw


GQ

December 2011

UK