Matt Nix: Working on ep 1 of #burnnotice season 5. Michael goes new places, meets new friends and shoots at them. Also, explosions. Very excited!

Well, at least he knows what show he's doing.

Oh man, I should have written this earlier, only I couldn't, because I've been crook. Now I'm still crook, but grumpy with it. Oh dear.

I've actually had all week off sick. I never ever take a week off sick. I never get a week off sick, but the doc wrote me a note, just like that. I must look ghastly.

My own fault, wandering around Highgate cemetery in the freezing rain when I wasn't well. It actually started out sunny but soon turned nasty but I did that stubborn 'I've come all this way' thing so I dragged myself around both parts (did the tour) and that was fine, but I couldn't find the bus back to the station and that's what did it. It was a long cold wet hike.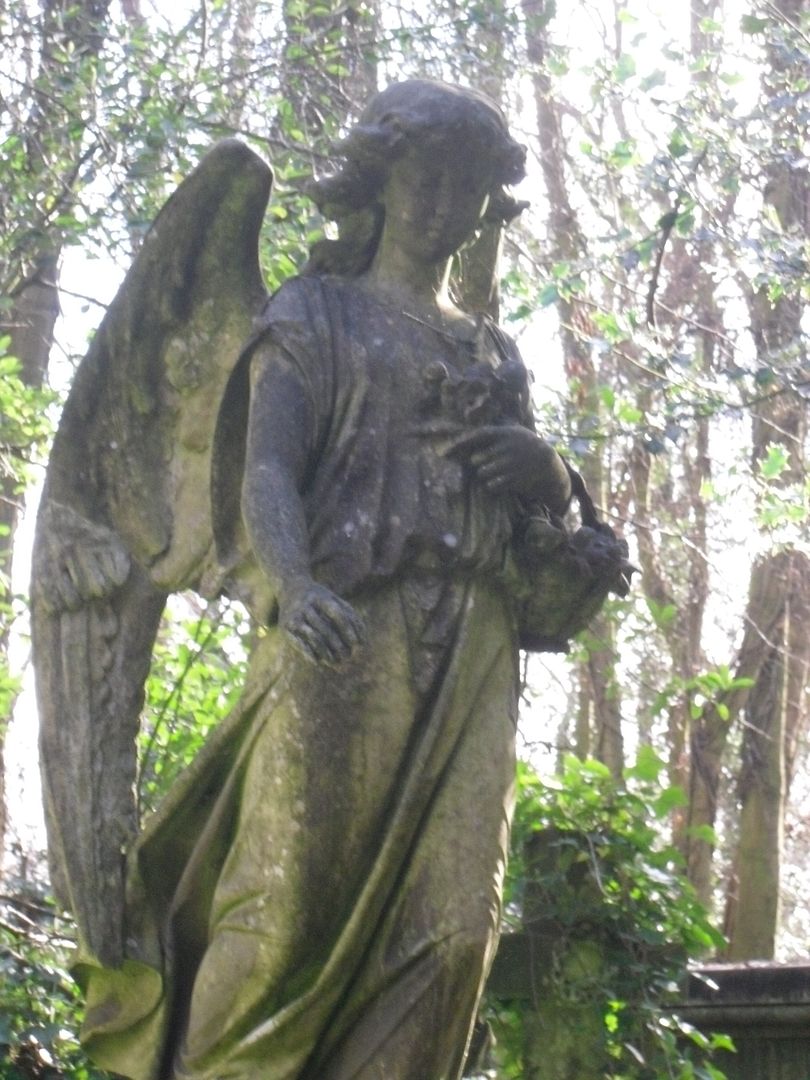 I eventually swung into this pub, the first open door I'd seen, for chips and mulled wine (my standard diet for that weekend) and it was a grubby old brown pub and I was thinking it was all a bit Railway Arms when someone ordered the chicken in a basket. I was smirking to myself and was thinking it could be only more perfect if the jukebox played...and before I could finish that thought, on came Life on Mars. Creepy.

Ended up at the Geffrye museum which was cute, but I loved the 60s room best of all, espcially as I already had the chair, dish and zebra-ware vase. Yay. Mercifully there was a bus from the door almost back to my hotel, via all the old family history haunts (or how my ancestors were nicked on every corner in the city of London, though it's well posh now).




Spent the next day also walking in the rain, doing the Thames path (and discovering later when I watched back the IQ that there was a reason why it looked so very Ashes to Ashes) from the Brunel museum (don't bother, very dinky) to the Design museum (wank) to the Fashion museum (even more wank as it had completed the devolution and only the cafe was open) to a museum that was now a hardware shop (darn out of date map/website) to the Tower Bridge and beyond.




More chips and mulled wine and then off to see A Flea in Her Ear at the Old Vic. Mum's old copy of the My Fair Lady soundtrack had always mentioned Rex Harrison in this play so I was curious and it had Tom Hollander in it so why not?

Except the flu had its claws into me well and truly by then. Trying to warm up with a couple of lukewarm coffees I was flicking through the Eveving Standard I'd picked up and saw that James Purefoy had a play opening the next week. Darn it, I would have loved to have seen him, i thought, and set off in my wobbly flu way to the ladies and then the program seller and crashed into this tall dapper gent. Oh no. Oh yes. Well, that was that then. He sat a few rows behind me but I didn't dare turn around, if only because I had a dreadful coughing fit brought on by the oo-er end of the pier dialogue. It was all a big farce and I probably would have enjoyed it more if not for the flu, but, ah well.

The next day I was even worse. Thank heavens I had nothing more to do than fly around the world. Boarded plane Tuesday. Exited Thursday, had a ong, long taxi ride home, did the washing and have been crumpled ever since.

My sole pleasure has been the fortuitous Bond fest on Fox classics. Every day I crawl from my bed as far as the couch, fluff the cushions, make a big cup of tea and watch vintage Bond on the big telly. Bliss. Then I crawl back to bed again for more fevered dreams.

I've also been watching Primeval. They're playing it on UKTV and I bought back S4 with me (would have bought more but Amazon assured me again they were in the post but no and I'm annoyed as I had the box sets I wanted in my hands but but them back). Anyway, fevered dreams about being chased by dinosaurs aside, I liked S4, just because I was watching it with the fevered slash goggles on, as in Matt and Decker sitting in a tree, K-I-S-S-I-N-G. I know, but one gets one's childish perks while one can.

So here I am, off work, off everything, miserable and sweaty with what feels like a giant swollen head (my ears are so blocked I wobble like a drunk tart and couldn't do the watering, falling into a fountainy heap in the yard when I attempted it, having to be rescued by unimpressed Himself).

The moral of this story? Doing what you want instead of what you should just gets you into trouble.

Daniel Craig dons drag, is interrogated by 'M' about gender equality
http://latimesblogs.latimes.com/gossip/2011/03/daniel-craig-drag-international-womens-day.html

1906 SF quake captured in color by Frederick Ives
http://www.sfgate.com/cgi-bin/article.cgi?f=/c/a/2011/03/07/MN6K1I4BU4.DTL

Rock & Roll Rewind: The '80s: '80-'84
http://www.sfgate.com/cgi-bin/object/article?f=/g/a/2011/03/03/eighties_rock_music_photos.DTL

Britain's stateliest film locations
http://www.telegraph.co.uk/expat/expatpicturegalleries/8343132/Britains-stateliest-film-locations.html

White Collar Review: Spoils of War
http://poptimal.com/2011/03/white-collar-review-spoils-of-war/?utm_campaign=WP%20to%20Twitter&utm_medium=twitter&utm_source=twitter

White Collar Review: Who's Conning Whom?
http://poptimal.com/2011/03/white-collar-whos-conning-whom/?utm_campaign=WP%20to%20Twitter&utm_medium=twitter&utm_source=twitter

Tuesday Cable Ratings: 'White Collar'
http://tvbythenumbers.zap2it.com/2011/03/09/tuesday-cable-ratings-white-collar-and-southland-finales-rise-lights-out-teen-mom-more/85214

White Collar - 03/07/11
http://paley.imgur.com/white_collar__030711#7aTOh

White Collar is Coming Back for Season 3 This Summer!
http://www.youtube.com/watch?v=IdJQlToyfj0&tracker=False

White Collar Season Finale: There's Nothing Sadder Than a Con Man Conning Himself
http://www.televisionaryblog.com/2011/03/white-collar-season-finale-theres.html

What's Next on White Collar: Neal's Big Decision, His Future with Sara, the Origin of Mozzie
http://www.seattlepi.com/tvguide/436778_tvgif8.html?source=pimail

My Character Approved by Tim DeKay
http://www.characterblog.com/2011/03/my-character-approved-by-tim-dekay.php

White Collar
http://twitpic.com/47wqzb
http://twitpic.com/47wsxs/full
http://twitpic.com/47wse5/full