(last) Wednesday: Puma? Puma!

I fangirled Sir Ian McKellan last night. I have no shame. He was sweet, kind, patient and indulgent, and I heart him, big time.

Yeah, I went and saw Waiting for Godot at the OPera House last night. I was so excited (well, I was, up until June, which as soured me on all things, somewhat) and twas a pity it was a rubbish day (I was running so late I had to dash through the rain straight to the Opera House, skittering on the well pavers) and then I had to check my work bag so I was left holding my most essential stuff in a plastic shopping bag and, let's just say I grew tired of the tut tutting of those other, well heeled folks and their designer bags. And my period started during the interval, which at least explains why I was so very unwell and unhappy, but seriously? Already?

So yes, the play. Well, what on earth can I, a mere pleb, say about Godot? Is it about God, life, death, the pathos of the human condition, or two ageing and absent minded bums comically arguing about nothing for two acts? At least it was funny, Sir Ian wickedly so, absolutely wickedly so (he should employ that shameless scene stealing in some of his more mainstream films, it'd improve them no end) and I sort of settled down and really enjoyed the second act (for the first I was beyond woozy and flustered, sorry).

I liked it, I've finally seen it and it was such a treat to get a proper West End production touring out here. Proper London theatre, for the price of a bus fare. Amazing.

So yeah, I fangirled, then it was straight home in a taxi to hot tea and a very early episode of Bones on the telly and bed and hot water bottles.

And now we have it. If you'd like to add up the scores now, gentlemen, if you please:
Tim DeKay 0
Matt Bomer 0
Ewan McGregor 10
Sir Ian Mckellan 10
And the conclusion we reach is...?
That American actors are dicks, Sir?
Well done, Jenkins, go to the top of the class.

And, while I'm still wallowing in Bomer bashing, because it's fun, odd that the boy hasn't got any celeb endorsements going, ain't it? And I guess he shot down the whole watch deal thing, cause Caffrey don't wear a watch, apparently. Oh dear. Never mind.

I don't care. I never tired of those Henry Cavill ads. Never ever. All praise Henry Cavill.

Heh, you know what would be great? A Calvin Kelin ad. I can see it now: dosing Bomer with Calvin Kelin's Obessession for Men and then posing him, very moodily, I'm sure, in Seattle's Volunteer Park. Smirk. Run, Matty, run. (Sniff test: men's cologne used to attract big cats)

So, back to the misadventures.

Park life. Visitied a great many parks. Including the aforementioned Volunteer Park which was just lovely with all the rhododendrons all out and the most amazing art deco classic revival building, that totally needs to appear in a great many WWII spy films, that hosts the Seattle Art Museum's Asian wing, and a topping gallery it is too. But the real fun was when I complimented the bag check girl on her exotic surrounds and she said something like "Yeah, the park's nice, they reckon there was a cougar here last week."

Cougar???!!!

So there was
sleeper_frost and I, sitting on a park bench, trying to enjoy the scenery, while nervously keeping a lookout for big cats, rabid squirrels and that big black rain cloud that was heading straight for us. Fortunately we escaped all of the above, though it was a close run thing with the squirrels.

Then there was the park, also in Seattle, hopefully big cat free, down by the lock, that was also very, very nice. We had the most excellent fish and chips (breadcrumbed, not battered) down by the water, watching the boats go in and out of the lake. Such a lovely park, though I'm afraid the real gem, for me, is still that oh so 70s A/V display in the visitor's centre that was so school excursion, so exactly like all the earnest and upbeat American narration I sat through as a school child, like suddenly I was eight years old again and I just couldn't stop sniggering. It was the oh so familiar funky 70s music they had in the background that tipped me over the edge, I think. Classic. In so many ways.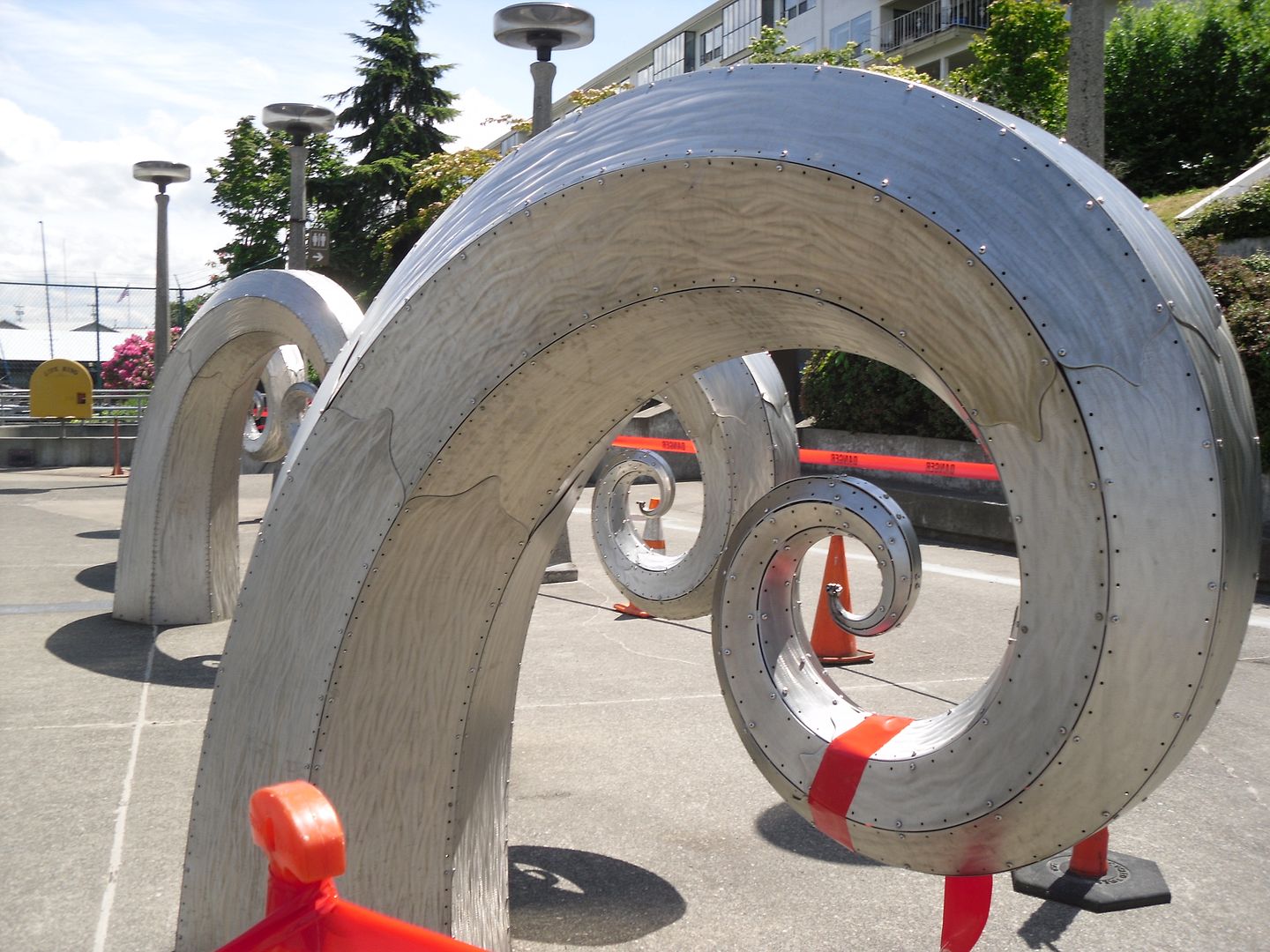 Poor
varina8, slightly disapproving and somewhat askance to find herself suddenly in the company of an eight year old, but there you go. It was just so school excursion, and don't you go updating, visitor's centre, you just stay just the way you are. Priceless nostalgia and educational fun.

Golden Gate Park in San Francisco was nice and the moment I stepped inside I thought, how nice, a proper park, then I realised I was only thinking that because I was knee deep in gum leaves. It smelt right, felt right. I love San Francisco, more 'native' trees than Sydney. You land at SFO and get on the BART and it's like you've just landed at Penrith. Weird.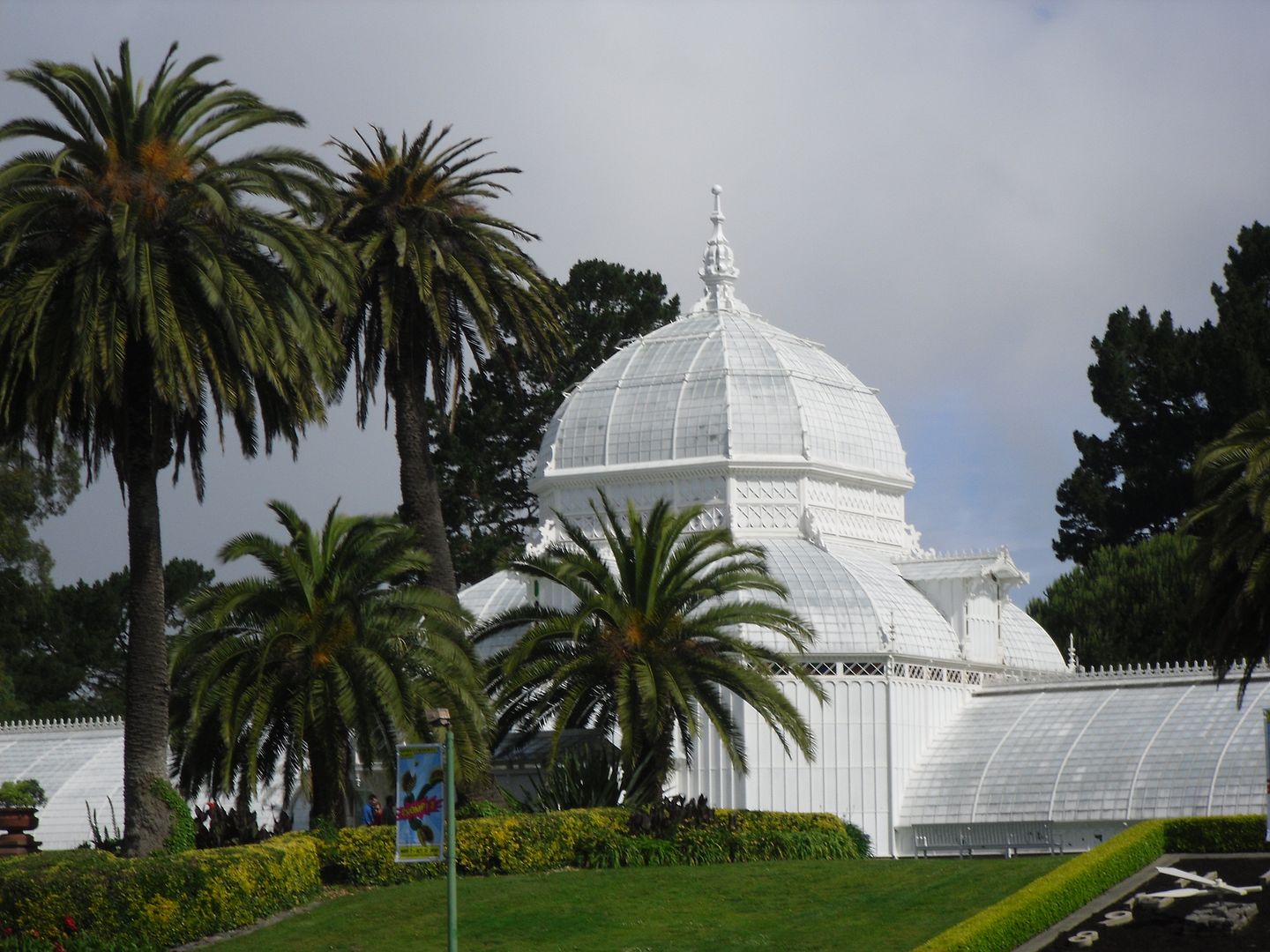 I did get lost in the Golden Gate park though cause I came to this major road and I thought I'd walked out of the park. Took me a while to realise that it's not so much a park as a scenic drive, but once I understood that I was okay, and I found the paintings, but more on that later. I had a lovely lunch on a secluded park bench with an orange I'd snaffled from the hotel breakast table, and a bird who was so sure I had better things on my person than orange peel (apparently my reputation for being free and easy with the biscuits precedes me). Eventually it went off with a huffy flick of the tail (bird talk for 'you are so dead to me') and I was enjoying the sunlight until my peace was shattered by some twats letting their big dogs off the lead, as a very obvious prelude for coffee for all. My god, Americans really do hook up like they do on their cheesy and contrived tv shows. How horrifying. So I shoved off, somewhat shaken by the revelation.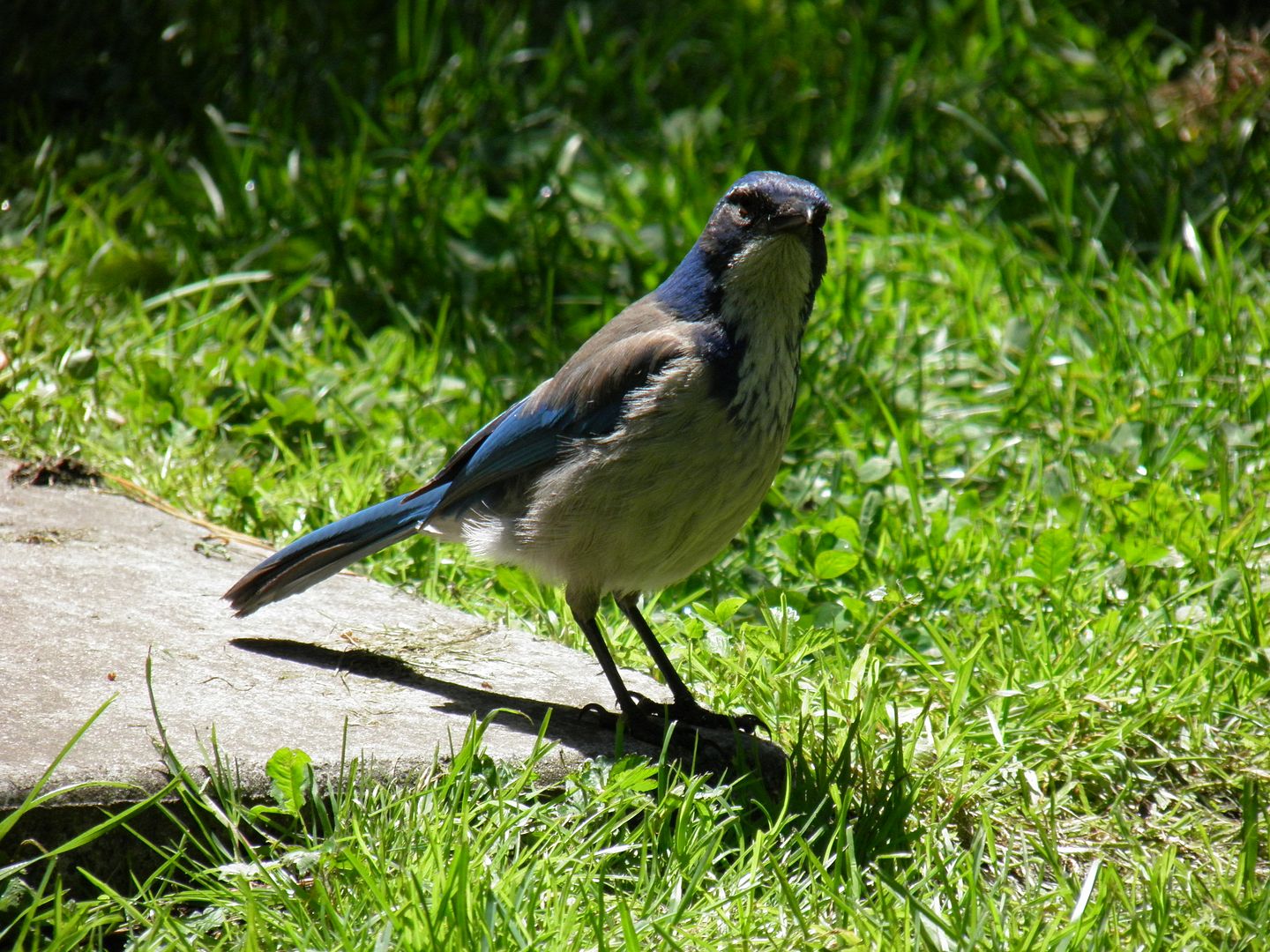 New York parks I think I loved the best, though. They're always there, just when you need them (when you're tired, lost, needing to tie shoelaces, whatever) and they're lovely and all different. The best ones though are the ones with those wee seats and tables so you just sit down and suddenly you're in a post impressionist painting, you know, like Renoir or Bunny, and I've always wanted to be in a post impressionist painting so imagine my delight when I sat down in Bryant Park, and, suddenly, I was. If I was walking back from uptown, Bryant Park was my evening stop of choice. So safe, too. It's all middle class in New York now. Some might lament, but I didn't mind. I have enough of 'edgey' at home, post impressionist park scenes were very much the holiday. Wonderfully so.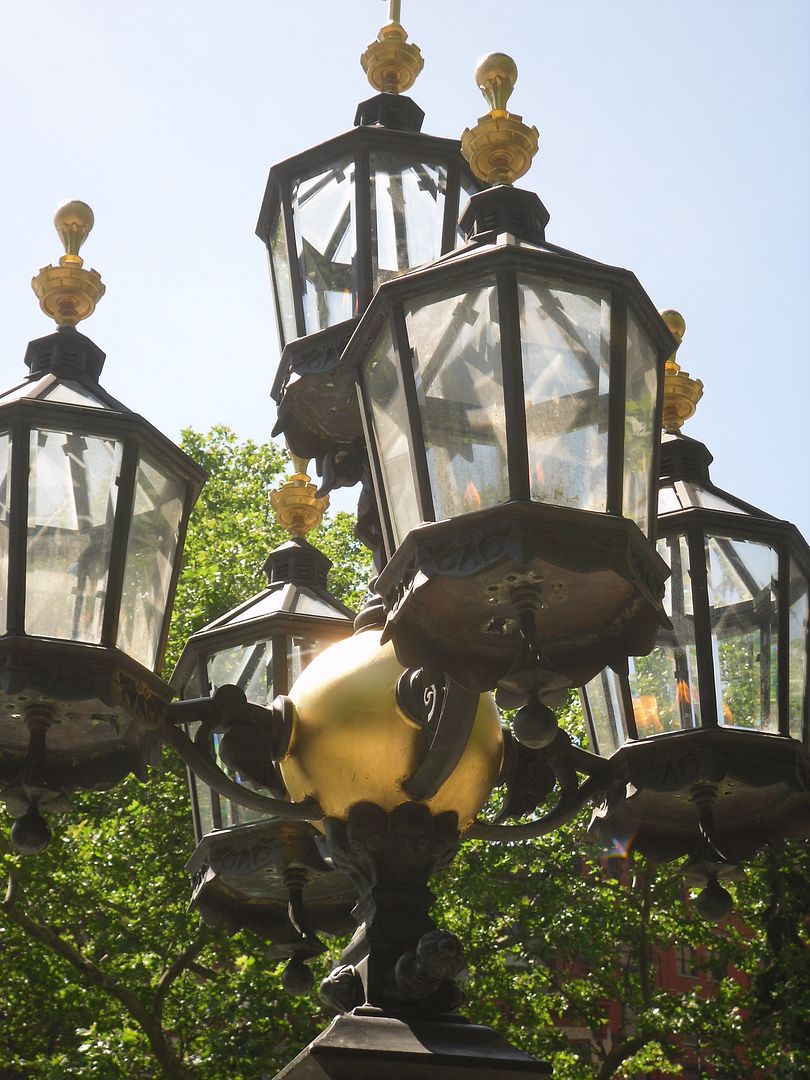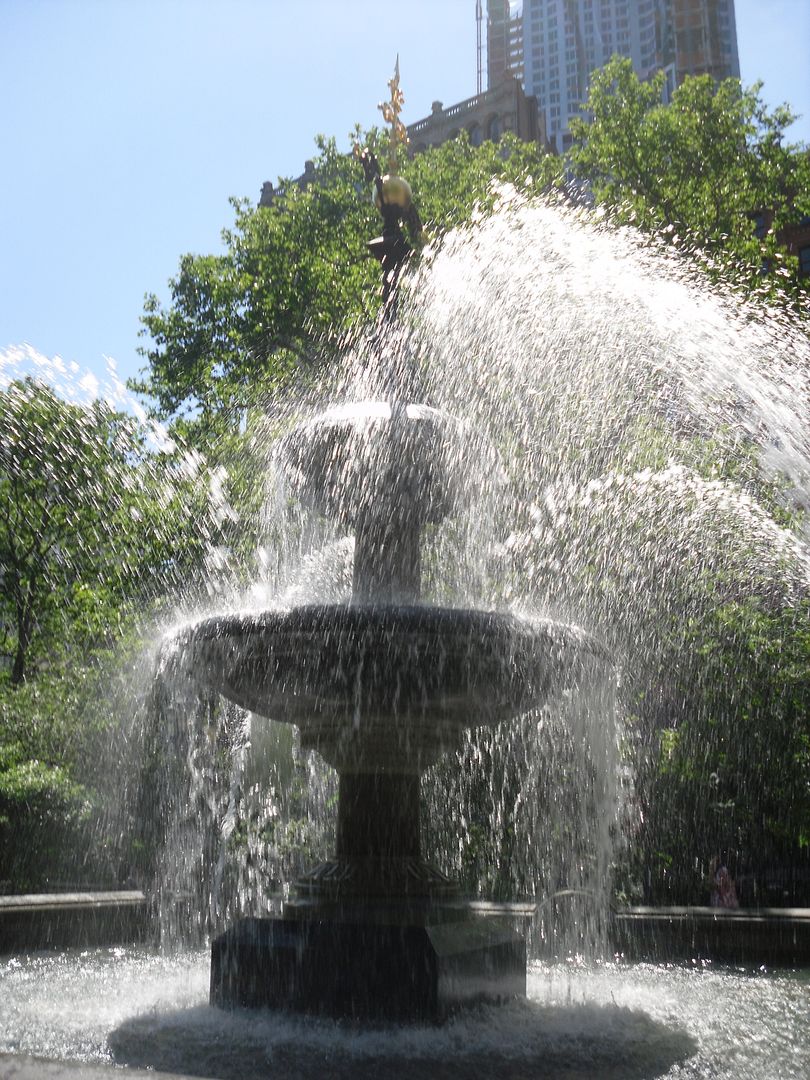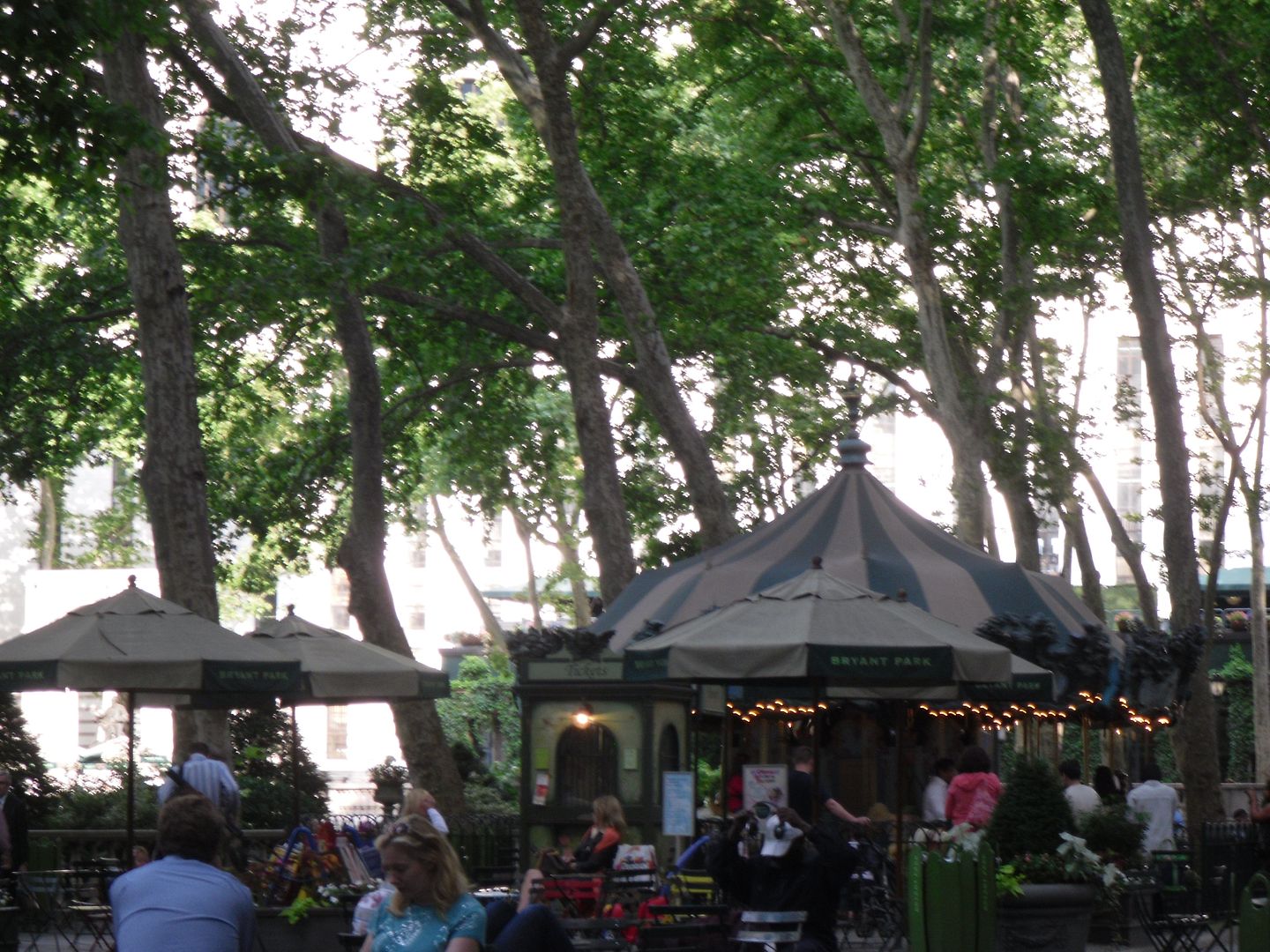 Oh, and I finally got my day out in Central Park. Attempt #1 was a total, miserable washout. It wasn't actually raining all that hard when I set out across the park twixt the Frick and Natural History museum, but I made the mistake of thinking 'at least it's not Scottish weather'. Well, yes. And then some. Suffice to say I was soaked to the skin before I got across that bastard park. That was the day my cheap woollen coat shrank. The only chair I had in the hotel room was this wingbacked thing which I adored for sitting and gazing up at the ESB, but it meant that when I tried to dry my coat over it the shoulders stretched and the waist shrank and now the only person this poor old coat is suitable for is Roger Ramjet. Sigh.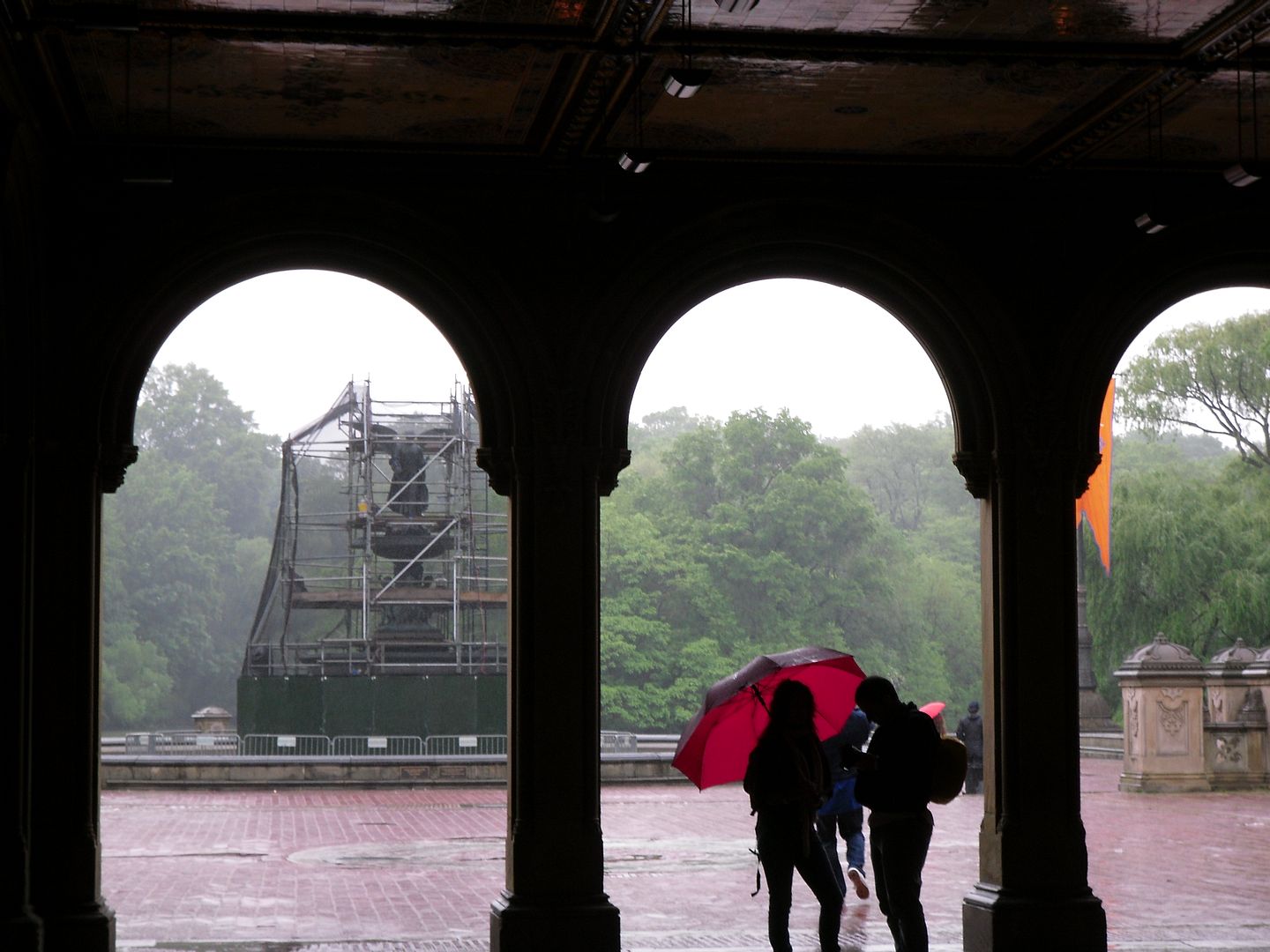 So, Attempt#2 somewhat better, and, freaky for like only a couple of days later, the complete opposite. Absolutely baking this time, and I just broiled sitting down by the scaffolded fountain listening to this band who was just so good I couldn't move, even though I was melting where I sat. They were called the Dirty Urchins and I bought both their cds. That was a real holiday moment. I also had lunch in the shade (a sandwich and that bottle of water that had caused me so many problems), and again was shined on by birds annoyed I was sans biscuits. Seriously, did the parrots pin a sign to my back before I left? I wouldn't put it past them.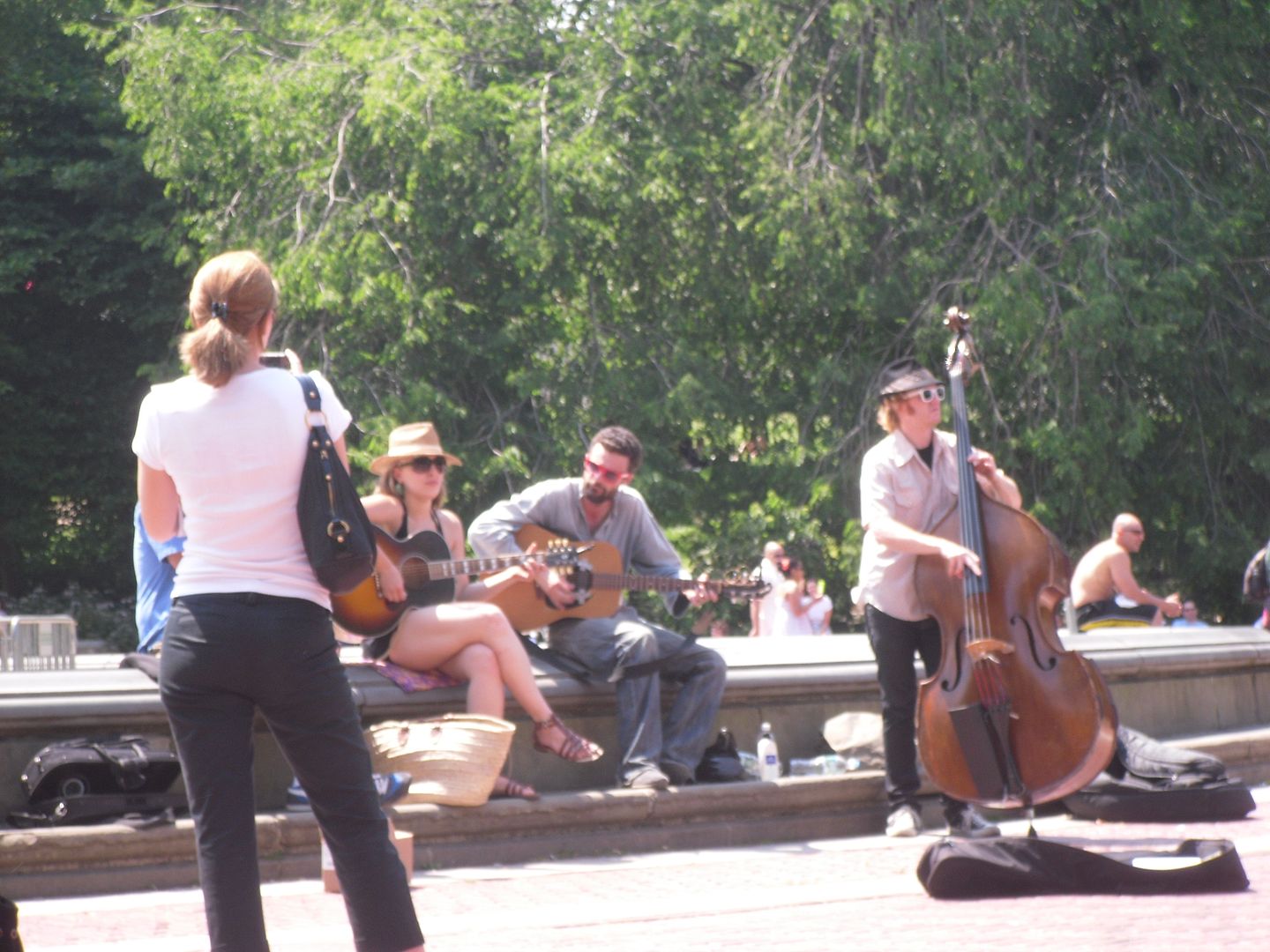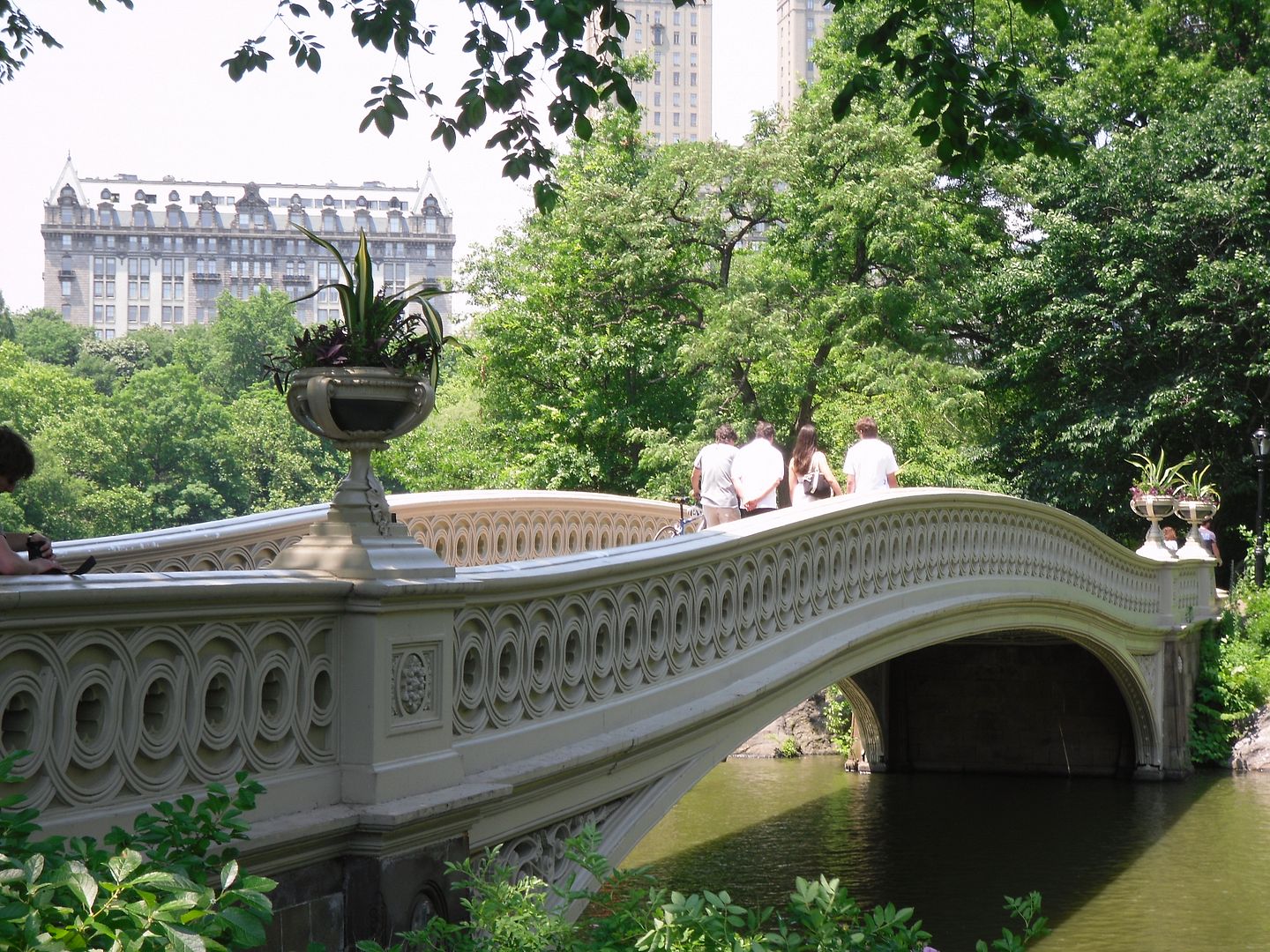 So I wandered hither and yon until it grew eveningish and I caught the bus back down to the Rockerfeller centre. And that was my big day out in the park.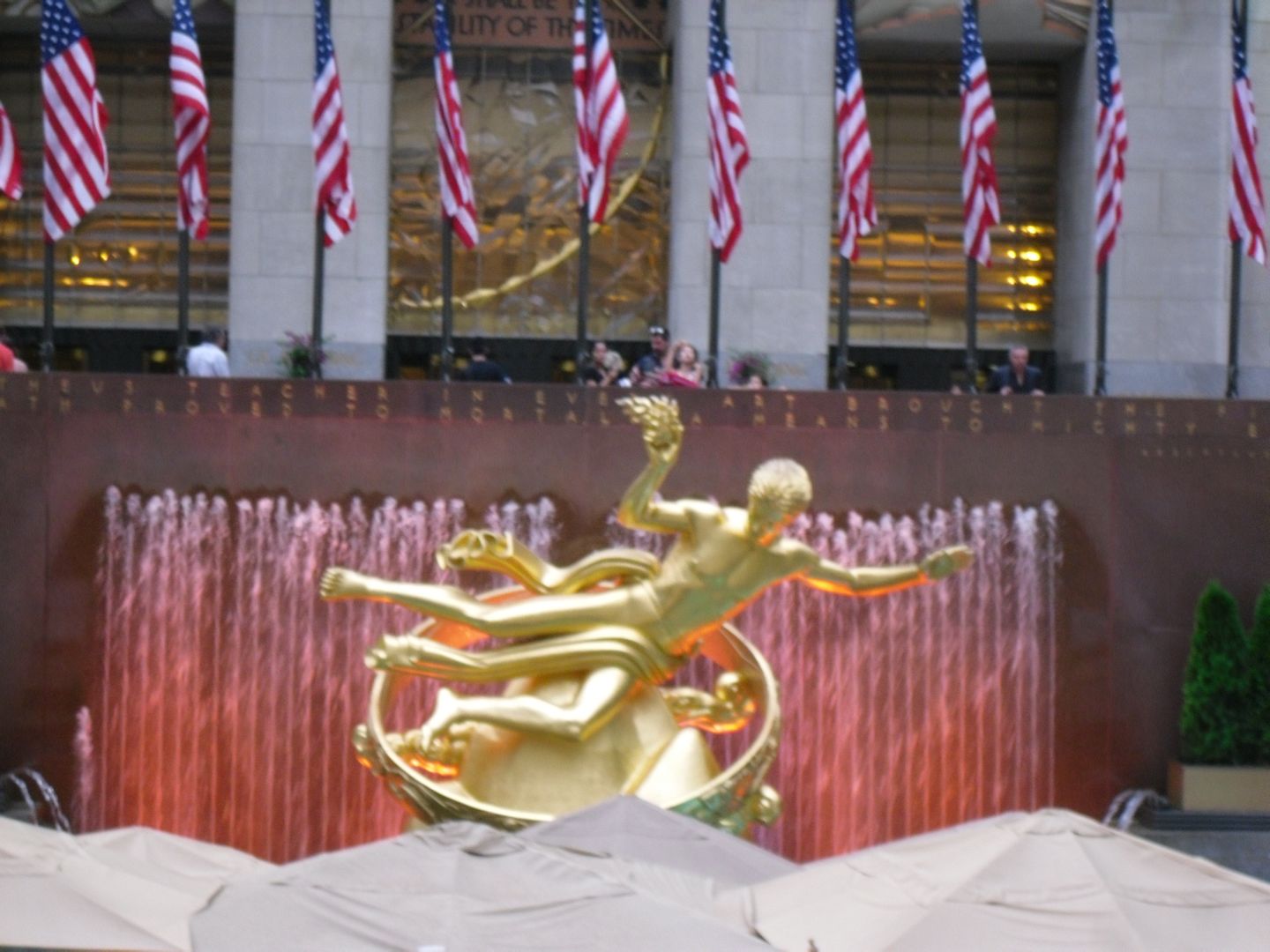 Now I look at the tiny patch of green across the road, the best we can offer here, and sigh.