dOkay, I meant to post this the week I got back but went down with t'swine flu and I'm only just beginning to surface again, so without further ado, a potted travel diary...


Stonking Honkers

There I was, glasses steamed up in the 500% humidity, toddling down Nathan Road which was vividly aglow with Blade Runner style neon signs. Perfect.

It had all gone a bit Pete Tong, though. My fault, I should have never have attempted to get on a plane less than twenty fours hours of leaving the office. I knew I'd be tired but I was staggeringly stupid tired. Left my most beloved coat in the Starbucks at the airport when I looked at my watch and realised it was three hours later than I thought it was. Then I discovered that instead of the airline putting me up overnight as per every other bloody flight I'd been on that I was on my own. Happily HK airport is most efficient and welcoming to the stranded traveller, for a price. Got myself a lovely and cheap room at the Novotel on Nathan Road plus an airport transfer. I've not stayed in a room so nice or so cheap. And I don't just mean for the price, I mean nice, full stop. The only draw back is that the Chinese have an odd idea of a non smoking room. My t-shirt still reeks of tabacky.

The airline had also booked my luggage through to London (so I'd hoped) hence the late night shopping run. It was bang on 11:30pm and shutters were banging down but I managed to find a shop still open selling entirely without irony 80s t-shirts. These amused me mightily. Bought a couple that hopefully didn't make me look like an extra in a Wham/Pat Benatar/ Billy Idol video. In return I found myself doing some gratis translation work, as they needed me to write out a few labels in English. So there on Nathan Road is a shop selling 80s t-shirts with labels written in my own fair hand.

Found a place selling super mango and coconut drinks, then retired for the night.

The next morning I netted briefly, then ducked out in search of brekkie. Followed a herd of locals to a café called the Busy Bee which appears to have been last redecorated in 1971 but that was the greater part of its charm and I enjoyed a chinglish breakfast of "France toast", eggs, beans and honey soy sausages.  Which is exactly what I wanted. Don't order the coffee, though.

Checked out and lugged backpack down Nathan Road to the art museum. Lovely stuff. I think the gallery back home has a matching dragon moon vase, or one very like. Saw my first tulip vase.


Tudor Appreciation Day

Made the pilgrimage out to Hampton Court. Alas, not by boat as I'd hoped because they don't run on Mondays (d'oh) but the train was nicely direct (even if I couldn't use my oyster card) and I got there in such good time I had to spend half an hour sitting by the river and it was lovely. It was here that my holiday started. It was here that I realised it was school holidays but that was okay because the brats were under parental supervision and it wasn't little Johnny Council Estate running riot like you get on school excursions. They also had chaps in historical dress performing scenes from one of Henry's many marriages every so often, and I found these amusing interludes (and an opportunity to sit for a spell).

Happily, rooms closed the last time I was there were open, including the chapel and what is now the Henry VIII experience, oh dear. However, the animated versions of the portraits, with their saucy captions, were a scream.

Toured the baroque chambers and this was when I noticed I was being stalked by tulip vases. I'd never seen one in my life before, but on this holiday, suddenly, in the corner of a room, there will be one, watching and waiting.

Okay, so I watched too much crap 70s SF as a kid, but still, creepy.

Also got lost in the maze, and would still be there had not a kid pointed the way out. Now I know one is usually not supposed to follow the direction of any fair haired moppet that suddenly appears mid maze but this one spoke true and with a couple of turns I was free.

Did Henry's chambers, the gardens, or bits thereof (I was hoping not to painfully hobble around the grounds this time but the blisters soon destroyed that dream).

Stayed there till late afternoon, when, alas, I had to depart as there was shopping that needed to be done (Not my best packing effort, but it wasn't my fault it was hot and sunny instead of damp and cold as foretold and nor was it  like I was in the middle of nowhere and I discovered marks and Spencers – clothes that fit and I can afford – that such things exist – mercy!).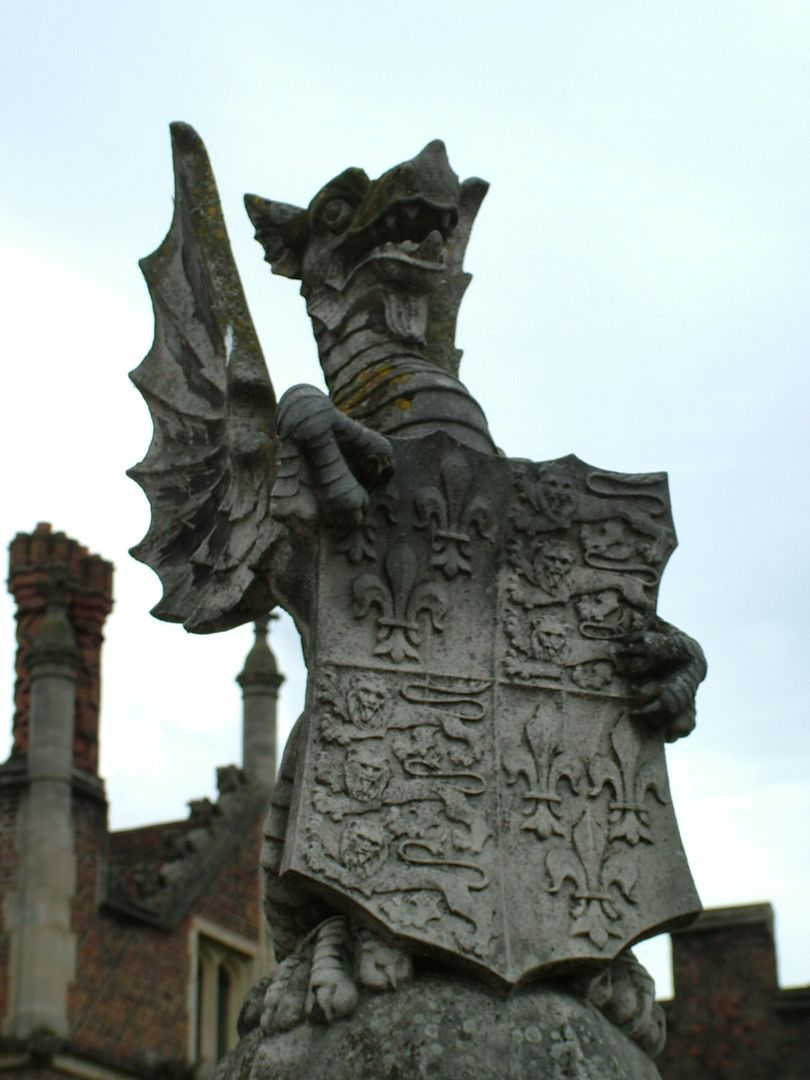 On the street where you live

Up early and off to Baker Street, but first a visit to an ex family parish, St Marylebone itself.  Whilst gazing upon the font into which ancestors had been dunked, I discovered from the yellowing brochure that my ancestors had shared a church with none other than Charles Dickens.

Now I've long been bemused that some of Dicken's ridiculous grotesques had resembled the old mater so closely it was astounding, certainly enough to raise an eyebrow when I was re-reading some Dickens on the bus earlier that year.

Now it seems Mr Dickens had the chance to observe my atrocious ancestors at close range. Hmmm, thinks I. Hmmmm indeed.

Then it was off to Baker Street for the requisite Holmes homage, especially as I'm enjoying the books so much right now. It's still as pissweak as always, with the ubiquitous dummies in historical dress, but alas the handcuffs are no longer lovingly laid out on the pillow of "Holmes's bed" as they once were.

I get a new understanding of how it was no wonder that they always knew when a client was approaching because the ancient stairs in the building creaked in a most alarming fashion.  This is why I love doing this stuff, as I have no experience of old buildings and experiences like this help me 'get it'.

That done it was round the corner for another ancestral locale (later on we discover one of the buggers might have actually have lodged on Baker St itself) and then onto the train to Straford-upon-Avon.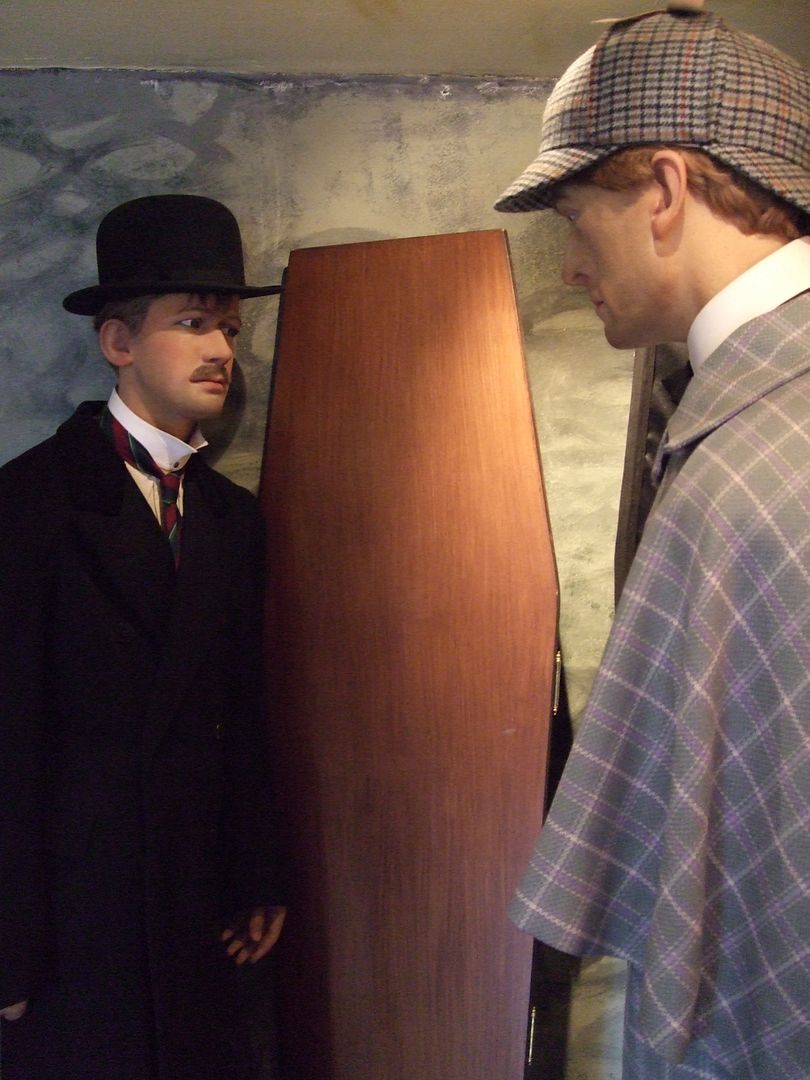 I come to praise Caesar, not to bury him

If somebody had told me to go to my happy place, we could say I took them literally.

I never thought to revisit Stratford, but I did, and loved it all over again. Everything was just how I'd left it and I delighted in doing a circuit of old friends, like Shakespeare's (alleged) house and the old Trinity church.

And I was staying at the Mecure (in a special deal that made it cheaper than my more modest London abode) and it had a bath, glory be.

Then it was off to the RSC to see Sam Troughton in Julius Caesar. I got the very, very last ticket on sale and I can see why, as though it was possessed of an excellent view up front in the stalls, it was right on the corner and everyone, including the actors, crashed into my bad knee as they took the turn too tightly.

Never mind, knee agonies aside (nothing beer and a hot bath couldn't mend) it was quite the production. I do prefer British theatre. I know that makes me disloyal but I find I prefer a bare and raw and heartfelt performance, with brilliant but sparing use of light and sound and clever theatre tricks but not overtly gimmicky like back home. Nothing excruciatingly arty.

Just players and a story to be told. I found myself getting quite caught up and Sam made an angsty, dithering, vain Brutus, more a cringing creature of spin and entirely lacking the strutting matiness of Caesar. Perhaps that was the point, Caesar and Antony being ambitious men of action versus the brittle, backstabbing aristos. I gotta say, it kinda reminded me of the politics at home, only less bloodthirsty and treacherous.

Sam, sweet Sam, poor piteous Sam. Very angsty, without over doing it, and very cute and gosh, he wears a skirt well. And he's a lot taller than I expected. Afterwards, yeah, I loitered, I stalked, I got an autograph. Why not? I was there, afterall, and I'll never get another chance.

It was drizzling, but my hotel was just around the corner. Breezed back, posted drunken LJ post, and then wobbled off to bed.

I forgot to mention I'd bought a lovely lacy white top at M&S to wear that night but it started raining and my hair started to run so I ended up having to wear the top I'd worn all day. Oh well.


The conscience of the prince

Coffee opposite chez Shakespeare then back down to London. Popped along to the Royal Academy to see the Pre-Raph exhibition. I was hoping to see new piccies, as we have quite a few in the colonies, dumped as remaindered stock when the PRB fell out of fashion. So with ticket clutched eagerly in my sweaty hand I plunged into the crowd and saw the paintings from…the AGNSW, NGV, Adelaide, Brisbane…you get the idea. Bugger.

As a sop to my disappointment there were several from private collections I'd not seen before, but still. At least now I knew where the pre-raphs had gone when I trotted down to the AGNSW a couple of weeks previously to see them.

Then it was off to see Hamlet. Row C. Oh yes. Bathed in the sweat and spit of the players I was (but nothing compared to a Bell production). And it was bloody brilliant. I'd hoped it would be, as I'd enjoyed Othello so much and had been quite determined not to miss this but with one thing and another I thought I'd never make it. But I did. And there he was on stage. And, oh my, the boy can act. I mean really, actually act, like totally deliver a mesmerising and memorable performance. Jude, my boy, where have you been hiding that talent? I never knew he could be so good, so completely and utterly there, so that I was carried away with the story to the point where I was hoping against hope that maybe this time it'd all end differently (you know how it is when you get sucked in, like fretting over Lizzie and Darcy as if they're not going to get married at the end of it). Oh, that production was, just, well, not one of the best I've ever seen, but I think the best Hamlet. And I'm not just saying that. I really enjoyed it. Bravo.

Afterwards, I did the squee thing and got my programme signed.

Floated, and I mean floated back to the hotel and I tried not to hum "I could have danced all night" and yet the bemused doorman really did usher me to my room murmuring "I understand, dear, it's all been grand, dear, but now it's time to sleep."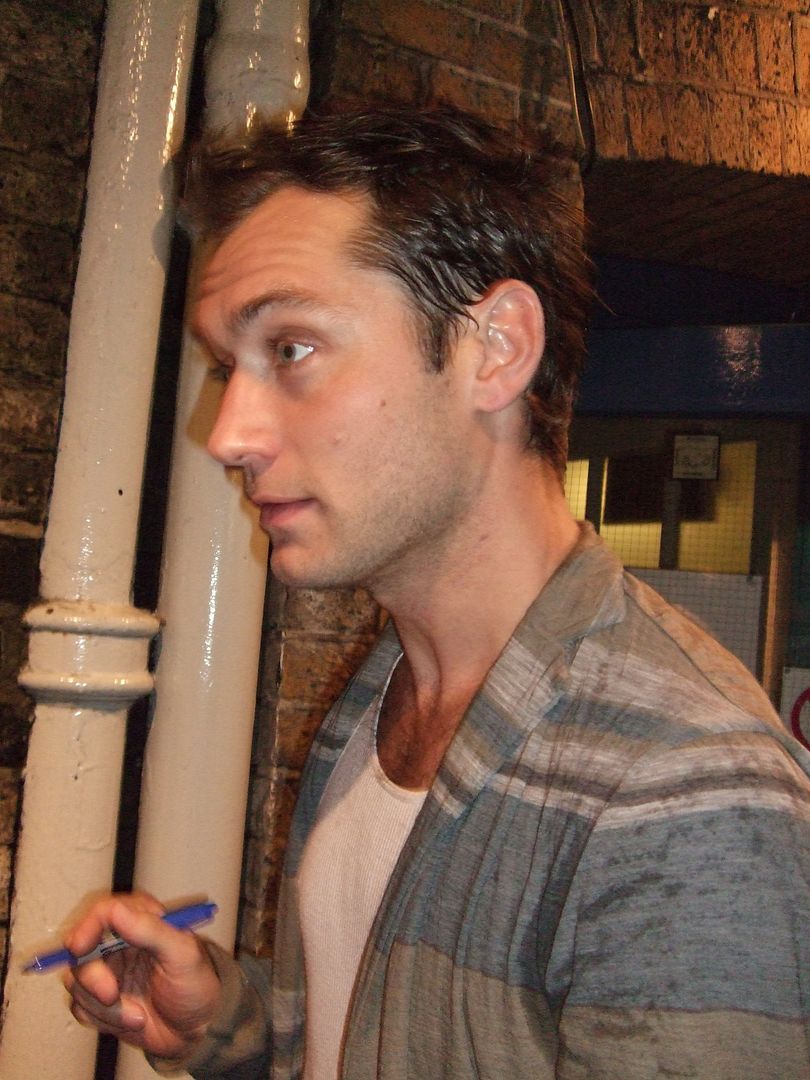 What ho, Kensington

Popped into Harrods, for no other reason than to tick that tourist box. Realised I couldn't buy anything there so it was off to see the Albert Hall (which pops up in many a Brit show) and the Albert memorial, of which OTT doesn't even begin to cover it. Overwrought Victorian allegorical sculpture at its finest.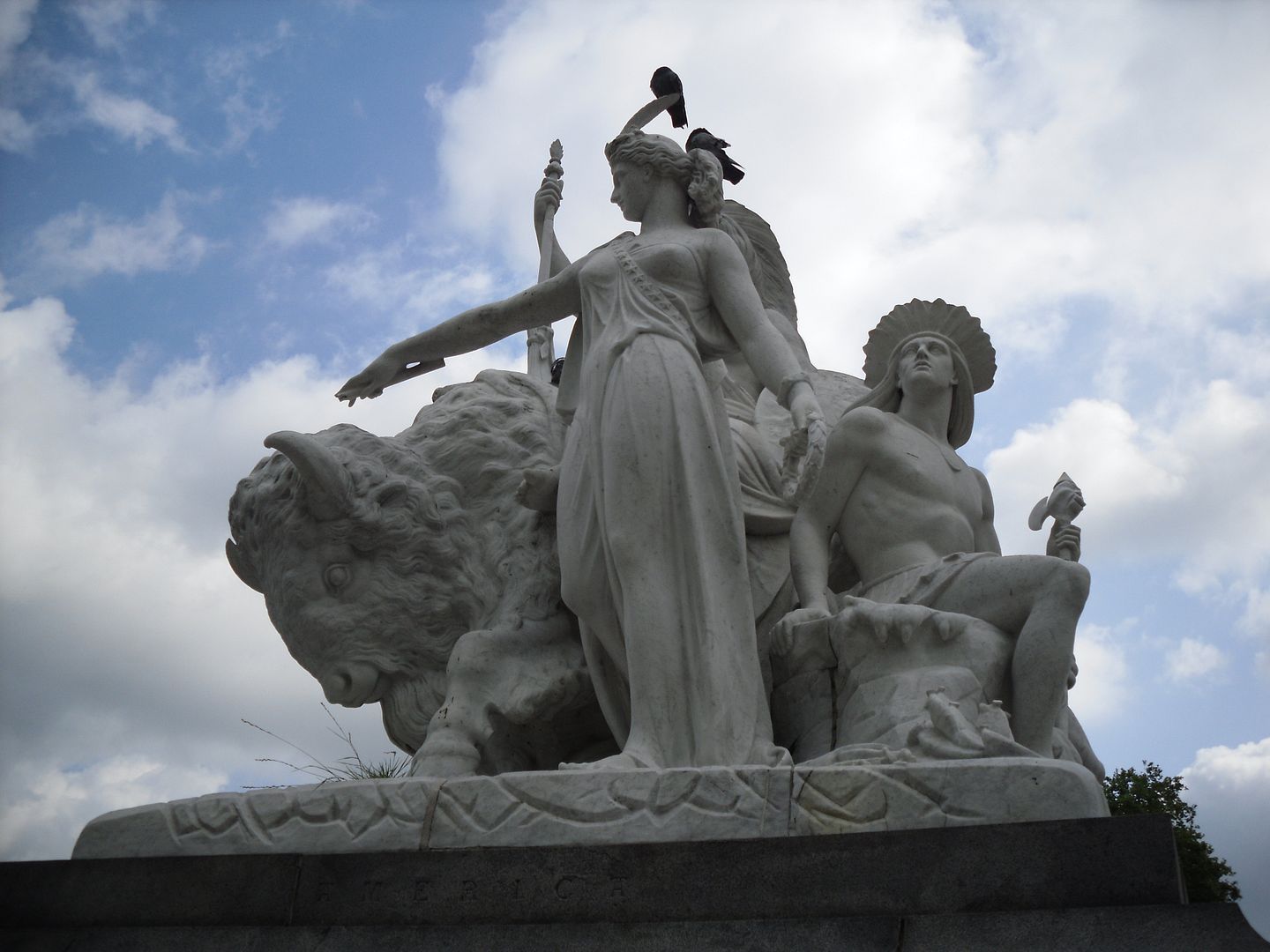 Then it was a slow stagger downhill to the V&A. A restorative cuppa in my fave ornate tea rooms and it was off round to see a few galleries I'd missed the last time, including a Rosetti and the fabulous theatre costumes, including outfits worn by Adam Ant and Brian Eno. Vastly amused by a ribald tapestry, then it was off to the stained glass and my most beloved decorative biscuit tins. I love them so much. They are just so whimsical and sweet. Then down to the ground floor where I saw enough muslin to even please Mr Tilney. It always makes me titter, when the unmarried Mr Tilney is introduced as a man so knowledgeable of women's fashion that his sister has him shopping for her. At which point my gaydar is going Whoop! Whoop! Whoop! But alas Catherine is cut from far more innocent cloth.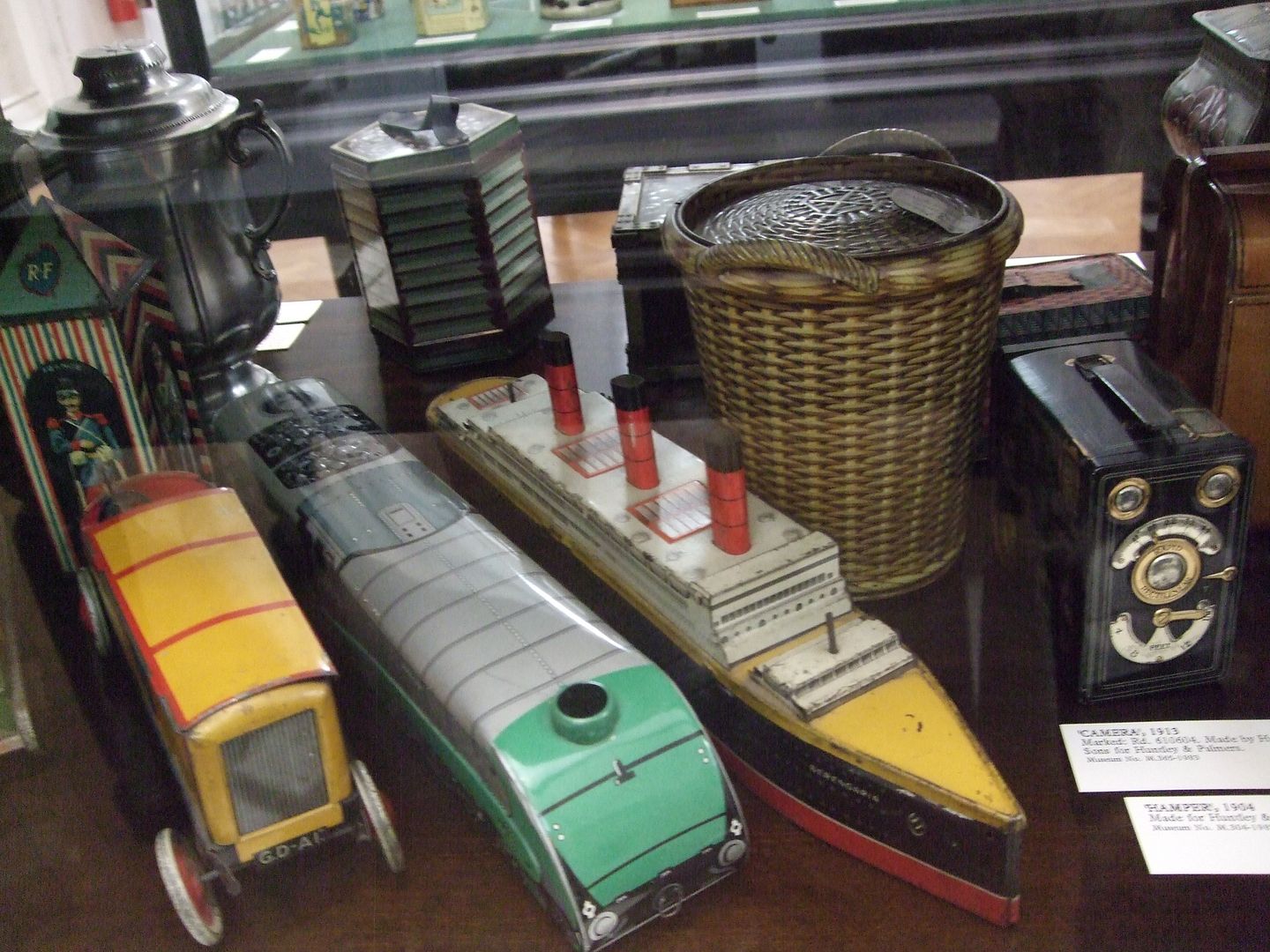 Also stopped by the Tippo's Tiger (Sharpe homage) then it was off to Brompton Cemetery, as I had read that it was a store of more overwrought Victorian statuary. It was nice. Squirrels were a tad on the demanding side, and as I had no food on me I consider myself lucky to have escaped with my life.

Then it was back to Piccadilly for some ancestral hot spots, and on to an old routemaster bus #9 to Trafalgar Square to pop into St–Martin-In-The-Field, yet another family church. I just popped in to take a pew and try and silence the barking dogs (me plates of meat were screaming) and discovered musicians rehearsing for that night's Bach recital. Magic. Pure magic. I think I'm in love with an English oboe player I once saw in a Bach rehearsal. Oh my, he was magic, too.

Then it was back to the hotel and a nap before an ill advised attempt to snap Jude at the stage door. Well, he snapped, can't say he didn't.


Cry me a river

Paris! Left insanely, and I mean insanely, early on the train and discovered at the other end that they'd done the old switcheroo and my booking was now at a hotel I can only descrive as the Granville end of Paris. A bit grim and scary, but what can you do. I was on a mission. First stop, checking off one of the great museums, which meant a death march around the Musée d'Orsay, . Look at the paintings! LOOK AT THE PAINTINGS, DAMN YOU! Not the funnest, and I realised to my horror I'd seen a lot of them before, well, more than a few anyway (and will again if I get to that Canberra exhibition). Oh dear. Should have gone to the other gallery. Maybe next time. I did enjoy the art noveau rooms though, very much. Luch in an overpriced cafe but at least I got a sit down. Meant to go on an evening tour but I was turned away, so I decided to go one one of those cheesy river tours and managed to get on the boat, chatted in very, very basic German to my co-seaters (Rex doesn't really do much for my conversational German) and actually enjoyed myself. Somehow I'd fluked it to be on the cruise just as the sun was setting. Magic! Alas, my beloved lil fuji cam died taking a picture of the sun setting over Notre Dame. Weep.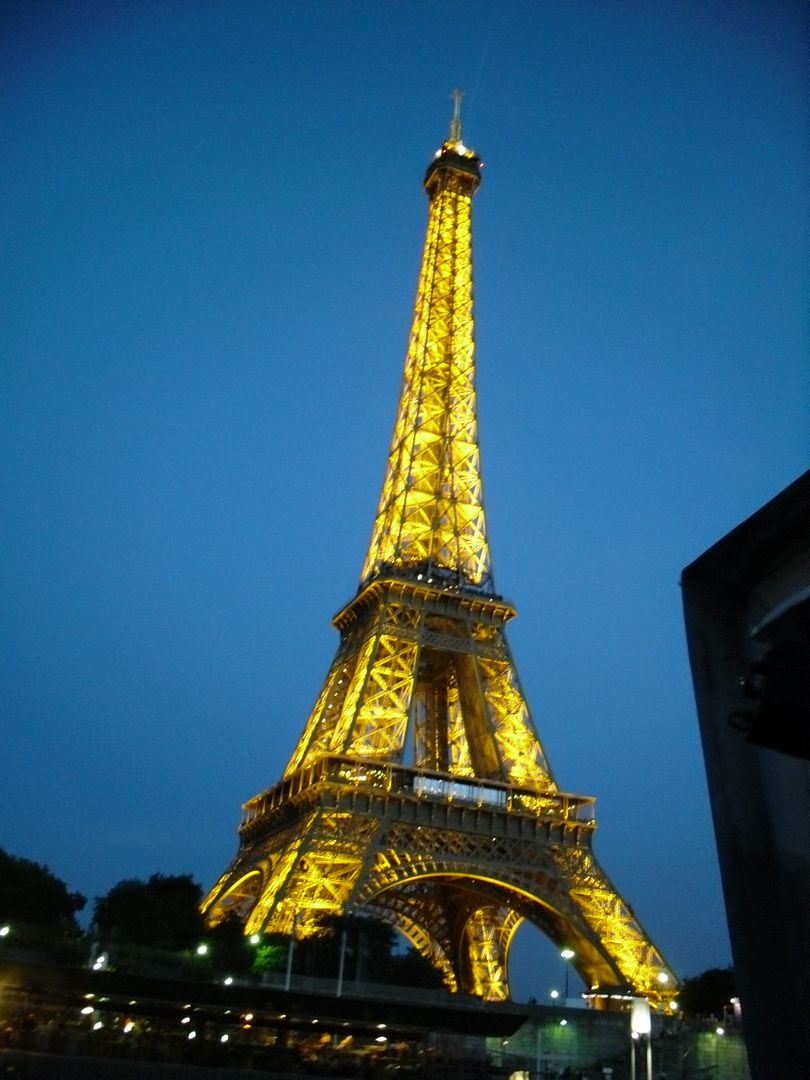 Have Fun Storming The Castle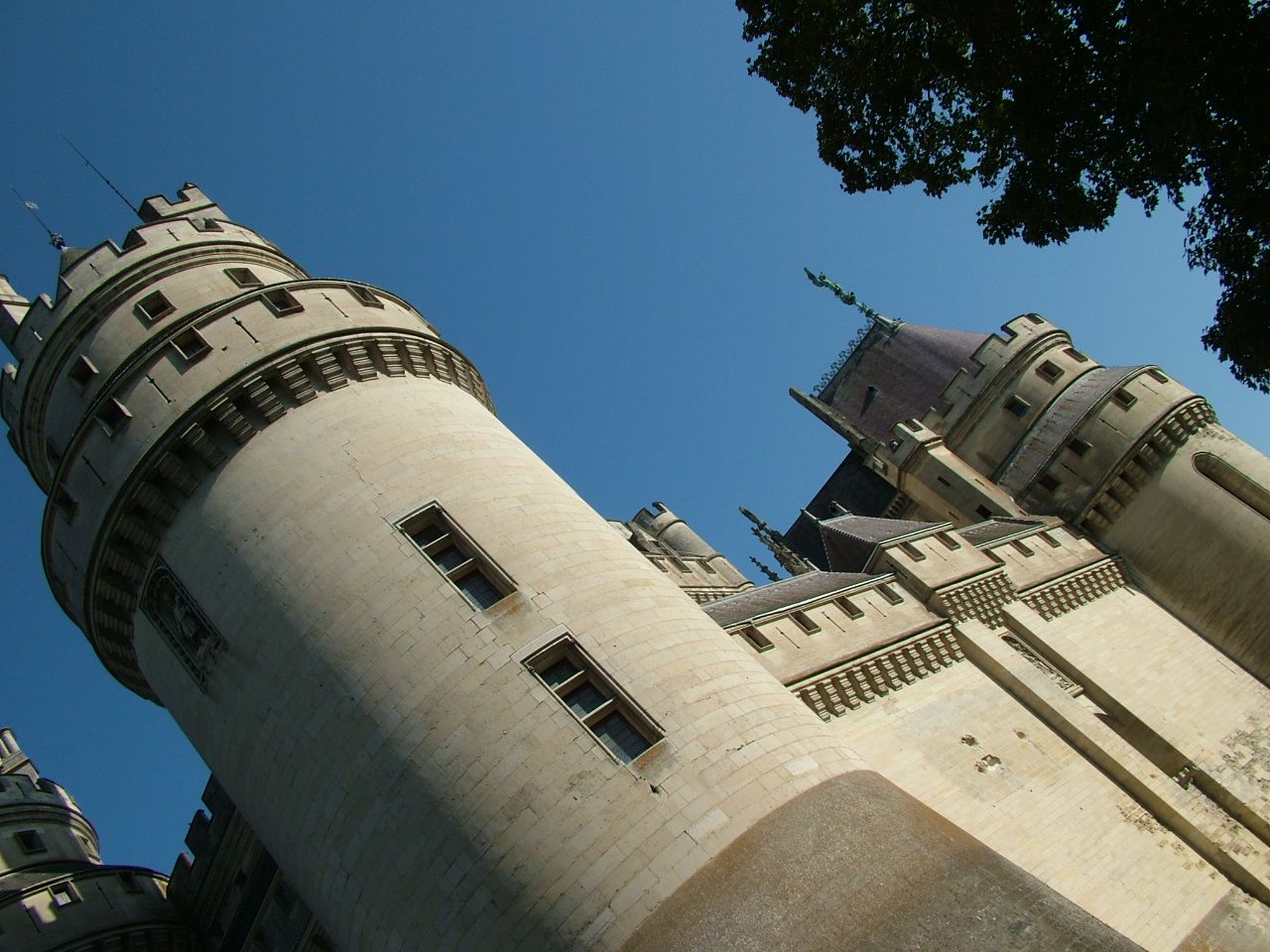 I made it out to Pierrefonds and back all by myself with no map, no car and only five words in French. I'm sure the East German judges will score harshly in finesse, but I was pretty damn well pleased with myself.

And what a day! The absolute most fun I've had since I was a kid in the 70s (which was the last time I had a summer holiday).

Merlin aside, it was bloody marvellous. A big old proper Disney fantasy castle. Now you know I love a Victorian folly and/or castle, and this, this was brilliant. Completely mad. Perfect. And I'm glad the film crew weren't there (though the sets and props were all ready and waiting their return) because they'd have crimped my style. My style being that of a seven year old on red cordial running up and down the stairs. Okay, an arthritic seven year old with a dicky ankle, but you get the idea. Bweee!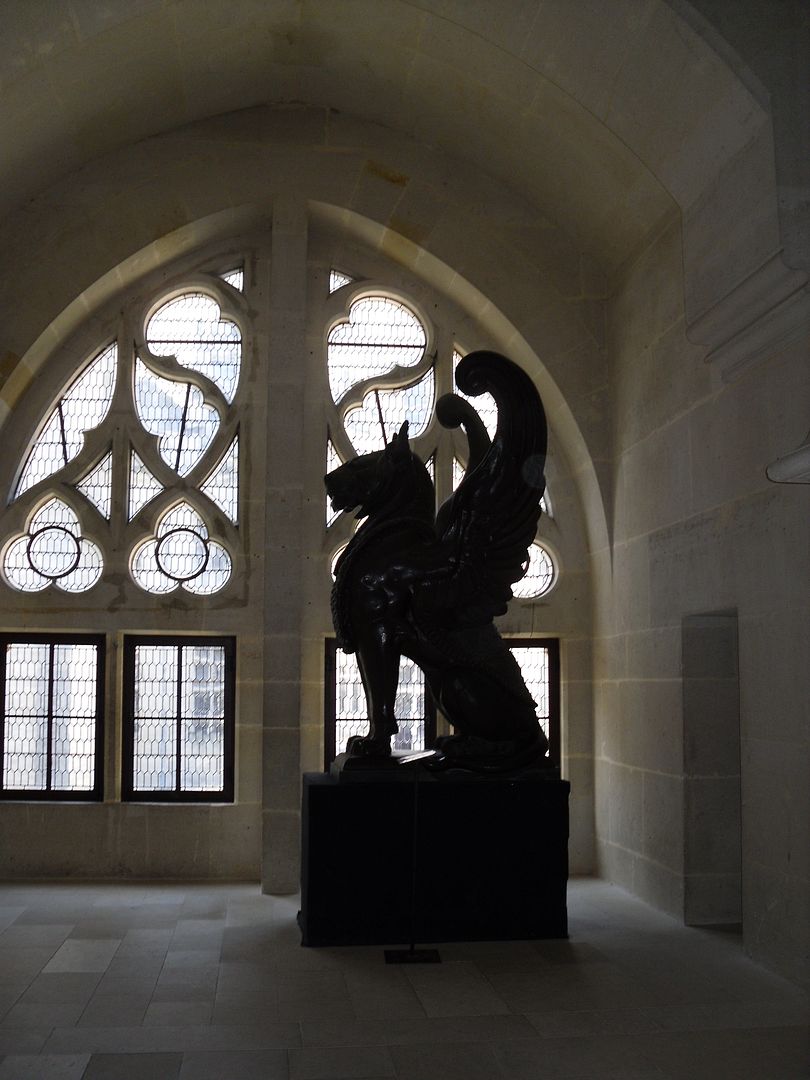 After running about and up and down and around (and you know you've watched way too much Merlin when you're thinking 'Oh, these are the stairs that lead round the corner and down to the dungeon' – and they are). I walked around the grounds and lay down in the grass while my poor feet steamed, just gazing up at le chateau. Happiness and joy.

Btw, I know why the Merlin crew keep mostly to the stony parts of the castle as opposed to the creaky floors bit. I can see it now:

"Merlin!" (heel)
"Yes, Sire."
Squeak! Creak! Scuffle! Slip! Crack!

Deal with that, sound department. Every other dept. gets minus points because I had no idea how much, ie pretty much nothing, they'd done to dress the castle. As seen on tv, folks. It is what it is.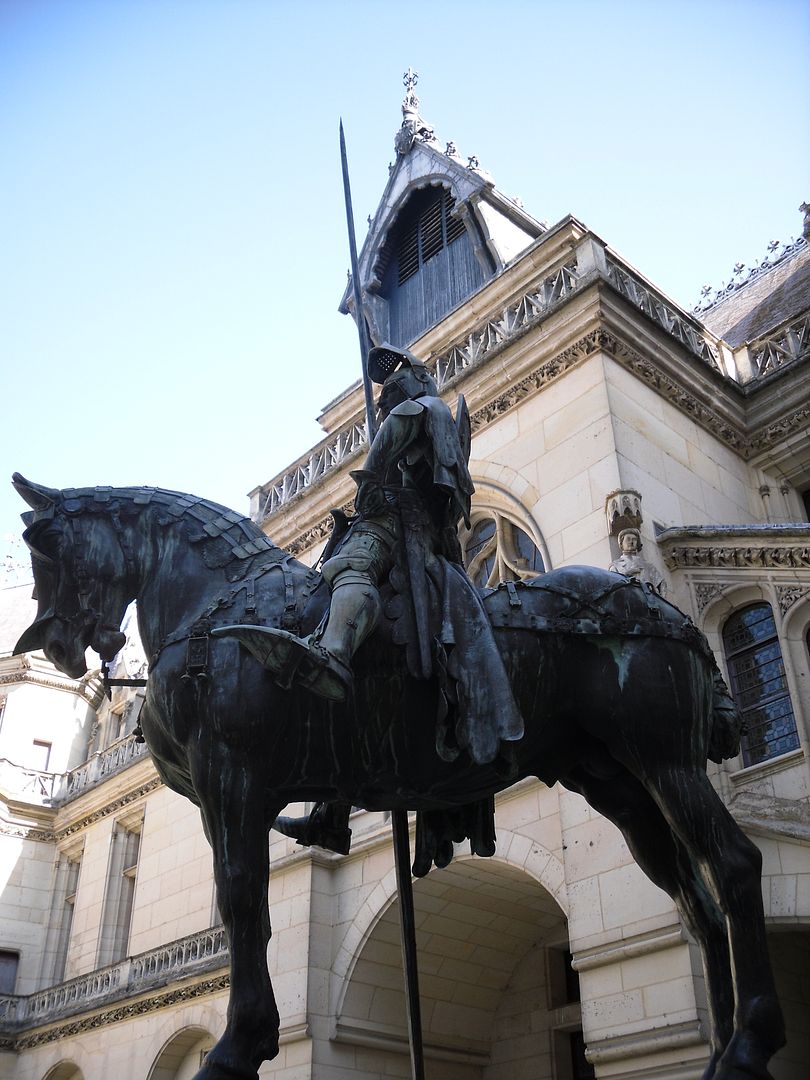 Wandered back to town to await the return taxi I'd booked (the bus service was atrocious to non existent and it seemed le tradition to ferry tourists there and back) and I'd hoped for a cheap sanger as I waited But I'd forgotten all the shops shut at lunch (the complete opposite to Sydney) so I had to spend my few remaining euros at Le Snotty Café. It had two sections but I couldn't determine which was which (especially as patrons chasing the shade had jumbled the seating order a touch) and I did ask and was waved with great disinterest  to a table and I sat down but when I said I only wanted a sandwich and not the full three course the waiter whipped away the table cloth with such a snoot that it will now be the snoot by which all other snoots are measured (eclipsing even the still legendary Atarmon Italian restaurant incident).

Anyway, taxi driver showed up at the appointed time and place (being from Sydney I marvelled at this) and I tipped him as well as I could for his troubles and kindness in facilitating my grand scheme. It wasn't cheap but it was so very  worth it.

A grand day out.


Paris When It Sizzles

I am sitting in holy ground, in the very grounds of that church, opposite Notre Dame (which is donging away at midday) and slightly au droit of Shakespeare and Friends. I just wanted to know if I could still find it, and I remembered it was nice down by Notre Dame and I just wanted to spend a lazy Sunday down by the Siene.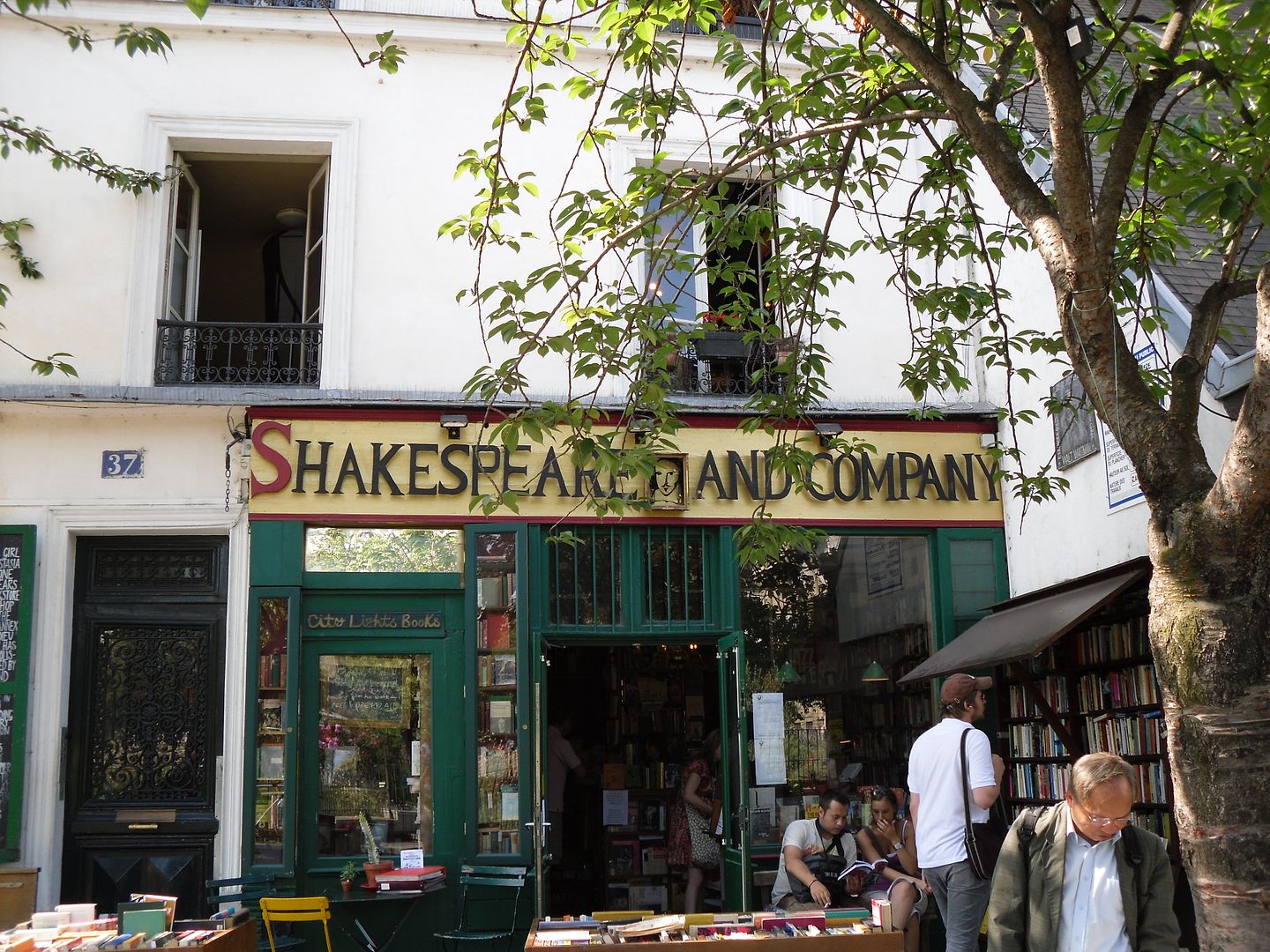 It's quiet here, which is nice. This morning I read with my hotel windows wide open, then ended up in a nice café (as opposed to the scuzzy ones up at the Auburn end of Paris where I was staying) and read while I waited for the famous Simon Templar to take a seat opposite and for shenanigans to ensue.

Yes, I know, Paris isn't enough? Frankly, no. Friday, spent engaged in brutal reality, was rather miserable, even on the forced march around the Musée d'Orsay, and the less said about dinner the better. But once I let my imagination smear the harsh lens of reality, a golden haze descends, and I start having fun.

Now, if I was really expecting Simon Templar, you could put me away, but I was only musing, and musing is both free and fun.

Besides, when I trotted up to Shakespeare and Friends, redolent with serious student types being serious and studenty in that slightly too earnest way that causes one to have to stifle a giggle, I browsed the bargain bins (knowing I couldn't afford anything actually inside the shop) and lamenting that I'd seen better pickings at the local church fete when I found a Jason King book. Squee! Of course, Jason, I shall think only of you for the rest of my day in Paris. Too classic, that. Of all the books for sale on the left bank, the freaking left bank, I gleefully, and I mean gleefully, paid 3€ for a Jason King book.


Bojo bought my bandaids

This family history lark is fun. It's like a treasure hunt through London, and also, importantly, somewhat off the beaten track.

Today I started at Liverpool St, visited various historical places of worship for the various family branches, then off to the Bank of England museum. Apparently one ancestor was done for forgery (well, at least he was literate) which was a capital offence, but somehow not in this case. Would that I possessed my ancestor's documented ability to slip the noose, on more than one occasion.

Anyhoo, having a sit with the Duke of Wellington (in statue form) I completed a survey for Boris Johnson on a proposed rent-a-bike scheme, for which I was rewarded with a £5 Boots voucher, which will naturally be spent on MORE BANADAIDS, for my feet are bloody wrecks.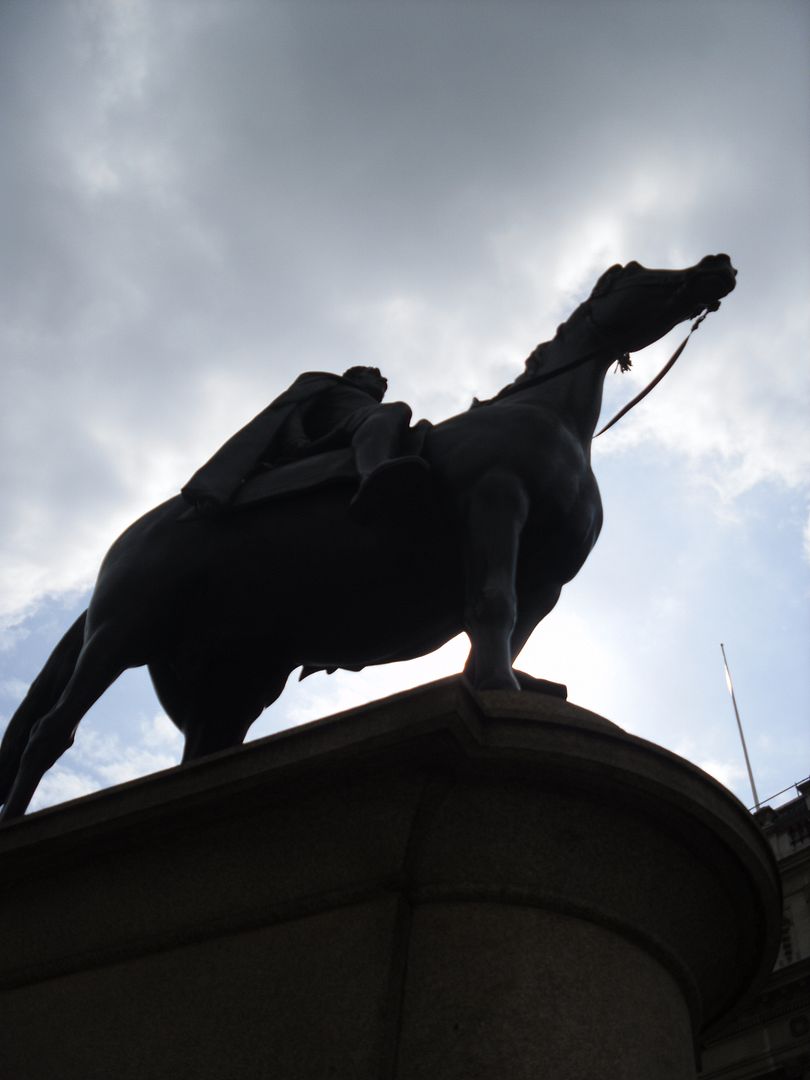 Anyway, past the street upon which several ancestors were nabbed, all outside the very same pub which once stood there, now a carpark. No wonder I got all twitchy when a PC walked past. Then the old Roman wall, which had a pond of ducks and lilies beside it. Quite nice.  And next to another ancestral place of worship. Yay.

So far so good, and thanks for the bandaids,  Bojo.

Then it was onto the Museum of London for a quick trot around the exhibits (very quick trot as it turned out, as the duck wrap I'd ill chosen at the nearby Pret made its presence felt, and I swear I'm still suffering).  Pity cause I love the LM with all it's cool Bronze age, Roman and Medieval tat on display.  It's like Time Team under glass.

Then I whipped around to St Barts, which I adored. It was so old and Saxony (and, as I later discovered, quite the film location).  Then it was round to St Paul's where I caught the end of a bit of a choir rehearsal  and then across the bridge to a pre-show dinner of Greek nibblies and then, at last, The Globe. I'd done two tragedies so it was time for a funny: As You Like It. And it was hilarious. Rollicking, bawdy fun and everything you'd expect from the Globe. It was just…exactly everything I'd hoped. Thank you, Mr Wanamaker. 

Walked back over the M. Bridge with a ghostly pale St Paul's dominating the skyline. It was just…perfect.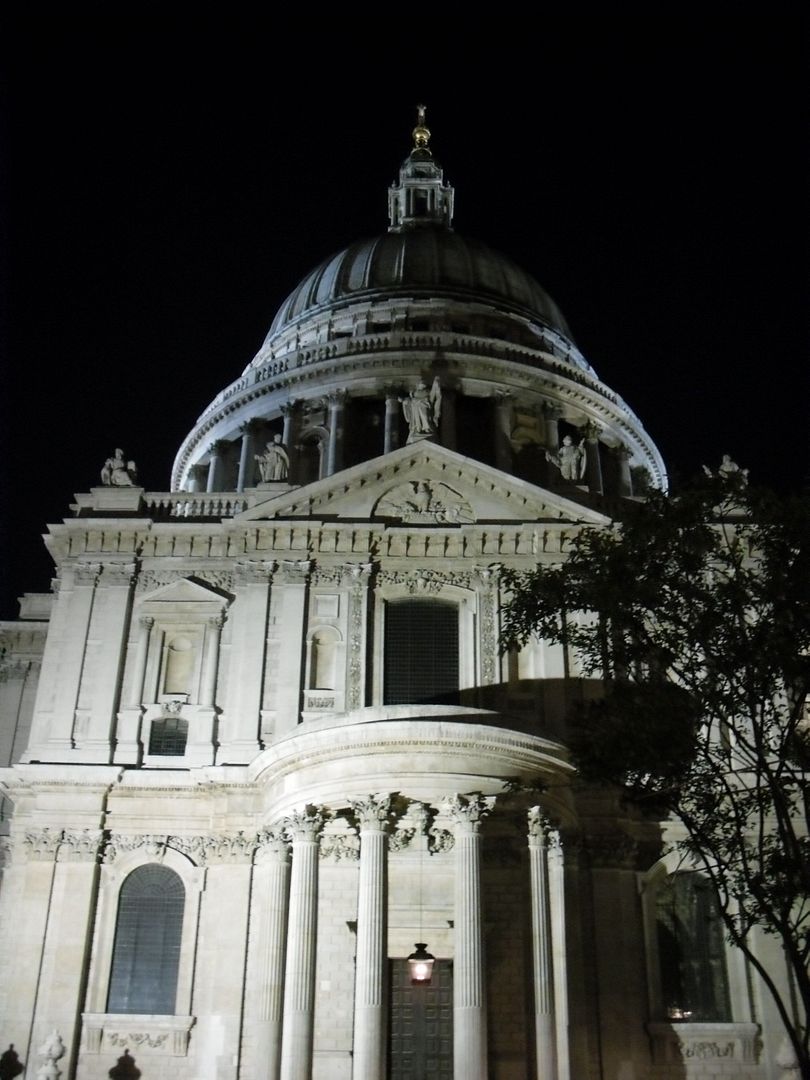 Down in the park

Decided to go to Kew gardens as it's always mentioned in the guidebooks but I never get out there. I need not have bothered. First off I went to that Maids of Honour cake shop. What a disaster. Aside from anything else, they were horrid microwaved things. Yuck. And Kew gardens did not imprive. First off if was like fifyeen pounds to get through the door and then they kept hitting you up, and steeply to see anything else. Just sit in the park then and get bucolic? I wish. I'd complain about the screaming brats if I could have heard them over the roar of jet engines. Oh my fucking good god. There's under the flight path and then there's wheels down, tray tables stowed and eats in the upright position. Jumbo after jumbo after jumbo....I started to go mad, I really did. Escaped briefly into the palace, which was a lot of dosh to wander around a building that seemed far less impressive than Old Government House (which has naturally now risen far in my estimation). I did get to seem some Banks/Cook souveniers, but really, it was all a bit too school excursion (I think the Banks/Cook stuff is what tipped the whole experience over the edge).

Sod this, I said, and thanks to the miracles of an efficient transport system (never bitch, Londoners, you've no freaking idea of true no transport misery) I was at the British Museum in about an hour. Hello Sutton Hoo helmet! Howdy Lewis chessmen! Yeah, I only had a coupla hours before closing time so I kept to my faves, I'm afraid, though I finally found the Native American wing, down near the ladies loo in the basement (oh dear). Much better. Popped into the Watersons opp. my hotel and picked up those missing Holmes volumes I couldn't get back in the slum I call home (all since read) and ended up watching an episode of Desperate Romantics with takeway on my last night in London. Oh well, I was knackered. Don't know about Desperate Romantics. Even for one whose first media experiences included Number 96 and the Carry On films, etc, and one who now sits through stuff like the Tudors and True Blood, I thought it was all a bit panto and try hard with the boob fest, but there you go. If there was a plot there, I never caught wind of it (but to be fair, I was watching what was probably the middle dead zone episode). The only really funny thing was wondering where Rafe was and then realising I'd been watching him already for half an hour or more behind a beard that should have had its own credit. Good grief.

My last day in London was spent wandering around the Tate, just to revisit some faves (loved the one of Lady Macbeth, and Boothby) then I had sandwiches by the Thames and then it was home time. There was some wild running about Hong Kong and bubble tea by the harbour by way of an interlude (ferry!) and then I was home and the taxi driver ripped me off and grump. The next day I was down with swine flu and not the least bit surprised, really.