Laurie, who keeps his US accent in between takes, says: "I know I'm not the first British actor to play an American in a network TV show - in this, as in so many other aspects of my life, I have modelled myself on Jane Seymour - but I have tried to represent the UK as well as I know how. I am punctual, sober, I know my lines and I haven't threatened any of my co-workers with a gun. If that has helped smooth the way for other British actors, hooray!" - The Guardian

I just loved the "hooray" at the end. I'm not sure if I should picture him in full Bertie mode, or young George. Oh, I miss Blackadder. I miss Jeeves and Wooster. Hmm....box set???

Btw, fabby Roman mosaic on Time Time the other week. I love a good mosaic.

Meanwhile, this is just too cute:

Bradley James (who plays Arthur) is a bit like a son to me, and I'm a bit like a father to him. And, Colin Morgan (who plays Merlin) and Bradley get along really well. They have the same relationship, off screen. He doesn't push Colin around like he does on screen, but the banter is there. And, they have this very strange humor that no one else gets, and they just crack up at each other's jokes. - IESB

Can pet names be far behind, I ask you?

Sorry, I'm all over the place, short attention span girl today, surprised I wasn't sent off to work with a name tag dangling from my coat ala Paddington Bear.

Oh yes, I'm also suffering for, well, I can't remember what the latin for foot in mouth is, though honestly, some folks just can't take sassy answers to stupid questions and it was a very stupid question: "Do laptops always come with monitors and keyboards?" How, I ask you, do you not think they're having a lend? Got in so much trouble though for being "a bitch". Sometimes I forget the people in this office are so backwards that Amazonian tribesmen point and laugh.

In the meantime, I'm hoping this time, maybe a wet weekend, because I'm in the mood for some buddy cop, because, Fassy aside, I need a break from the teen soaps, I really, really do. I have been indulging in some early B/W Avengers because I decided I needed a dose of Steed and the sassy Mrs Gale. One involved Mrs Gale in a gold hesist (as if, eh) and the second had Steed trying to save Westminster from another 5th November plot. I was like go save, the day, Steed, then no, wait, stop. I mean, saving Westminster. Why on earth would you bother?

Oh yeah, I was lucky enough to catch the episode of the Daily Show where Mr Stewart had also seized upon the tax payer funded moat cleaning. Moat cleaner boy? Heh.

Decided I really don't like Madmen. It's like somebody based their knowledge of the 60s on a few magazines. Not that I was there, of course, but I've got enough tv shows from both sides of the pond and let me tell you, the women were not the simpering idiots as portrayed in Madmen. I mean, Cathy Gale, any one? And you just don't realise how great the roles are for women in Maverick, even the showgirls, until you watch a modern show. Last night ep? Bret was paid to escort this woman a thousand miles with a bag full of money. Turns out she was setting up a newspaper to expose the local robber baron and despite Bret's best efforts, was killed for her troubles. Simpering? I don't bloody think so, and this was what, 58? It's so strange to see what we've lost. I hate Madmen. It turns women into the Barbie dolls they never were. It's like Playboy tv.

Maverick, surprisingly, maybe because of all the bromance (at least where Bart's involved, as the episode usually resolves itself with Bart leaving the troublesome femmes in the town while riding off into the sunset with his new bestie) has really, really strong roles for women. Even the showgirls. They all have back story and character and are never victims. Heroic and self sacrificing at times, often misguided, sometimes a little crazy and just plain bad news, but never victims.

Why don't they write tv like that any more? I do wonder. I'm sorry I'm mad on Maverick, it's just new to me and it's a damn fine show, quite often the best thing I'll watch on the box all night. Besides, westerns, ya know? It's all about bromance and bondage. Well, sometimes.

Not much news, other than our kitchen has Colin Morgan everywhere you look (the servant boy brought home every promotional package so I could photograph them for the M-AU list). We'll be feasting on Colin's crumpets this weekend, and there's no way I can ever stop making ooo er jokes, it's just too silly.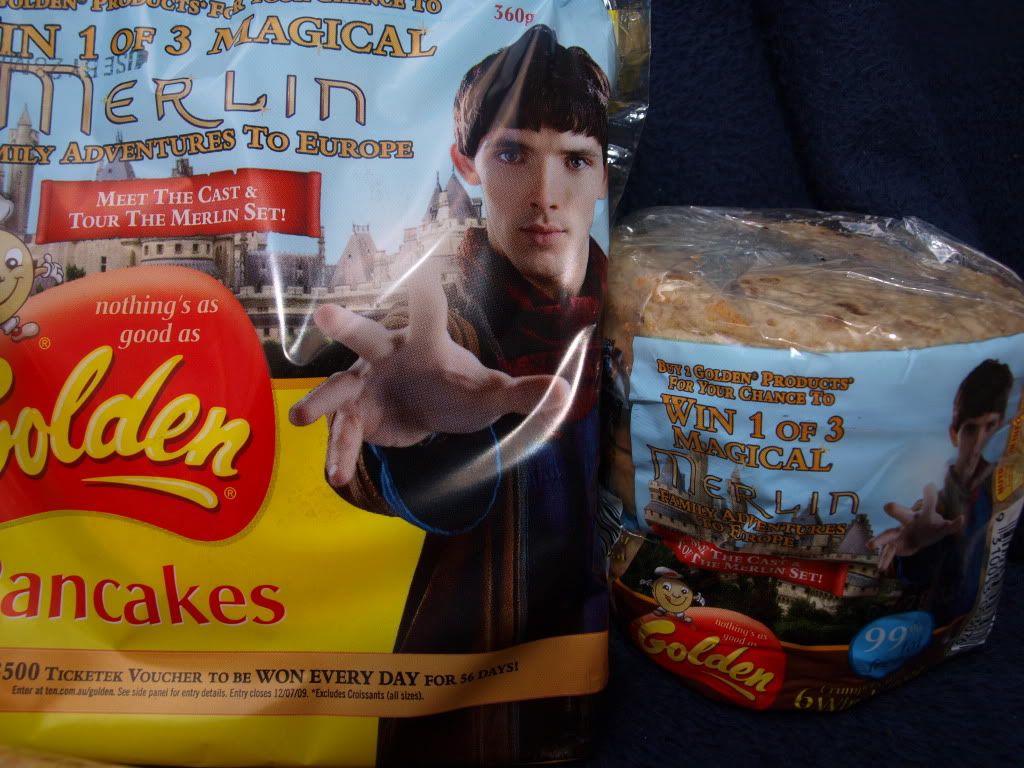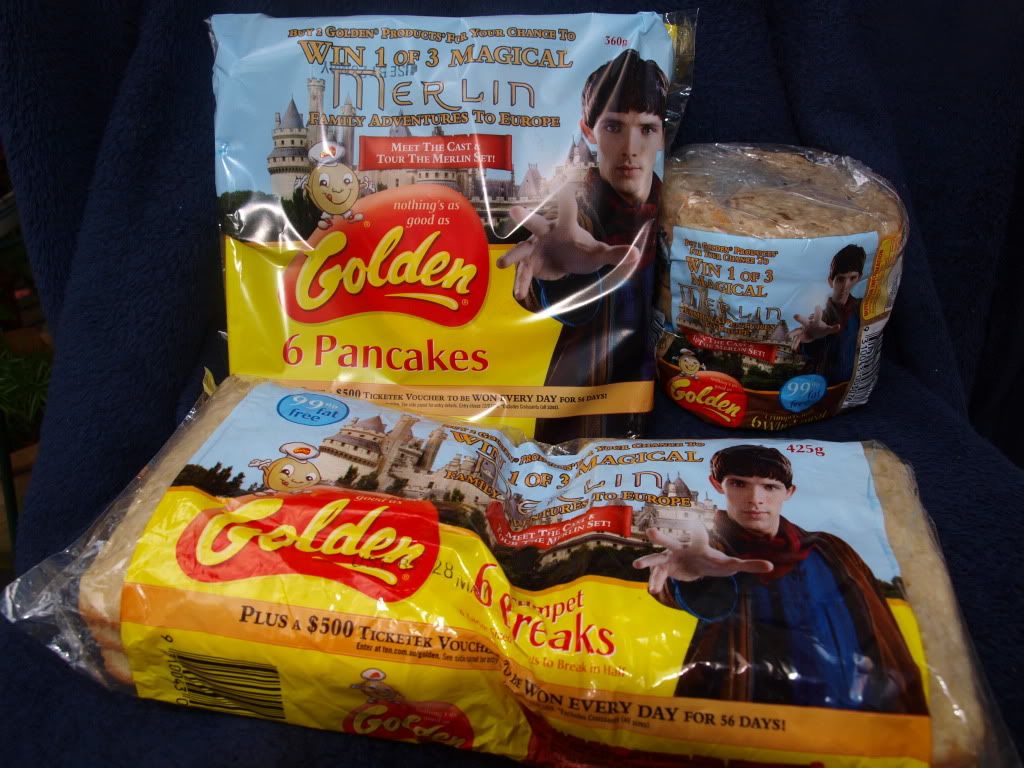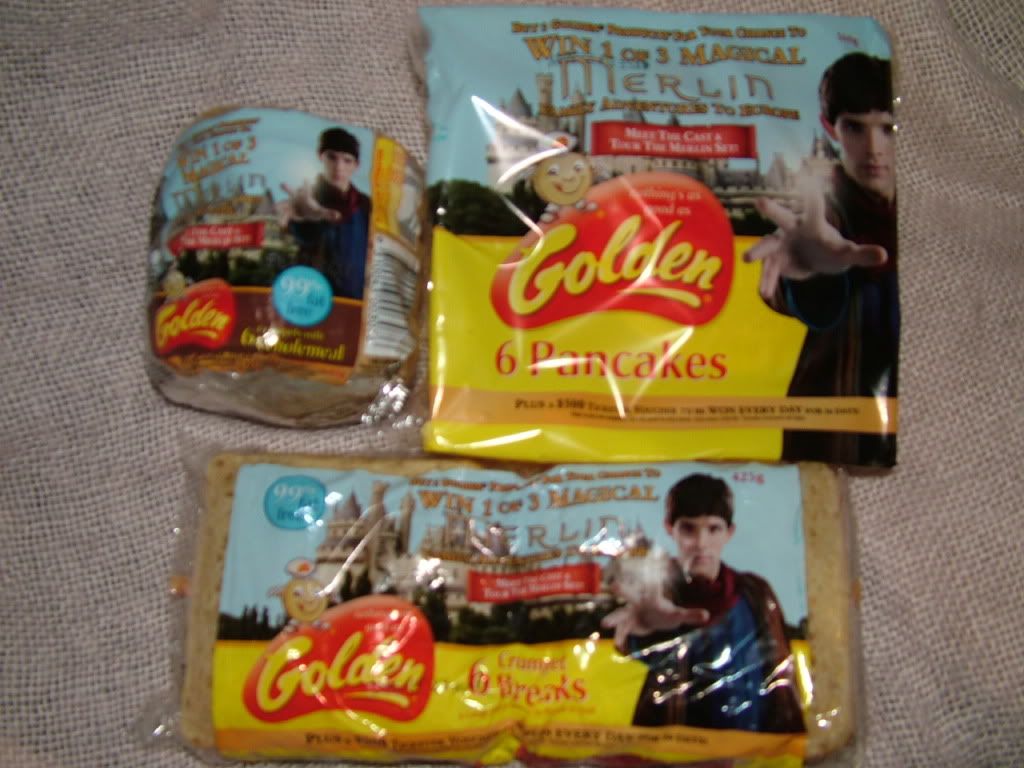 Monday (the post I never finished):

TOUCHING up a Singapore Airlines flight attendant, giving drinkers "wedgies" at Oktoberfest and pilfering bar mats from Phuket bars. Australians love to travel and we are, it seems, finding ever more unorthodox ways of extending our time overseas - even if it means bunking down in the lock-up.

"Australians go everywhere, and everywhere they go they get into trouble," a senior official from the Department of Foreign Affairs and Trade says. "It makes you proud." - SMH

Roffle. Almost as much fun as hearing Warwick Thornton being as Oz as at Cannes (he was just on triplej, less soap boxy, just havimng fun).

Meanwhile, the land of flooding rains never made it as far as my place. I was promised a weekend of lashing rain and guilt free dvd viewing. I got blue skies and sunshine instead. Bastard. So I had to do the washing, then cut up my beloved ex trees with my shiny new saw, which I blooded (that'll learn me to give it a name). That was Saturday. On Sunday, I stayed in my room and sulked. Usually I can be guilted out my my room with spurious crashes and bangs but I guess I've just been pushed too far (I know I'm over reacting over the trees but that was my safe place and it's gone now). Didn't get to do anything I wanted to, I just sat and stewed, basically. Oh, and watched Merlin.

Sunday nights is kinda Boys from Buffy night, what with Tony, David and Nathan all popping up in my viewing schedule. Sure, I had other stuff to do, but I was sulking. So I watched telly. The Saint was travelling up some Amazonian river, which looked hilariously like the Thames in the long shots, hustling scamsters and mad South American generals with equal aplomb.

Merlin, well, it was two episodes again and it's all a bit of a brightly coloured haze of pretty and I'm not sure I can comment properly as it's Monday, I'm suffering a near dose of Monday-itis and the people I hate are back in the office. Damn. But I gotta say, you call that beastie a cockatrice? Shame, Mill, shame!


Wedgies and petty theft tie up consular staff
http://www.smh.com.au/text/articles/2009/05/22/1242498923874.html

Defense chief praises soldier in pink boxers
http://www.sfgate.com/cgi-bin/article.cgi?f=/n/a/2009/05/22/national/w074826D15.DTL

RunPee tells movie fans when to go
http://www.abc.net.au/news/stories/2009/05/22/2578534.htm

True Blood Season 2 Behind The Scenes Photo
http://skarsgardfans.wordpress.com/2009/05/23/true-blood-season-2-behind-the-scenes-photo/

Picspam: My Baby's Got Secrets
http://feilongfan.livejournal.com/110751.html

merlin layout
http://community.livejournal.com/merlinxarthur/1112332.html

[fanmix] make some room for me/I want to be enough for you - Merlin, Merlin/Arthur
http://fallslikeicarus.livejournal.com/3026.html

All We Are - [Merlin/Arthur]
http://www.youtube.com/watch?v=PrLiw3xZJVk

M/A
http://community.livejournal.com/merlinbbc/283043.html

CW Boss: Smallville and Supernatural Are Not Necessarily Entering Final Seasons
http://www.seattlepi.com/tvguide/406471_tvgif21.html?source=pimail

Oxford poet resigns over vote row
http://news.bbc.co.uk/2/hi/entertainment/arts_and_culture/8067432.stm

Sherlock Holmes' enduring popularity
http://news.bbc.co.uk/2/hi/entertainment/8063739.stm

Chalk it up to tradition: ancient horse gets a facelift
http://www.smh.com.au/text/articles/2009/05/24/1243103430239.html

Frank Lloyd Wright + Lego = Awesome
http://www.wired.com/geekdad/2009/05/frank-lloyd-wright-lego/

Men with big muscles cut cancer risk by 40 per cent
http://www.telegraph.co.uk/health/healthnews/5371468/Men-with-big-muscles-cut-cancer-risk-by-40-per-cent.html

Simple Minds still going strong
http://www.news.com.au/couriermail/story/0,20797,25521470-5003421,00.html?from=public_rss&referrer=email&source=CM_email_nl

Buffy Vampire Slayer movie remake
http://www.thisislincolnshire.co.uk/showbiz/Buffy-Vampire-Slayer-movie-remake/article-1024206-detail/article.html

Buffy returning to big screen
http://www.abc.net.au/news/stories/2009/05/26/2581134.htm

For the love of Austen
http://www.theage.com.au/news/entertainment/arts/for-the-love-of-austen/2009/05/21/1242498866665.html

Giant dinosaurs 'held heads high'
http://news.bbc.co.uk/2/hi/science/nature/8068789.stm

Friday's TV: Life On Mars
http://www.brisbanetimes.com.au/entertainment/fridays-tv-life-on-mars-20090527-bn84.html

'Dexter': John Lithgow to kill in threes
http://latimesblogs.latimes.com/showtracker/2009/05/dexter-john-lithgow-to-kill-in-threes.html

Spam sushi
http://www.notquitenigella.com/2009/01/06/spam-sushi/