Saturday was all washing and trying to get the IQ down to a manageable level (ie so it'll stop making noises and stop doing bad things to Hustle and Messiah), which means I didn't get to watch shows I'd recorded especially to watch, like Wire in the Blood, Silent Witness and Rex. Ah, well. Such is my life.

Fell asleep during Rebus, so I didn't get to watch that, either (and either I missed the ABC screenings or Hallmark is showing stuff first run because suddenly we went from episodes I'd seen to episodes I'd not, like Hustle on UKTV.

Sunday we went to see Sculpture by the Sea at Bondi.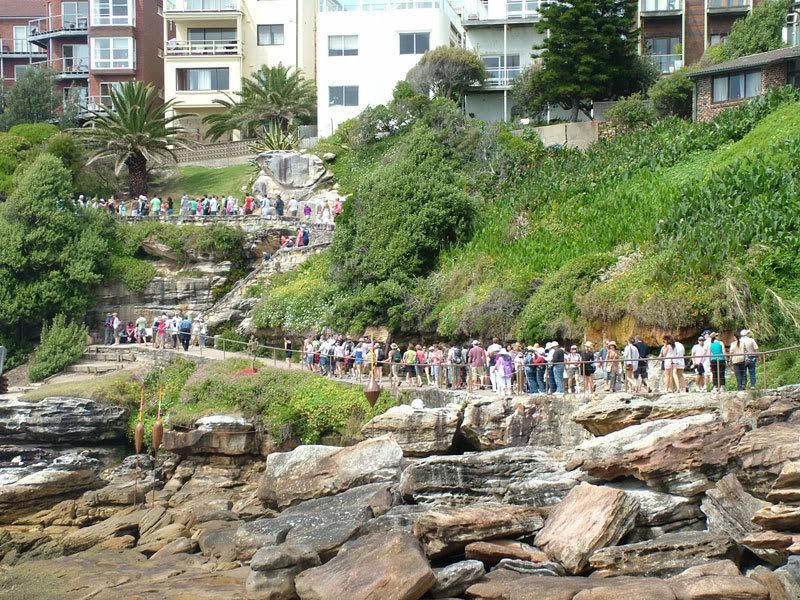 It was a big day because we had to get up at 5am, do the watering and hang out the clothes, but the papers, have brekkie etc, then get to Bondi from the wastelands by public transport on a Sunday, with the main train line out. We do love a Top Gear challenge. Well, we did it. We did the walk in record time, we didn't really have a choice, carried along by the crowd and woe betide the fool who tried to take a photo. That I managed to get the following sans snotty nosed brats using them as play equipment or being tossed into the sea is bloody luck, I can tell you. Didn't get too burnt because I had the silly 70s hat of severely reduced field of vision (just the thing for a cliffside walk!) but at least it shaded my face (mostly by flopping in front of it so I couldn't see where I was going).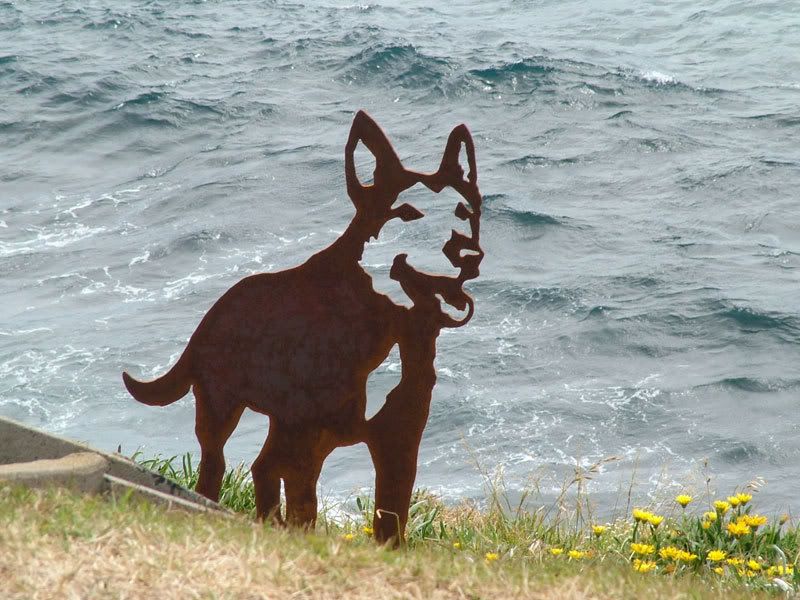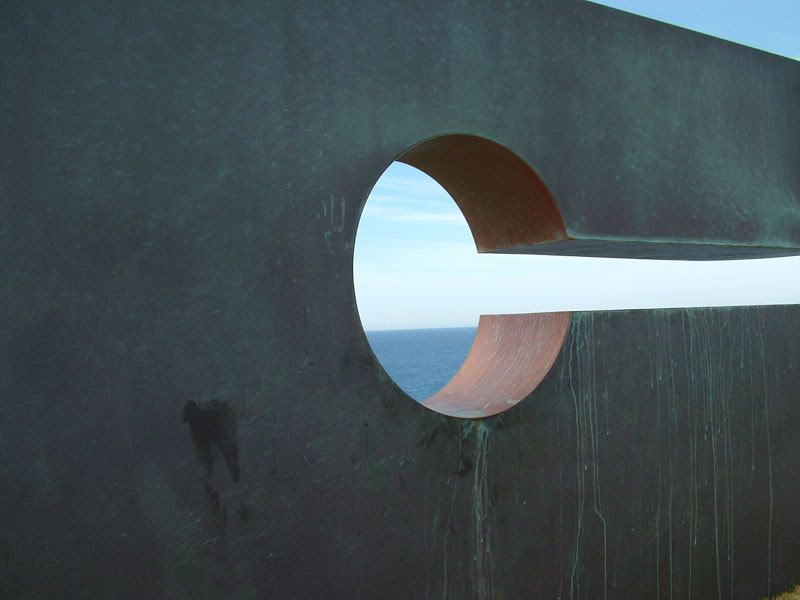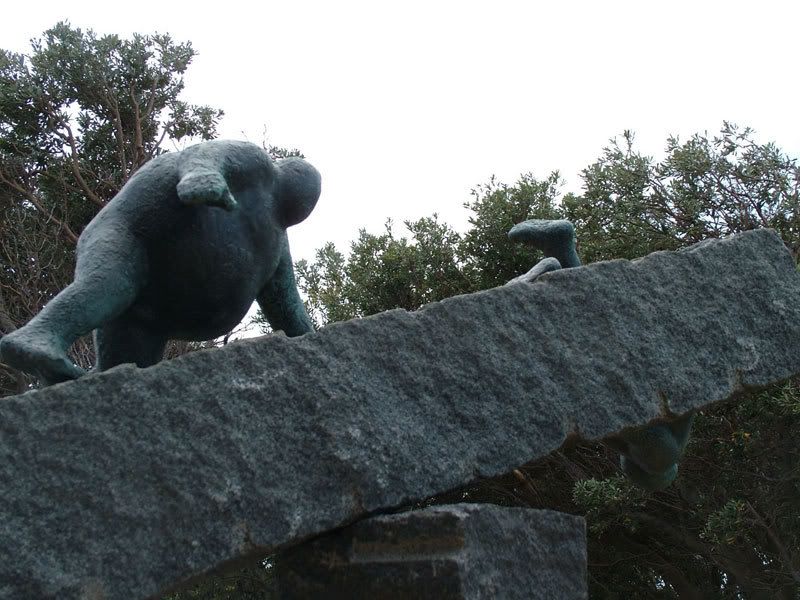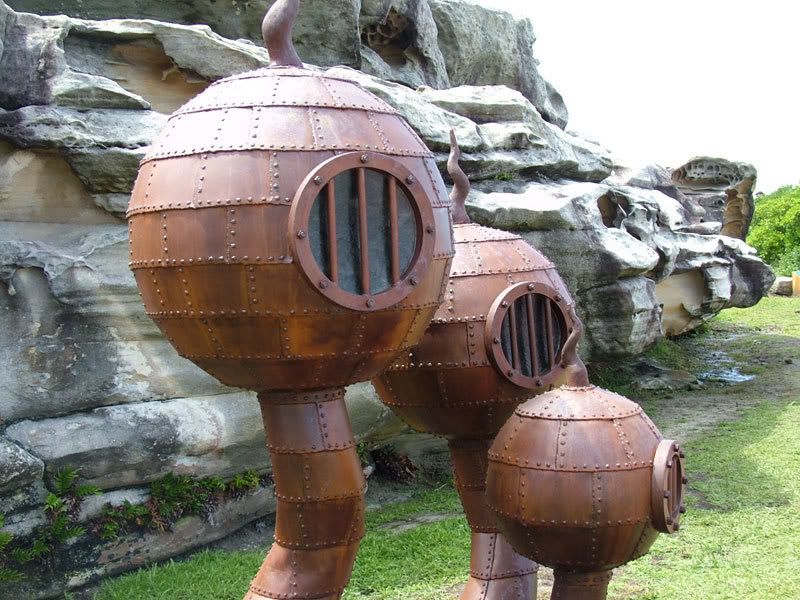 Warhol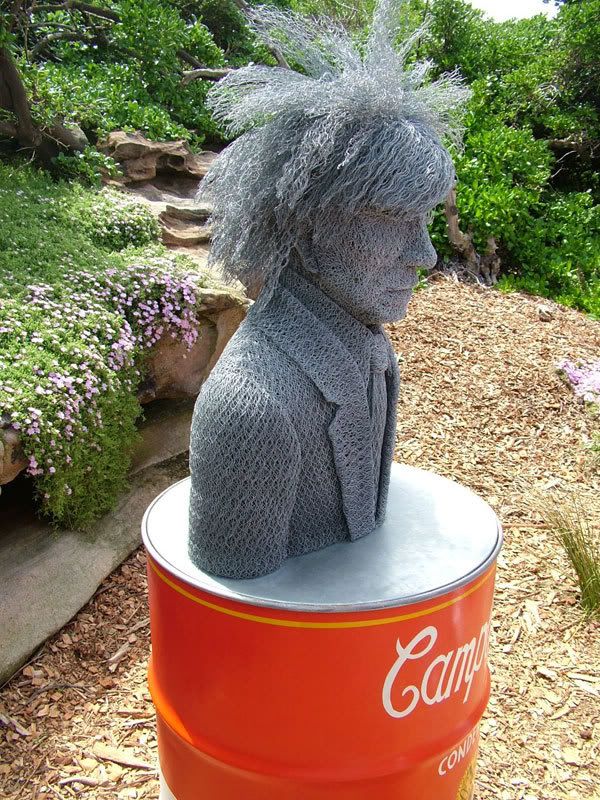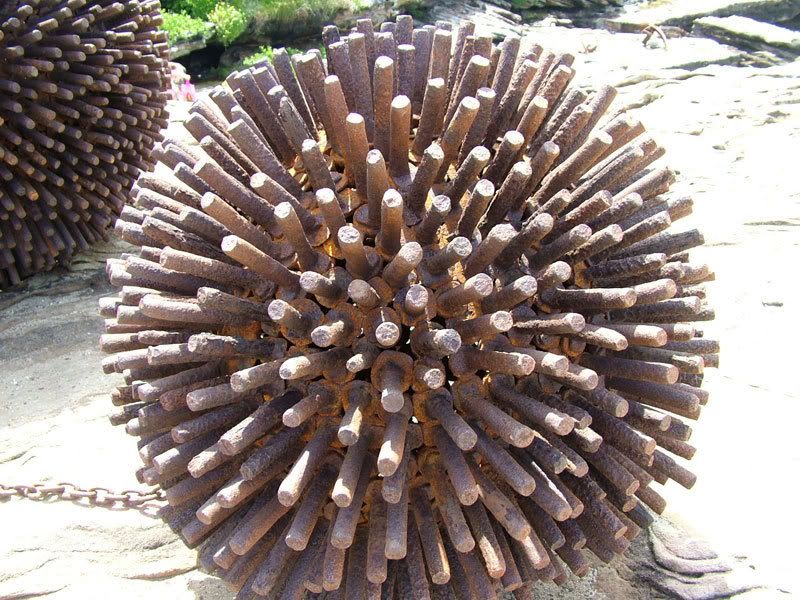 Metal sheep





Plastic soldier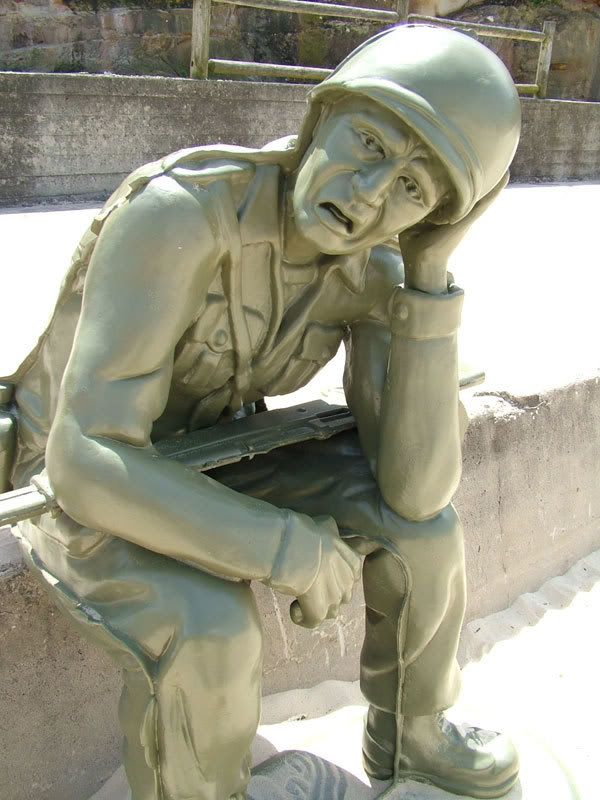 We did the walk so quickly by the time we got back to the city it was only 1.30 pm (it felt more like 4pm) so we had clab claws by the quay (they'll always be clab claws, sorry, but it's just the way it is, but at least I didn't tell you the ping pong joke I heard that was so very, very wrong on the bus) and then a green tea latte at one of the last Starbucks in all of Oz (catering solely to the tourist trade, and me) and then somehow we managed to get home in time for Morse.

Alas, it was Remorseful Day, but it does have some nighty fine dummy spits from Lewis (made all the more amusing by the rising inflection when he really gets going) not to mention much resigned eye rolling. Unfortnately for Morse I was required to do nearly three hours of ironing during the show so I was busy with collars and pockets when he choked his last (and was making wildly inappropriate suggestions to Lewis that he should should go through the auld bastard's pockets and see if he could get the price of a pint back at least). Sorry, Lewis, but several loads of ironing makes me mean and mocking of your pain.

The I watched Long Firm - managed to stay awake - and that was it. Today is gonna be a long, long day. First there was the pointless running about at lunchtime. Somewhat annoyed by the the long, long list Himself provided for his birthday largesse, both in terms of expense (10% of my annual wage, before tax), shopping time and annoying unavailability (the cupboards are bare at every shop I went to). So he'll have to make do. I did try, but it has rapidly become a chore (I hate shopping to start with and he kept the list back until shopping online became impossible). Me? A dvd, a book and a small box of choccies would see me right. But no, I've got J-Lo's shopping list to get done, I swear. There'll be no money left for me for anything, even food, on my hols now, and I find that just selfish.

So I've been running around hither and yon in the heat, with prices going up as I stand in the queue, I swear, and the urgent stuff I'm supposed to be doing today has yet to appear in the inbox, it's nearly 3pm and it's six hours work. Sigh.

Jensen Ackles - Eye of the Tiger
http://au.youtube.com/watch?v=R0Fz_egtEgc

Watch SUPERNATURAL Eye of the Tiger Surprise Blooper Clip
http://www.duckydoestv.com/2008/10/24/watch-supernatural-eye-of-the-tiger-surprise-blooper-clip/

SPN
http://community.livejournal.com/rightclickdrool/600762.html
http://img410.imageshack.us/my.php?image=sn05mp00166449522ke2.jpg

Apple walnut kugel
http://www.latimes.com/features/la-fo-kidpastarec22c-2008oct22,0,4401344.story?track=ntothtml

Gay priest is true to his faith, at odds with his church
http://www.latimes.com/news/local/la-me-lopez26-2008oct26,0,6908782.column?track=ntothtml

The 'If Only' Train
http://www.nytimes.com/2008/10/26/opinion/26sun4.html?_r=1&th&emc=th&oref=slogin

Art looted by Soviets turns up in London
http://www.abc.net.au/news/stories/2008/10/25/2401101.htm

The Hitler Meme
http://www.nytimes.com/2008/10/26/magazine/26wwln-medium-t.html?_r=1&th&emc=th&oref=slogin

Stand up for Shakespeare
http://www.rsc.org.uk/standupforshakespeare/content/Home.aspx

Padalecki on Friday the 13th vs. Bloody Valentine
http://www.shocktillyoudrop.com/news/topnews.php?id=8202

Padalecki Scream Awards interview (slight, slight spoilers)
http://blog.zap2it.com/scifi/2008/10/scream-awards-1.html

Picspam: Eye of the Ackles
http://trystan830.livejournal.com/907651.html

Picspam with gifs:
http://community.livejournal.com/supernatural_tv/1689118.html

Promos and clips for 4.07
http://www.youtube.com/watch?v=DIMpv6yo0l0&feature=related

Soderbergh to Make a Live-Action 3D Rock 'n' Roll Musical About
Cleopatra (Jackman)
http://www.cinematical.com/2008/10/24/soderbergh-to-make-a-live-action-3d-rock-n-roll-musical-about/

Humans mastered fire 790,000 years ago
http://www.news.com.au/couriermail/story/0,23739,24556956-954,00.html?referrer=email

The Bard in a gruesome vein
http://www.smh.com.au/news/entertainment/arts/the-bard-in-a-gruesome-vein/2008/10/24/1224351540509.html