Oh boy, as Sam used to say. Ignoring history making work merde for the moment, we turn our minds back to a dark and rainy Friday night. You just won't believe how tiny that regional gallery was (I'd compare it to my 1940s kitchen, but you've no concept of how tiny that is, so let's go with cupboard). And cram packed with matrons and wankers.

Basically it was an installation by the prima wanker who had no friggin idea about the history of the women she'd co-opted for her art, including my great great great great great great grandmother. Then the mayor stood up and called the women whores and protitutes. It's not every day the mayor calls your grandmother a whore. If only I was still limber enough to get the bastard with a flying kick over the lectern (hykeeba!). But alas, no. I drank their beer, I chewed their prawns and I departed, steaming, in the soaking downpour.

Was disappointed to catch the end of Wire in the Blood, mainly because it was 98% the fic I was working on, right down to the knots (and why yes, I am a sick puppy, I am descended from whores, afterall). Bugger. No everyone will think I just ripped off (when in fact I was basing it on the bog bodies exhibition I saw in Manchester once mashed with all those dead Saxons they found in that Oxford quad and the idea that a sacrifice is made, somehow, every so often, as required). Sigh. Still, press ahead, because it's a vital part of the arc, such that it is. Okay, soap.

Saturday is was bucketing down, and I had to call a taxi to get me to the plane on time (mainly because there are no buses in the morning, or in the afternoon or evening). (And before you pontificate, I paid extra to offset my flight and I don't have a car or a dishwasher or heating or aircon or a plasma tv so there). Anyways, driving along, rain so hard it couldn't been seen through and I was dreading something like the last taxi ride in similiar weather but this guy was as sure and steady as a mountain goat - with good reason, he'd spent four years driving army transports through the mountains of Afghanistan. Now that's the guy you want at the wheel. Nice man, only driving taxis because cheap Chinese goods put his import business out of business.

So, flew down. So glad I'd checked in online so I got up the front and didn't have to board in the rain using the back stairs. Yay.

Melbourne, by freaky constrast, was all blue skies and sunshine and I had to peel off all my coats and jumpers (black, because I was in Melbourne, afterall, where even the derros are better turned out than most of my co-workers). Found out why the centrally located hotel was so cheap (seedy area) but never mind. Trudged off to the NGV. Massive queue of handbag weidling matrons and wankers, again. It was overcrowded and a bit disappointing as they'd advertised it as the V&A exhibition. Liars. A coupla pieces from the V&A but mostly stuff from the NGV. Not that it wasn't cool, but it was small, and half the stuff I'd seen before (there are artworks that are seriously becoming like that episode of a series you see again and again and again while never ever seeing any other episodes, I think it's called the Cheers episode effect).

I liked the compare and contrast stuff that showed off the Art Deco influences (but thought there were far better pieces scattered about the NGV proper) and was annoyed that people paid a lot of money to crowd around a single chair when the rest of the suite lurked up on the third floor for free and without anyone but me to admire it. Loved the dresses (hated how skinny they were) but wished they'd included a providence. Thought the slideshows were naff (I've seen far better photos) and, well, a bit underwhelmed. Did love Man Ray's Electricity. If only I could do that on the website. As if. But...cool. In fact, I loved all the posters most of all, with teapots coming in a close second.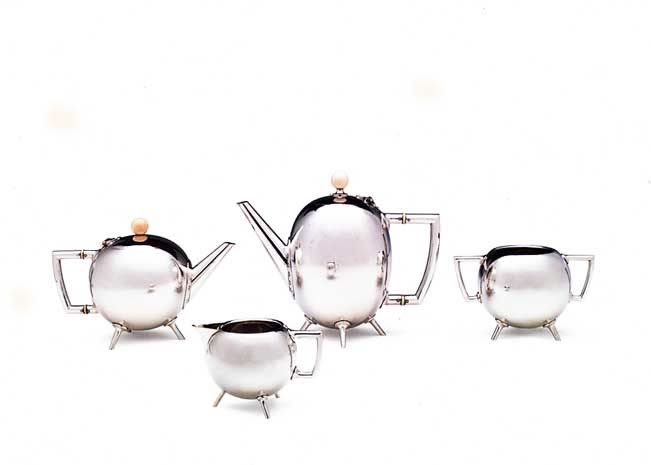 Source: NGV

But, to be honest, I've seen better, and in situ.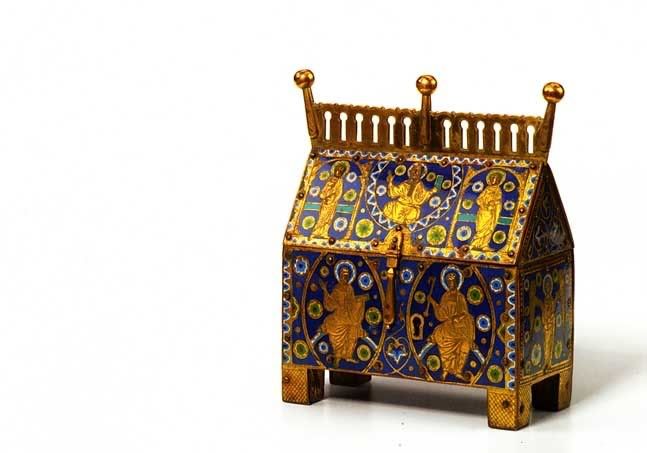 Source: NGV

The the rest of the NGV though: love. The room of 14thC art with all the saints being stabbed and flayed and fried - personal fave was St Agatha waving her severed breast around. Wire in the Blood and Dexter have nothing on medieaval Christianity for sheer creepy ick factor. Then I moved of to fey Pre-Raphaelite princes, sickly Victorian orphans, peasants under plein air vistas and my fave which I must scan later so I can explain why it was a fave. It spoke to me, shall we say. It was a girl being bored witless by a completely oblivious gentleman. It cracked me up.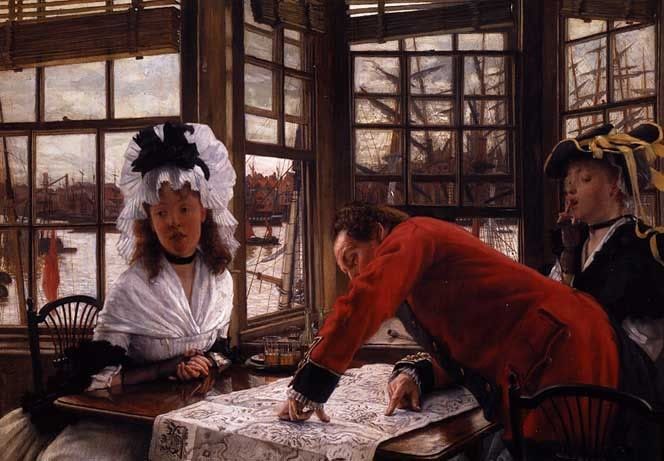 Source: NGV

There were tapestries, reliquaries, pots and pans. Kraters with scrums of Greeks and Trojans, which were really cool, and they seemed to have dreads (seriously, dude, which amused me no end). I also really loved the toga faux paus (you never said you were wearing that toga!) and a mummy case! We have nothing like that in the cultural wastelands.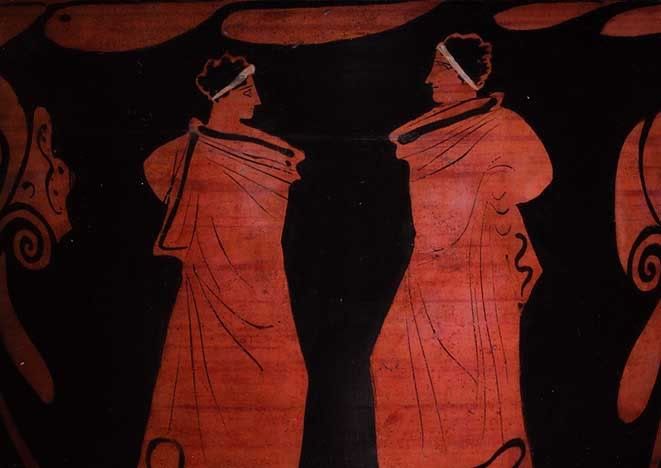 Source: NGV

Okay, so it's like only one item or a shelf as opposed to rooms and floors in the big northern hemisphere galleries/museums, but still, way cool, and quite enough for my poor old feet. And I think it's just right, as I get overwhelmed with an entire room of tapestries, but just one, and I can study every thread. Just one 15thC triptych and I can wonder why the lady in the foreground has a giant fly on her dress. I can peer at their one etched glass vase and be amused that the gentleman illustrated at the rear is smoking. Less can be more, you know? (But nothing can be nothing, as we have nothing here).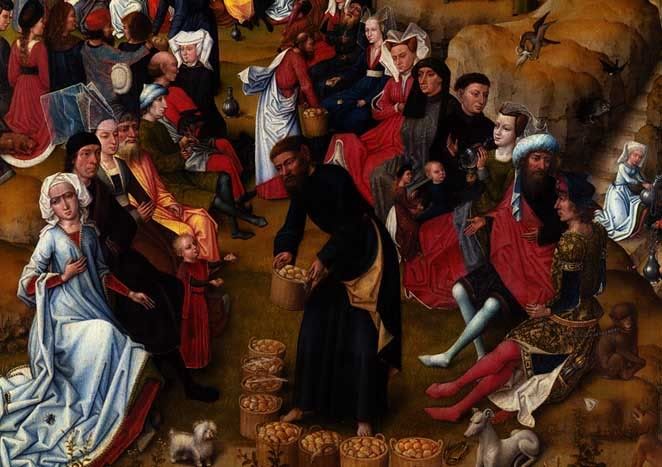 Source NGV

Meant to go out to see a film but it was looking like a really wild night (have a dozen folk stabbed or bashed to death in the CBD that night) so I opted for a bath and a cuppa instead. And I watched the ABC. Oh, dear god, when I did become cardigan fodder?

Went back super early to see the Art Deco again on Sunday, hoping the less crowded would reap rewards, and it did, but that horrid child who threw tanties everywhere ruined it for me, she threw the biggest tanty when some other beleagured patron dared ask the parents to take her in hand. I'd have happily have disposed of the entire family unit in a shallow grave just off a lonely highway, but that's just me. Ruined it for me (and everyone else). Hard to get lost in the design with screaming self centred brats running about. But I did get to see detail I'd missed and that fearsome cobra vase is a must prop for the Crowley fic. There was also a cabinet with a Greek-style horse and charioteer fluttering by that really got to me - the sheer joy of the charioteer expressed with just a few lines of inlay - gorgeous!

Took in the rooms I'd not made it to before closing on Saturday, and revisited faves. Sadly the revisit to the tea shop was not the joy it had been the previous day as they botched my order utterly (giving it to someone else who left sans bll and like hell I was paying for it and then they botched my re-order and I had to contend with more brats and their brattish "mothers", if you can call such self absorption maternal - I swear, the rat catcher could have taken the child and that woman would not have noticed until she'd gotten home). Pity, because the previous day I'd enjoyed my pot of earl grey and sandwiches so much I'd fancied buying a souvnier teacup. Not a chance now. And for a gallery with a tea shop, there's a near criminal lack of lavvies. Trust me, I know (one pot of earl grey, remember?).

Meant to go sightseeing on Sunday arvo but it turned bitter cold, grey and wet and I was tired and a bit fed up by that stage (okay, more than a bit, the news from home was distressing) so I tottered off to watch Hellboy. I enjoyed it. I didn't think it was as wow as the reviews made out, but I enjoyed it.

Then it was takeaway and the Doctor doing Lifeboat meets Twilight Zone (the episode name escapes me but it was such a blatant rip) on a seriously cruddy hotel telly. Then James May and the remainder of Midsomer - yep, cranky old spinsters R us, with my sore feet and my constant cuppas.

Monday I did go shopping but failed to find anything that I could fit into and/or afford, but I did pick up bras in Target (yes, I could get there here but my Target is disgusting with stuff all over the floor, including used nappies, so I don't go there). This led to one the hotel workers bemused to catch me trying to stuff the bras in my now bursting tiny weekender bag in the locker room. And I got my hot chocolate from the Belgian choccie shop. I love that particular hot chocolate above all others (and I've sampled a few, in my time).

Flight back was a nightmare: late, cramped and crammed and a truly terrifying really thought we were for it landing. The first few plunges I could just about bear but the last couple when we were so low I could see curtain patterns in people's windows were seriously not cool.

Then I had a twenty eight minute wait for the train (and they wonder why people don't catch the train) then I picked up shopping at Town Hall, including treats for the washing which wasn't done). Then a three hour bus journey that was so slow we picked up all the school brats along the never-ending way. Joy.

Then I couldn't get through the front door for the mess. Arrrgh. And there was nothing in the fridge to feed my tame kookaburra - wail! Dirty dishes in the sink, last week's ironing still to do. Did. Watched Top Gear. Grumped off to bed.

Now I've got to do cartwheels to try and keep my job again. So not in the mood.

THURSDAY: Okay, it's being a week. A week with screaming, but also dumplings.

Tuesday was not busy like I thought, even the inbox was eerily empty. I guess everyone was still in stunned mullet mode. This was good, because I was tired and fed up. Went home early and meant to scan but I spent so long cleaning off the dining room table that by the time I'd finished I was finished. I did watch Blink, which is still a brilliant episode of television/work of fiction, and then Spooks came on and I settled down with a hot chocolate, pleased that for once it was on at a decent hour so I wouldn't fall asleep...Zzzzz....

Oh dear. Guess I really was tired. Yesterday, well, work is the shit and the hobgoblin screamed and stamped and shook her angry little fist in my face and carried on like an angry little terrier as usual (and all I ever do is my job, to the letter, and beyond) but there was yum cha with an ex-colleague and friend who is such a wit that he managed to turn his tale of a recent prostate op into a roaring comedy. So if I said that was the highlight of my week you'd think I'm weird, but you had to be there. Hilarious. I was crying with laughter (and if I was a guy, I'd have been crossing my legs). A fine raconteur.

It was also the last episode of Rome. Sniff. Wibble. Lots of big man love, loyalty, unshed man tears and manly hand holding as Anthony and Vorenus both ended up on the pointy ends of swords (oh, how could they!). Okay, I know pretty Anthony had to go, as unlike, say, other dramatisations, Rome concerns itself with the primnary sources more than most, but Vorenus! How could they possibly break up the big man friendship to end them all? I am firmly convinced that big ol loveable lug Titus told enormous porkies about everything and he and a newly stitched up Vorenus ran away to live happily ever after with their blended family on a farm somewhere in the outer provinces. Hey, denial isn't just a river in that "shithole", as Vorenus would have it.

But my boys, weep. I feel like I need to go watch Bedrooms and Hallways again (which, oddly, is still sitting near the top of the bedside midden). At least nobody gets one in the gizzards there.

Of course, I really need to be watching the marines a friend so kindly shared with me. Please, please, please, can we have another wet weekend like last week?

Bedrooms and Hallways
http://en.wikipedia.org/wiki/Bedrooms_and_Hallways

Vampire mystery 'True Blood' feels drained of fun
http://www.latimes.com/entertainment/news/la-et-trueblood5-2008sep05,0,3102222.story?track=ntothtml

Vampires fight for equal rights in 'True Blood'
http://seattlepi.nwsource.com/tv/377957_tvtrueblood06.html

Alex
http://s365.photobucket.com/albums/oo99/alexskarsgard/trueblood/?action=view¤t=tb-18.jpg
http://s365.photobucket.com/albums/oo99/alexskarsgard/trueblood/?action=view¤t=tb-15.jpg

Plasma smoothie!
http://alexander-skarsgard.net/gallery/displayimage.php?pid=7661&fullsize=1

Alexander
http://alexander-skarsgard.net/gallery/displayimage.php?pid=7720&fullsize=1

Handsome Stranger? Be Careful. He Bites.
http://www.nytimes.com/2008/09/05/arts/television/05bloo.html?ref=television

Los Angeles Premiere of HBO's Series "True Blood" - Arrivals
http://www.wireimage.com/ItemListings.aspx?sr=41&nbc1=1&igi=331721&Source=blml080905

Los Angeles Premiere of HBO's Series "True Blood" - Red Carpet
http://www.wireimage.com/ItemListings.aspx?nbc1=1&igi=331723&Source=blml080905

Henry VIII events around London
http://www.latimes.com/features/la-tr-henrybox7-2008sep07,0,5239442.story?track=ntothtml

All your favorite Heroes actors in pictures...
http://community.livejournal.com/ohnotheydidnt/27612535.html

Heroes Premiere Party
http://flawedhollywood.com/2008/09/08/heroes-premiere-party/

Milo Ventimiglia Wants to Play Robin in Batman Film
http://www.showbizspy.com/showbiz/08272008/Milo_Ventimiglia_Wants_to_Play_Robin_in_Batman_Film

Robert Downey Jr. and Jon Favreau Talk Iron Man
http://movies.gearlive.com/movies/article/q107-robert-downey-jr-and-jon-favreau-talk-iron-man/

Wolverine: The Movie preview!
http://community.livejournal.com/ohnotheydidnt/27598915.html

Mammoth skull raised from ground
http://news.bbc.co.uk/1/hi/sci/tech/7599219.stm

Iron Man DVD Clips & Artwork!
http://www.superherohype.com/news/ironmannews.php?id=7647

HUGH HOSTS BALL
http://www.fadedyouthblog.com/47439/hugh-hosts-ball/

Was Aleister Crowley a Secret Agent?
http://www.dazeddigital.com/view/Default.aspx?CategoryId=22&ArticleID=603&PageNum=1

Life on Mars - Cast Promo Photo
http://spoilertv.blogspot.com/2008/09/life-on-mars-cast-promo-photo.html

Spelling is a donkeys' bridge we all must cross
http://www.telegraph.co.uk/opinion/main.jhtml?xml=/opinion/2008/09/09/do0902.xml&DCMP=EMC-new_09092008

Doctor Who's Paul Cornell Tells io9 Why Darkness Is Overrated
http://io9.com/5047015/doctor-whos-paul-cornell-tells-io9-why-darkness-is-overrated

Soap Box Derby - J2
http://pics.livejournal.com/glockgal/gallery/0001ccax

Jared&Jensen vid 2
http://www.youtube.com/watch?v=M6kY4UxMfWU

Jensen Ackles & Jared Padalecki Soapbox Derby charity race
http://video.google.com/videoplay?docid=8154880932254363921&hl=en

J2
http://www.flickr.com/photos/cat/sets/72157607192949133/

Man from Uncle: The Re-Collectors Affair (PICSPAM)
http://liviapenn.livejournal.com/526978.html

Two more scenes involving Napoleon, Illya and women (PICSPAM)
http://liviapenn.livejournal.com/527224.html

More Crazy Rumors: Michael Caine Says Depp is Riddler, Hoffman is Penguin?!
http://www.firstshowing.net/2008/09/08/more-crazy-rumors-michael-caine-says-depp-is-riddler-hoffman-is-penguin/

Strong Start for 'Bones'
http://www.nytimes.com/2008/09/05/arts/television/05arts-STRONGSTARTF_BRF.html?ref=television

Spooky Conspiracy on Sci-Fi Frontier
http://www.nytimes.com/2008/09/09/arts/television/09frin.html?_r=1&th&emc=th&oref=slogin

Hell on Wheels
http://www.nytimes.com/2008/09/07/fashion/07nite.html?_r=1&ref=television&oref=slogin

Viggo's life philosophy
http://www.thisisnottingham.co.uk/showbiz/Viggo-s-life-philosophy/article-315958-detail/article.html

Jeremy Clarkson tanked about Top Gear Australia
http://www.news.com.au/dailytelegraph/story/0,22049,24280507-5006014,00.html

Philip Seymour Hoffman Responds To Casting Rumor, 'I Don't Know If I'd Be A Good Penguin'
http://splashpage.mtv.com/2008/09/09/dark-knight-update-philip-seymour-hoffman-responds-to-casting-rumor-i-dont-know-if-id-be-a-good-penguin/

People (LOM)
http://www.timesonline.co.uk/tol/news/uk/article4719581.ece

Newcastle Brown Ale
http://www.newcastlebrownale.co.uk/

HBO's 'True Blood': Audiences don't bite
http://latimesblogs.latimes.com/showtracker/2008/09/hbo-premiere-tr.html

`Brokeback Mountain' Scribe Sharpens Knife for More Odd Couples
http://www.bloomberg.com/apps/news?pid=20601088&sid=aCEX5t57RsEI&refer=muse

The Cinema Society and Vanity Fair Host a Screening of "Appaloosa" - After Party (Viggo)
http://www.wireimage.com/ItemListings.aspx?cbi=4543&igi=333143&nbc1=1

Call girl-next-door
http://www.theage.com.au/news/tv--radio/call-girlnextdoor/2008/09/10/1220857557389.html

Damon Condemns Palin
http://www.youtube.com/watch?v=anxkrm9uEJk

Alexander
http://i365.photobucket.com/albums/oo99/alexskarsgard/82695316.jpg

Alexander Skarsgard Net
http://alexander-skarsgard.net/gallery/thumbnails.php?album=lastup&cat=0&page=2

Would You Date This Vampire?
http://io9.com/5048085/would-you-date-this-vampire

For Auction - The Original Leather Jacket worn by John Simm in "Life on Mars"
http://www.domeofstars.com/forum/index.php?topic=4919.0

BuddyTV on the Set of 'Supernatural'
http://www.buddytv.com/articles/supernatural/buddytv-at-the-set-of-supernat-22611.aspx

Favreau, Downey Jr. Rock the Aero Theatre
http://laist.com/2008/09/08/favreau_downey_jr_aero_theatre.php

Bum deal: tough UK visa rules
http://www.smh.com.au/news/arts/bum-deal-tough-uk-visa-rules/2008/09/10/1220857638451.html

Nature's fury exposed
http://www.news.com.au/couriermail/gallery/0,23816,5034433-952-13,00.html

How sex affects your walk
http://www.news.com.au/couriermail/story/0,23739,24328422-23272,00.html?referrer=email

Wick
http://www.caithness.org/atoz/wick/historyofwick/herringgutters.jpg
http://wicklifeboat.googlepages.com/herring_days.jpg/herring_days-full;crop:0.01,0.01,0.99,0.98.jpg

Wick Herring Queen Souvenir Programme 1938
http://www.ambaile.org.uk/en/item/item_page.jsp?item_id=41777