Just back from the Taishô chic exhibition (while the cat's away the mice will skip off to the art gallery). It was nice, if small. Some lovely pieces, but not as many as I'd hoped. From the look of the book, we have a cut down version of the exhibition. Never mind, it was nice to go and see something that wasn't html code for a change.

Peeked in at some other pieces on the way out, and I wish I'd taken more than my change purse because I'd forgotten all the cool dvds they now sell there in the gift shop (the place for quirky and antique Brit stuff, fyi).

That was fun. Braved Hyde Park on the way back, fortunately didn't run into any roaming inquisitors (am bemused at the confessional tent set up next to the muscular wrestling nudes of the Archibald fountain, a poor Catholic boy could end up on perpetual rotation, such a shame).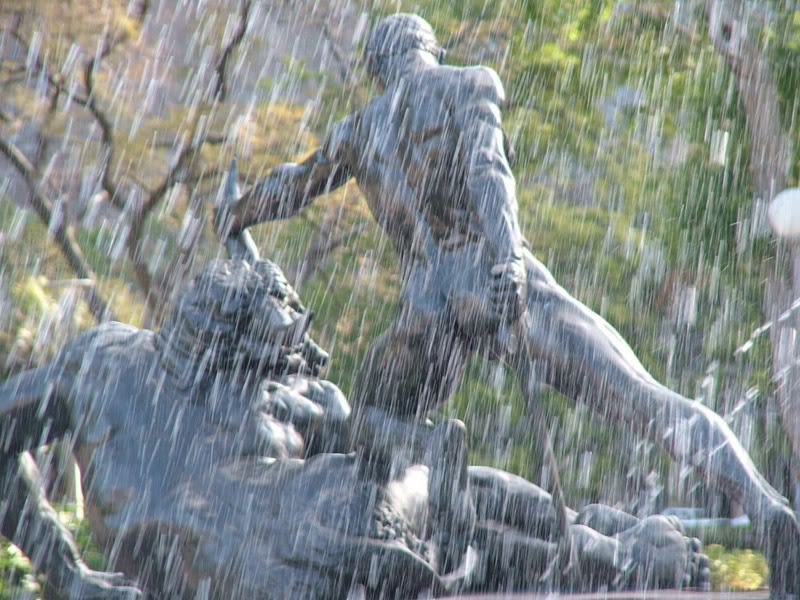 Only it's now illegal to annoy Catholics so I must stay schtum. Other religions are still fair game though. Sigh. It's gonna be a long, hard, expensive week (ya gotta admit, $5,000 AUD is quite a swear box).

Other than that, not much. Last night it was mostly ironing and falling asleep. The fics are coming together, though, with weirdly meshing ideas provided by newsclippings, other media and friends, even old MacGyver episodes as Mythbusters cruelly reminded me last night (you shoukd ave seen the flail when I realised that one). I was trying to go for Burn Notice, but ended up MacGyver. I should just stuck with the Spooks ripoff it was to start with.

Inspector Rex meanwhile coughed up an extremely Morse-like episode with garden centres, wicked uni professors and elegant stone bridges and country estates and bicycles and the murderous extremes some will go to save face all featuring heavily. In fact it was so 80s (they were using 8mm film, not video or dvd for one part) we're not sure we haven't seen it as some 80s/90s cop plot. Anyway, it was very, very Morse-y (which means poor Lewis is the dog).

http://www.artgallery.nsw.gov.au/exhibitions/current/taisho_chic
Taishô chic

http://seattlepi.nwsource.com/tv/370142_tv10.html
'Burn Notice' has it all but the hype

http://www.independent.co.uk/news/world/europe/symbol-of-rome-found-to-be-1000-years-too-young-863937.html
Symbol of Rome found to be 1,000 years too young

http://www.independent.co.uk/news/world/americas/serial-killers-likely-to-be-family-men-not-freaks-says-fbi-863930.html
Serial killers likely to be family men, not freaks, says FBI

http://www.met.police.uk/about/organisation.htm
Structure of Policing in London

http://www.washingtonpost.com/wp-dyn/content/article/2008/07/09/AR2008070901934.html?wpisrc=newsletter&wpisrc=newsletter
Survival of the Sudsiest

http://www.sfgate.com/cgi-bin/article.cgi?f=/c/a/2008/07/09/DDJ611M96Q.DTL&nl=top
Old-school monsters give 'Hellboy 2' retro charm

http://en.wikipedia.org/wiki/Bog_body
Bog people

http://en.wikipedia.org/wiki/Lindow_Man
Lindow Man

http://en.wikipedia.org/wiki/Mistletoe
Mistletoe

http://en.wikipedia.org/wiki/Osiris
Osiris

http://en.wikipedia.org/wiki/Celts_and_human_sacrifice
Celts and human sacrifice

http://en.wikipedia.org/wiki/Green_Man
Green Man

http://community.livejournal.com/dean_sam/4910158.html
Jensen & Jared to Make 2 Day Appearance At Comic Con

http://travel.timesonline.co.uk/tol/life_and_style/travel/travel_images/article4181138.ece
Signs of the times 2008

http://uk.news.yahoo.com/wenn/20080710/ten-downey-jr-to-play-holmes-c60bd6d.html
Downey Jr. to play Holmes

http://www.telegraph.co.uk/news/2281462/Bern-Schwartz-Portraits-of-the-70s.html
Bern Schwartz: Portraits of the 70s

http://www.independent.co.uk/news/world/australasia/australia-faces-food-crisis-as-rivers-reach-new-low-865069.html
Australia faces food crisis as rivers reach new low