Oh dear, where to start? Well, I can say the only two things that have brightened my week considerably were the ads for Supernatural I saw last night (squee!) and the fact that every second review of Robin Hood appears to use the word "gay" in the headlines. Obviously they're all watching it wrong - grin.

I say they and not I because I currently have no access to the apparently very merry men (though I am heartened by the news that Aunty has bought S2 though when Aunty will ever screen it is anyone's guess). It grieves me ever so slightly because while dear confidants were able to whisper in my ear re sating my wickedly impatient need for matters Who and Supernatural, sadly none of my friends share my guilty pleasure (they're all too classy to sully their eyeballs with such wanton silliness) and all the Hood places I've found on the net seem to be run almost exclusively (with one or two exceptions) by uptight killjoys who frown on that sort of thing (entirely within their rights, of course, but the 'I'm alright Jack' 'tood of some irks me at times).

Patience is a virtue, I understand, but right now I find difficulty practicing it (although I fully realise that anticipation of campy leather clad fun will be far better than the actual viewing, which I understand involves much direness, and anyway I have a room full of tv to watch so I should probably just shut up now).

But never mind, Channel Ten, bless 'em, is bringing forth the Supernatural, thus sparing Dell Boy any overheated tantrums (and the connection has been inconstant of late, hence the offline time). I dunno, I'm just really, really insanely overjoyed at the prospect of seeing the boys again. Of course, it'll probably suck, but the expectation is fun.

It was also funny when I picked up TV Week and flicked it open at the SPN article and 5,000 bogongs came screaming out in full Scooby Doo mode. Well, okay, not 5,000, but close (there be a plague of the buggers right now). They're all in this building, bogongs, that is, not Winchesters, alas, and they keep doinking into me, the way they do. They've totally covered the other building I report too, like it's totally black with them. Kinda creepy if they weren't harmless and daft.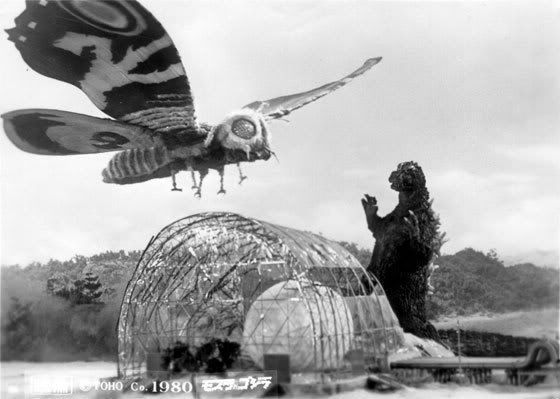 Mothra! (shown to scale)

In other news, no, we did not pick up the ashes. I spoke to three people, I made an appointment, but when we got there, they were locked up. I should have made an appointment, I was told. Was I not in their books for ten? Was that not sufficiently appointy for them? Arrgh. Took us over three hours in the blistering heat to get a taxi home, the stupid prick kept going to the wrong address and then was so blithely rude about it - I really thought my brother was going to hit him. Tip: don't piss around people waiting to be collected from a crematorium as the chances are they're quite upset to start with.

Anyhoo, paid for the plaques, that'll be another $7,000, ker-ching! I nearly hit the woman when she said she could fit my father's name on, but she changed her mind v. quickly when I got up to leave. Himself wanted a pink granite but I picked the nearest match to Aberdeen stone as I could (if I'm paying seven grand, I want to get a FU in there somewhere).

Crap day all round, which is where I get to the great help of friends, particularly the friend who sent the enormous chocolate hamper that came in the sort of big box I've only ever seen in Doris Day films, and the friend who sent the gift voucher for an ITC dvd. Very, very, very much appreciated, you've no idea how much. Thank you.

The ITC wallowing continues apace with the second box of Protectors cracked open, and it's still enormous fun, more Strange Report and some absolutely cracking episodes of Cathy Gale Avengers. Just cracking. I love Cathy, she's always ready with the zingers to put down a very playful Steed. And Steed, when he was still the young scallywag - so cool. Really, amazingly cool. There's an awful lot of His Girl Friday UST going on, and it's just gorgeous, and so much better than anything on offer today (the girls are too weedy, the men too snaggy). Mr Teddy Bear is the best episode, it really is (and it sparked silly thoughts of Aloysius being an assassin for hire and Sebastian being his beard, but that's just me).

The rest of the weekend was also not fun, particularly pathetic with the vomit, hang out washing, vomit some more on Sunday (by Wednesday I was just bringing up foam). Lots of sleepless nights with the hot water bottle, missing the odd gift of a cup of tea terribly (though Himself did bring home papers and an el cheapo box of tv westerns on Monday) and I kept sleeping through the Saint, Callan and Casanova but staying awake through the interminable Judge John Deed (I try to like it so hard but it just doesn't sit right, sorry Martin).

Tuesday involved another trip to the solicitor. That's going to cost another $8,000 - ker-ching! It's nearly two grand alone just for the probate costs. Ouch. Mother always used to say "you can't take it with you" but she's done a damn fine job of taking all of my life savings, and I do mean life savings, as in money I'd saved since I was 15. All gone. All of it. So in answer to other questions, I'm staying put for the forseeable future as I can barely cover bus fare right now.

Wednesday was a sucky day at work but I eventually just settled down to working without talking to anyone. I did manage to stay awake for House and Life. House is just silly, but watching him being mean to Wilson makes me laugh and while Life is still Just Another Quiky Cop Show with a plot that could be sketched on the back of a bus ticket, it's got Damian being all sexy and cute and well, I've sat through far worse on account of the ginger ninja (Dreamcatcher, anyone?) and it has its moments so it'll do.

Yesterday was a bit better. Actually it picked up once I got home on Wed because Himself had wandered through the night noodle market on the way home (I do envy his time for such wanderings) and was inspired to pick up all manner of exotica and even though I'd been ill (to put it mildly, though Himself reckons the sunstroke on Saturday made the usual fun that much funner) I couldn't help but sample the treats (roast duck spring rolls, smoked pork buns) and it was yummy.

Last night he picked up veal, pancetta, sage and white wine ravioli and it was delicious. He felt like treats on account of our misery.

Had a choice of Unit One or Bionic Woman but I'd already seen that night's Unit One but to be honest I'm just not into the new Bionic Woman and I rather agree with Himself who said he turned off halfway through, disappointed there was no Max the bionic dog. It's all rather too Alias, and I could never really take to that, no matter how hard I tried.

I'm up to episode 7 of Unit One, and it doesn't disappoint. The episode started with Fischer having noisey sex with his missus in a holiday cottage. Camera pans to the next room where La Cour is looking peeved as he tries, but fails, to work on his PC while the noisey Fischer sex is going on. So Fischer has taken his slash buddy with him to the love shack? With the missus? Those Danes do it differently, don't they - grin. Fischer and La Cour are just perfect cop buddies though, always snarky and jealous. Well, La Cour being the pining jealous one, of course (ack, just had another bogong zoom into my face) and Fischer being all scowly and sexy. Love it. Love it to bits.

Ooh, the lovely B, one of my fave people, just dropped by with chocolate teddy bear biscuits. Gotta love someone who drops by with choccie biccies. She's thoroughly lovely, anyway, but the biccies seal the deal.

So all I've got left to mention is Heroes. There was a lot, but not quite enough, of young Pete all smeared in baby oil and tied to a chair. Shameless, shameless pandering to the lowest common demoniator. And loving it. Also quite liking the Hiro plot and Matt and Mohinder shacking up, but the other stuff is all meh, but it's like any soap, one endures the lesser plotlines for the plotlines of choice :) And anyway, Bondage Pete was such fun I can forgive them almost anything. And I do like the show, it's the only reason I ever read X-Men - superhero soap (the constant biffo bored me).

And yeah, it's a bit like Buffy. Tellyingly, I can never tell what series four episode it is from one second of footage the way I can with one-three, but it still has its moments. What can I say, it's usually one when I walk through the door. Would that I managed to leave as early when Mum was alive and needed me, but everything is up in the air workwise (it's like Rome right now with folks falling on their swords and public biffo) I've given up trying to claw onto tenure. It's all the more guilt to deal with. It's so much fun right now.

And I've just about finished Northanger (yes, taking me a while but I can only read when I get a seat) and I don't know what to read next. I gotta say, I love that book so much. Jane was never as playful or snarky again, alas. There's a real cheekiness, which I find adorable.

And now I'm off for a fire drill. It's all go today, good thing I pushed through most of my inbox yesterday.

And now a five minute storm, the first rumble growling while it was still all blue skies and sunshine outside my window. There was a brief storm last night, too, but it was all flash and bang and no rain, which annoys me because the garden is so parched. And now the storm is quite gone, as if it was never here.

Meanwhile there's dire rumours re work in the offing. What a complete waste of time my efforts have been, when I should have been with my mother. Please understand that at the time I was told she was nursing home bound, and I thought it best to jump through every hoop required to keep this job and pay for her care. But now, well, I made the wrong decision. Mum's gone and those hours sacrificed were all for nothing. Guilt, guilt, gimme chocolate.

http://film.guardian.co.uk/news/story/0,,2181865,00.html
British TV writer takes on Tintin movie

http://www.smh.com.au/news/tv-reviews/unit-one/2005/11/17/1132016904354.html
Unit One

http://www.wireimage.com/GalleryListing.asp?navtyp=GLS====291675&c4nvi=3&str=1744&styp=clbi&nbc1=1
"Rendition" Press Conference

http://www.empireonline.com/news/story.asp?NID=21191
Could There Really Be A Serenity Sequel?

http://www.empireonline.com/news/story.asp?NID=21173
Indy Still Photos Stolen?

http://entertainment.timesonline.co.uk/tol/arts_and_entertainment/film/article2580800.ece
Indiana Jones: the secret is still safe

http://news.independent.co.uk/europe/article3038408.ece
Monet painting damaged during Orsay break-in

http://video.tvguide.com/Shows/Bones
Bones Videos

http://entertainment.timesonline.co.uk/tol/arts_and_entertainment/stage/theatre/article2554350.ece
For sale: codpieces of the stars

http://www.wireimage.com/GalleryListing.asp?navtyp=GLS====292157&c4nvi=3&str=341&styp=clbi&nbc1=1
"Gone Baby Gone" - Audi Arrivals

http://www.wireimage.com/GalleryListing.asp?navtyp=GLS====292188&c4nvi=3&str=341&styp=clbi&nbc1=1
"Gone Baby Gone" Los Angeles Premiere - Red Carpet

http://www.wireimage.com/GalleryListing.asp?navtyp=GLS====290400&c4nvi=3&str=341&styp=clbi&nbc1=1
"Gone Baby Gone" Los Angeles Premiere - Arrivals

http://www.wireimage.com/GalleryListing.asp?navtyp=GLS====291673&c4nvi=3&str=341&styp=clbi&nbc1=1
"Gone Baby Gone" Press Conference

http://www.nzherald.co.nz/section/2/story.cfm?c_id=2&objectid=10468593
Stirring win for Scotland's first lady of porridge

http://news.bbc.co.uk/2/hi/science/nature/7033830.stm
Bees to make elephants 'buzz off'

http://news.independent.co.uk/media/article3021329.ece
Ronnie Hazlehurst, the man who set the BBC to music, dies aged 79

http://en.wikipedia.org/wiki/Strange_Report
Strange Report

http://en.wikipedia.org/wiki/Division_4
Division 4

http://news.independent.co.uk/world/americas/article3043757.ece
Art from angst: the dark side of Charlie Brown

http://media.guardian.co.uk/broadcast/story/0,,2187184,00.html
Michael Knight rides again

http://news.bbc.co.uk/2/hi/entertainment/6958184.stm
Duchovny's 'shocking' new role

http://community.tvguide.com/blog-entry/TVGuide-Editors-Blog/Ausiello-Report/Exclusive-Joss-Whedon/800023929
Exclusive: Joss Whedon Planning Office Massacre

http://seattlepi.nwsource.com/tv/334911_kiefer10.html
Sutherland to be jailed 48 days in DUI case

http://www.smh.com.au/news/world/ancient-roman-graveyard-found-in-suburban-copenhagen/2007/10/11/1191696024505.html?sssdmh=dm16.283275
Ancient Roman graveyard found in suburban Copenhagen

http://arts.independent.co.uk/music/news/article3047609.ece
Radiohead album goes live on the internet

http://www.smh.com.au/news/biztech/old-fuddyduddy-fights-back-over-sacking/2007/10/09/1191695903315.html?sssdmh=dm16.283275
'Old fuddy-duddy' fights back over Google sacking

http://www.smh.com.au/news/film/bana-takes-his-badguy-schtick-to-star-trek/2007/10/11/1191696042878.html
Bana to play Star Trek baddie

http://www.smh.com.au/news/music/worstlyricist-label-has-sting-to-it/2007/10/10/1191695990668.html
Worst-lyricist label has Sting to it

http://www.smh.com.au/news/world/end-to-life-in-fast-lane-for-biker-stuntman/2007/10/10/1191695990490.html
End to life in fast lane for biker stuntman

http://www.smh.com.au/news/national/first-visions-of-wars-ruin-before-the-brush/2007/10/10/1191695991711.html
First visions of war's ruin, before the brush

http://www.smh.com.au/news/music/new-spotlight-on-the-unjoyous-boy/2007/10/10/1191695987294.html
New spotlight on the unjoyous boy

http://news.independent.co.uk/sci_tech/article3047630.ece
Common words 'less likely to change'

http://www.wireimage.com/GalleryListing.asp?navtyp=GLS====291710&c4nvi=3&str=1744&styp=clbi&nbc1=1
"Rendition" Los Angeles Premiere - Red Carpet

http://www.wireimage.com/GalleryListing.asp?navtyp=GLS====291711&c4nvi=3&str=1744&styp=clbi&nbc1=1
"Rendition" Los Angeles Premiere - After Party

http://www.wireimage.com/GalleryListing.asp?navtyp=GLS====291139&c4nvi=3&str=1744&styp=clbi&nbc1=1
"Rendition" Beverly Hills Premiere - Arrivals

http://www.smh.com.au/news/national/bogong-warning-dont-yawn/2007/10/11/1191696054753.html?sssdmh=dm16.283461
Bogong warning: don't yawn

http://www.smh.com.au/news/film/the-unstoppable-mr-clooney/2007/10/11/1191696049329.html
The unstoppable Mr Clooney

http://film.guardian.co.uk/features/featurepages/0,,2186131,00.html
Oiled and dangerous