I look like Worzel Gummidge. I feel worse. No more days out for me, then.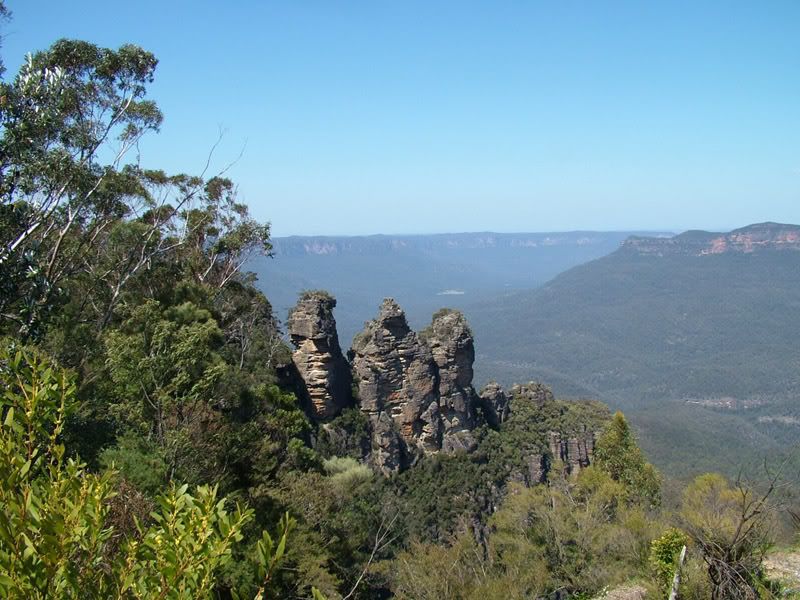 It seemed harmless enough: there we were, watching Jeeves and Wooster, and we got it into our heads that lunch at the Paragon would be just the thing. And it was, though it felt too much like a rushed affair. It was just the heat, and the wind, oh, dear readers, the wind. Terrible gusts, real bowl you over stuff. I made Himself doff his ever present hat and I'm glad I did because the next minute somebody elses' hat sailed off the cliff and down into the valley below, and there was no way I was climbing into the valley or shimmying up a tree to retrieve a hat. But it did mean we got sunburnt.

But it was nice to get a day out, lest we go weird (okay, weirder) and it was a nice train trip (it reminded me of my last big train trips - sigh) and a nice bus trip - we caught the big red tour bus that took us all around the world for considerably more than sixpence, but at least we got to see the blossoms out before they all blewed away.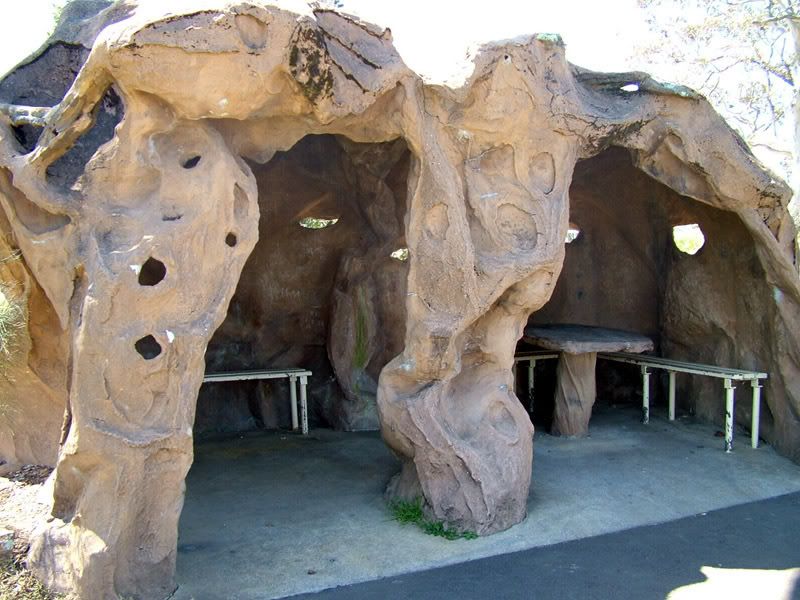 Himself was also much pleased to see some picnic shelters designed by some architect (Tom Adam) related to a friend of his. Actually, I was glad to see them, too. They're done by the guy who did a lot of Taronga Zoo and they're quaint little Fred Flinstone-y huts in shaped and painted concrete and I have a very soft nostalgic spot for them - reinforced by the blustering day. They might be dank inside but at least they're shelter. The really funny thing was that after Himself took many pictures of the imposin edifice, not one but two Indian families rocked to to have their photos taken in front of the glorified bus shelter. Um, never mind.

In fact, we thought it'd be a new game, taking photos of mundane things, just to see if some poor daft tourist will stand in front of it (instead of the designated world famous sight) - heh. Okay, so we're evil.

I should also apologise for the lack of scans. Obviously I was elsewhere so they didn't get done. When I got home I was knackered and it was all I could do to emergency water and re-pot plants that had shrivelled up/blown over in the oven blasts and feed the kookaburra (and the rest) before sunset then it was just toasted bagels and bed.

Saturday I didn't get everything I had to do done because, well, I was thwarted by the curtain rod I'd bought and measured carefully being MIA when it finally got to the top of the to do list. Argh. The nearest place was Ikea, and I so wasn't up for that. So I weeded instead. It's like a game: what deadly spider is crawling on me now? And I've worn two holes in my brand new garden gloves already. What can I say, it's a bit weedy. It's been neglected for six months but I'm halfway there. I realise now it's like the harbour bridge, I just start again when I've finished.

I should have also sorted papers or done something else, but I was tired. I'm afraid there was some dvd watching. (And you should have seen Himself's face when I said there was no more Doctor Who - the 'I've just killed his puppy' face. Oh dear). Not much: Just Jeeves and Wooster and a Strange Report and a Protectors. Oh yeah, I also watched Casanova on UKTV so I wasn't entirely Tennant deprived. Was bemused to notice this time around that the square around with I navigated quite a bit featured, ditto all those bridges I dragged poor pink bag over - grin. Wee Davey was gorgeous, but you know this.

http://en.wikipedia.org/wiki/Three_Sisters_(Australia)
Three Sisters

http://www.aussieheritage.com.au/listings/nsw/Katoomba/TheParagonCafe/7848
The Paragon Cafe

http://nla.gov.au/nla.pic-vn3695913
The mining float

http://libapp.sl.nsw.gov.au/cgi-bin/spydus/ENQ/PM/FULL1?61733,I
Mining float in procession

http://news.bbc.co.uk/2/hi/entertainment/7020553.stm
Bond star Lois Maxwell dies at 80

http://film.guardian.co.uk/news/story/0,,2180822,00.html
Original Miss Moneypenny dies, aged 80

http://www.nytimes.com/2007/10/01/movies/01maxwell.html?_r=1&ref=movies&oref=slogin
Lois Maxwell, 80, an Actress Who Played in 14 'Bond' Films, Dies

http://news.independent.co.uk/uk/this_britain/article3015286.ece
Lois Maxwell, Moneypenny to millions, dies at the age of 80

http://www.smh.com.au/articles/2007/09/30/1191090952103.html?sssdmh=dm16.281668&from=top5
Girl who resisted James Bond dies

http://news.scotsman.com/entertainment.cfm?id=1567372007
Ure a winner says star

http://www.smh.com.au/news/film/ben-and-casey-afflecks-baby/2007/10/01/1191090997615.html
Ben and Casey Affleck's 'baby'

http://www.wireimage.com/GalleryListing.asp?navtyp=gls===291442&Source=blml071002
Variety Screening Series - "Gone Baby Gone"

http://www.theage.com.au/news/film/affleck-talks-jlo/2007/10/03/1191091156294.html
Affleck says romance with J-Lo hurt his career

http://entertainment.timesonline.co.uk/tol/arts_and_entertainment/tv_and_radio/article2557645.ece
Alistair McGowan: My next impression...I'm an Indian

http://www.nytimes.com/2007/09/28/arts/television/28moon.html?ref=television
Vampire With a Rule Book and a Mighty Fine Kitchen

http://www.latimes.com/entertainment/news/tv/la-et-moonlight28sep28,1,6895425.story?coll=la-entnews-tv&ctrack=2&cset=true
Oh what a little 'Moonlight' can't do

http://www.latimes.com/entertainment/news/tv/la-ca-dexter30sep30,1,4249829.story?coll=la-entnews-tv&ctrack=1&cset=true
A kindler, gentler 'Dexter'

http://media.guardian.co.uk/site/story/0,,2179144,00.html
Radio review

http://sepinwall.blogspot.com/2007/09/put-stake-in-it.html
Put a stake in it?

http://blog.nj.com/alltv/2007/09/the_women_are_super_the_shows.html
Sepinwall on TV: The women are super; the shows aren't

http://www.telegraph.co.uk/earth/main.jhtml?xml=/earth/2007/10/02/scimaiden102.xml&DCMP=EMC-new_02102007
Ice maiden 'fattened up for sacrifice'

http://environment.independent.co.uk/article3015288.ece
Silent victims of the sea: rising tides threaten archaeological sites

http://news.bbc.co.uk/2/hi/science/nature/7023644.stm
Sabretooth's surprising weak bite