Not much to say today. I did sweet f/a last night, which was wicked, indolent and slothful, but by the time I got home last night I realised I'd left everything at work and the dreaded lurgy gave me a good shake and I just wasn't in the mood to do anything but watch a bit of telly and have a cup of tea. Being too cross for LOM (a bad starting position, I thought), I found P&P on cable and realised I'd not watched it since Xmas and decided that it would do very nicely indeed.

Nothing quite like a nice hot cup of tea, Mr Darcy and biting the head off a chocolate bilby to, well, not set the world to rights (my world has just gone too askew of late for that), but at least make it bearable, just for a bit. And Matthew makes such a pretty Mr Darcy and it's fun to see his little heart break when Liz gives him that only partially undeserved reality check, and then all his nervous, faltering attempts to pitch woo. Sometimes I suspect if it wasn't for the pretty and the country pile poor old Darcy wouldn't get a look in, no matter how decently his heart might beat beneath the silk waistcoat.

Poor old bibly, too. I find it much harder to be cruel to a choccie bilby than a rabbit, because, I suppose, bilby's are endangered and rabbits are pests (even the Herald was discussing one's civic duty in being mean to rabbits the other day). Now I suppose you're gonna say you've never had a chocolate bilby. Tsk.

But I'm really annoyed about today. I'm knackered, and it was my day off, but everyone else had today off, too, so I did the noble thing and came in. I thought it'd be quiet and I could, you know, get stuff done. But no. She Who Must Be Obeyed (no matter how insane) is in andit's work up the wazoo and since my co-worker just walked out without any handover. I'm up that creek sans paddles.

So so much for finishing off that LOM George Sewell Memorial Special Branch Inflatable Mattress fic, which I really wanted to do, and am now very cross about. Or the Robin Hood saga (oh yes, saga) that has been in my head since November but has yet to see paper and I'll really start forgetting stuff and I don't want to, especially since I like the bit I'm on now, another brief return to Robin and Much and their embittered dysfuntionality, especially since Much has had a moment of clarity re Robin being a heartless bastard, but still every time Robin throws him that smile, poor Much is just a slave to the rhythm, as it were, and he really hates himself for it - which is the fun part. Poor Much.

Meanwhile, I nearly had a Primeval plot bunny, or pwp, really, try to poke its head through the anomaly, but I beat it back with a very large stick. Besides, I've pretty much already written anything I might have to say on the matter of wormholes and dinosaurs. Sorry, anomalies. Oh yes, we don't call them wormholes here because that leads to thoughts of Stargate, Farscape and Trek. Primeval, of course, isn't a Sci Fi show, oh no, it's just about anomalies and dinosaurs. I'm so glad we've got that cleared up (sorry, I was reading an article that was pretty much ten reasons why Primeval isn't a sci fi show - what a hoot).

Anyhoo, here's my two fave otps at the moment (one slightly less doomed than the other and sorry, Connor, but you're just too clingy and geeky, though keep working on it, attrition may succeed where charm fails).




Crapness. The usual 4.15 dump begins, and thus I won't be getting home to see Murphy or Spooks tonight, again. Spooks I have but Murphy, well, I foolishly forgot to set the pvr, again. Le sigh. That was rather optimistic of me, wasn't it.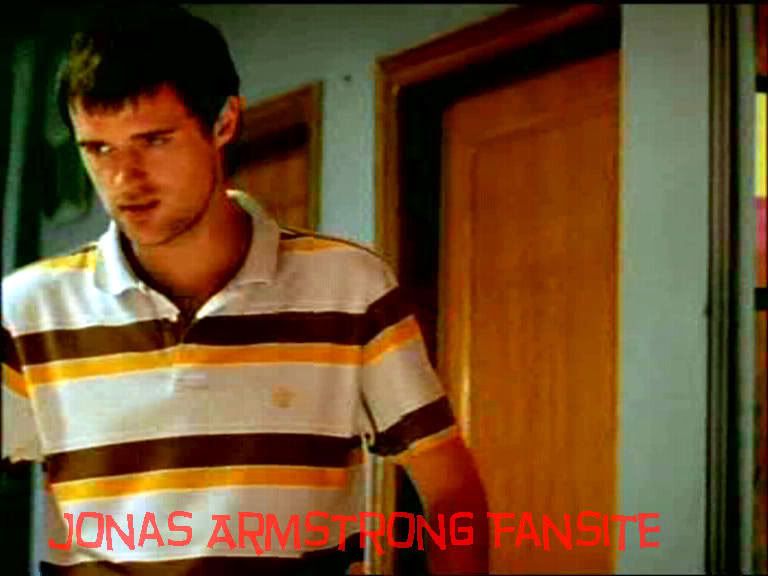 And finally, what's wrong with this picture, aside from the hideous cap vandalism? Can you say the return of the Bobby Brady shirt? Why, Jonas, why? (It's not Ghost Squad, it's Losing Gemma).

Okay, trying that hoopy set your non recorder recorder via remote thing for tv tonight. Also Amzon just emailed and said they've just posted slightly less roadkill dvds. Thank you Amazon. They said I could my squished sets to charity. I don't think so. Maybe I could make my own anomaly style windchime from the shards and hang over the veggie patch. Not that I have time but it's the only use I could think of. Or maybe superglueing the bits along the fence to discourage the local ferals. Any ideas?

http://www.thewest.com.au/default.aspx?MenuID=24&ContentID=25859
Robin Hoodie raises merrie hell

http://seattletimes.nwsource.com/html/artsentertainment/2003663224_vonnobit12.html
Kurt Vonnegut, who wrote "Slaughterhouse-Five," dies at age 84

http://www.manchestereveningnews.co.uk/entertainment/film_and_tv/s/1004/1004158_life_on_mars_was_wonderland.html?newsletter=weekly%20whats%20on-20070412
Life on Mars was Wonderland

http://entertainment.timesonline.co.uk/tol/arts_and_entertainment/article1637394.ece
Toughest cop on Mars gets a transfer to 1980s London

http://entertainment.timesonline.co.uk/tol/arts_and_entertainment/tv_and_radio/article1635872.ece
Last night's TV

http://entertainment.timesonline.co.uk/tol/arts_and_entertainment/tv_and_radio/article1639082.ece
BBC's Life On Mars nominated for two Baftas

http://entertainment.timesonline.co.uk/tol/arts_and_entertainment/stage/theatre/article1614524.ece
Flying in the face of real politics

http://www.smh.com.au/news/digital-music/beatles-to-release-tracks-online/2007/04/12/1175971242257.html?sssdmh=dm16.255280
Beatles to release tracks online

http://www.smh.com.au/news/world/zookeeper-dies-after-anteater-attack/2007/04/13/1175971301485.html
Argentine zookeeper dies after anteater attack

http://www.brisbanetimes.com.au/articles/2007/04/12/1175971189283.html?from=top5
Croc victim gets arm back

http://www.telegraph.co.uk/news/main.jhtml?xml=/news/2007/04/13/nfat13.xml&DCMP=EMC-new_13042007
Scientists find fatness gene

http://www.smh.com.au/news/national/the-war-machines-of-the-genius-who-was-a-man-of-peace/2007/04/12/1175971265527.html
The war machines of the genius who was a man of peace

http://www.smh.com.au/news/national/first-navy-flagship-found-off-sydney/2007/04/12/1175971265512.html
First navy flagship found off Sydney

http://news.independent.co.uk/uk/health_medical/article2444481.ece
Obese are born to put on weight, geneticists claim

http://news.independent.co.uk/world/science_technology/article2444467.ece
Fossil shows that chickens are descended from T Rex

http://education.independent.co.uk/news/article2444487.ece
Teachers blame 'Life on Mars' for rise of homophobia in schools

http://members.optusnet.com.au/bilbies/Easter_Bilby_3.htm
Bilbies

http://uk.geocities.com/havisham06/fic.htm
fic

http://uk.geocities.com/havisham06/lair.htm
me