How to spot a third wheel in a British television production, example one: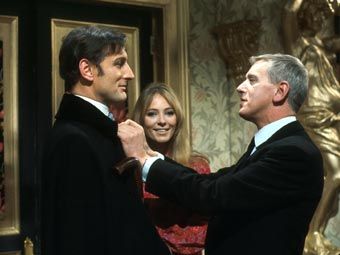 Did not watch more Steve McQueen as intended. I jst felt, as I was waiting up for Fry and Laurie (in rival shows on rival networks, forcing flickiness) that Adam Adamant was much more appropriate fare. Poor Adam, this time mortified to be dragged into a faux Bunny club. Avert your eyes, Adam, for there is female flesh about. And avert he does. Honestly, you have to see this. They simply have to do a remake with Rupert Everett in the eponymous role. We're talking born to play here. But I digress. Adam, dolly birds, cringeworthy ethnic stereotypes.

The second episode was by Brian Clemens, and dear Brian is a firm believer in "if it ain't broke", so if you've seen the time travelling Peter Bowls Avengers episode, then you've seen this. Minor changes this time around made it operate out of a funeral directors, with evil psychartrists and an evil health farm, Sunnydale, no less, (another Brian fave) coming into play. Interesting connection between the health farm and funeral parlour, but Brian always does enjoy those blunt edged Freudian riffs. More horror for Adam as a female nurse tries to undress him. Poor baby. I do so want to hear more about that French fellow, from when he was 17, that figures so prominently in his recollections. "Boys will be boys" was the comment. Oh yes?

The third was all about an evil (and very, very gay) fashion dude who was, and I just love this, sewing bugs and kill switches into his dress designs and picking up the gossip at exclusive embassy cocktail parties. I tips me hat to that plot, it's just perfect. Poor Adam has to endure scantily clad females, and the attentions of the screaming queen. I mean, behold the way he sizes Adam up. Take a photo, whydoncha, it'll last longer.

I am bemused though, by the similarities betwixt Adam Adamant and Life on Mars. There's the whole man out of his own time thing, the comedy culture clashes, with Adam always being superior and "better than this", the wandering about dazed and confused upon first waking up, and let's not forget the regular flashbacks. So regular and repetitive that I keep wickedly wishing that Adam dreams of a lady in red running through the trees and Sam suddenly has waking nightmares about falling through an open doorway. Hee. So clever, but oh so vulnerable.

I'm liking that show more and more (even if it is a second rate Avengers - there are worse things). Meanwhile...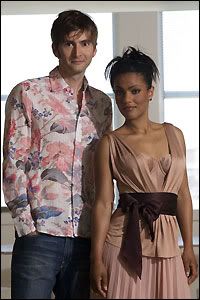 Nice shirt there, Dave. -->

Interesting news from the LOM camp. Seems like the decision on any more LOM or not is currently up in the air. Artistic integrity versus cash cow, and there's the rub.

Normally I'd be all 'please, sir, can I have some more?', but Peanut Gallery can't resist gleefully listing good shows that went sharply off the boil in their second or third seasons, and yes, I can think of several, right now. Even leaving aside US shows, we still have The Lakes (the show wot burnt Simmo on the idea of second series) and the show which used to be dragged out as a terrible warning: Between The Lines.

Mind you, Cracker cracked on well enough after McGovern left, and other UK shows have managed to churn out more than one season without going into too terrible a decline. Some wobble a bit, but some come good, some evolve and change. Many survive major cast changes. Even Silent Witness, which used to be the Sam Ryan show. To be honest, I was heartily sick of the bad tempered old broad, so this time around when it was 'Sam who?' it was an entirely new show and I loved it to bits.

So it might not be a complete disaster. Hell, let Mark Gatiss have it. I deeply suspect he knows what I like - grin.

Then again...season three Forever Knight, anyone?

Random John Simm pic:



I'd forgotten how lovely it was to get home early, sit out in the last of the sun with a cup of tea, a book and a chance to see if any flowers were out (pink azaleas are go).

Outside, the taxis are all beeping. It sounds very cosmopolitan.

You'll have to excuse the spotty nature of the dialogue today, it's been written in scraps, in between work and coughing fits. Not at all well today and apparently, while most folks are 72% water, I'm 72% snot.

Crossed another grumpy old woman threshold yesterday. I actually phoned up the bus company and complained about the school children on the bus, though they were hardly children. Thugs and whores, more like. In any case, they picked on me, insulted me and assualted me all the way home, and, as I'd only left early because I was feeling awful, I wasn't in the mood. I hid in my D&P book, but when I got home, I cried like a kid. Then I sucked it up and made my cranky old lady call. Kids today...I could have cheerfully shoot the bloody lot of 'em, I really would. No redeeming features or saving graces at all. They were being mean and vicious because they could, and because they wanted to. Evil little fuckwits.

In other news, I quail at the ban of carry on luggage on planes. There goes all my gear then, considering the only thing Theifrow didn't nick the last time I went through were my knickers, and the wee crochet angel I bought from a Xmas mart in Venice. I'm not an angel person at all, but I stumbled into this square that was Xmas stalls everywhere (we have no such thing here, so it was all shiny and new) and it was the most charming moment and I wanted to buy a keepsake, and glass and food were out, so crochet angel it was.

I also shudder to think how I'd have survived that trip home without six packs of aspirin in my pocket.

But what really has me going white as a sheet is the ban on books. Fly? Without my Patrick O'Brian??? Spend two days on a plane with nowt to do but watch Adam Sandler films? That really is going to test the bonds of familial love, I can tell you.

Every so often, I get a fake name in my spam can that demands a character. Clarissa Witherspoon has just tickled me, for some reason. She's on the call back list for functional OC plot drivers who require two names.

Finally, this pic goes with this headline:


http://www.starpulse.com/news/index.php/2006/08/04/ewan_mcgregor_practiced_kissing_male_co_
Ewan McGregor Practiced Kissing Male Co-Star

http://news.independent.co.uk/media/article1217705.ece
The Persuaders: Opposites attract

http://www.smh.com.au/news/world/australian-travellers-among-hardest-hit/2006/08/10/1154803033169.html
Australian travellers among hardest hit

http://media.guardian.co.uk/newmedia/story/0,,1840341,00.html
Geek nation

http://www.atomicmag.com/shop/vintage_clothing_links.html
Atomic

http://www.nytimes.com/2006/08/09/technology/09milk.html?_r=1&th&emc=th&oref=slogin
On Amazon, All of a Sudden Everyone's a Milk Critic

http://www.tvguide.com/News/Insider/default.htm?rmDate=08092006
Bones: A Sneak Peek at Season 2

http://www.wireimage.com/GalleryListing.asp?navtyp=GLS====202640&c4nvi=3&str=969&styp=clbi&nbc1=1
"Bones" Press Conference

http://media.guardian.co.uk/newmedia/story/0,,1840652,00.html
Bragg tackles Bebo music rights

http://community.tvguide.com/forum.jspa?forumID=700000044
Battlestar Enters Year 3 with Recap Special

http://www.tvguide.com/News/Insider/default.htm?rmDate=08102006
Kristen Bell Eyes a Scary-Good Gig

http://uk.news.yahoo.com/11082006/325/gilliam-disturb-film-childhood.html
Gilliam out to disturb with film about childhood

http://sunsetgun.typepad.com/pretty_poison/
Pretty Poison

http://sunsetgun.typepad.com/strange_impersonation/
Strange Impersonation: Film and DVD Reviews

http://www.tvsquad.com/2006/08/10/the-five-keiths-fall-picks/
The Five: Keith's fall picks

http://www.tvsquad.com/2006/08/10/and-now-here-is-your-complete-list-of-fall-2006-premiere-dates/
And now, here is your complete list of Fall 2006 premiere dates

http://www.stellaartois.com/main.jsp
Stella Artois

http://en.wikipedia.org/wiki/Typhoid_Mary
Mary Mallon

http://www.smh.com.au/news/national/abba-fans-cry-sos/2006/08/11/1154803074288.html
ABBA fans cry SOS

http://www.smh.com.au/news/games/duran-durans-metauniverse-gig/2006/08/11/1154803076084.html
Duran Duran's meta-universe gig

http://www.smh.com.au/articles/2006/08/04/1154198328978.html?from=top5
One giant blunder for mankind: how NASA lost moon pictures

http://www.telegraph.co.uk/arts/main.jhtml;jsessionid=GL45ETRQFNWKLQFIQMGSFFOAVCBQWIV0?xml=/arts/2006/08/05/bfkeanu.xml&menuId=564&sSheet=/arts/2006/08/11/ixfilmmain.html
The big-hearted superstar

http://www.theage.com.au/news/world/sydney-racist-sexist-deeply-flawed/2006/08/11/1154803062934.html
Australia 'racist, sexist, deeply flawed'