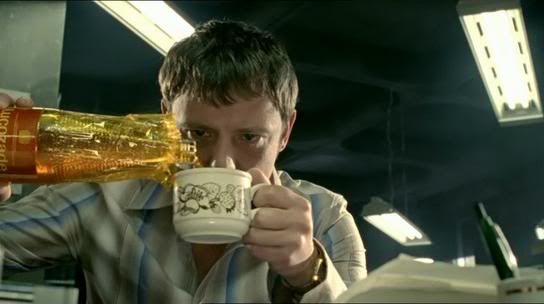 This is very much how I felt yesterday, ie a bit wobbly. And the pic just amuses me. I just love the all too careful measuring and pouring going on. And I probably shouldn't post the handcuffed nekkid to the bed pics that preceded it. Yup, more Mr Simm in handcuffs. I love this show. In anycase, I shouldn't, not where just anybody could see it. Which brings me to my next thought...

I'm going to switch this LJ back to friends only. It's silly and paranoid, but I just don't want people I don't like reading about my shiny new fandom. Having had several people tear up pictures of shows/actors I've really liked in my face, just to see me wibble, has rather reinforced this dread over the years. Let's not hang it out the window and just ask for it to be shot off, is my way of thinking.

Nor would I particulary welcome my net savvy rellies stumbling across my copious odes to extra textual readings of Life on Mars, despite the BBC being fully OTP when it comes to the lads.

Oh, how I love Life on Mars. How much of a proper, classic cop buddy show is it? Oh, this is what has been missing from my life (and apparently millions of others). Just throw in some more Sweeney style flirting (I'm still agog at last Saturday's episode of The Sweeney), and I'll be as happy as a pig in shit, so I will. Gene and Sam have stolen my heart, and my sanity, and I'm quite happy to let them do so.

So friends locked these squees will be.



Last night was squee worthy. Caught up on the old flist with some truly excellent pics being posted, then tried to flist and watch the BAFTAs at the same time. Not entirely successful, especially having to move Dell Boy to a room with cable, then back out again when his batteries ran down, but I did see Jake get his gong, and James McAvoy startled me with his native accent. So thick and chunky ye could carve it, as the old ad used to go. So now I know he's really shovelling just to bury that accent when he's acting. Gong well deserved, then. Not that I would ever begrudge him any award, having fallen for his charms in State of Play. Oh, who else was in State of Play? Ah yes, back to the boys again, I see.

Listened to a BBC radio interview with Philip where, in defence of the show's awesome soundtrack, he exclaimed that you couldn't have proper car chases to the Bay City Rollers. It had to be Deep Purple, he insisted, sounding so much like DCI Hunt I began to worry just how much was acting - grin. I think there's a bit of character creep going on there - hee. I love the Guv!

After all that PC porn and BAFTAs (how much do I love Stephen Fry? Let me count the ways), I caught the end of Numb3rs, now on before Supernatural. So not, not, not ever going there. Supernatural was again borrowing heavily from American folklore, so I felt again that I was missing out on some level, having only a superficial understanding, again gleaned from a lifetime of US media saturation. So I probably did grab the greater gist of it, I suppose (according to stats, I can name more states and presidents than the average Septic). It was the old murderous hookman urban legend getting a retelling, with the usual riffs on other horror films.

It wasn't bad, it had its spooky moments, but that was more a response to theatre tricks than being genuinely, emotionally involved in the tale, but it's not really that sort of series. No deep moral quandries for the boys. Drive in, bag the boo, and drive out. Again, very must a modern day western, with the black hats being the things that go bump in the night.

Still, the boys are pretty, and Jensen's smirking to camera still bemuses, so I have no problem with it. It passes the night well enough (I just don't laugh and cry with the boys the way I do with Sam Tyler, tis all).

Next week it's bug city, which will freak me out no end as the house is already buggier than the buggy places shown on the preview. I mean, I had to slap away a house spider scuttling across my shoulder as I watched. Eeep.

Actually, I was expecting to be called on posting that Life on Mars picture late last night, due to my over tired over enthusiam, but happily no. I was going to fire back with both barrels about how many times a day I am spoiled with just lj icons, though it wasn't as though knowing the Winchesters frock up as priests was going to ruin my day. Far from it (heh). I was cranky about some severe Lost spoiler icons last year, though, but I never called anyone on it. Folks don't understand that we're anything from five months to five years or more behind (starting S4 of The West Wing this week), so I'm used to having no consideration for spoilers in my regard. So I just don't think about spoilers, always assuming, and usually quite rightly, that I'm the last person on the planet to see it, and thus anything I post is not the in bit least spoilery.

Besides, it was a promo pic, and more suggestive than spoilery, imho. Now pics of characters in coffins, that's spoilery. Handcuffs, that's just titilation.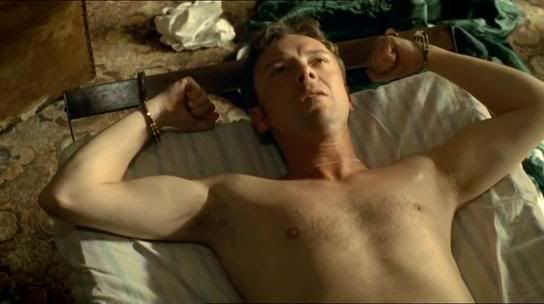 The only problem with this picture is the fact that poor Sam only has a s-s-single bed. There ain't no room for Gene's sweet head. Ahem, but I think that's song is from '74 or '75. I think. Okay, so yeah, I do remember 1973, but it mostly revolved around Steve Austin, which I was soon banned from watching, Bowie, which I was banned from listening too, in fact I wasn't allowed radio or lps (bastard parents) and I can really only remember my teacher's cork wedge heels and this balloon that was patterned like Venetian paper that I coveted above all things. Strange memories. It was pre Countdown and I'd probably trip on Basil Brush, too.

PM update: Just back from the Bondi exhibition at the MoS. Meh. I'm ambivalent about Bondi at the best of times, it being rather overrated, and the fact that they stopped the rail line being built to keep the likes of me out (which is why I so was grateful my friend had her car on Sunday). So, meh.

I'm hungry. That bit of fruit didn't work for me at all, but I'm too scared to go to a lunch counter. People are so cruel, and somedays, I'd rather cower and starve.

Meanwhile, all the wonks are at a meeting and my friend is trawling the decadent lives of artists on Wiki. Work? As insane as ever. Management want everything to look like a million dollars without paying a cent. and you wonder why I can't be bothered dressing for success anymore.

Btw, the Mos had posters up for another exhibition, called State of Play. Okay, now it's being mentioned every five minutes. Suppose I should try and watch an episode tonight, if only to break up the LoM repeated viewings. Did I mention how much I love the show?

http://www.flip18.co.uk/LoM/press/lom.htm
Life on Mars

http://news.independent.co.uk/uk/this_britain/article346571.ece
From the Wild West to the North-west: how Buffalo Bill's travelling show left a Sioux legacy in Salford

http://www.bbc.co.uk/drama/lifeonmars/episodeguide.shtml
BBC OTP

http://community.livejournal.com/lifein1973/3195.html
Life on Mars

http://www.smh.com.au/news/film/violent-reactions/2006/02/16/1140052211352.html
Violent reactions

http://scanky-chops.livejournal.com/186167.html
Daily Telegraph scans

http://www.smh.com.au/news/oscars-2006/dads-approval-the-ultimate-oscar-for-clooney/2006/02/20/1140283977695.html
Dad's approval the ultimate Oscar for Clooney

http://www.theage.com.au/news/film/clooneys-ultimate-praise/2006/02/20/1140283978601.html
Clooney's ultimate praise

http://www.thecouriermail.news.com.au/common/story_page/0,5936,18165949%255E7642,00.html
Revelations of tortured crusader

http://www.theage.com.au/news/film/clooney-open-to-playing-mourinho-in-film/2006/02/18/1140151824565.html
Clooney open to playing Mourinho in film

http://www.theage.com.au/news/film/the-world-where-you-live/2006/02/16/1140064197439.html
The world where you live

http://www.heraldsun.news.com.au/common/story_page/0,5478,18205577%255E2902,00.html
Squaring Ledger's profile

http://www.theage.com.au/news/film/sweet-smell-of-success/2006/02/16/1140064205098.html
Sweet smell of success

http://www.theage.com.au/news/film/heath-battles-heroin/2006/02/16/1140052213936.html
Heath battles heroin

http://www.smh.com.au/news/people/ledgers-like-depp/2006/02/20/1140283991136.html
Ledger's 'like Depp'

http://www.theaustralian.news.com.au/common/story_page/0,5744,18187877%255E16947,00.html
Science cans Heath

http://www.theaustralian.news.com.au/common/story_page/0,5744,18174201%255E16947,00.html
I could even play Bush, says Ledger

http://dailytelegraph.news.com.au/story/0,20281,18206149-5001026,00.html
Ledger's gunfight

http://dailytelegraph.news.com.au/story/0,20281,18206215-5001026,00.html
Cowboys take BAFTA

http://www.theage.com.au/news/film/rain-pours-on-heaths-bafta-night/2006/02/20/1140283972717.html
Rain pours on Heath's BAFTA night

http://www.heraldsun.news.com.au/common/story_page/0,5478,18205506%255E2902,00.html
Oscar vote bid goes for Broke

http://www.theage.com.au/news/people/heath-does-lunch/2006/02/14/1139890722069.html
Heath does lunch

http://www.heraldsun.news.com.au/common/story_page/0,5478,18205487%255E2902,00.html
Ford gets real ... sexy

http://www.smh.com.au/news/film/its-a-crock-kid-hollywood-is-not-archaeology/2006/02/20/1140284006672.html
It's a crock kid, Hollywood is not archaeology

http://www.heraldsun.news.com.au/common/story_page/0,5478,18194459%255E2902,00.html
Harrison, family jet in for premiere

http://www.thecouriermail.news.com.au/common/story_page/0,5936,18166488%255E7642,00.html
Harrison faces up to destiny

http://www.thecouriermail.news.com.au/common/story_page/0,5936,18201629%255E7642,00.html
Ford still sexy after all these years

http://www.smh.com.au/news/film/ford-and-flockhart-dazzle-sydney/2006/02/20/1140283977741.html
Ford and Flockhart dazzle Sydney

http://www.smh.com.au/news/film/the-baddies-itching-to-get-out/2006/02/20/1140283990411.html
The baddie's itching to get out

http://www.smh.com.au/news/film/the-best-bond-of-them-all/2006/02/20/1140283998325.html
The best Bond of them all

http://film.guardian.co.uk/news/story/0,,1710998,00.html
Mads for it: new 007 villain unveiled

http://www.sfx.co.uk/news/bond_gets_a_bad_guy
Bond Gets a Bad Guy

http://film.guardian.co.uk/news/story/0,,1710158,00.html
Brokeback Mountain avoids Singapore censors

http://film.guardian.co.uk/queenan/story/0,,1712241,00.html
Pedagogically pooped

http://www.heraldsun.news.com.au/common/story_page/0,5478,18211663%255E2902,00.html
Brokeback Mountain blitzes BAFTAs

http://enjoyment.independent.co.uk/film/features/article345848.ece
Pierce Brosnan: A new licence to thrill

http://film.guardian.co.uk/news/story/0,,1713541,00.html
British optimism goes west

http://film.guardian.co.uk/news/story/0,,1713705,00.html
Bafta night for year of gay shepherds

http://film.guardian.co.uk/gall/0,,1713762,00.html
The Baftas in pictures

http://news.bbc.co.uk/2/hi/entertainment/4724066.stm
Brokeback emerges as Bafta winner

http://news.bbc.co.uk/1/hi/entertainment/4730952.stm
Cowboys ride to glory at the Baftas

http://news.bbc.co.uk/1/hi/entertainment/4730878.stm
Gyllenhaal: 'Totally unexpected'

http://www.wireimage.com/GalleryListing.asp?navtyp=GLS====170442&c4nvi=3&str=1598&styp=clbi&nbc1=1
The Orange British Academy Film Awards 2006 - Outside Arrivals

http://www.wireimage.com/GalleryListing.asp?navtyp=GLS====170448&c4nvi=3&str=1744&styp=clbi&nbc1=1
The Orange British Academy Film Awards 2006 - After Party

http://www.wireimage.com/GalleryListing.asp?navtyp=GLS====170444&c4nvi=3&str=1744&styp=clbi&nbc1=1
The Orange British Academy Film Awards 2006 - Press Room

http://blogs.smh.com.au/newsblog/archives/frankenstein/003636.html
Take it offline, drill down and walk the talk

http://www.wireimage.com/GalleryListing.asp?navtyp=gls===170588&Source=blml060220
George Clooney on Location for "Michael Clayton" in New York City - February 18, 2006

http://www.wireimage.com/GalleryListing.asp?navtyp=GLS====170583&c4nvi=3&str=1598&styp=clbi&nbc1=1
Pre-BAFTA Awards Party: The London Party - February 18, 2006

http://www.wireimage.com/GalleryListing.asp?navtyp=GLS====170639&c4nvi=3&str=1584&styp=clbi&nbc1=1
"Firewall" Sydney Premiere

http://www.wireimage.com/GalleryListing.asp?navtyp=gls===165975&Source=blml060220
"Firewall" Sydney Press Conference

http://www.sfx.co.uk/features/richard_hatch_on_battlestar_galactica
Richard Hatch on Battlestar Galactica

http://www.thecouriermail.news.com.au/common/story_page/0,5936,18166496%255E7642,00.html
The star from Oz

http://smh.com.au/news/science/chimps-tote-tools-for-the-job/2006/02/20/1140284005271.html
Chimps tote tools for the job